5 Best Reclining Leather Sofa Sets
Comfort is essential for all of us, and we enjoy unwinding after a long day of work. Thus, seating arrangements in our homes play a vital role in helping us relax.
With reclining sofa, it is easier than ever to assume a laid back posture and sink into the comforting warmth of the leather. In fact, you won't feel like moving from your spot anytime soon. We have prepared a list of five of the best reclining leather sofa sets, based on their comfort, build, and likelihood to provide long service.
Prepare to treat your body to unparalleled luxury as we dive into the list here.
Top 5 Reclining Leather Sofa Sets
1. Hydeline 3 Pieces Genuine Leather Power Reclining Sofa Set
Buy on Amazon
Hydeline products are designed for comfort, and accordingly, this reclining leather sofa set stands out due to the materials used. The arm and backrests are made of matching high-quality leather.
What's more impressive is the reclining mechanism from Leggett & Platt, with OKIN motors. Reclining has never been more effortless and noiseless. The quality of the mechanisms used also ensures that there aren't any problems over long periods.
There's even less reason to move out of the sofas now, since USB ports are built in to allow users to charge their devices. Assembly and setting it up is easy, too, since the company sends installers to put the sofa set together in the room of the customer's choice.
Lastly, with a guaranteed 30-day return policy, buyers can be sure of their investment.
Dimensions
Sofa Dimensions: 87″ W x 40″ D x 39.5″ H
Loveseat Dimensions: 65″ W x 40″ D x 39.5″ H
Chair Dimensions: 41″ W x 40″ D x 39.5″ H
Pros
Top grain leather on the seats
Leather match on outside arms
Kiln dried solid wood frame
The high amount of comfort
Assembly guaranteed by the manufacturer
30-day return policy
Cons
The middle seat doesn't recline unless custom ordered
2. Betsy 3 Pieces Bonded Leather Recliner Sofa Set
Buy on Amazon
The Betsy sofa is designed to uphold the highest degrees of comfort.. The seat has premium quality foam, while the back and armrests are well-cushioned too. In fact, there is a heat radiating feature, which makes it quite a snug seating spot.
What immediately catches the eye is the split design at the back, where just one specific seat can be reclined from 90 degrees to 160 degrees while the others remain upright. Thus, different users can get customized, comfortable positions on these sofa sets.
With an option for elevated footrest, there is steady blood flow as well, and obviously, there is an option to fully recline the seat.
Since Betsy has been in the business for a long time, they know what buyers want. Accordingly, the sofa set is made of durable materials that last long, and it is easy to use as well.
Dimensions
Sofa Dimensions: 85″ W x 40″ D x 39″ H
Loveseat Dimensions: 75″ W x 40″ D x 39″ H
Chair Dimensions: 41″ W x 40″ D x 39″ H
Pros
Great comfortable
Brown bonded leather
Pillow top backrest and armrests
Pocket coil spring seat cushion
Easy to install
Extended recline options
Cons
Curbside delivery only
Footrest harder to push back on a single recliner
3. Betsy 3 Pieces Bonded Leather Power Reclining Sofa Set
Buy on Amazon
Yet again, this Betsy product makes its mark with the bonded leather, cushioned backrest, as well as armrests, and the premium foam-filled seating cushion.
The split design at the back helps individual users to recline their seats from 90 degrees to 160 degrees. Since both the reclining options are at the side, users can pick which position they're most comfortable in.
With an elevated footrest, a steady blood flow is ensured too. Moreover, it is easy to push back the footrest and get into a completely reclining position if one is in the mood.
Up until this point, the Betsy reclining sofa set might feel completely similar to the other Betsy product mentioned above. But, the Power Reclining product comes with USB ports, which allow users to charge their devices while they soak in the comforts of the sofa set.
Dimensions
Sofa Dimensions: 85″ W x 40″ D x 39″ H
Loveseat Dimensions: 75″ W x 40″ D x 39″ H
Chair Dimensions: 41″ W x 40″ D x 39″ H
Pros
Great pricing
Black bonded leather
The USB port allows easy charging
Designed for utmost comfort
Cons
4. Roundhill 2 Pieces Brown Faux Leather Reclining Sofa Set
Buy on Amazon
The comfortable sofa set boasts of imported faux leather, and the upholstery is specially designed for comfort. The set comprises a sofa and loveseat, where the cushions have thick foam, and the armrests put one at ease and help them relax.
The reclining mechanism is gliding and relatively easy to use. Simply pulling a lever up helps you get in a relaxed position and ready for a nap. The loveseats also come with a central storage space, which includes cup holders. So, you can sip on your favorite drink as you lay back and take things easy.
Since the matching loveseat and recliner are sold separately, you can just pick out the one you want and avoid purchasing the entire set. Admittedly, the delivery is meant to be just on the curbside, but putting in a special request ensures that professionals will assemble the sofa set.
Dimensions
Sofa Dimensions: 89″ W x 40″ D x 42″ H
Loveseat Dimensions: 77″ W x 40″ D x 42″ H
Pros
Imported good quality leather
Storage space in the loveseat
Easy reclination
Cons
Tough to install yourself
5. Blackjack 2 Pieces Beige Faux Leather Reclining Sofa Set
Buy on Amazon
Using a Blackjack sofa set helps users uphold the splendor and beauty of the furniture. Designed with magnificence, these couch sets help add a degree of grace and sophistication. It is made of the best quality materials, including sturdy wood and comfortable cushioning.
This ensures that comfort is at an all-time high, while the sofa sets last longer as well. Blackjack has been in the market for a long time and has established itself as a company that only uses the best quality materials.
With a pull handle recliner, and a dovetailed frame adding more strength to the structure, these sofa sets include a sofa, loveseat, and a chair. Choose from different colors to add a bit of luxurious beauty to your living space.
The reclining mechanism is carefully designed to ensure that the spinal position is correct and there are no complications after prolonged use.
Dimensions
Sofa Dimensions: 89″ W x 40″ D x 41″ H
Loveseat Dimensions: 76″ W x 40″ D x 41″ H
Pros
Beige leather match
Superior structure
Easy reclination
Cons
Comes apart at seams after prolonged use
Heavy and tough to assemble
Buying Guide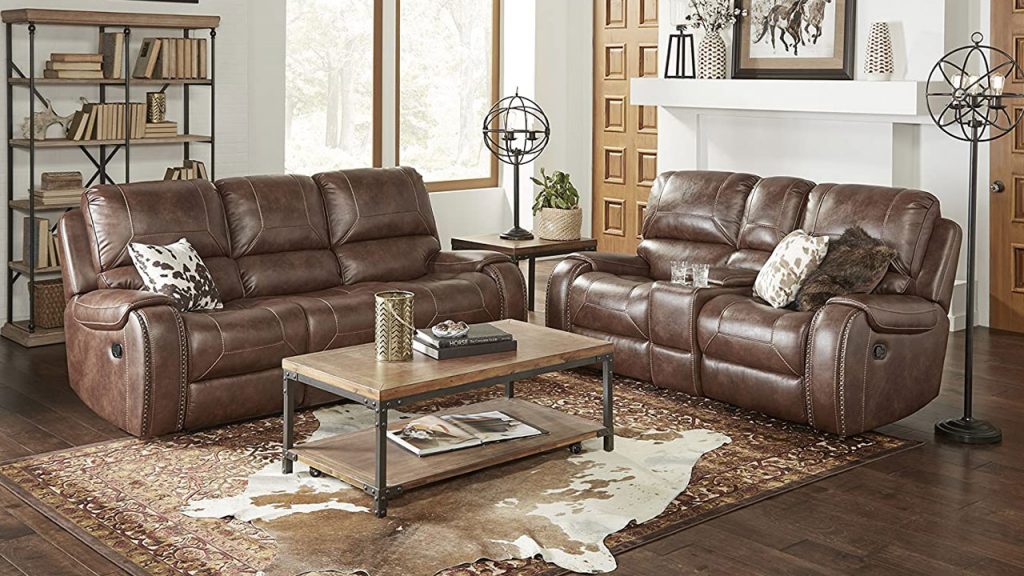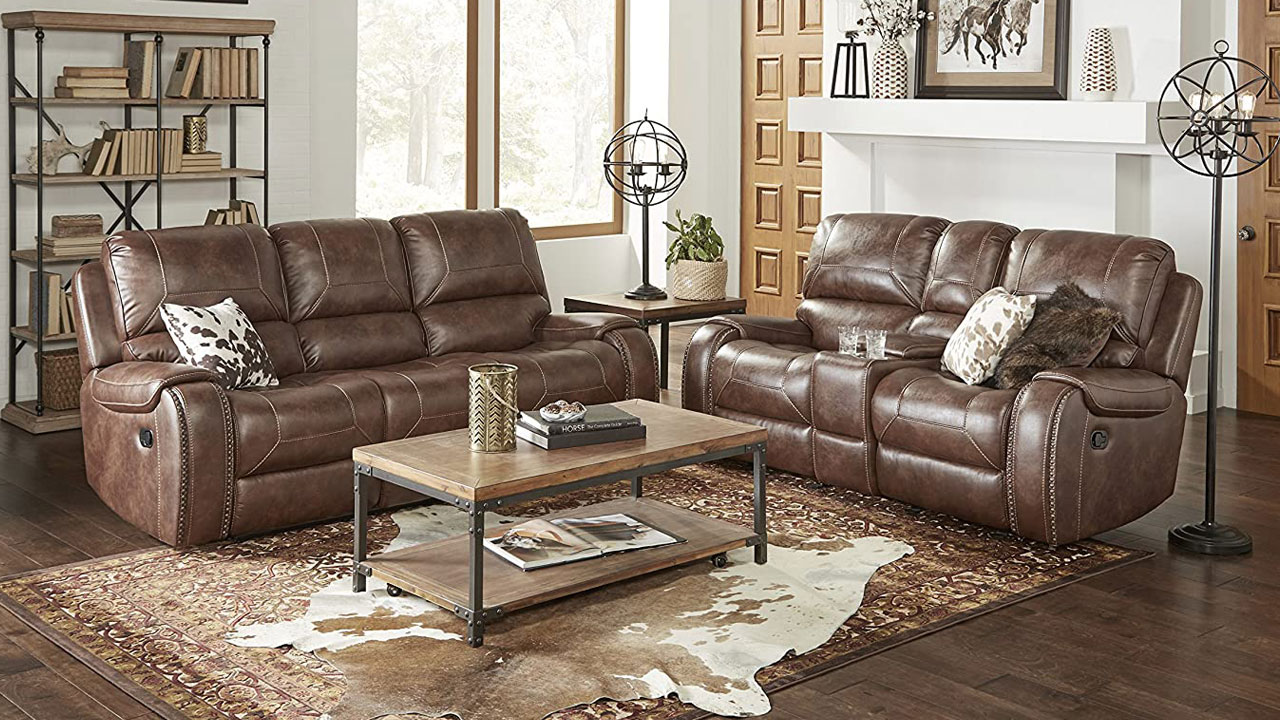 Now that we've walked you through some of the best reclining leather couch sets available on the market, there are certain factors you should consider before making your purchase.
1. Comfort
Comfort is the most important consideration you should have while deciding on which sofa set suits you the best. After all, they are designed in a way that users want to spend more time in the snug embrace of the leather. Thus, it is vital that a buyer should check how easy it is to recline and how far it reclines.
The footrest is another important consideration for comfort as well. Raising your feet and lying back allows better blood flow and makes the overall experience all the more comfortable.
2. Reclining Mechanism
Since the sofa sets are mostly used for their reclining features, it becomes imperative for the mechanism to function properly. Before making a purchase, you should carefully check whether the lever for reclining is easily accessible. On top of that, see whether the manufacturer uses a stellar reclining system. Otherwise, the sofa set might run into problems over time, ruining the comfortable experience.
3. Durability
Since most reclining sofa sets are bound to put a slight dent in your pocket, buyers are usually careful in ensuring that the investment is sound. Thus, it becomes important to check the durability of the set. Most items on the list are made with the best quality materials.
Thus, there are no worries about the product giving way. Some manufacturers also have proper return policies in place, allowing buyers to send back the products in case of defects or dissatisfaction.
4. Assembly
Although the reclining sofa sets promise a world of comfort, one must be careful about the assembly process. Most of the parts are quite heavy, and though the installation setup is usually straightforward, some buyers just aren't comfortable putting the sofa sets together.
Therefore, it would be best to opt for options where installation and custom assembly is offered by the sellers. Moreover, curbside delivery options can be tough for those living in apartments.
Final Words
Now that you know what to look for in the ideal reclining couch set, it is best to go about choosing the one that suits your needs. The Betsy products are great since the company has a solid reputation and the Power variant even allows devices to be charged easily.
Similarly, the Hydeline product is an obvious choice for those who wish the comfort delivered and assembled at their doorstep. Hopefully, this list will help you get the sofa set that delivers the perfect amount of comfort.