10 Best Genuine Leather Sofa Sets

Do you want your living room to have a sophisticated yet inviting appeal? Well, then go ahead and invest in a sofa set.
But then again, that's a common furniture piece found in every home. If you want your statement piece to be the center of attraction, opt for a timeless, genuine leather sofa set.
That said, finding the best set from a vast list of options is quite challenging and time-consuming. To help you out, we've shortlisted 10 top-notch genuine leather sofa sets available in the market today.
So, without further ado, let's dive right in.
10 Best Genuine Leather Sofa Sets
1. Aliso 3 Piece Chesterfield Sofa Set
Buy on Amazon
The exquisite design of Hydeline's Aliso leather collection is what impressed us the most. Its 3-piece Chesterfield sofa set comprises a sofa, chair, and loveseat. And each unit comes with full-back and arm diamond tufting, and nailhead trim to make it stand out.
We loved the hand-finishing leather with multi-tone effects as it complements the rich look of your living room. Moreover, the beautiful top-grain leather on the seating areas and armrests provides a luxurious feel that will truly have you mesmerized.
The Aliso collection is not just about style. You'll be pleased to know that the sofa set comes with down feather seating cushions, offering long-lasting performance. Plus, its kiln-dried solid wood frame with L-braced corner blocks adds to its overall durability.
Pros
Comfortable seating with high resilience foam
Durable frame
Stylish and luxurious
Removable seat cushions
Cons
2. Newport 3 Piece Chesterfield Sofa Set
Buy on Amazon
We trust Hydeline when it comes to buying furniture, primarily because of its 30-day free return policy. That's why we decided to introduce you to yet another aesthetically appealing 3-piece sofa set from the brand.
The loveseat, chair, and sofa come with removable seat cushions, which are quite firm but not too hard. They're double-wrapped with premium goose feathers and hollow-fill fiber to ensure the support and comfort you desire.
What's more, you need not worry about the longevity of this sofa set as skilled craftsmen have crafted each of its furniture pieces. And the kiln-dried wooden frame, teamed with no-sag seat springs, ensures maximum durability and balanced weight distribution.
Pros
Hand-applied bronze nailhead trim
Balanced weight distribution
Seats provide long-lasting comfort and support
Foam padded back and side
Cons
3. Dillon 3 Piece Modern Sofa Set
Buy on Amazon
Next up, we have the Dillon 3-Piece Genuine Leather Modern Sofa Set from Hydeline. What captures the true essence of the set is its streamlined and classic design. We loved the straight silhouette, solid kiln-wood frame, and square track arms of each unit.
It gracefully adds to the timelessness of your contemporary home decor. And the sturdy construction gives you the confidence of investing in this genuine leather sofa set for the long-run.
That's not all; Hydeline doesn't compromise on the comfort quotient. It provides removable cushions sitting on no-sag platforms with padded foam sides and back. So, you can rest assured of long-lasting comfort and support.
Pros
Durable kiln-dried solid wood frame
Made with top-grain and split-grain leather
Comfortable seating
Streamlined and timeless design
Cons
4. Oxford 3 Piece Track Arm Sofa Set
Buy on Amazon
Hydeline's Oxford 100% Leather Collection is a beautiful combination of elegance and style. Its sofa, loveseat, and chair set feature box seat cushions with well-defined welts and track arms for a tailored look.
On the other hand, the back of their cushions come with graceful slopes to soften the sharp lines. That said, we loved the inclusion of hand-applied brass nailhead trims in each unit. They outline the entire structure of the sofa in order to accentuate every line and curve.
Apart from bringing casual elegance to your space, the Oxford Track Arm Sofa Set serves as a comfortable seating option. It impressed us with its high resilience foam, no-sag springs, and back suspensions that ensure long-lasting performance.
Pros
Elegant and stylish
Long-lasting comfort
Sturdy wooden construction
Brass nailhead trim accents the outlines
Cons
5. Laguna 3 Piece Rolled Arm Sofa Set
Buy on Amazon
In our opinion, Hydeline's Laguna collection offers versatile and modern sofa sets that blend with any style. We have to thank the subtle details of its sofa, chair, and loveseat set for this.
The soft, supple top grain leather and rolled armrests are the two features, which make Laguna stand out. But it's important to note that top grain leather only covers its seating areas. Split grain leather covers the back, sides, and front rails of this 3-piece set.
We were also impressed by Laguna's sturdy kiln-dried wooden legs. They're built to last for years to come while its premium goose feather down cushions provide long-lasting comfort.
Pros
No-sag spring base
Quick and free assembly
High resiliency foam for comfort
Versatile design with subtle details
Cons
Not suitable for hardwood flooring
6. Ashby 3 Piece Modern Sofa Set
Buy on Amazon
Rest assured, Ashby's soft and supple top grain leather covering on all seating areas and armrests will meet individual style preferences. The inclusion of this ice-colored sofa, chair, and loveseat set enhances the modern aesthetic appeal of any living room.
That's not all; skilled craftsmen have handcrafted each piece of the Ashby sofa set using kiln-dried wood. So, you need not worry about its durability.
What's more, Ashby comes with pocket-coiled seat cushions that rest on no-sag springs. This provides balanced weight distribution for lasting comfort and support. You can also remove the cushions to clean them if you notice stains and dirt.
Pros
Versatile, modern, and subtle design
Solid kiln-dried wood construction
Split grain leather on back, sides, and front rails
Balanced weight distribution
Cons
Absence of brass nailhead trim
7. Stanwood 3 Piece Chesterfield Sofa Set
Buy on Amazon
The next option we have for you is the classic chesterfield style sofa set from Hydeline's Stanwood 100% Leather Collection. It comes in a hand-rubbed finish with diamond tufted cushions and brass nailhead accents. So, rest assured it will change the entire dynamic of your living room without looking over the top.
Stanwood sofa set comes with comfortable pocket-coiled cushions encased in 2.25lbs high resilience foam. They're double-wrapped with hollow-fill fiber and goose feathers and rest on non-sag springs.
That said, the chair, sofa, and loveseat set will ensure optimal comfort and support with balanced weight distribution. And thanks to its kiln-dried wood construction, you need not worry about its longevity.
Pros
Diamond tufted cushions
Brass nailhead detailing
Optimal comfort and support
Durable construction
Cons
8. Bangor 3 Piece Tuxedo Sofa Set
Buy on Amazon
As we're nearing the end of this list, it's time we introduced you to the Bangor Tuxedo Sofa Set. The ultra-luxurious sofa, chair, and loveseat from the collection are covered in 100% top grain and split grain leather.
It features a traditional design but comes with a modern flair. As such, the simple and elegant appeal of the set adds a touch of sophistication to any setting. It makes a contemporary statement with its traditional detailing, including tufted button back and arms.
We were also impressed with the inclusion of brass nailhead trims. They are applied by hand in double rows on the gently flared arms to soften the set's overall look.
Pros
Tufted back exudes sophistication
Offers ultimate comfort
Removable pocket-coil cushions
Traditional design with a modern flair
Cons
Seats aren't button tufted
9. Elm 3 Piece Modern Sofa Set
Buy on Amazon
The best part about buying a Hydeline sofa set is its free premium white glove delivery service. It saves you from the hassles of assembly and set up. Plus, the brand offers a 30-day free return policy, allowing you to invest in the product with complete peace of mind.
On that note, we've come forth with this sofa, loveseat, and chair set from Hydeline's Elm 100% Leather Collection. It's made using premium quality leather and kiln-dried wood with L-braced and glued corner blocks.
The sturdy wooden frame and high resilience foam are bound to ensure its longevity. Furthermore, each unit comes with a clean tailored appearance that blends well in any modern home setting.
Pros
Tall pub back cushions ensure added comfort
Clean tailored appeal
Ideal for relaxation
Free delivery and set up
Cons
No button-tufted or nailhead detailing
10. Vegas 2 Piece Modern Sofa Set
Buy on Amazon
Our list wouldn't be complete without the inclusion of the Vegas Genuine Leather Sofa and Loveseat Set. Unlike the previous options, this modern sofa set is an excellent offering from Cortesi Home Store.
Both the items are covered using 100% premium quality gray leather. So, you can place them in any setting, be it modern or contemporary. That said, we'd recommend setting these statement furniture pieces against a darker color background.
The sofa set will not only stand out but will ensure optimal comfort. This is because of the adjustable headrests that ensure excellent lumbar support. What's more, the sofa and loveseat come with additional support legs for those requiring heavy use.
Pros
Modern, sleek design
Neutral gray color for contemporary appeal
Comes with optimal support legs
Includes adjustable headrest
Cons
Requires assembly on arrival
Buyer's Guide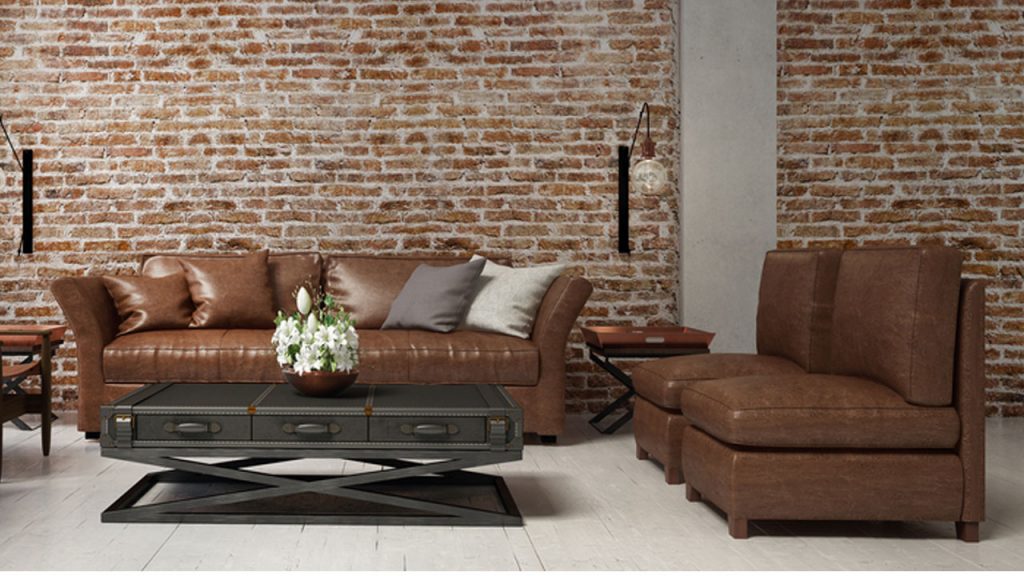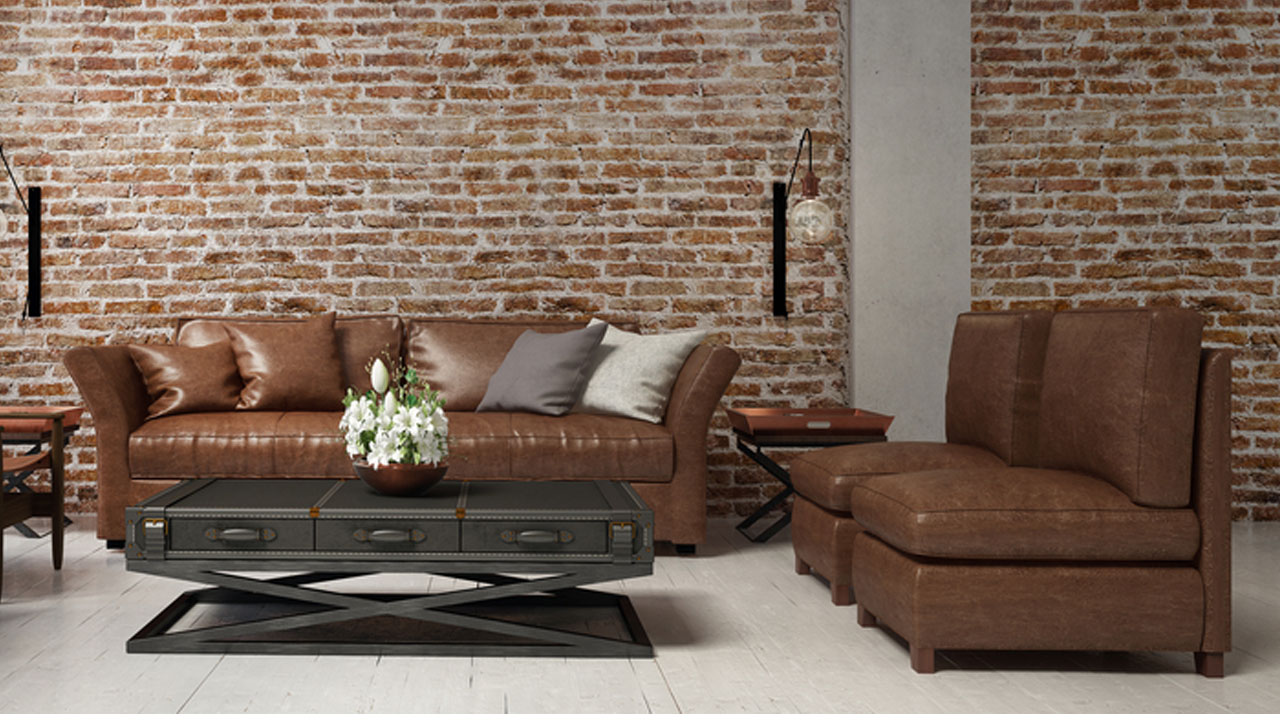 By now, you must have gone through our handpicked list of options. So, were you able to make a choice? Well, don't worry, even if you haven't.
We understand that finding a genuine leather sofa set from a list of excellent options is easier said than done. That's why we've carefully created this guide to help you out.
Here, we've highlighted a few crucial points that you should consider before buying any of our recommendations. Read on to know more…
It's a known fact that leather is the most durable material used for upholstering furniture. But you need to remember that when it comes to leather, you get what you pay for.
The most expensive leather requires the least amount of processing. It comes from premium hide and is considered the best quality material suitable for various purposes. In fact, the leather type and finish also help determine its quality.
The durability of your sofa set depends not just on its leather quality, but also on the materials used for construction. For high-quality furniture frames, solid kiln-dried wood is a traditional choice. The kiln-drying process removes all the moisture from the hardwood to prevent warping and twisting.
The design of your sofa set also impacts its longevity. That's why it's important to make sure that the furniture is properly balanced and supported. Apart from this, the back and arms of the sofa or chair should be integrated with the overall design as much as possible.
We'd also advise you to check the joints of the frame. Sofa sets with glued and screwed corner blocks are less likely to fall apart over time.
Your sofa set should come with a good suspension system attached to its frame. This helps support your body weight. And when teamed with seat cushions, the system ensures consistent comfort and optimal durability.
It's equally critical to check the type and quality of the suspension system as it determines how you feel when you sit on it.
There are four primary types – the 8-way hand-tied coil springs (the best), drop-in springs (most affordable), sinuous springs (most commonly-used), and interlace webbing.
Don't forget to check the materials used to fill the sofa's cushions, armrests, and back. This factor helps determine both the durability and comfort of your furniture.
When it comes to the armrests and back of sofa sets, proper padding is needed to protect their leather covering from the frame's sharp edges. And if you wish to assure yourself of its longevity, get a sofa that comes with high resilience foam cushions.
We'd also like you to note that the type of padding and number of layers used will impact the comfort level of your sofa set.
The color and style of the sofa set will depend on your personal preferences. Just make sure you opt for statement pieces that enhance the aesthetic appeal of your modern home decor.
Conclusion
With this, we've reached the end of this review-based article. But before signing off, we'd like to remind you once again to go through our buyer's guide. This will help you find a suitable sofa set that meets your requirements.
Now, it's quite evident that Hydeline dominates our compiled list of the top 10 leather sofa sets. But you may also consider our recommended option from Cortesi Home Store.
On that note, we'll take your leave. Hopefully, you find the sofa set that fits your style preference.
Till next time!