10 Best Soaking Tubs for Small Bathrooms
A soaker tub is a beautiful addition, irrespective of its design and the size and style of the bathroom it's added to. This fixture enhances a space's aesthetics and functionality, but it can be disastrous as well. Case in point: a huge tub in a small bathroom. That is why it is crucial to make an informed decision and choose the most suitable model, which will depend on a lot of factors.
Soaking tubs come in different types. Whether you would be happy with the standard freestanding soaker model or you're ready to incorporate a clawfoot tub that'll transform your bathroom, the market has something in store for you.
To help you wade through incredible options as you search for the right soaking tub, we've listed the best ones, specifically the best soaking tubs for small bathrooms. Check them out below!
The 10 Best Soaking Tubs for Small Bathrooms
1. Empava 48″ Japanese Deep Soaking Tub
If you want to do a remodeling of your bathroom with a stunning Japanese soaking tub that doesn't cost you an arm and a leg, then the Empava 48″ Japanese Deep Soaking Tub might be exactly what you are looking for.
With the look and feel of a high-end tub, we believe this model is one of the best in the market. The unit is made of glossy white acrylic reinforced with fiberglass. This means two things: it is a lot lighter compared to a cast iron soaking tub and it is durable enough that will last you a lifetime. The all-white design of the tub complements modern bathroom decor and it can be paired using any tub filler.
Measuring 47. 24" L x 31. 49" W x 30. 70", it is not the largest soaking bathtub, but it is capable of holding 55 gallons of water, enough for a relaxing soaking experience. The tub is US-manufactured and it comes with a comprehensive 3-year manufacturer warranty.
Pros
Beautiful, ergonomic design
Reinforced with fiberglass
cUPC and UL Certified
3-year warranty
Cons
Doesn't include tub filler
2. Fine Fixtures 48″ Small Alcove Soaking Tub
Next up is a tub that offers a spacious bath. For a small bathroom, you would think that you have to compromise with the comfort you get out of your bathtub. If the area you have available for the addition is limited, the extra height will make your experience more normal as you will be fully immersed into water. Maximize this feeling with the 48″ Small Alcove Soaking Tub from Fine Fixtures.
It is an incredible choice as it allows you to enjoy pure relaxation as you submerge in your tub with the deep basin and built-in backrest. Its non-slip surface is made of both acrylic and fiberglass, which is absolutely a plus as it's easier to clean and safer when moving around for a shower instead of a bath. On top of that, the high-quality acrylic provides durability, strength, and long-lasting protection against fading and stains.
Inside the tub, it offers a spacious interior. It can be installed as an alcove or drop in and as a right or left drain. Because it is a clawfoot tub, it is raised from the floor. This lends a sense of luxury while giving the bathroom a clean and airy look. However, it can be hard for the elderly, frail, and kids. For adults and teens, climbing into it to get a luxury bath is possible daily.
Pros
Allows for easy installation
Made of acrylic enhanced with fiberglass
Safe for oils and salts
Inclined backrest
Cons
3. Empava 52″ Walk-in Soaking Tub
If you're in the search for an affordable walk-in soaking tub with outstanding performance and great design, then your best option is the Empava 52-incher. This tub is universal; it is perfect for the young, disabled, people with limited mobility, and elderly because of its easy access. It's not surprising why it's certified by ADA. This model's step-in threshold also makes it easier and more comfortable to take a bath.
It's acrylic material construction allows it to withstand wear and tear and offer durability, while the white finish gives elegance to a bathroom. The possibility of injury or accident with this soaking is low with the three grab bars added for the safety of its users. Its water capacity is at 94 gallons. It's also been thoroughly tested and comes with a three-year warranty. What more can you ask for from a soaking tub?
Take note: the door of the Empava Walk-in Soaking Tub is at least 20% wider compared to most walk-in baths in the market. This offers plenty of space in stepping in and out of the tub comfortably. It measures 52. 5 in. L x 26. 5 in. W x 40 in. H
Pros
ADA-compliant
Affordable option
Has a low threshold
Comes with a 3-year warranty
Cons
Doesn't ship internationally
4. Woodbridge 54″ Freestanding Deep Soaking Tub
The 54″ Acrylic Freestanding Soaking Tub of Woodbridge is beautifully designed with an elegant, polished, high gloss finish and an exquisite white color which adds both finesse and charm to any bathroom decor. It pairs extremely well with most tub fillers and accessories while lending the room a centerpiece.
This freestanding soaking tub can hold water of up to 55 gallons. It is made of white Lucite acrylic reinforced with fiberglass and Ashland resin, which boosts the unit's strength and durability. The material construction of the tub also provides enough insulation that it can retain a steady temperature.
The unit is ergonomically designed and has anti-leak and anti-odor features. The pipe is tough and durable as well. Now you understand why it's one of the best around! This tub's finishing is also stain-proof and scratch-resistant. It's easy to maintain and clean, giving you the assurance that your bath fixture will keep its brightness and luster for years to come. Its bottom has a stainless-steel bracket that increases its weight-bearing capacity.
Pros
Made with premium and durable materials
Quality pipe
Ergonomically designed
Offers heat retention
Cons
Can appear bulky in a small bathroom
5. FerdY 55″ Freestanding Soaking Tub
The white acrylic freestanding soaking tub by FerdY will make for a stunning centerpiece to your bathroom. Its best feature is its curved double slipper style, which makes it easier to relax comfortably and have a blissful experience similar to a day at the spa. As it has a smaller size, it doesn't consume a lot of floor space while being lightweight, easy to move, and quick to install.
The freestanding tub has dimensions of 55″ L x 27.5″ W x 22.5″ H and water capacity of 53 gallons in one go. It has lightweight acrylic construction with a bottom that consists of a bracket made of stainless steel. This significantly increases its weight-bearing capacity to a whopping 800 kgs.
The reinforced double-walled design of the tub envelopes water and sustains its temperature, allowing you to enjoy a nice, long bath without having to use heating panels. What we love the most is that it is aesthetically pleasing and can be added to a space seamlessly with its modern and stylish design.
Pros
Small size with a sleek design
Holds up to 800 kgs
Overflow drain included
Durable and sturdy
Cons
Non-customizable features
6. Woodbridge 56″ Freestanding Soaking Tub
A freestanding tub with a beautiful brushed nickel drain is up. This acrylic soaking tub has brushed nickel overflow in order to hold bathwater without leakage. Its sturdy construction is due to the high-quality acrylic reinforced with fiberglass and resin. The bathtub has a loading capacity of 55 gallons and features a double-wall design. It's a market favorite from its ability to maintain its glossy finish even after years of usage.
The bottom bracket of the tub is made of stainless steel, which as you might have guessed, contributed to its weight-bearing capacity. This bathroom fixture is made to accommodate up to 2 persons. Its whole construction can resist oils, odors, scratches, and stains. With thermal insulation, it will also let you enjoy countless of comfortable baths. Considering its features, it's just right to add this to the list of the best soaking tubs for small bathrooms.
Pros
High-end glossy finish
Has a brushed nickel overflow
Doesn't crack in extremely high temperatures
Generous water capacity (55 gallons)
Preinstalled drain and integrated overflow
Cons
Faucet and shower head not included
7. Woodbridge 59″ Freestanding Soaking Tub
Measuring 59 inches long, 29.5 inches wide, and 22.8 inches tall, this soaking tub is massive enough for most people while retaining a sophisticated and graceful design. Its maximum water depth is 14.5 inches and its water capacity is at 55 gallons, which means it allows you to submerge most of your body in water. In terms of strength and durability, it is hard to surpass as it's mainly made of fiberglass with an acrylic topcoat.
It's important to note that this specific tub has 1000 lbs. as its maximum bearing capacity. As it has a wide and deep design and slight slope at the bottom, you're bound to sit in it in a relaxed position. The push pop-up design of the drain provides a convenient way of draining water when you're done with your long, warm bath.
Its hidden adjustable legs allow for perfect leveling during the installation, which is absolutely effortless. Speaking of, it has a tube drain that's flexible, making it easy to incorporate to your bathroom and existing plumbing. Yes, no changes have to be made for its addition! It's scratch and stain resistant, so maintenance and clean-up aren't problematic.
Pros
Double acrylic wall
Hidden adjustable legs
1000-lb maximum bearing capacity
Backed by a comprehensive warranty
Cons
Drain has the tendency to leak
8. Baths of Distinction 59″ Clawfoot Soaking Tub
A fabulous soaking tub, the unit sports a Double Slipper shape. It's made of high-quality materials as it was crafted out of CoreAcryl that's double-walled to offer sturdiness and durability. Its double-walled design also helps increase its ability to retain heat. The claw feet of this clawfoot soaking bathtub is made of cast iron, which means they are extremely solid and strong. As a matter of fact, it can bear the tub's weight very easily. When empty, the unit weighs 144 lbs.
Both the interior and exterior of this exquisite soaking tub are glossy, yet its floor is slip-resistant. You won't have to worry about having to stabilize yourself in position as you relax in the tub as you won't slip downwards.
This product was tested thoroughly for heat loss with results proving it can retain heat six degrees more compared to cast iron tubs. The heat barrier that's built into the tub is made of aluminum.
Pros
Glossy and beautiful exterior and interior finish
Retains heat better compared to a cast iron tub
Comes with a shower drain, supply lines, and faucet
Cons
Less durable compared to a cast iron clawfoot tub
9. Kohler Expanse 60″ Alcove Soaking Tub
The 60-inch KOHLER Expanse Alcove Soaking Tub is among the best tubs as it is large enough to fit two people comfortably without taking up too much floor space. The curved apron has been integrated on the front portion, which means it doesn't require you to install it while still providing access to the plumbing. A tile flange surrounds both ends and the back portion of the tub, which suggests it can be installed against three walls. We are actually liking the idea of the flange as it keeps the water from spilling out and damaging bathroom walls.
With dimensions of 62.6 x 40.6 x 21 inches, it is in the perfect size for a luxurious bath even in a small bathroom. Its space-saving, compact design still provides adequate room for relaxation. Lastly, its modern design can match well with most bathroom fixtures and transform your bathroom's look!
Pros
The integrated apron makes the installation process a lot easier
Has a tile flange
Cons
Only works with right-hand drain
10. American Standard 60″ Alcove Soak Bathtub
American Standard is known for its quality. A bathtub from this reputable manufacturer is guaranteed to boost your space's uniqueness and functionality at the same time.
It's available in white with an Americast material construction which makes the tub solid, strong, and durable. Even with its strength, it still has portable qualities, which entice most homeowners. It is also a slip-resistant soaking tub, so a user doesn't need to fear experiencing an accident or getting injured.
That's not all: the American Standard 60-inch Alcove Soaking Tub is a suitable choice for all ages and sizes and it's ADA certified. Just like the Kohler Expanse, it has a tile flange that doesn't just enhance the tub's installation process but also prevents water from seeping through your bathroom walls and floor.
Pros
Made of Americast material construction
Allows for an easy installation
ADA compliant
Slip-resistant
Cons
The bottom is not completely flat
Buying Guide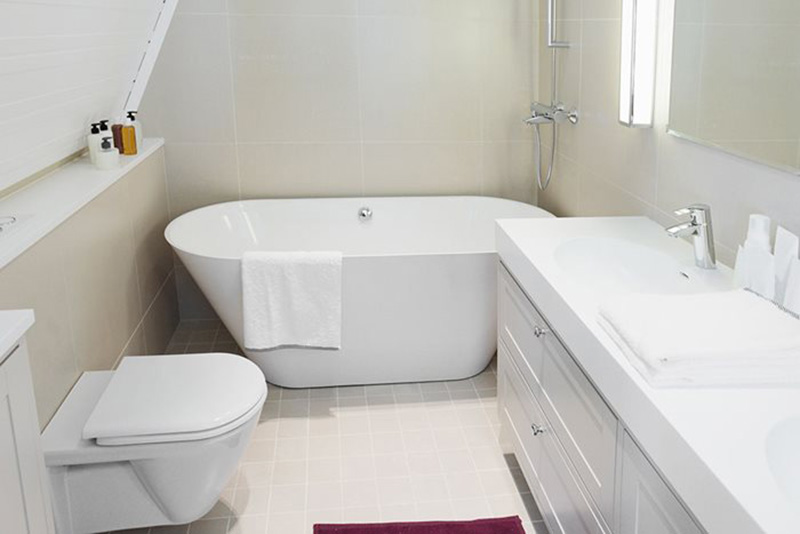 A soaking tub is deeper compared to a standard tub, which means it offers users a full soaking experience. Some units are longer and wider, allowing adults to fit into them more comfortably. However, most soaking tubs are made for small bathrooms as there's no need for extra length due to the increased depth.
Unlike regular bathtubs, soaking tubs have overflow features to keep water from spilling out and causing a flood. As a result, you get to experience complete coverage.
How deep is a standard soaker tub?
The standard soaker tub has a minimum water depth of 14 inches and a maximum of 22 inches. It is deep enough to offer coverage to most of its user's frames. Japanese soakers are the ones that offer water depth that's up to 22 inches deep. To decide on your preferred water depth, consider your bathroom's exact measurements and your lifestyle.
Make sure you get a soaking tub that's compatible with your body as well. Remember: the minimum depth for this type of tub is 14 inches, which allows the water to cover nearly the full body of the average person. When choosing a tub, it is essential to keep the user in mind.
Types of Soaking Tubs
As you know by now, soaking tubs come in different types. When you consider your options, make a decision that's also based on the experience that you want from the bathroom fixture.
A freestanding soaking tub doesn't have sides that require installations to walls. It has a base that's designed to offer support for the full weight of the tub.
A type of freestanding soaking tub, the clawfoot has 4 feet or pegs directly underneath it. The pegs have a claw design with a metallic finish, lending its name 'clawfoot.'
A walk-in tub is less indulgent compared to most types of soaker tubs as it's more for need and convenience. It is specifically made with people with disabilities and seniors, which means it is safer and allows for an easier way of going in and out of the tub.
Often called a platform tub, it offers a tub's basic shell. It doesn't have a finished side. Instead, it's dropped into a frame that is designed to match a bathroom.
This type requires installation on between three walls and provides access on one side. This tub is only finished on one side with the option to add a faucet and showerhead.
This soaker tub is designed to fit in a corner of a bathroom, which allows for better utilization of bathroom floor space. It is often in a pentagonal or triangular shape.
This is the new rave when it comes to bath fixtures. It is small and deep and fabricated with a bench or seat to provide the ultimate bathing experience.
Soaking Tub Materials
Your decision on your new soaker tub's material is likely to depend on a material's looks, ease of maintenance, cost, and, of course, comfort. Let's take a look at the most common options.
Also known as fiberglass-reinforced plastic or FRP, this is the most affordable option for bathtub material. Soaking tubs made of fiberglass contain several layers of it that are formed into a desirable shape and then added with a coating called Gelcoat resin.
The advantages include being lightweight, less expensive, and easier to install. The finish can easily be repaired as well. As for its negative side, a fiberglass tub is thinner and it's not the most durable material so it can scratch and crack without proper maintenance.
Also called enameled steel, porcelain on steel is another common soaking tub material that is known for being inexpensive. It is stamped with a thin layer of steel and finished with a porcelain enamel layer. A tub with this construction is not just affordable, but it is also durable and surprisingly easy to clean.
Its finish is resistant to most common chemicals, plus it retains its gloss even after several years. Additionally, it is especially useful when getting a replacement for an acrylic or fiberglass tub or shower unit as it fits in the same opening. It may also be finished off with ceramic tile surround.
Its downside? It is heavier in comparison to acrylic or fiberglass. Its surface can also chip under impact and rust. Lastly, there's a limited number of soaking tub sizes and shapes available for this type of material.
An acrylic tub makes use of fiberglass sheets as its reinforcement underneath the colored acrylic sheets formed with vacuum. It is preferred by some homeowners as with fiberglass but an acrylic tub is more expensive.
Its disadvantage is that it can discolor or scratch over time but better grades of finishes for acrylic soaking tubs can minimize the issue. Acrylic is a good choice as it comes in different sizes, shapes, and colors. However, it can lack a high-end appeal, which some people may be looking for.
If you are on the lookout for a tub material that's going to last, this is your best bet. A cast iron tub is made by molding molten iron into the desired shape. It is then smoothened out and coated with thick layers of enamel.
Cast iron soaking tubs are considered as the most durable. Their finishes are also resistant to scratching, chipping, and denting as with most kinds of chemicals. A number of colors are available, plus there is a richness with cast iron that is incredibly difficult to match. Because it is a heavy material, it also retains the heat of the water.
On the downside, a cast iron soaking tub is extremely heavy. It also requires extra labor and floor reinforcement for its installation. It typically is among the most expensive to purchase and install.
Relatively newcomers to the market, soaking tubs made of solid-surface materials are durable and they can retain heat very well. A variety of natural-looking, subtle colors are available and their finishes can be repaired when needed. They're also made into various shapes and sizes.
On the downside, these tubs are relatively expensive and somewhat heavy. They may also require a longer lead time to acquire.
Although less popular, a ceramic tile soaking tub is made on-site to the shape and size desired by the homeowner. It comes with more design options than any other tub material. The problem, however, is the maintenance as the grout deteriorates. The irregular interior or surface may also be uncomfortable to relax on as it brushes bare skin.
Soaking tubs can be made from various natural stone materials such as marble, granite, basalt, travertine, onyx, and sandstone among others. They are extremely heavy as they're made of stone and they require a special structural frame that will support their weight.
A bathtub can also be made out of teak or other kinds of wood. It is a one-of-a-kind piece as you would imagine and offers that unbeatable wow factor. The downside is the high price tag. The two materials, stone and wood, for soaking tubs require lots of maintenance to retain their original beauty.
Things to Consider
With the essential factors put into consideration, a soaking tub in a small bathroom can offer you a long, luxurious, and relaxing soak.
When it comes to soaking bathtubs, taking exact measurements is critical. A tub that's too small can hinder you from having that perfect bath. Measure your space thoroughly. The more limited the floor space, the deeper and taller the tub should be.
The best soaking tubs for small bathrooms have a fiberglass or acrylic construction. Sturdier, heavier tubs make use of enamel and metal, but they can look and feel bulky within limited spaces. There are more luxurious options that are made of concrete or natural stone, but they're also particularly heavy and more expensive.
Soaking tubs, as with standard models, aren't one-size-fits-all. The typical soaker bathtubs suitable for small bathrooms have a length of 55″ to 60″. Select the size based on your space and your goals with the addition of a new bathtub. Most soaking tubs are capable of holding 55 gallons of water.
Getting the right water depth measurement will depend on how you recline when you're in the tub. If you slouch while in the tub, then you can opt for less water depth. If not as you prefer sitting upright against a backrest, then you'd need a higher water depth for coverage.
The position of the drain is particularly important when replacing an old bathtub. Although possible, moving a drain can be expensive and difficult. If you wish to save on time and cost for the placement of a new drain as well as the pipe, then find a model that matches your existing drain placement.
As you get to upgrade into new bathtub knobs and faucets, take the opportunity to choose fixtures that complement the new style of your bathroom. Brushed metal is currently on trend and it is great at hiding water stains.
A new soaking tub will transform your purely functional bathroom into one that features a beautiful focal point. If you are starting from scratch with your brand new tub, choose an installation method that works best with your space to showcase your soaking spot.
The floor that is underneath a heavy bathtub, especially after it is filled with water, will require reinforcement. Also, not all bathtubs, even the regular ones, fit standard water supply fittings or bathroom drainage. Take this into consideration as well as you may need to do additional remodeling in order to incorporate the new bath fixture. If this is the case, then you will need the assistance of a qualified plumber.
Conclusion
With all the information you gained from reading our guide on the best soaking tubs for small bathrooms, we are pretty certain you are now decided on which to get!
However, if you are torn between several units as all 10 models we've listed are essentially the best in the market, we suggest you stick with the Empava 48″ Japanese Deep Soaking Tub as it makes luxury affordable!
Even when you are on a tight budget, the soaking tub's amazing finish, which suits modern interior décor, will make you feel as if you are in a mansion. It is sturdy, contemporary-styled, and cUPC and UL Certified.