5 Best DIY Bathtub Refinishing Kits
If there's one place even in a small apartment that gives you the much-required space to unwind, it's the bathroom. And the most relaxing thing could be a hot bath calling for you to drown your sorrows in a cozy tub. But what happens when your old bathtub develops stain, cracks and becomes unfit for all your hot, bubbly dreams?
Although repair or replacement are the two common ways to get your bathtub problems fixed, they do cost a fortune and could take days to finish. A third, more cost-effective and viable option is refinishing your tub that looks just as good and the best way to do this would be to actually DO IT YOURSELF!
So, if you're interested in knowing all about it, here's our extensive guide to some of the best DIY bathtub refinishing kits!
The 5 Best DIY Bathtub Refinishing Kits
1. Ekopel 2K Bathtub Refinishing Kit
Buy on Amazon
The Ekopel 2K is a pretty awesome bathtub refinishing kit which allows you to get a brilliant finish for any sort of bathing space that you might have.
The kit comes with a spreader and a leveling comb that make it considerably easy for you to do this project all by yourself. You won't even require an extra pair of hands for doing an excellent job out of this!
This refinisher is actually a "modified epoxy coating" that doesn't really peel off, especially if you pair it up with a regime of proper etch cleaning. The peel-resistant nature of the finish makes it ideal for all kinds of bathtubs and also incredibly moisture-resistant.
One of the best things about this product is that it is entirely eco-friendly. It is extra low in its VOC content and poses no harm to the environment.
Unlike most paint and finishing coats, this doesn't emit toxic fumes or chemical odors, keeping your bath clean, safe and free of nasty smells.
Pros
The product is eco-friendly
It is an anti-peel product
Cures within 24 hours
Full step by step demo videos
Comes with a spreader and a leveling comb to make your job easier
Cons
Could be a bit limited quantity-wise
2. ArmoGlaze Odorless Bathtub Refinishing Kit
Buy on Amazon
The ArmoGlaze bathtub refinishing kit is an odorless finishing product that gives off a synthetic porcelain finish. The product can be laid out at a thickness of about 1/16 inch. The mirror-glaze of the product looks spectacular on any sort of material for your bathtub.
The product provides a heavy-duty coat. The quality of the product is indeed superior to what is offered by most other brands. The coat doesn't peel or chip under leaky faucets or even under bathmats.
However, the product may form puddles at the bottle. There is no stirring tool available with it, so do make sure not to let the product stagnate at a particular spot.
But we do like the fact that it dries up completely within 24 hours, becoming usable for the purpose. The product could be used to refurbish a range of things such as bathtubs, shower bases, kitchen and bathroom sinks and even for stainless steel sinks.
Pros
Gives off a beautiful, mirror-like glaze finish
Provides a thick, durable coating
Dries up within 24 hours
Entirely chip-resistant
Can be applied to a range of different surface textures.
Cons
Forms puddles if it sits for too long
3. Magic Tub and Tile Refinishing Kit
Buy on Amazon
The tub and tile refinishing kit from Magic Tub is a decent, moisture-resistant finishing coat. The product comes in a two-part formula. It has a base that consists of an acrylic base with a hardening agent, and an activator which is an epoxy with a hardening agent. The agents combine to form a super-formula and an incredibly strong bond.
It is easy to use and covers around 75-100 sq feet in just two-coats. This is actually sufficient for one large and two average tubs. The finish is long-lasting and holds up substantially well. The only issue with this product could be that it can chip after a point, as it stretches really thin.
This requires quite a few more coats to build upon the thickness of the layers. The finish that you will get is bright-white that looks quite beautiful on all sorts of bath and kitchen fixtures.
When it comes to refinishing tiles with this product, it may clump a little on the surface, so make sure to use a limited amount when you are doing the tiles.
Pros
It is a high-performance, durable refinishing product that comes in a two-part formula consisting of base and activator agent.
The formula is resistant to moisture and holds up really well against the onslaught of time.
It comes with proper instructions so that you can DIY easily.
Cons
It stretches thin on the surface of the tub but can clump on tiles; it requires a bit of getting used to.
4. Rust-Oleum Tub Refinishing Kit
Buy on Amazon
Rust-Oleum is a reputed brand of finishes for bathrooms that is known for its durable and resilient texture. This tub refinishing brand comes with a short nap roller and sprayer for making this DIY task exceedingly easy for you.
The product comes in a two-part epoxy-acrylic formula (A and B) that you have to mix well together, preferably for 2 minutes to get the final product ready. Once it is prepared, make sure to apply it within 6 hours.
This formula makes the product immensely resistant to corrosion and moisture. The product can cover up to 110 sq ft for each kit as long as you limit it to 2 coats, which is recommended anyway.
It provides superior adhesion in water and a brilliant lasting finish for any old tub or tiled-surface.
The kit also contains flexible application tools such as a sprayer and snap roller, which makes it easy for you to complete the task. However, make sure to ventilate the area adequately for it to dry out completely.
The finish does take 3 days to dry. This is a substantially long period of time taken by the product to be ready for use.
Pros
Incredibly long-lasting texture.
Comes with easy-application tools
Provides superior adhesion in water
Resistant to moisture and rust
Cons
Takes up to 3 days to dry
5. Homax Tub Refinishing Kit
Buy on Amazon
The Homax Tub Refinishing Kit offers you a very resilient, high-gloss porcelain finish product that not only gives your old tubs and tiles a marvelous, pearlescent finish but it also puts a protective shield on the damaged areas of the surface.
It restores old, discolored or stained bathrooms to its former glory at merely a fraction of what you would otherwise have to spend on replacement and repair in both money and time.
The kit comes with a one-part tough or tile brush, steel wool, prep cleaner, paintbrush, and gloves. The product does not drip or sag, ensuring a consistent, superior finish which eliminates brush marks.
The product cures in 48 hours on any sort of surfaces such as porcelain, fiberglass, countertop laminate, glazed ceramic tile, china, and acrylic surfaces.
It is much more durable than other epoxy products, that actually feels a lot like tile in texture.
Our only gripe with this product is that it does smell quite strongly of chemicals. Make sure to use a mask while handling it and keep it out of reach of pets and children.
Pros
Ensures a high-endurance and high-gloss finish for your bath-fixtures and tiles
Cures entirely in 48 hours
Could be used on a range of surfaces
Repairs and restores old and discolored baths
Comes with all the necessary application tools
Cons
Smells strongly of chemicals
Buying Guide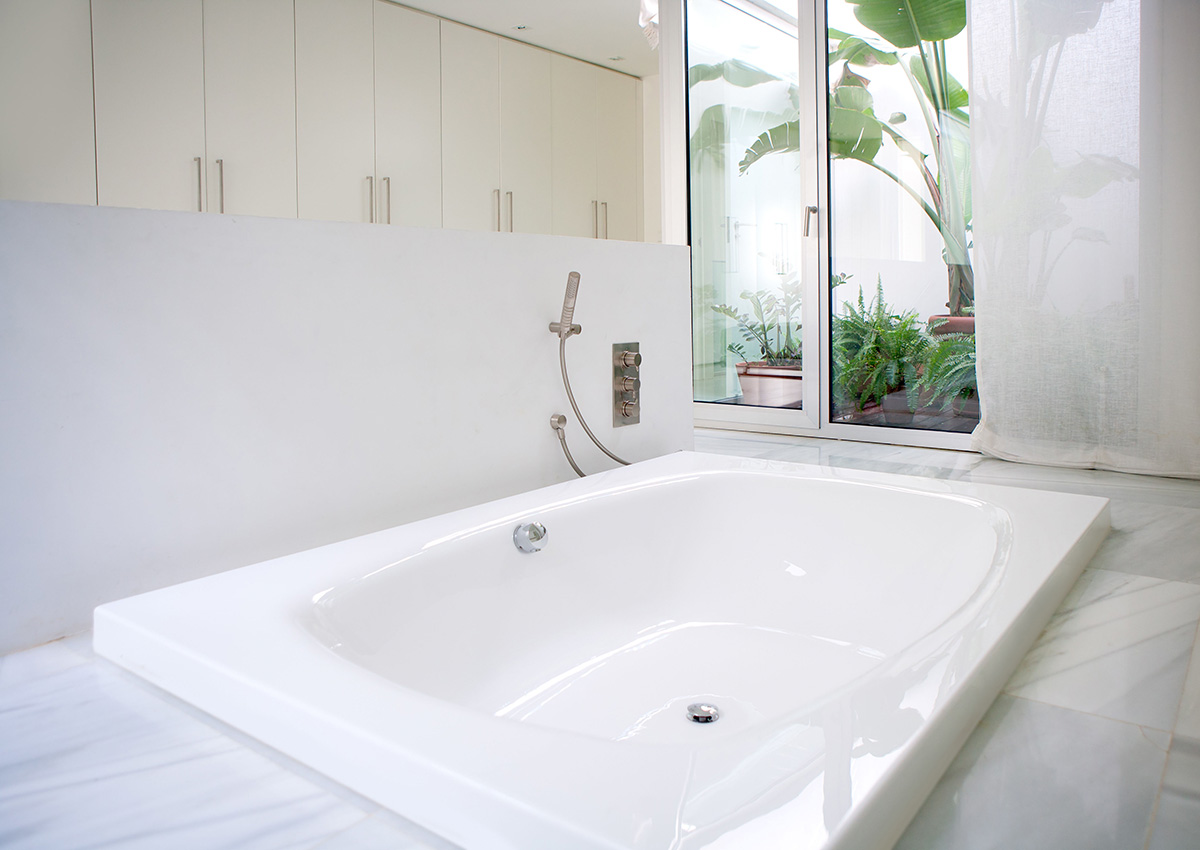 Things to consider when buying a tub refinishing kit:
Most paints and refinishing products usually smell strongly of chemicals and produce toxic fumes during the application or even after the procedures are done with.
These chemicals that include VOCs or Volatile Organic Compounds are not only immensely harmful to humans, they can also damage animal and plant-life to no extent.
As soon as these chemicals are released into the air, they contaminate the different levels of the atmosphere, gradually reaching the Ozone layer around the earth and making it weak against the ultraviolet rays of the sun.
This can single-handedly result in cancer-causing radiation for all life forms on earth.
Apart from this, the toxic fumes emitted from the products could affect your health in numerous ways, causing complications in the lungs, the circulatory system, the central nervous system, and the endocrine system.
Although it is not always possible to get formulations that are entirely free of chemicals, you can opt for products that have minimum concentrations of these. So that at least the degree of damage could be contained to a certain extent.
It is best to opt for eco-friendly refinishing kits always. And since your body is always going to be in close contact to the surface of the bath, it is all the more important to go for something safe in every way.
When opting for bath refinishing kits, the thickness and texture are always going to be the major concerns. Before getting a DIY bathtub refinishing kit, always enquire and learn about the kind of thickness that the refinishing product would provide.
The number of coats that you apply will depend on the thickness of the substance. Two generous coats are usually what's required to get a smooth and shiny finish. The number of coats that you put also determine the durability and longevity of the product.
Some of the best refinishing products provide a thickness of 1/16 of an inch, laying out smoothly and evenly on any kind of surface. These can get you a superior finish in just a couple of coats.
However, some finishing products may require a fair number of coats before they can produce the same results.
Hence, in both cases, it may really be a trial and error experience altogether before you find the ideal one for your purpose.
Similar to what we had to say about the thickness of the refinishing product, the coverage that it can provide depends primarily on the quality of the product. While some can easily go up to 100 sq feet or even more than that in just 2 coats, some can run out entirely in a lesser number.
Usually, the coverage that a finishing product can provide depends on the quality and thickness of the product. If it is substantially thick, then the chances are that it will run out quickly, but provide you with a great finish.
Thinner refinishing substances usually stretch out to greater distances, covering more. But these usually require some coats to produce a good finish.
The "curing" time or drying times of a bathtub refinishing depends entirely on the product quality and thickness. Refinished items can take up to 2 or 3 days to dry completely.
To cure correctly, the product has to set and sink in entirely into the pore of the surface texture as well as in all the ridges, grooves, and cracks that require to be filled. This way, the product forms the primary barrier and finish on the surface to repair it.
The second coat can be applied as soon as the first one dries or after a set period of time. This second coat is mainly done to get an even, smooth, and long-lasting finish.
And if you're applying more than two coats, it could take even more time to dry.
However, you can get refinishing products that cure up within 24 hours as well. But there could be a difference in quality between these and the ones that require longer periods of time.
There is a wide assortment of colors available for bathtub refinishing purposes. These could range from whites and neutrals to darker and even black ones, for that matter.
And what's more interesting is that these refinishing products are also available in a large variety of textures that include different kinds of glaze finishes such as mirror or satin.
These could also come in high-gloss porcelain and even stainless steel finishes which look absolutely natural and beautiful for restoring old bathrooms.
Whites and neutral shades are very versatile and could go on a large number of items such as sinks and tiles apart from tubs. Whereas, other colors may be used to make a brilliant interior decor statement for your bathroom.
Refinishing kits usually come with a few tools for application such as a snap roller, sprayer, leveling comb or brush applicators. These are pretty flexible tools that make the process of applying the refinishing products pretty easy and manageable.
For finishing, some kits may include buffers or steel wool. These may also come with protective gloves so that the chemicals don't harm or stain your skin in any way.
Now if you are going to refinish your bathtub all by yourself, you need to make sure that the refinishing kit you are opting for contains all the essentials to make the job easy for you to undertake. You should also check if the consistency of the product is manageable for you or not. It should go on easily on the surface real quick.
Products that are drip or sag resistant work really well for personal or individual projects as they ensure a mess-free result.
And since, most kits will already provide you with all the application tools, DIY bathtub refinishing projects should not be a hassle, to begin with.
How To Refinish A Bathtub Yourself?
Refinishing a bathtub at home and all by yourself could be, well, a challenging feat. There are a few steps involved that require professional know-how and skills.
But, given the right devices, you should be able to manage it well and achieve the desired results.
A DIY refinishing coat could be tougher to manage than ordinary paint and could chip if not applied correctly.
The steps to Do It Yourself are as follows:
Prepare the tub by cleaning it thoroughly and removing all the caulking. Remember to remove the faucets of the tub and drain hardware.
Dry it off completely, first, by masking off and covering the area around the tub. After that ventilate the tub and surrounding areas by opening the windows or setting up fans. No trace of water should be left on the surface that needs to be refinished.
Next, use water and kit's etching powder to etch the surface of the tub. This will dull the texture of the surface so that the finishing coats can bond to it well. Rinse the tub after etching.
Sand the surface while it's still wet to roughen it further. Rinse the tub and let it dry well.
Wipe the tub well to remove all traces of water. After that, wipe it with a dry tack cloth to remove any paper residue or dust.
Use a roller applicator to apply the primer on the surface and let it dry.
Mix the ingredients to create the epoxy coating. It may consist of acrylic base and activator. Begin by applying finish to the sides of the tub with the roller tool. Alternate between horizontal and vertical strokes to prevent the substance from dripping on roller ridges. Apply the finish on the tub deck (horizontal surfaces), then roll over at the tub bottom. Finish the tub edges as required with a sponge brush.
Apply a second epoxy coat soon after you're done with the first.
Let the coating cure for 48 hours (preferably). Make sure the area is well-ventilated at least for the first day.
Finally, reinstall the drain hardware and faucets. Caulk the tub and set it to cure overnight before using it.
FAQ
Is DIY bathtub refinishing safe?
DIY bathtub refinishing is a safe procedure as long as you use refinishing eco-friendly kits. Some serious concerns may stem from methods that are involved in bathtub reglazing. Adopting safety measures is a must, including protective face masks and gloves.
Can acrylic bathtubs be refinished?
You can refinish an acrylic bathtub using an high-gloss acrylic-based refinishing agent. Epoxy fillers can repair the damages to the surface, including older scratches and chips. You can either change the color of the surface or bring back its original sheen by applying a little neutral acrylic paint. It could be easily done as a DIY project to restore the beauty of your bathroom.
Can you refinish a porcelain tub?
Refinishing a porcelain tub could be a pretty time-consuming job and will require you to be very patient, for that matter. However, with a high-gloss porcelain DIY refinishing kit, you can easily do the needful to get a marvelous sheen and texture for your tub.
These kits are available in hardware and home-improvement stores and come with all the instructions. Simply follow them to do the task successfully.
Can a fiberglass tub be refinished?
Fiberglass tubs can be refinished, and it can also be used to restore showers, bathtubs, tubs or shower units. Fiberglass can become dull after a point of time, developing unsightly cracks that can result in water leakage. Fiberglass refinishing agents can quickly solve this problem.
Can plastic bathtub be refinished?
Plastic bathtubs can be refinished, and the process for it is similar to that of refinishing and repairing porcelain or fiberglass bathtubs. The surface of the tub is chemically cleaned first to remove any soap scum, oils, and mineral deposits, after which the chips and cracks are sanded smooth. The final step involves the refinishing procedure.
How do you prepare a bathtub for refinishing?
The bathtub is first cleaned well and dried after the faucets and drainage hardware have been removed. It is then etched and sanded to smooth the chips and cracks.
The rough surface makes it ideal for the refinishing agent to bond with. The primer is applied after it has been completely dried off, followed by the refinishing itself.
How long does it take to reglaze a bathtub?
It usually takes around 2-5 hours to correctly and fully reglaze a bathtub. However, this particular period of time will depend on how fast you are reglazing the tub or how quickly the agent is laying out on the surface.
How long does a refinished tub last?
The longevity of a refinished tub primarily depends on the quality of the refinishing agent. With proper cleaning and care, a refinished bathtub can last up to 10-15 years or more! However, a refinished bathtub will involve higher maintenance than a replaced one.
Can a bathtub be refinished more than once?
A bathtub can be refinished more than once, but that may be a highly delicate and expensive procedure that will require professional help. Since it would have to be sanded and prepared again for a second round of refinishing, it might damage the surface substantially.
How do you clean a refinished bathtub?
Avoid using any harsh or abrasive chemical cleaner for cleaning a refinished bathtub. Use a mild liquid cleaner and let it sit for a few minutes before rinsing thoroughly with water. Avoid using acids or bleach at all costs.
How long do you have to wait to take a shower after refinishing your tub?
The "cure" time for a refinished bathtub could be anywhere between 24-48 hours. Give the surface a day or two to completely dry and cure before using it. Taking a shower after 48 hours wouldn't be a problem for the new finish.
How much will I save with refinishing vs. replacing a tub?
Replacing a tub can cost you a few hundred bucks easily. Compared to that, refinishing will take up a minimum fraction of what you might otherwise have to shell out in the procedures for repair, restoration, or replacement.
Conclusion
And with that, we have arrived at the very end of this extensive guide about bathtub refinishing kits, procedures and everything that's related to it. We hope you liked what you read and got an idea about how refinishing works.