The 10 Best Bathtub Cleaners
Bathtubs are great. They allow you to enjoy relaxing soaks after a long day at work so you can de-stress and unwind. But, owning a bathtub comes with a fair amount of responsibility and part of that is keeping it clean. Without proper maintenance, a bathtub will deteriorate faster. All it takes is a few layers of soap scum and residue from using different oils and bath salts to damage your bathtub over time.
But, there are plenty of cleaners available out there that are designed to specifically maintain bathtubs. As with most cleaners, they come in a wide variety. You've got all-natural cleaners that are made without chemicals and are formulated specifically for bathtubs. Then, there are all-purpose cleaners which you can use on other surfaces.
To make your life easier, we've put together a comprehensive buying guide with all the details you need to find the best bathtub cleaner. This includes a review of the 10 best options on the market, including the pros and cons.
The 10 Best Bathtub Cleaners
1. Bio Clean Hard Water Stain Remover
Buy on Amazon
Hard water is one of the toughest stains to get rid of in bathtubs. That's why you need a stain remover like Bioclean because its special formula is designed for hard water issues that include mold, mildew, and rust. It even has the power to eliminate dirt that has been there for years and even though it's great at eliminating grime, it's eco-friendly and biodegradable.
This is a multi-purpose cleaner that's suitable for use on other surfaces, such as your kitchen countertop or even your car. The best part is that this product comes with a 60-day 100% money-back guarantee. But, you probably won't need it because if customer reviews are anything to go by, this product is effective, non-toxic and easy to use.
Pros
Lab-tested
Eco-friendly and non-toxic
Offers detailed cleaning
Eliminates rust stains and even calcium deposits
Cons
Struggles to remove watermarks
2. The Bucko Soap Scum and Grime Remover
Buy on Amazon
This cleaner is designed to remove the stains and grime caused by soft water build-up. It's free from harmful toxins and chemicals. It'll even get rid of the things that form around your bathtub. It's also super easy to use because all you need to do is spray it on, wait for a couple of minutes and then wipe away.
In addition to your bathroom, you can use this versatile product to clean outdoor furniture, your car and your kitchen. But, you shouldn't use it on surfaces made of colored grout, brass, stone, natural marble or wood. Also, avoid painted surfaces.
This cleaner has really good customer reviews, with most people saying that it's the most impressive product they've ever used. If the before and after pictures we've seen are anything to go by, this cleaner lives up to the hype. It leaves surfaces looking like new.
Pros
Works fast
Multi-purpose
Leaves a pleasant lemon water scent
Leaves surfaces looking shiny and like-new
Doesn't require scrubbing
No harsh chemicals, acid or bleach
Best for acrylic and other bathtub surfaces
Cons
Not work on rust and iron stains
3. ForceField ScumBlaster Remover
Buy on Amazon
The ForceField ScumBlaster is an affordable and effective option. It has a concentrated formula which means one bottle translates to five spray bottles when mixed with water. Reviewers say it delivers professional quality results. It can cut through the toughest hard water stains, mildew, soap scum, and rust.
You'll be glad to know that this is an all-purpose cleaner and it works especially well for different types of shower tiles. It'll totally eliminate dirt on stained grout, and it works on those stains that are difficult for other cleaners. The ForceField ScumBlaster comes with its own grout brush for deep cleaning and a spotless finish. It's an effortless way to clean without using too much elbow grease. All you need to do is spray it onto the affected surface and allow it to sit for a few minutes before you scrub away.
Afterward, you can just rinse it off and watch the dirt wash away. The best part is this cleaner is safe for daily use and it's recommended to use it frequently if you want positive results that last. This formula is eco-friendly, organic and doesn't contain any chemicals or corrosive acids.
Pros
Easy to use
All-purpose cleaner
Cost-effective
Long-lasting
Suitable for all types of surfaces
Eliminates hard water stains, mildew, and soap scum
Cons
4. RMR-86 Mold and Mildew Stain Remover
Buy on Amazon
Mold can be extremely difficult to remove. That's why you need a tough and effective cleaner like RMR-86 Instant Mold Stain & Mildew Stain Remover. According to the package, its fast-acting stain removal formula works within 15 seconds. You don't have to scrub anything or apply extra pressure either. Thanks to the bleach-based formula, this product works on grout, wood, tile, and fiberglass. Just don't use it on metal.
Customer reviews suggest that this cleaner really does act fast and it works as advertised. However, there have been some complaints about its strong smell. But, you could always open the window and keep the area well-ventilated to fight this problem. Otherwise, this is the single most effective mold and mildew cleaner on the market.
Pros
Suitable for use on a different surface
Removes mold easily
Easy to use
Works fast
Cons
5. Better Life Tub & Tile Cleaner
Buy on Amazon
The story of the Better Life Tub & Tile Cleaner is an interesting one. It was developed by two lifelong friends who wanted something safe yet effective to clean their homes. Better Life is safe to use in a family home with small kids and pets. Using it will decrease your carbon footprint because it's eco-friendly as well. It doesn't contain any artificial fragrances or harmful chemical fumes, yet it can eliminate hard water stains, rust and soap scum with ease. Using this bathtub cleaner around your bathroom means you can finally be at ease while getting clean.
This brand is so eco-friendly that even the packaging is made from biodegradable materials using solar energy. This means that even if you choose to not recycle it, the packaging will return to the earth naturally faster than normal cleaners. The best part? It's cruelty-free too, which means it isn't tested on animals.
This product gets rid of dirt and grime without costing you your health and it's gentle on the environment. With no neon dyes or harmful perfumes, this product is super safe and a no-brainer for families and anyone with a sensitive disposition.
Pros
Removes hard water stains
Gets rid of soap scum
Removes rust, mildew stains and mold
Safe and non-toxic
Biodegradable packaging
Not tested on animals
Cons
Some say that it has an unusual smell
6. Oh Yuk Jetted Tub System Cleaner
Buy on Amazon
If you're looking for a straightforward cleaner that works fast with no fuss, this is it. Don't let the sweet and pleasant smell fool you, this cleaner contains an all-purpose formula that incinerates dirt and scum. It also comes in a variety of botanical scents that are incredibly pleasant. If health is a priority to you, then you'll be glad to know that this cleaner is non-toxic and safe to use.
In addition to having a powerful formula, Oh Yuk offers great value for money. It comes in a massive 3.79-liter package which is equal to one gallon! This translates to over 1,000 gallons worth of cleaning power and it's good enough to use in a commercial setting. In fact, this tub cleaner is a great option for hotel owners or anyone that needs a cleaner that can go the extra mile.
According to reviewers, using this bathtub cleaner leads to better water flow and it completely removes bacteria. The only downside is that it takes an hour to work but it's well worth it when you consider the value it offers.
Pros
Field-tested
Best for jetted bathtubs
Eliminates soap build-up
Offers excellent results
Leaves your bathroom spotless
Works in an hour
Cons
It has a horrible biolayer that you may not like
7. Homitt Electric Spin Scrubber
Buy on Amazon
This electric spin scrubber from Homitt is the perfect tool to use for quick bathroom cleaning. It's powered by a long-lasting Li-ion battery and comes with four brush heads for your convenience. Each brush contains stiff bristles that can scrub away stubborn dirt and grime in moments.
These brushes will come in handy when trying to get rid of dirt stuck in the corners of your bathroom surfaces. The best part is this is a cordless scrubber and it's incredibly easy to use. It offers a convenient ergonomic design that's sure to be a hit with efficient cleaners.
As if that weren't enough, this electric spin scrubber comes with a 21-inch long extension handle that allows you to reach difficult corners with ease. It definitely makes cleaning around the bathroom that much easier. Plus, the spinning mechanism has a 600 RPM range without making much noise.
Pros
Works fast and efficiently
Waterproof
Long extension arm
Offers a high spin speed
Cordless operation
Powerful battery
Cons
8. Drillbrush Power Scrubber Cleaning Kit
Buy on Amazon
Clean your shower effortlessly with this convenient scrubber. It offers cordless operation with thoughtfully designed nylon brushes that are made to completely remove dirt and scum from bathtubs and shower tiles. This is a complete kit with a trio of brushes that comes in various shapes and sizes. Each has nylon bristles that are gentle on your tiles and won't leave behind any scratches. In fact, this kit is so gentle that you can use it on different materials like fiberglass, porcelain, baseboards, sinks, shower door tracks and of course bathtubs.
Each brush features a quick-change shaft that's designed to simplify the process of changing them. Plus, this product is backed by a 90-day money-back guarantee or peace of mind. But, you'll need to purchase the cordless drill separately.
Pros
Easy to use
The brushes are easy to change
Can be used on different surfaces
Non-scratch bristles
Nylon brushes
Cons
You have to buy the cordless drill separately
9. OXO Good Grips Extendable Tub Scrubber
Buy on Amazon
This extendable tub scrubber from OXO Good Grips is super easy to use, even for beginners. It extends from 26 to 42 inches in moments and enables you to reach difficult spots with ease. With this handy device by your side, you won't need to crouch or climb anything to clean various surfaces around your house. You can use it to clean your tub, tiles, floors and more.
Not only that, but it offers antimicrobial properties for a truly hygienic finish. It cuts through grout lines and corners with absolute ease and it'll leave your bathroom so clean that you won't have to worry about water retention after.
This is a well-built machine that can cut through grease without considerable scrubbing. It also comes with a soft grip that doesn't slip no matter how wet it gets. Plus, it can clean at different angles to reach all those different spots around your bathroom and bathtub that don't get much attention.
Pros
Anti-microbial head
Lightweight steel pole
Comes in a unique shapes
Tackles grout lines like a champ
Large extension range of 26 to 42 inches
Versatile enough to work in narrow spaces, corners, floors, tiles, glass showers and tubs
Cons
10. Mr. Clean Magic Bath Cleaning Pads
Buy on Amazon
The Mr.Clean Magic Erasers are incredibly popular on account of how easy they are to use. This is a powerful product that works magic on bathtubs. It's different from regular Magic Erasers as it's larger and delivers fast results. Plus, these magic erasers come with Durafoam which is great at getting rid of grime and soap scum. All you need to do is add water to activate these erasers and use your scrubber to get the job done. Customers say it can really make your life easier.
Pros
Gets rid of grime and soap scum
All you need to do is add water
Eliminate 3x the soap scum than its nearest competitor
Cons
The chemical smell can be overpowering
Buying Guide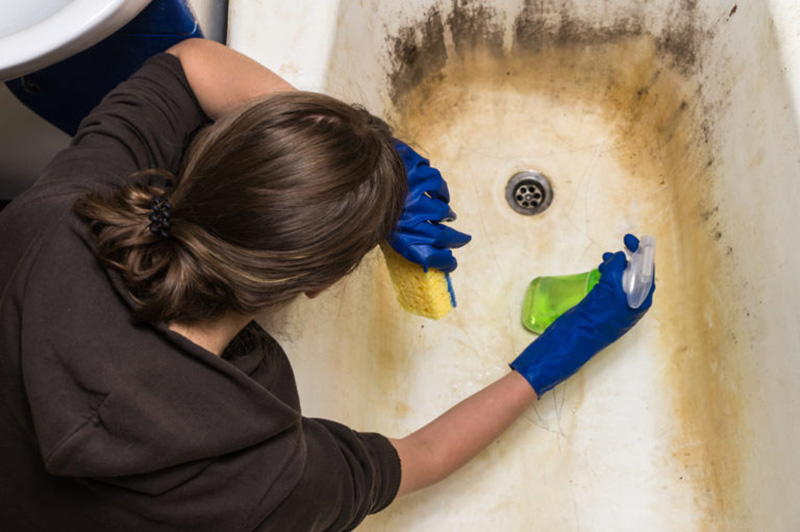 Types of Bathtub Cleaner Products
It's important to preface this section by saying that no product is a silver bullet. That's why you have so many options to choose from. There's always room for improvement. But, most products are multi-purpose which means you can use them to clean different surfaces around the home. But, there are those products that are designed for use in specific areas or surfaces.
Abrasive cleaners have the capacity to get rid of massive amounts of dirt, especially in hard to reach areas. They typically come in liquid or powder form and are so effective that you don't have to apply extra elbow grease when using them. The products in this category include scouring pads, and their abrasive action is a result of metal, nylon, copper and wool components mixed together in solid plastic.
Non-abrasive cleaners are available in liquid and powder form. They're concentrated which means you must dilute them. Most are available in pump-actuated bottles, aerosol cans and trigger sprays for ease of use. A lot of non-abrasive cleaners come with disinfecting antimicrobial agents as well. That's why they have words like "disinfect" and "kills germs" on the labels.
Cleaning brushes come in a wide variety of designs. Some have handles, others don't. They also come in different hardness levels so you can use them for dry brushing or peeling depending on your needs. Long-handle brushes are particularly effective at bathtub scrubbing, while handmade models add to the aesthetic of your bathroom.
Tile and bathroom cleaning pads typically come with long, rotating handles to offer flexible cleaning. Most models are made with fine bristles to get rid of persistent dirt, soap scum, and scale.
Common Types of Bathtub Stains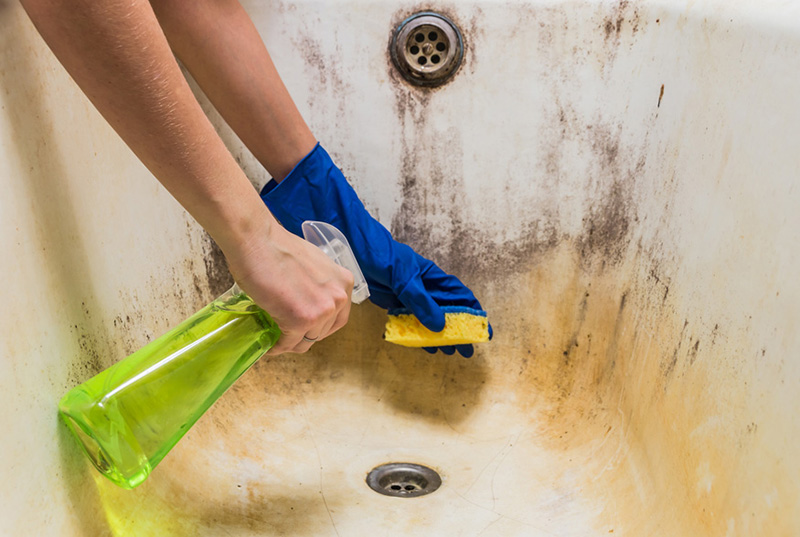 Here's a list of common bathtub stains and how to get rid of them:
This is a common stain with porcelain tubs that is usually caused by the accumulation of human oils. The easiest fix is to apply a generous amount of Comet or Ajax directly onto the affected area. Then, add some water and use an abrasive sponge to scrub away the dirt. Lastly, rinse off the area and if there's still leftover dirt, lift it away using a pumice stone. You can also use the Bio Clean Hard Water Stain Remover.
What's in your water causes brown stains in your bathtub. This could be dissolved iron. When iron comes into contact with oxygen, iron oxide is formed which causes brown stains.
To clean this type of stain, take 1 tablespoon of liquid washing soap and pour it into a quart of hot water. Shake the mixture until you get a satisfactory foam-like texture. Dip a cleaning sponge into the soapy water and use it to scrub away the dirt with easy, circular motions. Then, rinse the soap away with warm water. If you still notice stains, mix 3% hydrogen peroxide with tartar and use it to treat the stains.
If you don't want to go through all this process though then we highly recommend you use the ForceField ScumBlaster Remover.
Black stains can happen when you have trapped water in your bathtub which doesn't dry properly and creates mildew. They can also be caused by mineral deposits.
These stains are very stubborn so you must be proactive and aggressive when dealing with them. For the best results, treat them with a spray that contains equal parts lemon juice and vinegar. Leave the mixture on for 10 to 20 minutes before wiping it off with a sponge. Porcelain bathtubs can also benefit from the cream of tartar or hydrogen peroxide. Just make sure you leave it on for at least 10 minutes.
The most recommended product to use in removing black stains is RMR-86 Mold and Mildew Stain Remover.
Orange stains require thorough scrubbing with a rough sponge and clean water. They usually happen when there's excess iron in the water or mold.
If the stains have been there for a while then you may need to add a bit of water, otherwise, some elbow grease should do it. Just don't go in too hard as that may damage your bathtub's smooth finish.
Or you can also use the Oh Yuk Jetted Tub System Cleaner to remove orange stains from the bathtub.
Pink stains are caused by a bacteria that is called Serratia Marcescens. This is a bacteria that is found naturally in the environment.
Whatever you do, never allow your skin to actually touch bacteria or mold. If your bathtub or shower has pink mold, mix some dish detergent and baking soda loose paint in a ratio of 1:4 and apply it onto the affected area. Rinse it off and spray the area with a solution of equal parts water and vinegar or bleach. This should work to remove pink mold effectively.
If you want to remove pink stains in a quick and easy way then we suggest you use the Drillbrush Power Scrubber Cleaning Kit.
Over time, brass and dissolved copper details on your bathtub can cause greenish-blue or green stains. This is caused by acidic water or the use of acidic cleaning agents. The solution? Soak a cloth or sponge with plain white vinegar and scrub vigorously. Keep in mind that vinegar contains 5% acetic vinegar.
You can also use the Better Life Tub & Tile Cleaner to remove blue-green stains from your bathtub.
Bathtub mat stains are usually caused by mold that grows under the mat's suction cups.
To clean bathtub mat stains, combine 1 cup of lemon juice and 1 cup of baking soda in a pot. Stir everything together with a spoon until you create a paste. Make sure to wear latex gloves for this next step. Get a sponge to scoop out the paste and apply it to the stain. Rub it into the stain and allow it to dry. Scrub the area with a pumice stone until you notice the stains are gone. If the stains are too stubborn, you'll need to repeat this process until you succeed.
If you want to do it the easy way then you can simply use the Bucko Soap Scum and Grime Remover.
Bathtub Surfaces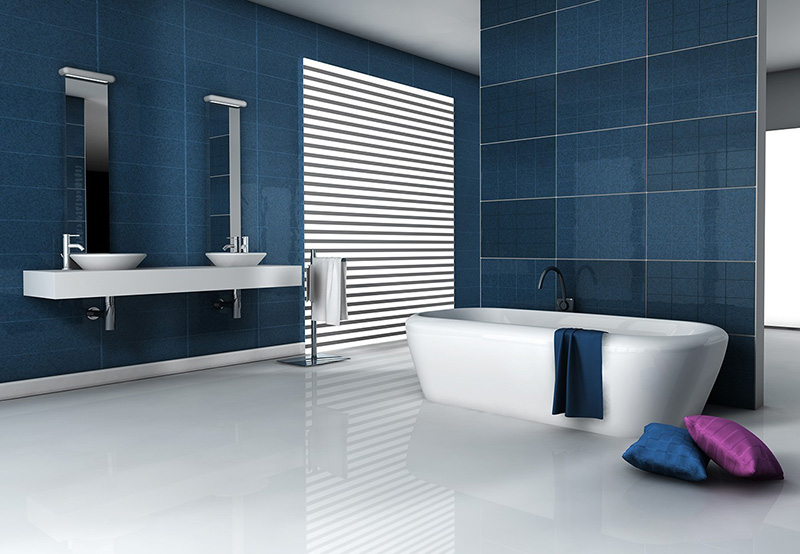 Bathtubs come in different designs and materials, so it makes sense that they'd require different cleaning methods.
Porcelain tubs are rare because they're pricey and heavy to carry. You'll know you have a porcelain tub if it isn't magnetic. Enamel and other tubs have a metallic component that makes them magnetic. Porcelain tubs don't have this element and so they're not magnetic. That's the easiest way to tell between the two.
Porcelain tubs are very sturdy and long-lasting which means they can handle harsh cleaning agents. But, you still shouldn't use harsh chemicals on them. For the best results, we recommend you use a DIY cleaning solution with cornstarch, dish soap, and vinegar. But, if the stain's really that bad then you should use a lightweight cleaning screen.
Enamel tubs are lightweight, easy to clean and they look great. They're also very popular because most people prefer them over porcelain units. Enamel tubs are made from steel or cast iron which is covered in enamel coating.
This makes them extremely sensitive to harsh chemicals and cleaning agents as well as acidic chemicals like bleach and vinegar. It also chips and scratches easily. That's why it's highly recommended to use gentle yet effective cleaning products such as dishwashing liquid once a week.
But, you might need to use powdered cleaning agents to fight stubborn stains. All you need to do is add some water to create a paste and leave it on the affected surface for 30 minutes or so. Rinse it off and wipe with a clean cloth for gentle cleaning. Be sure to do a spot check beforehand to make sure the powdered cleaner you're using is actually safe.
An acrylic bathtub is usually affordable, versatile, durable and available in a wide variety of options. It's made from fiberglass-reinforced acrylic sheets. This type of bathtub can be quite sensitive, so be sure to spot test anything you plan to use on it. Also, refrain from using heavy-duty cleaning tools like scouring pads and scrub brushes.
It's safe to use dish soap and clean cleaners on a weekly basis on your acrylic tub for basic maintenance. For tough stains, you must allow the cleaner to sit for at least 15 to 30 minutes and rinse it off. An easier option would be to use an eraser tool. Again, make sure to do a spot test beforehand just to be on the safe side.
Fiberglass bathtubs are made from fiberglass-reinforced polyester resin and a surface coat for good measure. They're not as durable as porcelain but they're easy on the pocket. Fiberglass tubs require gentle cleaning care because they're susceptible to scratches and cracks. The finish can fade quickly compared to other materials, especially if you use the tub frequently.
All you need to clean a fiberglass tub is a cleaner and shower mixture or a good quality rubbing wax. It's worth noting that fiberglass is typically resistant to mold and mildew so it's pretty low maintenance.
Plastic bathtubs feature a nonporous surface, they're long-lasting and have a durable finish. They're mostly utilized in home and they're similar to acrylic and fiberglass models. It's important to clean this type o bathtub regularly to prevent wear and tear, and mild soap solutions work best in this scenario.
How Do I Know What My Bathtub is Made Of?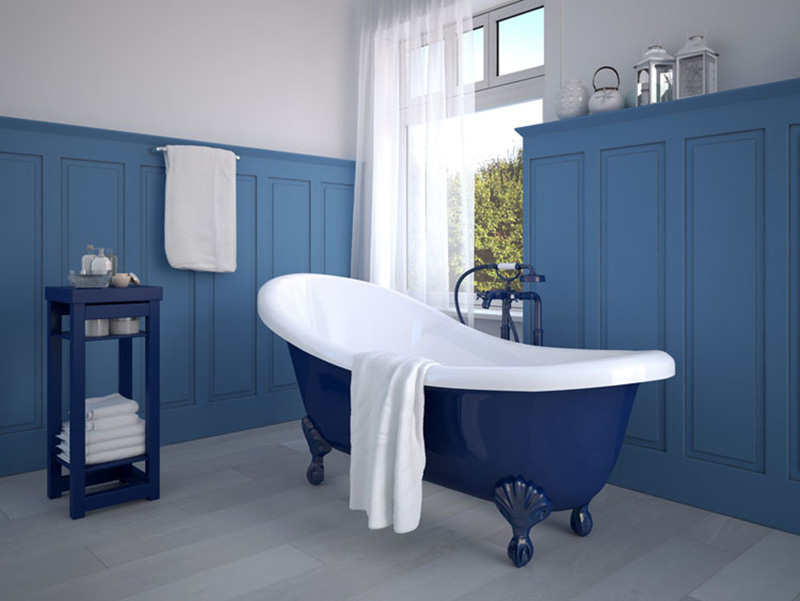 As you can see, bathtubs come in a wide variety of styles and materials. The type of materials you purchase will determine the tub's functionality, appearance, and overall cost. It's important to figure out what type of material your tub is made out of before you attempt to clean it. That way, you know which cleaning agents to use and what to stay away from.
Here are a few helpful pointers on how to figure out the material that your tub is made out of.
Knock on the outer wall of your bathtub. You'll either notice that it's thin and flexible with a little give, in which case this means you've got a fiberglass or acrylic tub. If the tub doesn't give and has a deep sounding thud instead, then it means you have an enamel-coated steel tub.
Now, look at the surface area of the tub. Does it have chips and scratches? This is usually the case with acrylic and fiberglass tubs because they're more fragile. Porcelain-coated tubs can also experience chipping as a result of dropping a heavy object onto it. If you see fading or spots on the bottom of the tub then it's probably made out of fiberglass. Tubs made from porcelain-coated cast iron or steel usually develop rust or random chips over time.
Next, look at the floor surrounding your tub. Cast iron tubs typically need extra reinforcement on the floor to handle the sheer weight of the tub. It can be difficult to spot this extra layer because it's hidden beneath subflooring but you might also notice that your tub has a supporting frame.
However, if you're able to examine the area beneath your tub, check it out to see if there's any oriented strand board or extra joints designed to carry the tub's weight.
Take a magnet and hold it on the side of your tub. If the magnet sticks, it means you have a steel or cast iron tub. If not, then it means you have porcelain, wood, cultured, stone, acrylic or fiberglass tub.
Conclusion
Bathtub maintenance is tough. That's because finding a good quality bathtub cleaner nowadays is not easy. There are way too many options to choose from and this variety can cause confusion. We hope this guide has made your decision easier. So far, we shared with you all our top tips and tricks on what to look for in a bathtub, how to clean it and the best cleaning materials and products available.
If you feel like you still need a bit of help, don't worry. We've decided to pick the best option out of the cleaning products featured in our review list. In our opinion, the RMR-86 Mold and Mildew Stain Remover is versatile and easy to use. It works like magic to remove mold, mildew, tough stains, and soap scum. You can count on it to be gentle as well because it's compatible with all bathtub materials except metal. It also works within 15 seconds and although it comes with a chemical smell, you can easily fix that with increased ventilation.