Best Bathtub Mat for Textured Tubs
Now, who doesn't want a beautiful bathtub to come home to at the end of a rough, exhaustive day? And for those who are fond of frequent showers rather than soaking in the tub, a well-defined shower area is usually what is required.
However, it so happens that at times, toddlers or the elderly find it more comfortable to shower within the bathtub itself for the convenience of sitting in it. In that case, an anti-slip bottom is necessary to prevent any risk of bathroom accidents.
And if your bathtub doesn't have a textured bottom to serve the purpose, you could always get textured bathtub mats for your tub bottom that will offer the same benefits.
Bathtub mats, however, come in two different types and could be a bit tricky to understand, especially if you have to get it for refinished or reglazed tubs. And that is why we have brought you an extensive guide on the best bathtub mats that you can buy, along with the facts you need to know about them!
Best Bathtub Mat for Textured Tubs
1. The Original Refinished Bathtub Mat
Buy on Amazon
The Refinished Bathtub Mat by Refinished Bath Solutions is manufactured using natural rubber instead of cheap plastic which goes into making many commercial-grade bath mats. This makes it substantially long-lasting and durable than most.
The mat is designed with safe reverse suction cups that make it ideal for your bathtub. It helps provide an anti-slip grip, preventing any potential accidents in the bathroom. Another advantage of this is that it does not damage the delicate finish of your bathtub in any way.
Whereas most bathtub mats can leave unsightly scratches and marks on the surface of the tub, the protective suction cups keep the rest of the mat from creating too much friction with the tub surface.
One of the best things about this bathtub mate is that it is entirely eco-friendly, made of naturally obtained rubber. This emits no strong chemical odor or toxic fumes. It is pretty safe to use and be in close with it while bathing.
Pros
Made entirely of natural rubber unlike commercial grade plastic ones
Designed with protective reverse suction cups that provide an anti-slip grip
Prevents scratches and marks on the surface of the tub
It is a completely eco-friendly product.
Cons
Could be quite an expensive buy
2. Sultan's Linens Foldable Non-Slip Rubber Bath Mat
Buy on Amazon
The foldable non-slip rubber bath mat from Sultan's is designed to have a honeycomb texture for providing a superior grip on the surface of your bathtub. It is made of 100% natural rubber and hence, poses no risk of chemical burns or toxic fumes of any sort.
The folding design of the mat enables you to safely tuck it away when not in use. The edges of the mat can fold in easily, saving a lot of space. It can be kept anywhere in the house, for that matter. However, do make sure that it is not left in the tub for longer durations of time.
One of the things that we really liked about this mattress is that it is designed to have strategically placed drainage holes. This helps your mat to dry up quickly.
Since suction cups can often pull up the finish of a reglazed bathtub, this bath mat is made to have no suction cups at all! Instead, the textured honeycomb pattern on the surface of this mat provides a secure grip on the tub surface, preventing any sort of slippage.
However, the only issue with this product could be that it is a tad bit too light in weight and can float up to the surface if the tub is filled or flooded.
Pros
Superior honeycomb texture ensures a secure, anti-slip grip
Entirely eco-friendly product made of rubber
Comes with drainage holes on it that keeps it dry at all times
Space efficient, foldable design allows you to keep it anywhere in the house
Cons
Could float up to the surface if the tub is filled
3. No Suction Cup Bath Mat by Non-SlipBathMats
Buy on Amazon
The No Suction Cup Bath Mat is made in Italy and designed keeping all age groups in mind.
It is made of vinyl and comes with a cleverly-designed texture for a powerful grip on the surface of your tub.
The best feature of this bath mat is that it is resistant to mold. This makes a huge difference between this one in particular and other commercial-grade ones that easily rot away sooner or later.
The mat can be safely used on refinished and reglazed bathtubs easily, and you need not worry about scratches or stains of any kind, for that matter. The mat is not going to get discolored in any way whatsoever. It could be stored anywhere in the house.
This mat can be easily used by children and older adults. The firm grip of the mat dismisses any potential risk of accidents.
Pros
The suction-free, durable bath mat could be used easily on reglazed and refinished bathtubs
The strategically-designed surface texture provides a strong grip on the surface
It is resistant to mold and decay
Will not discolor
Cons
Cleaning it could be an effort
Buying Guide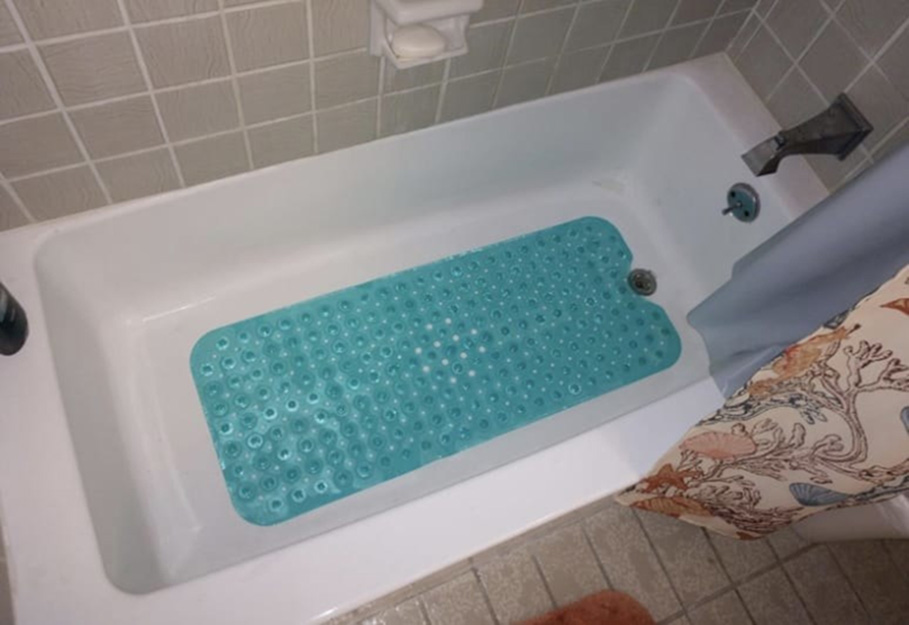 A textured bathtub is basically one that has some sort of anti-slip texture at the bottom of it. A bathtub with a textured-bottom can be primarily of two types: it can either be made to have a textured, anti-slip grip at the time of manufacture, is designed that way. Or it could have a separate protective, anti-slip layer. The latter kinds mainly involve the use of bath mats.
Now, bathtub mats can be further divided into two kinds: mats with suction-cups and textured mats without suction cups.
While mats with suction cups can provide a superior grip than most textured mats, they can often damage the surface of a reglazed bathtub, pulling off the delicate finish at times. This is when textured mats can really be of great help in resolving the issue.
Things to consider while buying a textured bathtub mat:
A textured bathtub mat designed for use on reglazed bathtub surfaces will specifically be without suction cups as they may damage the finish of the reglazed surface. Do make sure that there are no suction cups on a textured bathtub mat if you want to get one for a reglazed tub.
While a textured bath mat should provide a strong grip on the surface of the tub, not all mats will perform well in the department. It is always best to go for superior quality mats that ensure a safe, anti-slip grip. Rubber mats are generally better than the cheap plastic ones as these can provide a better grip.
Bathtub mats are usually kept in the bathtubs. The damp, moist surroundings can often lead to the growth of molds and mildew, which could be immensely harmful to your health. Make sure that the bathmat you choose is resistant to these fungal developments. Vinyl ones can come real handy for this.
Cleaning bathtub mats could be a real hassle, no doubt. A lot of filth usually gets stuck in the texture, and it could feel outright disgusting to touch to clean even with gloves, let alone with bare hands. Some durable materials such as vinyl for your mats could easily be machine-washed. And isn't that something that we all want?
The correct dimensions for a bath mat can be difficult to determine, as these could come in all shapes and sizes. However, it is better to go for one that will spare a bit of space around the edges for proper drainage, compared to the ones that take up the entire tub bottom. Foldable mats could also be a good choice as you could easily fold these up to create the desired matted-areas.
Conclusion
And that was it for our extensive guide on bathtub mats. We hope we were able to provide you with an insight into the mechanism of the product and could be of help to you.