10 Best Frameless Bathtub Doors
Frameless bathtub doors are something that are widely admired for their seamless fittings and an incredibly sexy appeal. Not only these can absolutely transform your overall bathroom decor, but they are also preferred for their versatile installation layouts.
These tub doors almost require no additional drilling or cutting in your existing bathroom layout. And that's why these doors also hack the overall cost of redesigning your bath-space if you are at all considering remodeling it.
However, the challenge lies in getting the one that will suit your bathroom space and decor the best as well as provide you with your money's worth.
With all the models and styles available out there, it could get too confusing too fast. And that is precisely why we are bringing you this guide on some of the best frameless bathtub doors that you can get right now!
The 10 Best Frameless Bathtub Doors
1. DreamLine Mirage-X Frameless Sliding Tub Door
Buy on Amazon
Dreamline is one brand that has put up a solid competition in the department of frameless bathtub doors. Not only has it ensured high-quality products, but it has also been known for the incredible versatility of its design.
The Mirage-X Frameless Sliding Tub Door from Dreamline is one of the top-selling items from the brand. It comes with a left wall installation, which makes it easy for you to install. It provides minimum resistance to the exit and entrance.
The brand uses its patented DreamLine ClearMax certified 10mm tempered glass. It is not only durable to sudden impacts, but also highly resistant to water and stains. Thus, it is very easy to clean this door and maintain it, even if you do have a limited shower space that tends to get a lot of splashes.
The bottom rail of the door can be trimmed up to 4 inches. This enables you to get an accurate width adjustment. You can also trim it up to ⅜ inches to get it to adjust for out-of-plumb on the stationary panel side.
Pros
Easy to install
Versatile designs most kinds of bathroom decor
Offers minimum resistance during entry and exits
Repels water; stain-proof
Durable tempered glass doesn't chip
Cons
2. DreamLine Aqua Uno Frameless Hinged Tub Door
Buy on Amazon
The Aqua Uno is a fascinating bathtub door from DreamLine, which is known for its charming designs. It is made with 6mm thick ANSI certified clear tempered glass that makes a single panel swing bathtub door.
It is a highly durable product that can withstand substantial impact without chipping or cracking. This is also one of the main reasons behind its commercial success. It repels water and will not let anything adhere to its surface. So, it could be easily cleaned and maintained.
The Aqua Uno has a beautiful flowy look to itself that complements most bathroom designs. One of the primary benefits is that it creates a magnified look for a bathroom of smaller dimensions. It facilitates a reversible installation, allowing both right or left wall setups.
However, this model doesn't have any adjustment for width or out-of-plumb walls. Also, it will not work for any curved bathtub structure.
Pros
Will not stain or remain wet
Allows both left and right wall installation
Looks brilliant against any bathroom decor
Creates a flowy, magnified look even in smaller bathrooms
Extremely durable tempered glass can absorb shocks and sudden impacts without cracking or chipping
Cons
Will not work for curved tub structures
Doesn't have any feature for out-of-plumb adjustments
3. DreamLine Aqua Swing Frameless Hinged Tub Door
Buy on Amazon
The Aqua Swing from DreamLine is yet another beautiful bathtub door model that is admired for its subtle-curves and clear, defining lines. The frameless curved European style only looks absolutely gorgeous in any style of bathroom.
And, it is also has a versatile design that works well for both small and large spaces. The single panel swing design of the door works especially well for smaller bathrooms where a sliding door may not work well.
The Aqua Swing features a continuous self-centering pivot that enables rotation in and out of the tub. This minimizes resistance during entry and exit, ensuring a safe and secure space for you to bathe.
The door is made of certified 6mm thick and durable clear tempered glass that doesn't crack or chip easily. It can also be trimmed up to ⅜ inches for out-of-plumb adjustments on uneven walls.
However, the door will not support any curved tub-structure.
Pros
Versatile designs suit both smaller and larger bathroom designs
Single panel swing door works well for smaller bathing spaces
Self-centering pivot reduces resistance during entry and exit
Durable tempered glass will not break easily under pressure
Cons
Scratches a lot
Doesn't support any curved bathtub structure
4. DreamLine Aqua Fold Frameless Bi-Fold Tub Door
Buy on Amazon
DreamLine has never failed to impress when it came to innovative designs. And it does keep pushing the bar high up with its ever-changing versatile layouts.
The DreamLine Aqua Fold is one bathtub door which has completely won us over with its incredibly user-friendly and beautiful layout.
It is a Bi-Fold bathtub screen that allows a wide-entry space, yet uses minimal space even for that. The hinged panel allows the least resistance during entry and exit.
Not only does it make for a highly attractive panel this way, but also works excellently for the smallest of bathing units.
The certified 6mm tempered glass offers substantial resistance against the onslaughts of daily wear and tear. It doesn't stain or collect gunk even after a prolonged period of time.
And, the anodized aluminum wall profile does allow up to ⅜ inches for out-of-plumb adjustments.
Pros
Stunning bi-fold design looks attractive and is highly functional at the same time
Offers least resistance during entry and exit
Works incredibly well for smaller bathrooms
Significantly resistant to chips, cracks or staining
Offers out-of-plumb adjustments
Cons
5. DreamLine Sapphire Semi-Frameless Tub Door
Buy on Amazon
The Sapphire bathtub door from DreamLine is a double-paneled, sliding system from the brand. It is an immensely beautiful shower door that scores significantly higher in overall durability.
These sliding panels are made of premium quality 8mm thick, certified clear tempered glass. Additionally, these come with the brand's signature ClearMax water and stain-resistant glass coat. These materials make the panels extremely durable and enduring against regular wear and tear.
The Sapphire could be adjusted for out-of-plumb installations on uneven walls. The bottom and top guide-rails of the panels could be trimmed up to 4 inches for width adjustments. Wall profiles capacitate up to ¼ inches.
The sliding panels make for a dynamic appeal in the bathroom, and they ensure a safe enclosure for a comfortable bathing experience.
However, these are primarily designed for larger bathing spaces. And, thus, it may not be a clever choice to put in a smaller unit.
Pros
Beautiful double-paneled designs look stunning
Highly durable tempered glass holds up under substantial pressure
Provides a fully enclosed and comfortable bathing space
Could be altered for out-of-plumb installation on uneven walls
Can be easily cleaned and maintained
Cons
May not suit smaller bathing spaces
6. Delta Shower Doors Semi-Frameless Tub Door
Buy on Amazon
Delta Shower Doors has always strived to provide quality bath fittings and fixtures at affordable price-tags to the public. It is a recognized company of bath fittings that offer a wide range of beautiful designs and styles in the department of shower doors and other items.
The semi-frameless tub door from this brand combines a glass panel of your choice, track style, and a handle to bring you a personalized bathtub door. The style track of the door is fashioned in bronze that looks absolutely stunning around your glass panel.
The brand uses a 6mm ANSI certified tempered safety glass that makes it sufficiently durable. Additionally, it is treated with a spot guard that makes it resistant to water spots, limescale, soap scum, and filth. It is pretty easy to clean and maintain overall.
It features a reversible aluminum top track that offers you two different styles. You can either have a traditional layout or a more contemporary one with hidden rollers that smoothly glide on the track.
The slim bottom track of the panel features a center-guided mechanism that ensures quiet and smooth operation.
Pros
Charming and elegant designs fit both traditional and contemporary decor
Center-guided mechanism ensures smooth and quiet operation
20" bar offers extra towel storage
Highly functional overall design
Cons
May not fit smaller bathing spaces
7. Sunny Shower TD2 Frameless Hinged Tub Door
Buy on Amazon
The frameless hinged tub door from Sunny Showers is greatly demanded for its functional, yet charming layout. This tub door features one stationary panel and one swing panel that can go up to almost 180 degrees.
This allows for maximum exit and entry range while taking up just the bare minimum space. It does have a beautiful curved design that accentuates the overall decor of your bathing area, freely magnifying its overall dimensions.
This bathtub door comes with an 8 mm thick ANSI certified glass, unlike the 6 mm that most brands offer. This makes the door larger and significantly more enduring than most models.
The tub door allows reversible installation for right or left door setups that adds to its versatility. However, the surface of the door does scratch up significantly, and that may lead to the build-up of grime and germs over a period of time.
Pros
Beautiful, versatile designs
Easy to install; allows both right and left door installations
Extremely durable 8 mm tempered glass
Hinged layout offers the least resistance during entry or exit without taking too much space
Cons
Surface scratches easily and may lead to a build-up of grime and germs
8. Elegant Semi-Frameless Bypass Double Sliding Tub Shower Door
Buy on Amazon
One of the primary reasons behind Elegant's success as a bathroom-fittings brand was its focus on making products that were ensured absolute user-safety and security.
And the semi-frameless bypass double sliding tub shower door from the brand stands to be a stellar example of that.
Made with ANSI certified 6mm clear tempered glass, these double sliding tub panels provide an absolutely safe, comfortable, and highly functional bathing space for you.
The door features a quality clear vinyl seal that creates an efficient water-barrier. This keeps the water from your bathing space from splashing out, ensuring a clean, dry, and tidy bathing area. This reduces the chances of slipping and also makes it easier for you to keep the space clean.
The only issue you can have with this one is during installation. And although it does offer trimmable adjustments for out-of-plumb installations, you may have to call in the professionals to adjust the panels correctly to your existing layout.
Pros
Beautiful and functional designs guarantee a safe bathing enclosure for you
Durable and resistance to sudden shocks and impacts
Features an exterior towel bar
Easy to clean and maintain
Cons
Installation could be a hassle
Not for smaller bathing spaces
9. Duschdeluxe Frameless Hinged Swing Tub Door
Buy on Amazon
Duschedeluxe is a brand that is known for its exceptionally modern designs and functional layouts that ensure a greatly satisfying bathing experience. The frameless hinged swing tub door from the brand brings you a unique design combining the best of both of these individual layouts.
It features a safety ANSI certified 6mm tempered glass that is sufficiently durable and reduces the risk of accidents, with a rust-proof metal panel. The folding swing design provides you all the space needed to comfortably enter and exit your tub without creating any kind of barrier.
Additionally, the vinyl seal on the door keeps water from splashing out and wetting the adjoining areas. This reduces the risk of slippage and keeps the spaces clean and dry. This also reduces collision between wall and glass, helping you to clean the structure easily.
However, it may be an expensive buy and require professional installations
Pros
Beautiful modern designs complement all kinds of bathroom decor
Features vinyl water seal that helps to keep the area clean and dry
Provides easy access into and out of the shower space without creating any sort of barrier
Suits both bigger and smaller bath spaces
Cons
May be expensive
Requires professional installations
10. Mecor Hinged Frameless Glass Tub Enclosure Door
Buy on Amazon
Last up on this list is a beautiful frameless and hinged tub door that we think people should know a bit more about. Mecor is a brand that provides pretty efficient and affordable one-step bathroom decor solutions for all its customers. It primarily focuses on functionality rather than on extra additions.
This tub door maintains the simplicity of a charming, practical layout that provides all the benefits of a quality shower door. It is made using premium-grade ¼ inches safety transparent clear glass with a beautiful chrome finish. It is greatly durable to impacts and ensures maximum user-safety.
The 180 degrees pivot radius allows both left and right-hand installations to provide you with all the ease of use. The hinged design not only offers maximum free walk-in space, but it also makes it an ideal option for limited shower spaces.
The handle on the door provides you with the extra support that you need, and the shower screen seal reduces water from getting out.
However, installing it may require professional help.
Pros
Affordable
Functional design offers all the benefits of an ideal tub door
Designed to ensure complete user-safety
Provides a wide walk-in and exit space
Cons
Requires professional installations
Types of Frameless Glass Shower Door for Bathtub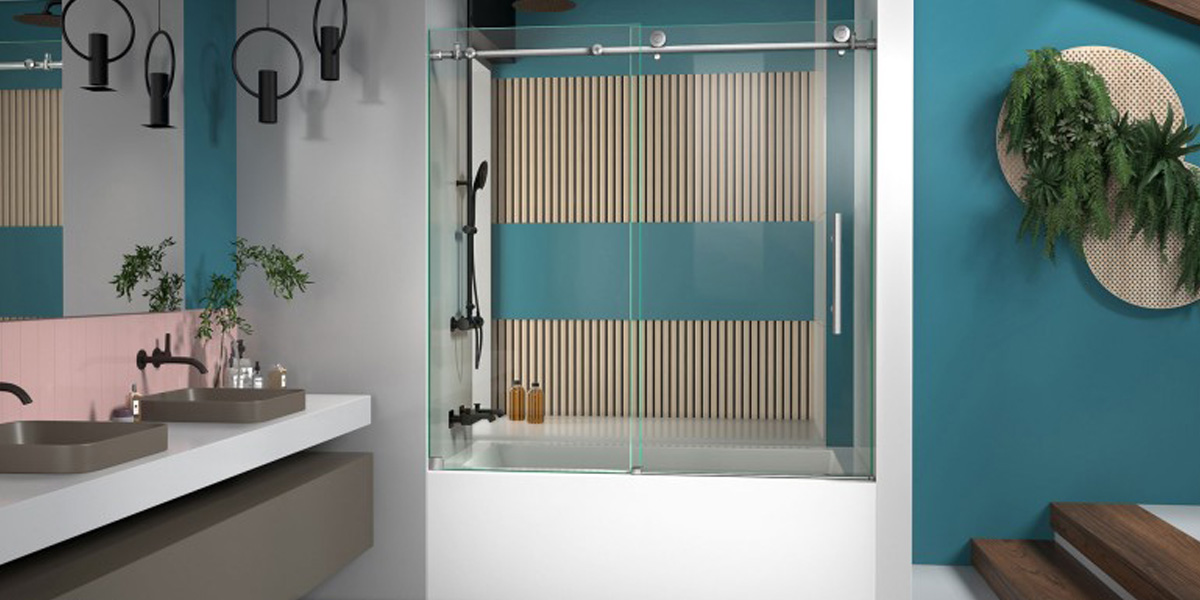 Entirely frameless shower doors are the latest trend in the bathroom decor scenario. These reflect a more contemporary taste and could be a bit more on the expensive side of things. Frameless shower doors do come with greater ease of use and maintenance than conventional, framed ones.
But the biggest benefit of these is that they magnify the existing dimensions of your bathroom, creating a look and feel of more space. This is one of the main reasons why frameless doors are largely preferred for smaller bathrooms or bathing spaces. These are also easier to clean than framed panels that may sometimes rust or come off.
Semi-frameless bathtub doors bring in the best of both framed and frameless shower panels in their charming designs. These usually have a portion of metal frames or trimmings that look beautiful in almost any style of bathroom.
The contemporary designs of semi-framed tub doors can be used for defining the bathing area from the rest of the room, which can often be utilized for other purposes.
If you want go to for semi-frameless doors, then do look out for quality materials such as permanently bonded hinges, patented glass coating, and solid handles. Do make sure that the metal parts are resistant to rust and corrosion.
These work well for medium to larger bathroom and tub structure.
Hinged or folding tub doors are ideal choices for getting a wide access to your bathing area. These are pretty space-efficient options that work really well for smaller bathing areas.
These types of doors will usually have one stationary panel and one that folds out on hinges. The primary purpose of these is to provide you with a wide walk-in space into the tub. These do not create any kind of barrier or obstacle in your way that may lead to tripping and falling. And that is why these make for a completely safe enclosing structure for your tub.
These are available in frameless or framed types that could be easily installed over a tub or a shower stall.
Sliding shower or tub doors are one of the most common styles for creating a well-defined bathing space. It generally consists of two panels of glass moving horizontally on a track situated at the top and bottom to create a bathing enclosure.
Sliding doors are available in a wide range of different styles and designs. These are highly versatile units that can be customized to fit bigger and smaller spaces alike. These can include decorative track designs or frosted or semi-frosted glass panels.
The cost of sliding tub doors will depend on the quality and brand that you purchase from.
Bypass or pivot tub doors are the most functional and common styles of shower doors that one could avail. These are pretty affordable and versatile, suiting most kinds of bathrooms: big or small.
The bypass shower door is almost like a sliding shower door, moving on a bottom and top track. But, the range of designs may not be as wide as what you get for sliding units.
Frameless bypass doors can create a beautiful airy and spacious look in a smaller bathroom and could work ideally for standalone showers as well.
However, exposed glass panels can be brittle and may crack, leaving sharp jagged edges. So, do make sure that you opt for only high-quality and certified thick glass panels, which will hold up under pressure and impact.
Features to Look for in Frameless Tub Doors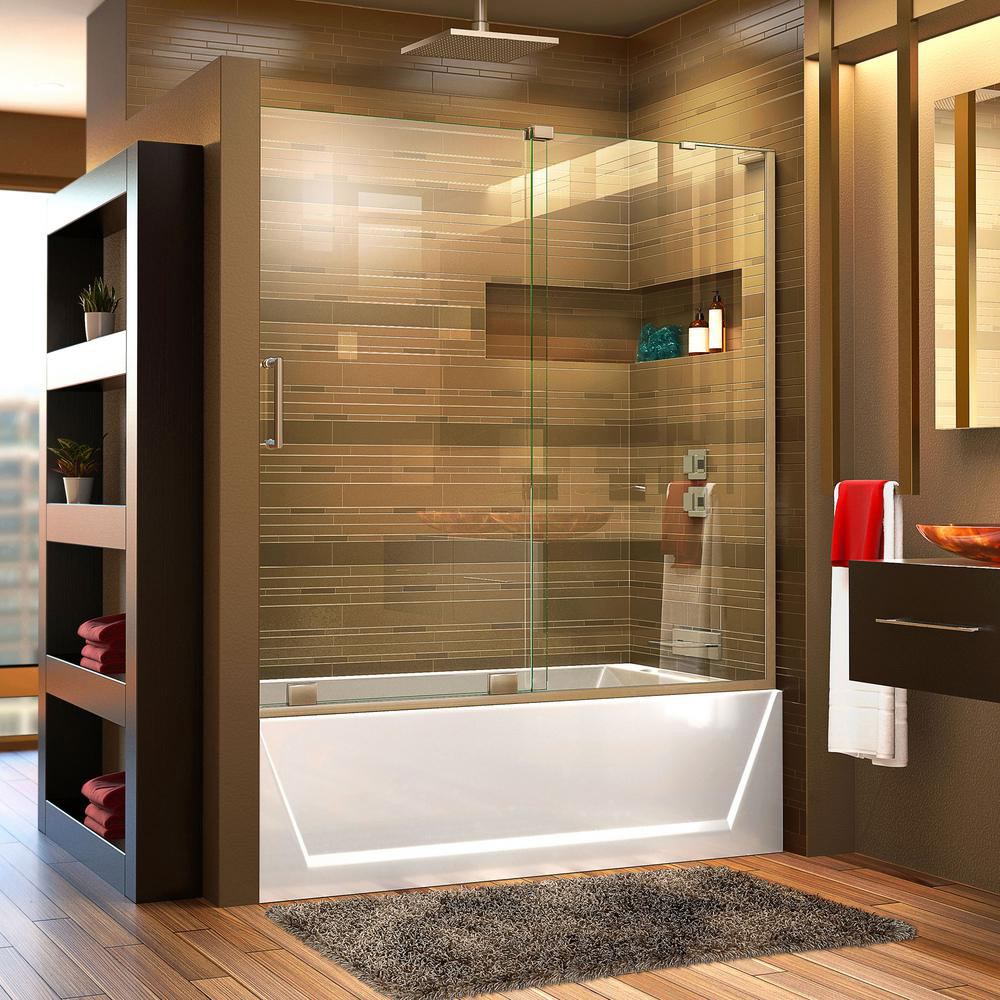 While many types of tub doors will offer you many different styles and options, while other types of doors won't. The design that you get for your bathtub will depend primarily on the space available in your bathroom and your tub structure.
Frameless designs will offer you greater versatility and create an illusion of space. Bi-fold, swinging, or sliding doors usually work well for smaller spaces.
However, options may be limited if you wanted to install bigger structures or decorative elements in a smaller unit.
The overall design of your tub door should also compliment the rest of your bathroom decor, or it will look out of place and mismatched too soon.
The average height for a standard bathtub door usually comes around to 55-58 inches and can go up to 60 inches. However, the overall dimensions of your bathtub door should suit your bathing space.
Do make sure that the type of door you select for your tub offers you out-of-plumb adjustments. This way, you can trim the edges to get the required dimension and install the item on uneven walls, if required.
However, you may not get alterable options all the time from all brands. This is why you should check out the dimension specifications of an item before settling.
The type of glass that you use for your bathtub doors is the most important feature to consider while buying one. Tub doors usually have to sustain a lot of pressure on a daily basis. That is why it is always crucial to go for certified, high-quality glass materials for your tub doors.
Most brands will provide you with ANSI certified glass types that are durable enough to withstand a lot of pressure.
Common decorative glass types include tempered and laminated glass types. Tempered glasses make for a really safe option as these are designed to break into round pieces when shattered. As a result, these leave no jagged edges or shards that could cut.
Laminate glass, on the other hand, consists of a thin layer of tinted glass or plastic sandwiched between two layers of regular glass. So, if the layered glass breaks, it will remain between the two layers of regular glass that prevent injury.
Frosted glass looks elegant and makes for a sexy, semi-transparent appeal in the shower. While, clear, transparent glass, as it is evident, leaves nothing to the imagination!
The thickness of your glass door will vary from one brand to another as well as on the style that you pick. The four common thickness measurements that you can choose from include 1/4", 5/16", 3/8 " and ½. "
Thicker glass panels will always require less support and framing around the glass, and they also score higher in durability. This is the main reason why frameless tub doors will often feature thicker glass panels that what you generally see on framed ones.
The hardware on your tub door usually means the metal parts. These include the hinges or sockets, towel bars or handles, door support bars, frames, or tracks (if the door is not entirely frameless) and other fixtures.
Since these parts are usually made of metal, there can be a possibility of rusting or corrosion on them. These reactions can cause the door hardware to come off, making your tub door fall apart.
That is why it is essential to make sure that the hardware comes with a rust-proof and anti-corrosive protective coat. This will ensure product longevity.
No matter what style of tub door that you go for, make sure it provides you with the ease of installation. Most frameless bathtub doors can be installed without any professional help as these do not require any redesigning or remodeling of the existing bathroom layout.
However, other complex designs or heavier panels may require professional guidance, especially if they include panel-alterations.
How to Measure a Bathtub Shower Door?
Step 1.
Identify the type of bathtub and shower space that is available to you, as this will determine the accuracy of all your calculations.
Step 2.
Carefully measure the opening of your tub door. For this, you will need to measure the distance from wall to wall in two places.
Step 3.
Measure the opening near the rim of the bath. If there is a curve rather than a right angle where the wall meets the bath, measure above the curve.
Step 4.
For your second measurement, measure the wall to wall distance. This should be above a foot right below the top of the enclosure or the finished surface.
Step 5.
If you find that these measurements are slightly different, then you should write the greater of the two.
Step 6.
For the next part, measure the height of the opening. This can be tricky, so be careful to measure from an area where the rim is flat. If the wall curves into the rim, don't start measuring from the curved portion of the rim.
If the top of the wall has a subtly curved or beveled edge, be careful to keep your height measurement below that edge.
Step 7.
When you measure the height correctly, write that measurement down along with your horizontal measurement.
Step 8.
In case of a custom installation, measure the opening horizontally in two places above any curve or radius where the bath meets the wall.
Step 9.
Measure the structure vertically after that, making sure to take your measurements below any curves in the finished wall.
Step 10.
Now when you select a tub shower door, choose one with a maximum opening width that equals or is slightly greater than your horizontal measurement. Select a height that equals or is slightly lesser than your vertical measurement.
Step 11.
Once you have got your right fit on your desired tub door, you can choose from a wide range of different styles, finishes, and textures.
Conclusion
And that was it for our extensive review on some of the best frameless bathtub doors you can get for your bathroom right now! We hope we were able to provide you with all the required specifications and insight into their mechanisms, and that you liked what you read. Thanks for reading!