5 Best Recessed LED Lights for Basements
It takes a fair amount of brain crunching to decorate a basement space. Some people use it as a gym while some simply use it as a storehouse.
Depending on how you set the decor, a basement can be the funkiest corner of your house or the most elegant place, so storing your junk in there is simply unfair.
A lot of factors are responsible for setting the mood of a place, which brings us to today's topic – LED lights. Lighting can make or break the vibe of a room, so you need to be cautious and calculative while deciding.
We have put together this extensive review-based guide to make this task easier for you. Let's get into the details!
5 Best Recessed LED Lights For Basements
1. Lumary Smart LED Recessed Lights
Buy on Amazon
Let's kick start our list with the smart LED lights by Lumary. These 6-inch flicker-free lights come in a pack of two, four, and six. Compatible with Google Assistant or Alexa, these LEDs are smart in the real sense because you can turn them on or off just by a simple command.
Additionally, you can remotely control Lumary lights using the smart app that syncs the color change with the music beat. So, it's a given that your basement parties will become a hit among your near and dear ones once you install these LEDs.
Along with being the life of the party, the lights are excellent for your cozy and relaxed mood too. Want to know how? Well, you can set the brightness on any setting ranging from one to a hundred percent. Keep the LEDs at a dim level and set the on and off timer according to your resting hours for a comfortable sleeping experience.
Pros
Super slim body, with a silent and flicker-free operation
Sixteen million color options
Eight different scene modes to choose from
Memory function that remembers your last settings
Fully-featured RGBW LEDs
Cons
Increases the traffic on the Wi-Fi router
The app is a little tricky to understand
2. Ensenior LED Recessed Ceiling Light
Buy on Amazon
Ensenoir LEDs provide you the option to pick among six hues in a set of three or five, ranging from the warmest 2,700 K to the coolest 6,000 K. You must find it appealing if you like your settings to be on point with your preferences. Along with that, you get to choose between a 4-inch and 6-inch pack.
The lights come with the reliability of energy star certification and ETL. They are also IC rated and have a UL-certified wire terminal, so, in short, you can put your trust in the product.
What's more, the Ensenior LEDs have a thermally protected junction box that stays in contact with the ceiling insulations without any hazard.
The new-gen LED chips consume low voltage and have higher lumens – guaranteed to lower your energy expenditure by a whopping eighty-eight percent. Additionally, they are resistant to scratches and are anti-glare, with a can-less orientation. Meaning, you won't have to deal with a recessed can during installation.
Pros
Three selectable temperatures
Operates on a low voltage of 9 watts
Equipped with frosted LED lens
Can be used in damp locations
Cons
It's a little challenging to thread the units together.
3. Amico LED Recessed Ceiling Light
Buy on Amazon
The Amico LED lights are a popular choice among customers. They come in five color temperature options, and you can buy them in packs of 6, 12, or 16 units. Buying in bulk is certainly quite affordable, and we totally recommend that.
Furthermore, the LEDs have a highly adaptable dimmer that can adjust the brightness in the range of five to a hundred percent. Even though that doesn't beat Lumary smart LEDs, it still provides a neck-to-neck competition. Additionally, they have a thermally protected junction box like Ensenior's and can fit into ceiling spaces as small as two inches.
A few side benefits of buying these lights include a five-year warranty and ETL's reliability and high standards. The insulation of the connection box makes them safe for home use, and they do not cause fires in congested spaces like overhead joists. Last but not least, the four connection ports in the box make it a breeze to set up the whole thing.
Pros
Ultra-slim 5 CCT downlight
Consumes only twelve watts per hour
Comes with a warranty of five years
Fire-proof and safe for installation in small places
Cons
Slightly dimmer than the other options
4. Torchstar LED Recessed Ceiling Light
Buy on Amazon
With a sturdy frame of aluminum and polycarbonate, Torchstar LED recessed lights are well insulated and damp-proof. The essential series has a design that provides top-quality illumination and perfect lighting for up to forty thousand hours.
Coming to the size and measurements, each unit has a diameter of 6.77 inches and comes with a 15.75-inch long cord. It is super easy to install, owing to its snap spring mounting mechanism. Ranging from retrofits to remodels and newly-constructed basements, these lights are compatible with all the standard fixtures.
Moreover, Torchstar LEDs have a sponge gasket on their rims for superior sealing. The connectors are waterproof and will work well even if your basement tends to stay damp. These IC-rated lights can stay in touch with the insulations without the risk of any fire and fit well in narrow ceilings.
However, one downside is, you can adjust the dimness only in the range of hundred percent to ten percent. The adjustability is smooth but is not at par with the other options on the market.
Pros
Long lifespan of forty thousand hours
A warranty of five years
Has a beam angle of 110 degrees, and the CRI80+ feature
Well insulated, water and fire-proof
Cons
Dimness range is shorter than others
5. Bbounder LED Recessed Downlight
Buy on Amazon
Last but not least, equipped with baffle trim and compatible with C clip cans, we have Bbounder LEDs. Unlike the others, this one is not can-less and can fit in five or six inches recessed spring cans typically found in old-school and modern homes, without any additional accessories.
Furthermore, these downlights have an airtight structure that guarantees corrosion prevention and rust protection. If you like clicking pictures in your home, then poor lighting can be a huge deal-breaker.
But with the flicker-free illumination of Bbounder LEDs, the picture and video quality enhance significantly.
What's more, the lights have all the passable features you can expect in an LED, like dimmable adjustment, safe operation, ultra-thin structure, and retrofit compatibility.
Our only complaint is the light does not provide multiple color options, and you can choose only one among 2700K, 3000K, 4000K, and 5000K. That kind of puts a little extra pressure because you'll have to decide on a color beforehand and cannot do anything if you have a change of heart.
Pros
Comes with all the accessories required for installation
Doesn't rust in a moist environment
Safety standards listed by the UL
Easy DIY installation
Cons
Buying Guide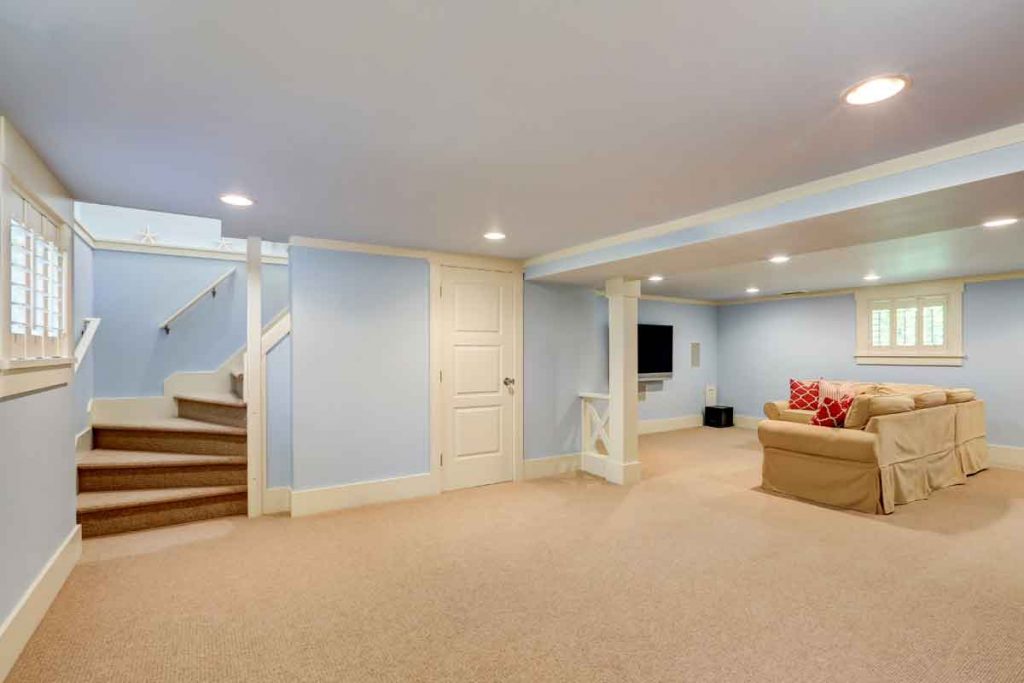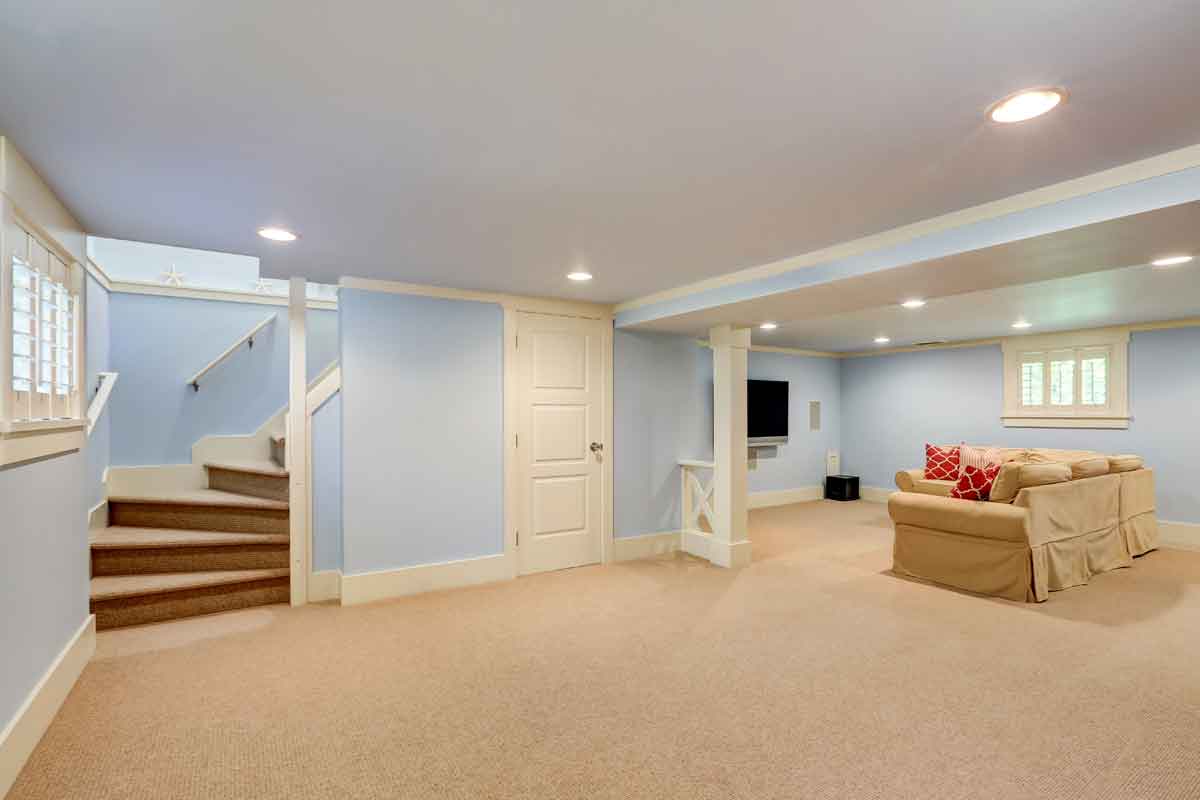 We'll give a gist of all the parameters you need to consider while buying LEDs for your basement. Read this section carefully, and we guarantee you'll be able to make a smart choice.
1. Use Of Basement
As we said, the lighting sets the whole vibe of the place, and if you're not convinced, we'll give an example to prove our point. For instance, if you want to use your basement as a partying area, you wouldn't want your lights to be plain and boring. Instead, you'd want to have something like Lumary lights that change hues as the beat drops.
But if you plan on making a study room out of the basement, you'll naturally want to balance the lighting. So, it is important to know exactly what you're going to use your basement for before picking the lights.
2. Basement Size
It is essential to have an idea of the size of your basement for perfect lighting. After all, it doesn't look attractive if one corner of the room is too bright and the other appears dull in comparison. You need to evenly space out the lighting and keep it even throughout.
We recommend noting down all the dimensions of your basement and then decide how bright you want it to be. Accordingly, pick the number of LED units and map them out across the space. Some models have a design that is way brighter than others, while the others seem dull even on their full brightness setting.
You'll need lesser units if you are going for the brighter options and vice versa. Remember that the key lies in the balance.
3. Ceiling Height
Ceiling height is another crucial factor you need to pay attention to while investing in LEDs. That is so because ceiling width varies from home to home, and modern ones usually have thin beams or overhead joists that do not have much space to accommodate lights.
If the roof of your basement is quite high and offers only a limited area for the LEDs, you'll have to buy bright and ultra-slim lights. The higher the ceiling, the more radiant you should go.
4. Light Sizes
LED lights come in many shapes like circular, blocks, tubes, etc., and are available in various sizes. Basically, the individual dimness and brightness or shape and size do not matter as much as the combination. The trick is to pick the right size lights and space them out effectively.
Smaller ones are more likely to leave a few dim spots, whereas larger ones cover more area and do not leave any corner dull if planned and installed well. However, small lights give you better control over the lighting of a room; for example, when you are using the study table, you can turn on exactly the overhead light and turn off the rest.
5. Lighting Trims
Lighting trims and the bulb are the two parts that you can see after the installation of LEDs. If you have a keen eye for aesthetics, you'll naturally want your trims to fit in well with your interior decor. There are mainly five types of lighting trims with different specifications and features: Baffle trims, shower trims, open trims, wall wash trims, and eyeball trims.
Baffle trims are the most common type and are known for their glare reduction. They have ribbed interiors, and people prefer using them in spaces where you require focus and concentration. Open trims are similar to baffle trims apart from the ribs, because of which they aren't anti-glare.
Eyeball trims have an interior fixture of light that is adjustable that enables you to focus the light on a specific spot. But it might appear tacky and won't go well with an elegant basement.
6. Lighting Colors
LEDs are available in many colors, including various shades of white and millions of other vibrant hues. Firstly you need to know whether you want to keep the basement white or you want a different shade. Blues and pinks are really popular among teenagers these days.
If you simply want to stick with white, you can choose a warm and sunny tone (2700K) or a cool shade that inclines towards blue undertones (5000K). Apart from neutrals, some people go for pale yellows and soothing oranges to have a cozy spa-like feel.
Moreover, you can also go all out and try some lively shades like purple, red, and green if you want to use your basement exclusively for socializing, parties, and get-togethers.
7. Budget
Sticking to your budget is as important as any other parameter while making a purchase. Some LED options are cost-effective and come at a pocket-friendly price. If you are on a tight budget, keep an eye out for these types.
However, if you are at leisure in terms of budget and can spend open-handedly, we highly recommend going for a more durable option. That is bound to cost a little more than others but will prove to be cost-effective in the long run.
FAQs
Do I need housing for LED recessed lights?
This is a question that we have come across often, so let's take it up in detail. A recessed light consists of two essential components: trim and housing. Trim is the visible part of the light; in simpler words, it is the ring that surrounds the light holder. And housing is the part that you recess inside the wall, ceiling, or ground and "houses" the light source.

Coming back to the query, yes, you need housing for recessed LED lights because it is an important component. In fact, try to buy it while getting the trims for your light because both of them should correlate with each other in size.
How many lumens do I need for basement LED recessed lighting?
The brightness or lumen output is the total visible light given off by a source per second. One can measure it with respect to the eye's ability to sense light wavelengths. First and foremost, measure the size of your room accurately.

Once you know the exact area of your room, you can determine how many lumens you need for your basement. Typically, an area of a hundred square feet requires ten to twenty lumens. Multiply the area of your basement with this figure, and you'll end up with a rough range that'll give you the idea.

Now, it's up to you whether you want to go ultra-bright or low-key and dull, so decide the lumens accordingly. A typical basement is about 1,000 square feet large, so the recommended range is 10,000 to 20,000 lumens.
Where should recessed lights be placed in the basement?
To begin with, you should ideally position your recessed lights in all four corners of the ceiling. Then, depending on the size of each unit, fill the dark spots in between. You can follow a certain installation pattern too.

For example, some people like their lights equally spaced in a symmetrical fashion. If that floats your boat, then go for it, but it is pretty common and played out. To break the monotony, you can place the lights in a zigzag pattern or just illuminate the spots you want to highlight.

All in all, there are no rules, and you can experiment however you want, but do pay attention to the practicalities. You're good, as long as all the major areas of the basement are bright.
Are LED recessed lights good for unfinished basement?
We'll say yes and no because the answer isn't that straightforward. Yes, you can use a few models that are easy to install and aren't hardwired in an unfinished basement, but not all. You need to be picky and check the description, but on the whole, it'll just add one more parameter while buying instead of simplifying anything.

However, if you do install the lights before finishing, there is a risk of painting over the light trims during the final touch-up. So, that is something that you'll have to be careful about. Otherwise, we don't find anything problematic about installing recessed light in an unfinished basement.
How many LED recessed lights do I need in my basement family room?
The number of lights you need in a room entirely depends on its area. The above-mentioned estimation of lumens is a good way to decide the total LED units required in the basement. A 26 watt LED typically produces about 1,600 lumens, and an area of 1000 square feet needs somewhere around 10,000 to 20,000 lumens.

So that brings us to the conclusion that 7-10 26 watts LED lights can light up 1,000 square feet pretty well. We hope this example will make things a little clear for you; you can estimate in a similar fashion using the specifications of your lights and basement.
Can I use LED recessed lights for my basement office?
Yes, of course, you can! The lighting plays a key role in creating a mindful and focused atmosphere in office spaces, and recessed lights can effectively carry out this task.

We suggest installing multiple small-sized LED lights in a basement office so that the illumination is uniform. The units should be equally divided among all the cubicles, with one bigger unit concentrated on the desk area. Additionally, we suggest connecting all the small lights of one booth for convenience.

Some offices end up having a hospital-like feel due to the pure white LEDs, and it might not be obvious at first, but that does affect the psychology of the employees. For boosting their productivity and keeping them uplifted, we recommend installing warm 3,000K lights in your working space.
Can I lighten my basement gym with LED recessed lights?
LED recessed lights are both cost-effective and flexible, which makes them a preferable option for basement gyms. The "daylight" LEDs (5,000K) are excellent for this purpose because they have the same wavelength and frequency as sunlight, and gym buffs know it well that sunlight acts as an energy booster for our bodies.

On the contrary, refrain from using the "soft white" option because it is rather dull, and you don't want to feel lethargic in your workout space, right? Additionally, as a rule of thumb, install only overhead lights in your basement gym. This provides a better view as compared to light coming from any other direction and avoids reflections.
Conclusion
LED lights have taken over the market; be it a residential area or commercial space, they are present everywhere. Just keep in mind that it is a little tricky to set up lighting in basements because they do not receive daylight.
With that, we have finally reached the end of our elaborate guide on the best recessed LED lights for basements. Starting with the top five picks, we touched on the buyer's guide and answered some frequently asked questions.
We sincerely hope that you found our guide helpful and had a fun time reading. See you next time! Take care.