10 Best Basement Storage Shelves
Basements are probably the most important part of the house when it comes to storage. They definitely hold way more items than a single store-room, for that matter. And, if organized correctly, basements can even be turned into a regular display room for all your belongings.
In such cases, a basement storage shelf or rack can come in really handy. Not only do they hold a number of things in a neat and organized way, but these units are usually compact enough to fit in limited spaces.
However, given the wide range of styles and designs available in the market right now, getting the one that will suit your requirements the best could get tough! And, since there is also a price-factor to consider, relying on a particular brand can be confusing.
That is why we are bringing you an extensive guide of some of the best basement shelving units you find out there right now!
Simply read on to know more about them!

The 10 Best Basement Storage Shelves
1. Seville Classics Ultra Durable 5-Tier NSF-Certified Steel Wire Shelving
Buy on Amazon


Seville Classics has always strived to provide nothing short of the highest quality materials when it comes to smart domestic solutions. And the Ultra Durable 5-Tier Steel Wire Shelving is no exception to the rule!
This one is a beautiful and highly functional 5-tiered steel rack which could be used for a wide range of purposes.
It is an NSF-Certified storage unit that complies with NSF/ANSI Standard 2. This makes it ideal for storing food equipment in all seasons.
Dimension-wise, the shelf overall measures 48"x24" and consists of 5 solid-steel wire shelves with 4 steel poles. This provides more than enough space for most items, including heavy-duty or larger, delicate ones.
The shelf-rack is constructed using premium-grade chrome-plated steel, which makes it incredibly durable and resistant to rust and corrosion. Additionally, the shelving comes with bonus 4" wheels along with leveling feel. The locking casters will help you stabilize the unit anywhere in your house, allowing absolute ease of moving it around.
Pros
Certified NSF/ANSI product
Offers sufficient space for storing a number of items
Can hold up 4000 lbs (800 lbs for each shelf)
Locking casters and leveling feet ensure ease of movement and stability
Extremely durable and resistant to corrosion rust
Cons
2. Bin Warehouse Storage Systems 12 Tote Compact Model
Buy on Amazon


Storage bin units are super functional storage options, especially for places like the basement, attic, or smaller rooms. These could be assembled in different ways to fit various spaces, helping you to keep all your stuff neatly organized.
This particular shelf-rack offers you a 12-storage bins structure, which can hold a considerable number of items without taking up too much space. Each bin can sustain up to 600 lbs in weight that allows you to place even heavier things in them
A significant advantage of this shelf is that you can easily mount it on the wall. And that makes the unit even more space-efficient, fitting cramped spaces and smaller basements. On top of that, this bin-storage shelving can be stored anywhere in the house, including walk-in closets, garage basements, storage rooms, etc.
The only thing that we wish was a tad bit better is the cross-piece bar that runs down the center. It is thin and may give away if you overload the bins with a lot of stuff.
Pros
Immensely space-efficient, compact structure
Can be mounted on the wall
Can fit cramped spaces
Each bin can hold up to 600 lbs in overall weight
Cons
Could have been a bit sturdier
3. Trinity TBFC-0904 5-Tier NSF Heavy Duty X-Large Wire Shelving Rack
Buy on Amazon


Looking for a storage unit that will actually glam up your room as a display shelf along with holding a lot of stuff? Then you should definitely check this one out from Trinity!
The TBFC-0904 5-Tiered shelving rack from the rack is designed especially for displaying your items and keeping them in a well-organized way. But that being said, this storage unit does not give you any reason to doubt its capabilities to sustain weight.
This Trinity shelf is incredibly durable and comes with an NSF certification. It offers generous proportions with a weight capacity of 800 lbs for each shelf.
Moreover, it has a beautiful, straight-edged design which looks great against any sort of wall decor. And, the beautiful plated chrome finish on the unit protects it from rust and corrosion, along with contributing to its charming design!
This shelf can easily hold a lot of heavier items and can be kept in the smallest rooms easily. The unit also comes with 4 casters out of which two are locking. These make it easy for you to steer the shelving rack anywhere.
However, this unit can wobble a bit and may display some stability issues.
Pros
Has a charming design
NSF-certified unit
Each shelf can hold up to 800 lbs in item weight
Space-efficient
Comes with sturdy casters
Resistant to rust and corrosion
Cons
4. SafeRacks NSF 4-Tier Steel Wire Shelving Rack
Buy on Amazon


SafeRacks is one brand that has been known for its efficient and functional storage units that ensure high-quality at a very affordable price tag. This 4-tiered steel wire shelving rack from the brand is a fast-selling item, and that too, for pretty good reason.
The shelving rack is made using commercial-grade steel that makes an enduring, long-lasting overall unit. It offers a total capacity of 350 lbs per shelf while using the adjustable feet.
Additionally, the plated zinc coating ensures optimal rust protection, contributing to product-longevity.
It is a compact model that fits in basements and garages, providing a practical solution for all your storage issues.
The rack complies with the NSF/ANSI Standard 2 status that makes it a safe storage option for a number of purposes.
Assembling the unit is also easy, and the shelves slide on top of the slot-clips on the racks. These keep the shelves from getting displaced. However, all of the heavy parts can make it a cumbersome task for you to assemble the whole thing.
Pros
NSF-Certified multipurpose steel shelving rack
Compact model fits limited spaces such as smaller basements, garages or kitchens
Holds about 350 lbs per shelf
Hassle-free assembly
Resistant to rust and corrosion
Cons
May take a while to set up due to the overall weight
5. AmazonBasics Medium Duty Shelving 5 Shelf Storage Unit
Buy on Amazon


AmazonBasics is undeniably one of the most awesome stops for all your smart home solutions. And one of the best things about it is that you can always count on the quality of its products.
This shelving rack from AmazonBasics is a highly functional storage unit that offers the benefit of a 5-tiered structure. Each of these shelves can hold up to 800 lbs, totaling a maximum of 4000 lbs for the overall unit.
Made of high-grade aluminum, this rack boasts of a formidable construction with an anodized finish. One of the most attractive features of this unit is its rivet-lock design. This offers a bolt-free assembly that takes away the hassles of cutting and drilling. You will find the instructions as well as the anti-tipping accessories included within the package.
However, if you are looking to keep a lot of items on it, this may not be the ideal option for you. The overall dimensions of this shelving rack is not really large enough to hold many things.
Also, the rack can get a bit wobbly if the shelves are not placed correctly, so you have to be extra careful while assembling it.
Pros
Functional and durable shelving rack
Made of high-grade aluminum with an anti-corrosive anodized finish
Rivet-lock designs make it easier to assemble
Each shelf can hold up about 800 lbs in weight
Cons
Can be a bit limited dimension-wise
May wobble a bit
6. BestOffice 6-Shelf Shelving Unit
Buy on Amazon


The 6-shelved storage from BestOffice is best suited for use at any sort of workstation and is also ideal for spaces such as a garage or basement. It provides sufficient space for you to keep a lot of items on its metal shelves. And it has a maximum weight capacity of 600 lbs per shelf when equally distributed on feet levelers.
This wire shelving unit is also entirely adjustable and allows you to adjust the height of storage shelves as per the item you want to keep on it. A significant benefit of this rack is that it does provide ample space without taking up much itself. It is a highly space-efficient shelving unit which can be kept in limited spaces without having to define any other corner for it.
Assembling and setting up the rack is easy too. It takes about 15-20 minutes on an average to set this up. And since it is a fairly lightweight structure, it doesn't take much of an effort to assemble the pieces.
However, the only thing that you should remember while using this rack is that it is after all a wire rack, and is not quite suitable for weighty items. The thin metal wires may get bent if you overload the shelves with a lot of stuff.
Pros
Versatile shelving rack could be used several purposes
Fits basements, garages, kitchens, and other smaller rooms
Could be used to keep clothing, books, tools and other supplies
The shelf-height could be adjusted to match that of the item's
Easy to assemble
Cons
Should not be used for heavier items
7. Meet Perfect Heavy Duty 6 Tier Layer Rack
Buy on Amazon


The next shelving rack on our list is from Meet Perfect, a recognized brand for home-solutions.
This is a 6 tiered rack that could be used anywhere in the house for a number of things.
As the name suggests, the Meet Perfect rack is truly a heavy-duty one sustaining up to 2100 lbs in weight on an average.
It is pretty easy to assemble and needs no extra tool for that. Additionally, the height of the shelves could be adjusted to fit that of the item's at preferred height-level.
This wire shelving rack is made of heavy-duty and high-quality steel that resists the onslaughts of rust and corrosion. This makes it an ideal choice for any kind of place in the house, including the bathroom or the kitchen.
The unit further comes with sturdy lockable casters that ensure convenience and ease of steering the rack wherever you want.
Pros
Durably constructed using heavy-duty commercial steel
Allows you to adjust the height of the shelf
Space-efficient unit
Rust and corrosion-proof item; could be used anywhere
Lockable casters provide all the ease of moving the rack
Cons
8. PayLessHere 6 Heavy Duty Storage Unit
Buy on Amazon


So we all kind of know about PayLessHere that retails functional home goods at a very affordable price tag. And although that may raise a bit of doubt quality-wise, this storage unit does deliver exactly what the brand claims.
It is a 6-shelved storage wire-rack that holds a significant number of items and fits smaller spaces easily. It has a pretty sleek look to it that makes it a charming display rack for your items.
This storage unit is pretty easy to assemble. It hardly takes 20 minutes or so to set this thing up, and it requires no professional drilling and cutting. Additionally, the height of the shelves could be adjusted according to the size of the items to accommodate them well.
This shelving rack is almost a replica of some of the storage racks we reviewed for you over here, but it does offer a decent return for such a price. However, certain parts of it may seem a bit weakly attached and flimsy. So, it's better not to put a lot of heavy stuff on it.
Pros
It is multifunctional storage unit that could be used for a lot of purposes
Versatile, sleek design fits all kinds of spaces
Comes at a pretty affordable price tag
Easy to assemble
Comes with lockable casters
Cons
May seem weak and flimsy at certain parts
Not suitable for heavier items
9. Muscle Rack Heavy Duty Steel Shelving
Buy on Amazon


This next shelving rack that we're gonna discuss is probably one of the most durable steel storage racks out there. Being true to its name, the Muscle Rack indeed brings you a highly functional and space-efficient storage unit that will last you for a significant period of time.
The rack comes with 5 utility shelves that offer sufficient storage space for a lot of things. These shelves are made of particleboard that is supported by double-rivet beams and braces. Each of these shelves could be adjusted by 1-1 ½ inches for accommodating different sizes and can sustain about 800 lbs in overall weight.
The rack itself is made using industrial-grade steel with an enduring Silver vein finish. The combination makes the unit significantly durable and resistant against corrosion and rust. And on top of that, it is compact enough to fit in any average-sized basement.
One of the best things we like about this product is how easy it is to assemble. And that is thanks to the post-connectors that help you set it up within just a few minutes.
Yet, the rack could feel heavy, and a significant flaw is that it does not come with wheels. This makes it quite difficult to move to other parts of the house if needed.
Pros
Immensely durable and well-constructed storage shelving unit
Made of industrial-grade steel with a Silver-vein finish
Fits average-sized rooms, basements and other limited spaces
Allows height-adjustments on shelves
Easy to assemble
Cons
Lacks wheels for mobility
Quite heavy
10. Topeakmart 5 Tier Storage Rack Heavy Duty Shelving Unit
Buy on Amazon


The last one up on our list is also the largest. This 5 tiered shelving unit from Topeakmart is all you need to stack up a considerable amount of things and keep them tucked neatly away.
The rack is made of quality commercial-grade steel with an anti-rust galvanized finish. It is pretty durable and resistant against moisture damage and corrosion, ensuring lasting performance. And on top of that, the unit features a sturdy middle supporting beam on each tier that helps keep the structure well-balanced and steady.
The shelves could be adjusted by 1.6" increments to accommodate a number of different items. And each of these shelves has a maximum weight capacity of 386 lbs that allows you to place heavier items on them. Additionally, the unit also features rubber feet that protect your delicate flooring from potential skid marks and scratches.
However, the rack does not feature caster wheels and hence, can't be moved easily from one place to another. It is also not the most space-efficient option here, even though it can fit into a standard garage.
Pros
Quite sturdy and well-constructed shelving unit
Adjustable shelf racks accommodate a wide range of items
Can hold up heavier objects easily
Features protective rubber feet
Easy to assemble
Cons
Doesn't have caster wheels; can't be moved easily
Not the most space-efficient option
Things to consider while buying a storage shelf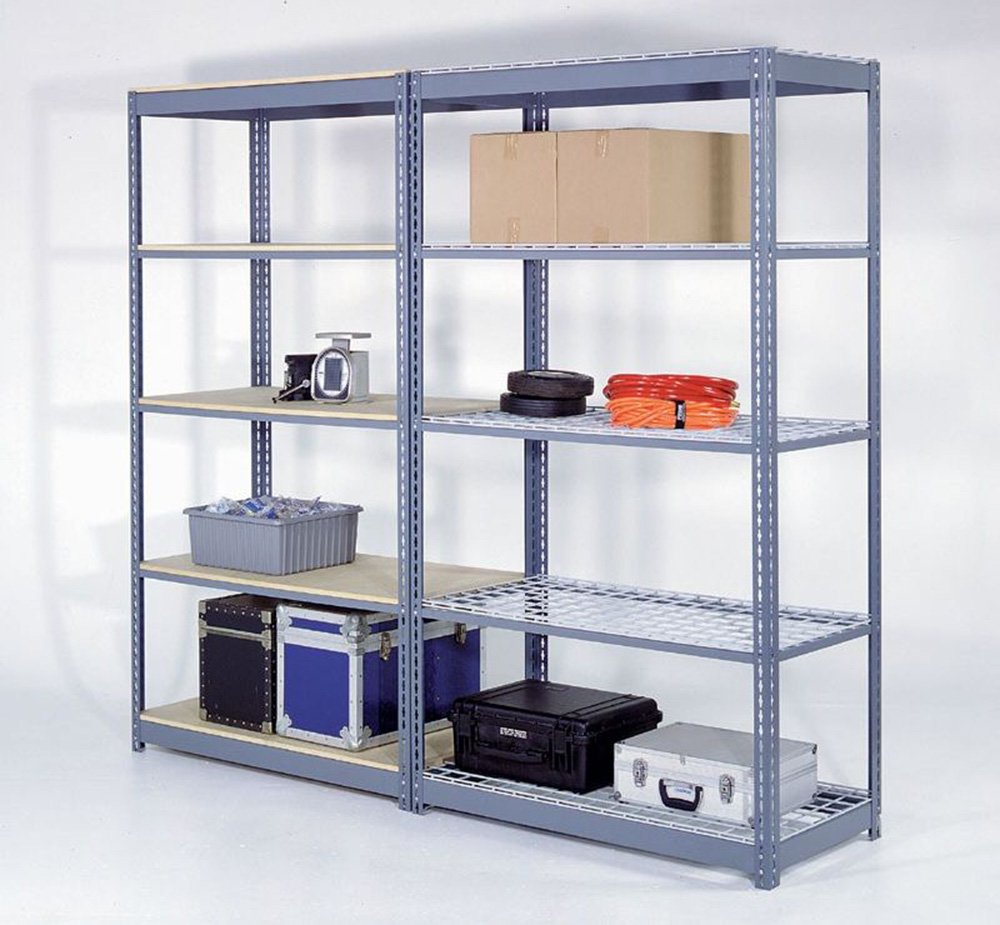 When buying a storage shelf, you should consider how much space is available in the room that you want to put it in. Shelving racks will come in all kinds of sizes and designs. However, not all of them will possibly fit your basement, garage, or kitchen.
So, the best thing that you can do in this case is to measure the height and width of your room and then buy a storage shelf that will fit in those dimensions.
A little common sense and practical effort will save you the hassle of testing out different models, or worse, having your money wasted on the wrong one.
The number of shelves on a basement storage shelf can range from three to ten, or even more. Standard ones generally feature five or six sturdy shelves for holding all your belongings. The number of shelves you get for storage should depend on the number of things you want to put on them.
But, the one thing you must remember is that the greater the number of racks on your storage unit, the taller it will be. And, the size of the storage unit may interfere with the size of your basement or the room you want to put it in.
So, do make sure to get one that serves the purpose along with fitting the space well.
Adjustable shelves on a storage unit are a very useful feature. These help you adjust the shelf height to match the size of the items you want to place on them. This way, you can easily store items of varying sizes on the shelves without having to give up on space. These save you more space on each shelf level, providing enough for a number of things.
Many adjustable shelf racks will allow height increments ranging from 1-1 ½ inches. These are pretty versatile in nature and can be placed anywhere in the house for various purposes.
Different storage shelving racks will have different weight capacities. Not all can hold heavier weights, for that matter. It is always a better idea to go for a storage shelving unit that offers to sustain at least 350 lbs or preferably a tad bit more. Such racks will be able to hold larger, heavier items.
While racks with lesser capacities can be used for holding lightweight to medium-weight items.
Assembling a regular storage shelf shouldn't be much of a hassle. No matter what you opt for, do make sure that setting it up doesn't take more than 30 minutes or so, at the most.
Recent no-bolt or rivet-lock designs make it easier for you to assemble storage racks, getting the job done within a few minutes. These require no cutting or drilling, sliding smoothly into place without needing much effort.
However, real heavy-duty, large racks may require extensive labor to set up. So, do pick your options according to what you need out of the racks.

Conclusion
So, this was it for our extensive guide on some of the best storage shelves you can get for your basement right now! We hope you found this to be a useful read and can now decide on your preferences of storage racks.