5 Best Concrete Patch for Basement Floor Crack Repair
The concrete floors in the basement are prone to a lot of damage, which can be a result of water leakage, mechanical impact, or improper construction.
And that's just to name a few!
Whether it's a wide crack or a small one, you'll find concrete patching compounds to be the best answer for such issues. But before you sort out the mess, you need to find a quality concrete patch for basement floors.
It can get confusing to select one that meets your needs perfectly. Even more so because there are hundreds of options out there.
But don't worry! We have shortlisted five of the best concrete patches that you must consider.
So, strap in and read on!
The 5 Best Concrete Patch for Basement Floor Crack Repair
1. PC-Masonry Epoxy Adhesive Paste
Buy on Amazon
When you're in the market for concrete patches, the brand that you might be familiar with is the Protective Coating company. It has been ruling the market since 1954.
This is a two-part masonry repair adhesive paste that can be used to fill cracks and replace missing concrete. For projects that require high-strength adhesives for non-sag repair, this makes for an ideal choice due to its fast curing time.
It works brilliantly for repair works that involve spilled concrete because the epoxy paste can be easily troweled over deteriorating and rough concrete. Moreover, according to the manufacturers, it's suitable for overhead and vertical repairs since it doesn't tend to drip or run.
You can easily paint or stain the concrete patch after it has been cured. But it has chances of getting discolored with regular exposure to sunlight. When it comes to the application part, it's relatively simple and provides an anti-skid finish.
You don't have to be worried about wet surfaces because the waterproof property allows for a smooth application. Plus, it can be used for both indoor and outdoor applications.
This being said, you need to ensure that the temperature range is maintained between 35 to 115 degrees Fahrenheit at the time of application. After this, the service temperature range should be somewhere around -20 to +200 degrees Fahrenheit for better maintenance.
Pros
Binds everything in a sturdy fashion
Suitable for indoor and outdoor construction projects
Long-lasting results
Easy to apply
Cons
The adhesive might be a little too thick in some cases
2. FDC Epoxy Mortar Patching System
Buy on Amazon
This is a 100% solid epoxy filler that works perfectly for fixing concrete, wood, asphalt, and metal. You can use it for fixing cracks, pits, and holes without having to seek professional services if the damage is relatively small.
The application is also very simple; you won't take more than 5 to 10 minutes to apply the epoxy mortar. But you should ensure that it's applied evenly and left to dry for about an hour. It can be stained or machined after a maximum of two hours of curing.
Since the mortar is not very thick, it gets easier to complete the application. It comes with double extra strength liquid epoxy mixtures that are any day stronger than cement, with excellent bonding capabilities. And that is because it's a mixture of resin, hardener, and aggregate.
If the crack is up to 1-inch thick, then this mortar is best suited for your repair work. Plus, you can also use it for anchoring any equipment or signboards on the basement floor.
However, it tends to expand a little; this further helps to fill in the problem area correctly. To get a smooth finish, you can use sandpaper to rub over the uneven edges.
On top of that, it's an entirely waterproof mixture, which won't crack or break even in the harshest of weather conditions. So, the next time there is any water leakage, you don't have to worry about any cracks.
Pros
Can be sanded for a smooth finish
Easy to use
100% waterproof formula
High strength and durability
Cons
Need to use a large quantity for better effectiveness
3. Damtite Concrete SuperPatch Repair
Buy on Amazon
The Damtite SuperPatch works efficiently on concrete surfaces for filling holes and repairing cracks. This repair mortar comes with a high tensile strength that helps it stick accurately to all the sides of the crack.
When it comes to quality, you can be assured that you're putting your money in the right place. Because Damtite is a reputable firm that has been flourishing for about six decades with its high-quality products.
Even if you're using the SuperPatch repair for the first time, you'll not have any issues while applying this product. It's a two-component solution with the exact mix of bonding liquid and patching base powder. Before application, you just have to mix both the parts to get the right consistency.
You can use it for filling and repairing cracks that measure up to 1-inch. This formula is pretty unique with non-shrink properties that provide exceptional adhesion and strength for fixing worn surfaces.
It also provides a waterproof finish and doesn't cause any acidic reactions, which makes it suitable for indoor and outdoor applications. Since it doesn't sag, you can use this repair for both vertical and horizontal surfaces, which takes about two hours to dry completely.
Pros
Doesn't shrink after it dries
Can be used for vertical and horizontal sections
Gives a waterproof finish
Cons
Users have complained about inadequate coverage
4. Rust-Oleum Epoxy Concrete Patch Repair
Buy on Amazon
The Rust-Oleum concrete patch repair is a two-part industrial-strength epoxy that is safe for residential use. Most of us are generally worried that if there are any cracks, then on fixing the gaps, it will result in uneven surfaces.
But that's not going to be the case when you use this concrete patch. Thanks to its incredible blend that gives the concrete surface an elegant and smooth finish by fixing the gaps. And since the application is very simple, you don't need any prior experience to ace this repair work.
However, we advise you to follow the instruction manual carefully to ensure that you get everything right. Because you'll have to mix one part of the activator with two parts of the epoxy base, which should give you the exact consistency.
Another feature that we usually appreciate is that it doesn't have any solvents or strong odor. And you don't need any special tool for applying the product, which allows you to stay within the budget.
But the drawback that is worth mentioning is that it should be used only for filling small gaps of up to ½-inches deep. That's pretty inconvenient because you'll need some other filler for fixing the large cracks. Overall, when we consider the efficiency of the product, we think it's worth giving a try when you have smaller repair works in hand.
Pros
Doesn't have a strong odor
Affordable price
Doesn't shrink after drying or even due to changing weather patterns
Cons
Suitable mainly for indoor concrete surfaces
5. Emecole Metro 555 Concrete Crack Repair
Buy on Amazon
If you're looking for a complete package to get done with your repair work, then you should check out the Emecole Metro 555 Concrete Crack Repair kit. This is an ideal low-cost solution, which is effective and user-friendly to help you repair cracks in concrete floors.
It comes with a manual that has step-by-step instructions for ensuring a proper repair. You'll also receive a standard caulk gun that makes it easy to dispense off the material without making any contact with your skin. You can trust the quality and durability of the product. After all, Emecole is known to be the pioneer of low-pressure concrete patches since 1987.
With one single kit, you can repair approximately 80 to 200 feet of slab crack repairs and concrete floors. The product penetrates deep to ensure a complete repair that results in tensile strength of over 4000 psi. And the product cures within one hour, which helps reduce application downtime.
So you can paint, stain and go over the surface on the same day. On top of that, you can also use this product by mixing it with Filler Sand. Finally, this allows you to use less material and strengthens the overall repair as well.
Pros
Can be mixed with pure, wash and dried silica sand for better strengthening
Simple application process
Provides a permanent structural bond
Cons
You cannot purchase individual units
How to Choose a Concrete Patch for Basement Floor
First and foremost, you should determine how much concrete patch you'll require for fixing your basement floor. According to a rough estimate, you can go ahead and place your order. It's best to figure out the volume in terms of cubic feet; this will give you a clearer picture. And the thickness of the mixture also determines how good the coverage will be.
The bonding strength is the maximum force that comes from the unit's bonding area, which is mainly due to the strength between the adhesives. This is why the bond strength of the substrate with the concrete patch should always be checked for having a successful repair system.
It's best to opt for products that have a good bond strength between the base material and repair material. Because if the bond strength is not well balanced, then the repair work will not last.
The ability of the concrete to withstand the pulling force (tensile stress) without breaking or getting damaged is known as the tensile strength of the concrete patch.
In the end, the hardened material should have better strength or compatible mechanical properties than what's being offered by the base material. This property helps to ensure a uniform flow of strains and stresses in loaded structures.
Moreover, if the repair concrete has a significant difference in strength when compared to the repair material, then it can lead to an unbalanced flow of stresses.
As mentioned above, this can further lead to early damage to your concrete patch. Thus, it's essential to purchase a product that has the same or higher tensile strength as your base material.
It's important to select repair materials that have low water or air permeability for providing sufficient protection to the reinforced concrete from the harmful chemicals.
As most of us already know that permeable materials allow for easy entry of environmental chemicals. This includes water, carbon dioxide, oxygen, vapors, industrial gases, and more, all of which can reduce the strength of the repair material.
This is another essential factor that you need to consider while purchasing a concrete patch. It helps you understand whether the product is suitable for both vertical and horizontal applications or not. Moreover, the non-sagging concrete patch tends to stay in place without spreading on the surrounding area after application.
The patching compounds generally leave a texture that is quite similar to grout, and if you're not satisfied with the finish, then you can make the required changes. You just need to smoothen the surface using sandpaper or a rough paintbrush.
Most concrete patches can be painted if you aren't satisfied with the overall finish, or if you want it to match the color of the surrounding area. After all, it's always more desirable when the color and texture of the concrete patch match the structure of your basement floors.
A uniform color distribution gives an aesthetically pleasing appearance. However, you can achieve this by topping it with a few appropriate finishes and ensure that the surface is cured entirely before you apply any stains or paint on the surface.
The nature and scale of concrete deterioration influence the repairing procedure. This application method further helps you determine which product to buy.
For instance, if the damage is extensive and the material needs to be placed overhead, then you need to consider the mechanical application process. And for such work the concrete patch should be pretty thick.
While for repairing the hard-to-access voids, the material needs to be pumped or poured gradually. So the mixture should not be too thick, otherwise it gets challenging to pump out the sealant.
How to Patch Cracks in Concrete Basement Floors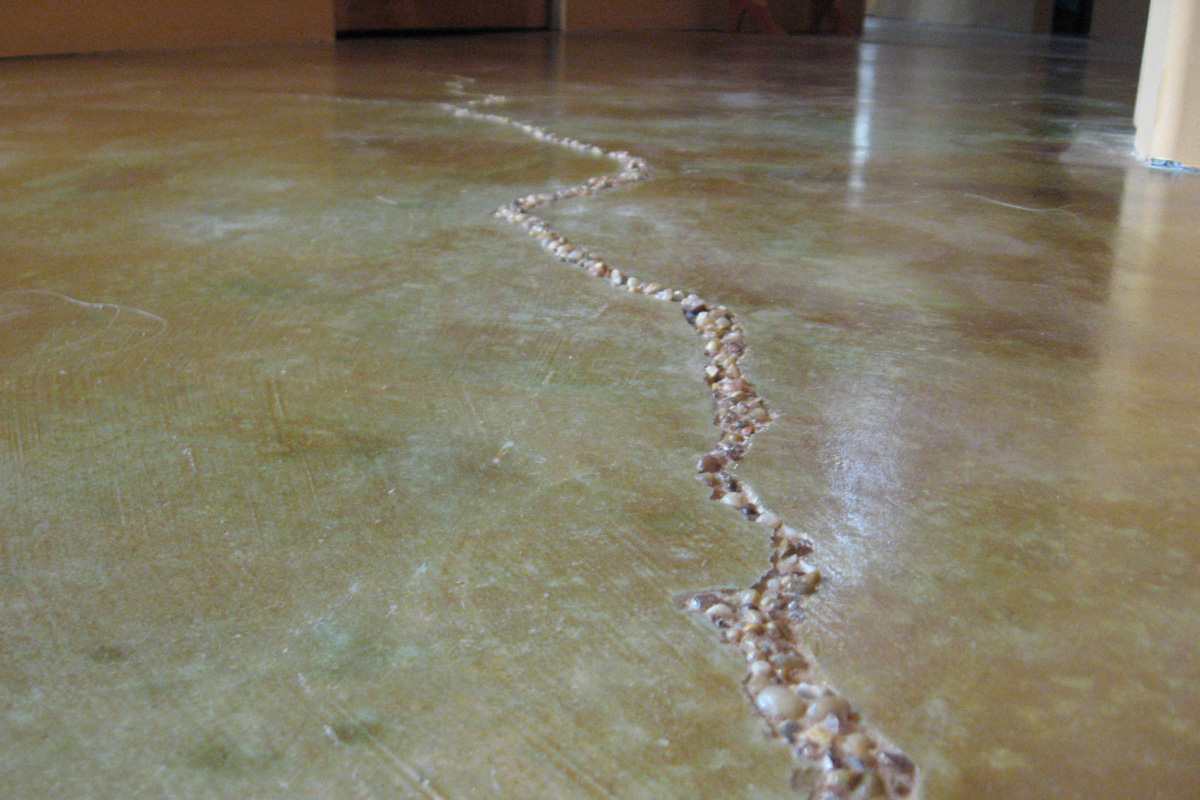 Here's a list of the simple steps that you need to follow for using a concrete patch to fix the basement floor:
Use a chisel and hammer to undercut the sides and level the bottom of the hole accurately. This helps to prevent the patch from popping loose. Then again, you should wire brush and clean the area with a vacuum, if needed. 
Mix the bonding liquid and powder in the right proportions. This should be done according to the area that needs to be fixed.
The mixture should be filled inside the application gun, and after which, you need to apply nominal pressure for the sealant to extrude out of the nozzle. As you continue to fill in the joints, don't forget to use a little extra sealant for tooling and finishing purpose.
Now, the sealant should be tooled for removing the air pockets, and it provides better adhesion with the base material.
After you're done sealing the joint, you need to clean the equipment by using kerosene or other cleaning solvents.
Once the surface is cured completely, you can smoothen the texture and layer it with some quality paint that is suitable for concrete patches.
Conclusion
Each of the five recommendations that we have included in this guide makes for an excellent option. Because they are DIY-able and budget products, so you don't have to stress about seeking professional help.
And if the color of the patch is not compatible with the surrounding area, then you can always use concrete paint.
Now that we have come to the end of our guide, we hope it has helped you find the product that suits your needs.