5 Best Stands for ENO Hammocks
Perhaps one of the sweetest pleasures of life involves swaying in an ENO hammock with lush foliage and birds for company.
To get the most out of such an experience, you need a stand that promises to support the hammock in the ideal way. While stands for ENO hammocks are abundant, finding the one that's best suited to your model can be an arduous task.
A few things must be kept in mind while purchasing the right stand, and parameters such as dimensions and weight capacity are crucial to your selection. With this in mind, we've rounded up the best products available out there.
Take a look!
The 5 Best Stands for ENO Hammocks
1. ENO Nomad Hammock Stand
Buy on Amazon
With ENO's Nomad hammock stand, relaxation comes easy. Be it your backyard or wild camping in the West, this unit makes for an excellent choice and has an impressive weight capacity. Being a convenient and portable one, the stand is perfect for use at a variety of locations and offers good value for money.
Its aluminum construction renders it a sturdy model that is also light in weight. In addition to that, the plastic design offers high resistance to impacts and abrasions and allows for easy mobility. At 15 lbs, it supports weights up to 300 lbs and is of average dimensions.
Last but not the least, the Nomad hammock stand is fitted with additional features for extra security. The corners of the unit can be staked down to offer better peace of mind to any user out in the wild. Clearly, this is a product that's ideal for the adventurous traveler. Simple to assemble and set up, this stand is definitely worth a look!
Pros
Easy portability
Sturdy aluminum construction
Added features for security
Simple assembly
Cons
Non-adjustable
Heavier than advertised
2. ENO Pod Hammock Triple Stand
Buy on Amazon
Next up, is another dependable hammock stand from ENO, one that is perfect for a night of outdoor partying with friends! The unit can support up to three hammocks and offers great flexibility in terms of use and functions. If group hangouts are what's on your mind, then this is the stand for you.
With the Pod Triple stand, set up is easy and far from time-consuming. Fitted with quick-release parts, it is designed to ensure hassle-free assembly and takedown that require no specialized skills or tools. Also, it is a sturdy unit that weighs 101 lbs and has an impressive capacity of 400 lbs.
Moreover, this excellent piece of outdoor equipment is a blessing for the days you want to camp out, whether or not the skies permit. It is well-equipped for such times as it comprises powder-coated steel that stands up well to all sorts of weather conditions. Alongside this, the unit shows resistance to rust and abrasions, thus lasting for years.
Pros:
Supports three hammocks at a time
Easy to assemble and takedown
Weather and abrasion-resistant
Long-lasting
Cons
3. ENO SoloPod Hammock Stand
Buy on Amazon
Evidently, ENO's stands are hard to beat. Our third item is another excellent product from the brand, one that can transform any location into a haven of relaxation and peace. With the Solopod, you are guaranteed to enjoy a quiet time by yourself without burning a hole in your pocket.
Equipped with non-slip feet that stay put, it is well-suited to level terrain, be it grass or a deck. Once you're done, the stand is equally easy to pack and store away which enhances its appeal as a weekend companion. Also, weather-proof and robust, it can withstand adverse outdoor conditions with ease. It exhibits resistance to rain, strong wind, and harsh sunshine and is protected by a steel coating.
Moreover, the stand comprises quick-release parts that aid its simple installation and make it the ideal equipment to carry to any outdoor expedition. Setting it up requires no special tools or technical skills, which increases its versatility and scope of use. Last but not the least, the Solopod is capable of carrying up to 400 lbs and weighs 63 lbs itself.
Pros
Ideal for a quiet, solo time
Suitable for a variety of terrains
Easy to assemble and store
Sturdy construction
Cons
4. Zupapa Hammock Stand
Buy on Amazon
A highly versatile product from a well-known brand, this hammock stand from Zupapa is suitable for both single as well as double use. Also, it accommodates two types of hammocks – spreader bar and non-spreader bar. In order to support a variety of models, therefore, it comes with in-built chains and S hooks in tow.
The construction is reliable and tough, and the solid steel structure is ideal for heavy-duty use. Additionally, it offers adequate resistance to unfavorable weather conditions such as heavy rain and wind, and also stands up to rust and abrasions. It's hardly a surprise then that such a strong unit easily supports a weight of 550 lbs.
A unique feature of the product is the spring pin that's especially useful for quick assembly and additional stability. And that's not all; the stand is smartly designed for the discerning buyer and has a V-shaped structure that's high in aesthetic appeal. Clear lines and a handy carrying case complete the deal and, ultimately, make an offer that's hard to refuse!
Pros
Simple and fast assembly
Strong, steel construction
Well-suited to adverse weather conditions
Resistant to abrasions
Aesthetic design
Cons
Hanging angles may pose an inconvenience
Stand prone to flexing
5. Sunnydaze Hammock Stand
Buy on Amazon
Our last recommendation is one of the best out there and makes for a great choice for camping trips that demand heavy-duty equipment. Sunnydaze's stand includes chains and the necessary hardware to accommodate diverse hammock styles, from Brazilian to spreader bar. At 25 lbs, the unit itself is lightweight and highly portable.
Constructed out of tubular powder-coated steel, the stand withstands prolonged use and is highly resistant to tough weather conditions as well as abrasions. In short, with Sunnydaze, you needn't worry about longevity and are sure to get your money's worth. What adds to its versatility is that it's ideal for a variety of surfaces, indoors and outdoors.
Last but not the least, assembly is quick and simple with interlocking joints and spring-snap button mechanisms. In any location without trees for support, this is the ideal stand for an ENO hammock. Reliable and good-looking, the multipurpose unit comes with a 1-year warranty that makes it even better!
Pros
Adaptable to a variety of surfaces
Good for rough camping
Interlocking joints for easy assembly
Great design aesthetics
Cons
Some parts prone to malfunction
Buying Guide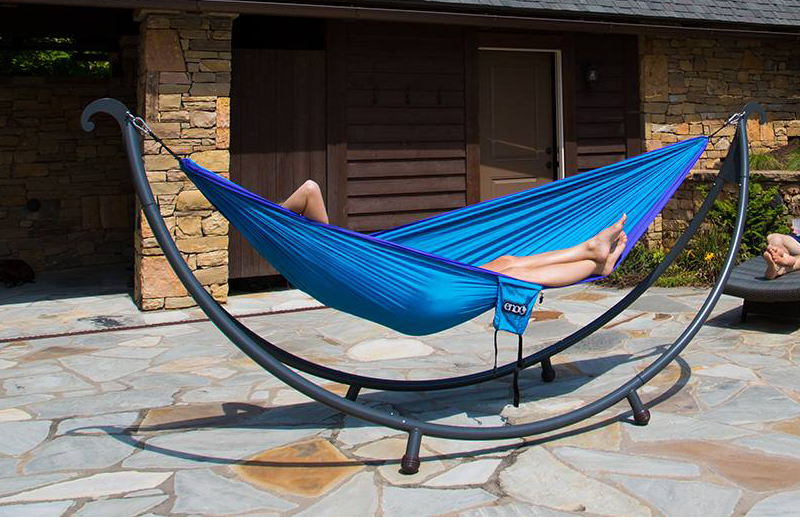 An ENO hammock is as aesthetically pleasing as it is functional. But without the right stand, it won't be easy to get the most out of it and all that it offers. Our recommendations listed above are all sturdy, versatile, and offer good value for money.
But to help you get closer to the ideal stand for your hammock, we have outlined some points to keep in mind before you make a purchase.
Needless to say, ENO's hammocks adhere to certain restrictions and regulations when it comes to dimensions in order to ensure the most comfortable experience for its customers. Their products don't add extra weight to the backpack, but they're certainly spacious, such as the Helios XL hammock. Therefore, before buying a stand for an ENO hammock, it's essential to check the dimensions of the model.
The dimensions of the stand are also an important factor to consider before purchasing it. Not only must they be compatible with those of the hammock's but knowing the dimensions also give you a clearer picture of its portability and storage.
ENO hammock stands are usually made with spatial efficiency in mind and are far from bulky. However, not all stand-and-hammock combinations are viable. Clearly, to ensure compatibility with the hammock as well as your own requirements, checking the stand dimensions are a must.
Lastly, the weight capacity of hammock stands very well be the difference between an average and an excellent product. All said and done, the stand's weight capacity must be well above or at least equal to the requirement.
ENO hammock stands are durable units that are built to last. But even the most sturdy items have been known to buckle under excessive weight and these are no exceptions to the rule. Ensuring an adequate weight capacity, therefore, is a non-negotiable factor when it comes to selecting stands.
Conclusion
Buying a hammock stand is exciting; it brings you closer to that camping trip you've had on your mind for a while now. For the armchair traveler, it means an afternoon spent swaying in the shade of trees. Whatever the destination, your ENO hammock promises hours of relaxation that is hard to pass up.
But all this is possible only with the right stand. In our list above, we've included the best of the lot for you, keeping in mind portability, construction, and adaptability. But at the end of the day, it's down to your personal preferences.
Go, get the best ENO hammock stand now!