5 Best Outdoor Metal Stair Railing Kits
Having some extra outdoor space is a blessing in today's densely packed localities.
Hence, a backyard isn't always an option. That's when a deck or a porch serves as a durable and functional space for unwinding with a cup of tea in the evening.
But it won't serve its purpose if you use low-quality railings. Besides getting damaged with constant exposure to the sun and rain, cheap railings might even degrade the entire look of your house.
Fret not, because we have already searched the market to present you the best of the lot. So, here are five popular metal stair railing kits that you can DIY in a jiffy!
5 Best Outdoor Metal Stair Railing Kits
1. Happybuy 5-Step Wrought Iron Outdoor Handrail Kit
Buy on Amazon
If your deck sports 4-5 steps, this wrought iron handrail from Happybuy is the perfect addition. Since it is black in color, it can easily match various designs and outdoor furniture. Additionally, the brand offers two sizes to choose from.
With its sturdy wrought iron construction, durability is undoubtedly top-notch. It is also rust-proof and weatherproof, so you can rest assured that your metal railing will make it through the test of time and ravages of nature. Moreover, the powder-coated railing ensures easy cleaning and maintenance, and adds a stylish matte look to the structure.
We also appreciate the simple installation process of this handrail. The package includes all the essential screws and wrenches, and the pre-drilled parts make it easier to set up the railing in no time. However, the lack of an instruction manual might make the process tricky for beginners, so we recommend searching the internet for tutorials.
Lastly, the outdoor railing is suitable for the porch, garden, hotels, and various other outdoor spaces, making it a versatile pick.
Pros
Adjustable height
Durable and weatherproof wrought iron
Easy and quick to assemble
Minimal and elegant design
Versatile
Cons
Does not contain instructions
2. Railing Now 5-Step Rust Proof Outdoor Handrail Kit
Buy on Amazon
Available in two color options, black and white, this simple yet beautiful curved handrail will add an understated charm to your deck. It fits one to five steps and is suitable for wood, brick, and concrete floors.
Clearly, Railing Now understands the importance of beauty with functionality, and hence, has used heavy-duty rust-proof aluminum in making this handrail. As a result, the railing will remain sturdy and durable even years after installation and continuous exposure to erratic weather conditions.
Beginners will appreciate the fact that this product contains few parts and tools to deal with. However, we cannot say the same for someone who likes more freedom to customize.
Note that you will have to drill the holes yourself. Other than that, the installation process remains fairly easy. The package also includes a user manual that contains clear step-by-step instructions.
Overall, we think this handrail is a fuss-free pick for beginners or just anyone who likes keeping their decor simple yet chic.
Pros
Budget-friendly
Color options available
Durable aluminum construction
Rust-proof
Contains instruction manual
Cons
Does not contain many accessories
No pre-drilled parts
3. InstantRail 5-Step Adjustable Outdoor Handrail Kit
Buy on Amazon
Here's another adjustable option from InstantRail that is available in white and black. It accommodates a 5-step staircase, and you can adjust the angle from 0 to 38 degrees. Also, you can install it on any wooden or concrete base.
The heavy gauge aluminum handrail scores high on quality and durability. It also adds a level of security to your stairs, especially for kids and senior citizens who depend on handrails for support. However, albeit stylish, the railing has a sharp bend towards the middle, which may not be everyone's cup of tea.
Moreover, the packaging includes two posts, a mid-rail, a top deco rail, fasteners, binding bolts, a base trim, and an assembly guide. This ensures that you feel no difficulty in installing the product yourself.
We would like to add that some customers received the package with missing parts. But thanks to the friendly and helpful customer care team, they were able to get the required accessories without much hassle.
Pros
Elegant and minimal design
Solid gauge aluminum build
Adjustable angle
Suitable for wooden and concrete areas
Impressive customer service
Cons
May arrive with missing parts
Paint chips easily
4. Iron X 3-Step Wrought Iron Outdoor Handrail Kit
Buy on Amazon
If you've got a small porch with three steps, this wrought iron outdoor handrail by Iron X is your best bet. The brand offers the same handrail for various bases like concrete, brick/paver, and wood/composite. You can even opt for a kit without fasteners.
Besides the powder-coated iron railing, the kit also contains stainless steel post mount brackets and escutcheons, snug strips, screw fasteners, a drill bit, a driver bit, and an instruction guide. This implies that you will not have to rush to any hardware store for additional accessories and tools. Plus, the assembly and installation guide contains adequate instructions for beginners.
Further, the brand claims that this wrought iron staircase handrail is unlike any aluminum structure that might bend and rust with continuous use. In fact, customers have commented that the handrail is sturdy enough to support heavy users and senior citizens while climbing stairs.
Thus, we think this handrail provides quite a bang for the buck despite being more expensive than the previous options. It is durable, supportive, and easy to install, making it a valuable investment for your deck.
Pros
Contains necessary tools and accessories
Includes user manual
Different types available for a variety of steps
Does not bend or rust
Cons
5. VeVor 3-Step Wrought Iron Outdoor Handrail Kit
Buy on Amazon
Another simple handrail for the minimalists out there is this wrought iron option by the VeVor store. It is another one of the cheaper options, so if you are on a tight budget, look no further.
Despite being affordable, this premium wrought iron handrail ensures long-term usage. It sports a powder-coated surface, protecting it from rain and rust. The coating also facilitates easier cleaning and maintenance. All you will have to do is wipe it with a piece of cloth, and you're good to go.
Like other railing kits on the list, this product also includes installation accessories like wrenches and screws. This ensures that you spend no more than a few minutes assembling the stair handrail.
Further, VeVor strikes a balance between style and security with its non-slip finish. Its glossy black surface will easily match any kind of outdoor decor while providing support to kids, older people, and specially-abled individuals. Also, you can install this handrail on a variety of surfaces, including concrete, brick, wood, and so on.
Pros
Does not rust easily
Non-slip surface
Rigid and supportive build
Real wrought iron construction
Affordable
Cons
Poor quality wrenches included
May arrive with missing parts
Buying Guide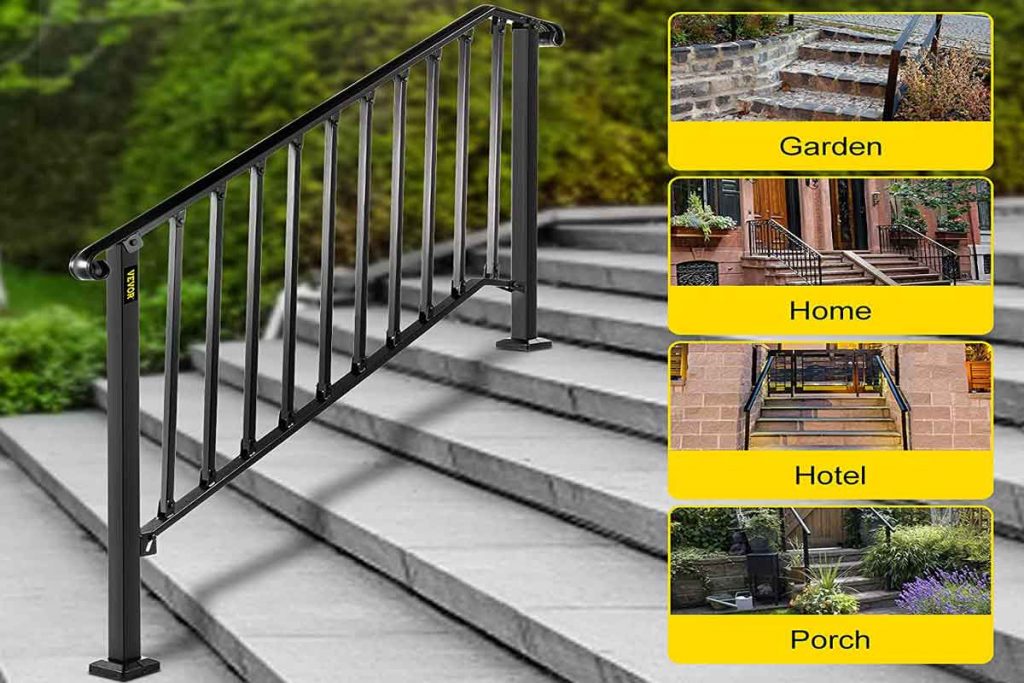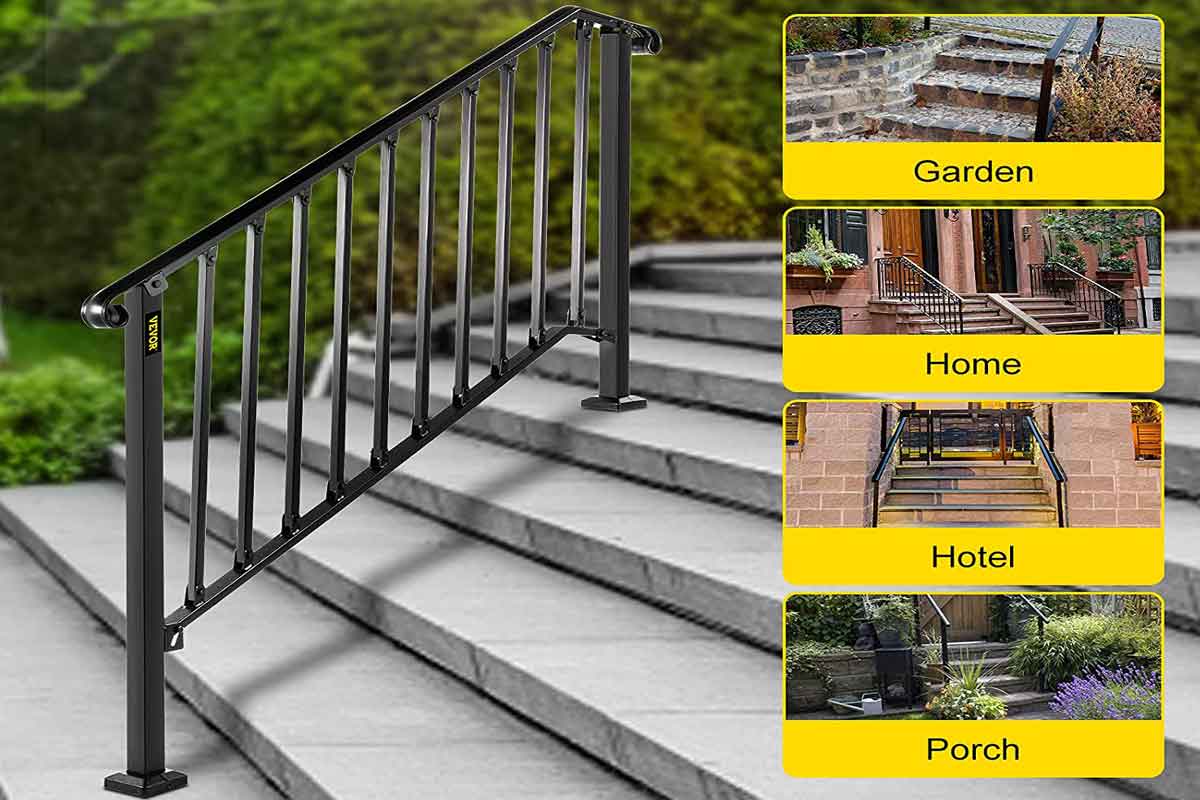 Although knowing the best products on the market helps, you are only halfway through the journey of settling on the perfect metal stair railing kit for your space. The final choice must satisfy your preferences and requirements, rather than being just another popular product.
However, we understand that you are still confused about what to look for in a railing kit, especially if you are a beginner. That's what this section will help you with.
Remember that not every stair railing kit serves the same purpose. For instance, if you have older family members or naughty kids in the vicinity, a rigid handrail will be your topmost priority. However, for others, the look of the railing may be more important.
Or, if you live in a rainy region, you might want a completely weatherproof option. Alternatively, users who are not very handy would want an easy-to-install product.
Hence, keeping in mind the varied needs of the users, we have compiled some crucial factors that you must consider before buying an outdoor metal stair railing kit.
1. Building Codes
You must check that the railing complies with the building codes of your region. For instance, according to the Occupational Safety and Health Administration (OSHA), handrails must withstand a 200-pound load, and the shape should be easy to grasp.
Moreover, the Accessibility Guidelines and Standards mandate a clearance of 1.5 inches between the handrail and the wall. Notably, most brands adhere to the International Building Code, the International Residential Code, and the American Disabilities Act, which ensure public safety and accessibility.
2. Number Of Steps
It's never a case of "one size fits all" when it comes to stair railings, so ensure that you check the number of steps and the measurements of the area. The last thing you would want is to end up with a handrail that does not match your stairs.
Even among the railing kits above, we have mentioned suitable products for staircases with three to five steps. Some of the brands offer different sizes, too, so don't forget to check them out.
3. Stair Risers
A stair riser is the vertical (sometimes inclined) element between one step and the other. Note that the measurement of the riser determines the height of the finished tread (the horizontal component on top of a step). And you will require both of these measurements to determine the ideal dimensions of a handrail.
4. Steps Materials
The material of the steps plays a crucial role in determining the right railing kit. The different types of materials include concrete, brick, timber, cast iron, steel, etc. Accordingly, you must choose a railing kit of suitable material.
Usually, stainless steel railings work with most materials. Galvanized steel is another popular pick as it prevents corrosion. Similarly, a wrought iron handrail should feature a powder coating to make it rust-proof.
5. Handrail Design
With so many designs to choose from, picking the perfect handrail for your porch can become a daunting task. But besides your preferred aesthetic, we suggest opting for a handrail design that best serves the purpose.
For instance, a stair railing with an attached gate is a must if you have kids and pets. This prevents them from stepping outside the vicinity and keeps them safe.
If you do not have a deck or a porch, a brick wall handrail right outside your door would be a suitable option. Such a handrail design connects the floor at the bottom of the steps with the wall of the house.
6. Handrail Colors
The material largely determines the handrail color unless you paint it by yourself later. However, plastic is the most versatile material if you want a pop of color in your exteriors.
Additionally, wooden handrails are perfect to create a vintage and timeless vibe in your deck. But, as you may have guessed, you will be stuck with shades of brown and cream. Thankfully, warm tones complement many colors and styles, so there's nothing to worry about in that aspect. We recommend oak for a lighter hue and mahogany if you want a deeper brown.
Aluminum is another popular choice of material for handrails. It is cheap, durable, and usually available in black and white color. Similarly, with iron, you get a limited color palette of these two shades, and maybe some shades of grey and silver.
7. Kit Components
While buying a DIY kit, always ensure that it includes all the necessary tools and accessories. This saves you from the time and extra expense of getting such hardware later.
Typically, a stair railing kit should include the deco rail and mid-rail, posts (number may vary according to the design), binding bolts, fasteners, and a base trim. Additionally, opt for a product that includes an installation guide with clear instructions, preferably with illustrations.
How to Install an Outdoor Metal Stair Railing?
What's the use of a DIY railing kit if you don't know how to put it up? Absolutely nothing!
But fret not because we've got you covered with some simple steps to install your handrail in a jiffy. So, whether you want to replace an old railing or install one on a new deck, this method will ensure optimum safety with style. And let's not forget the installation charges that you will be saving!
Step 1- Measuring The Steps
Considering how important accurate measurements are, not a lot of people are careful at this stage. So, make sure you measure the depth of the landing, the landing slope, the total "run," and the total "rise."
The "run" of the staircase is the distance between the top portion of the highest step to that of the lowest step. Similarly, the "rise" refers to the height from the top of the bottommost step to that of the highest step.
You can purchase a suitable railing kit or place your order with a railing fabricator according to these measurements.
Step 2- Position The Handrail
Once you get the ideal handrail for your steps, start by positioning it on the desired area without the post mounts. Check if any of the posts require slight trimming to fit the staircase. In most cases, the railing either leans forward or backward.
Raise the post that is leaning away from the steps and keep the opposing post straight on the ground (coinciding with the plumb). Then, measure the distance from the bottom of the post to the ground to determine the trim-off dimension. This is the amount you must cut from the opposing post to ensure the perfect fit.
Now, pre-drill a hole on each end and use anchors to secure the railing temporarily. Thereafter, you can mark holes for the rest of the posts. We recommend drilling ½-inch holes for marking. Then you can set the railing aside and deepen the holes by two more inches.
Follow it up by tapping in the anchors and fastening the handrail with nuts. But don't fully tighten them until the next step.
Step 3- Plumb For Perfection
Now, use a level to ensure that the posts are perfectly perpendicular to the ground. If you spot a leaning post, loosen the nuts and straighten it with a washer. Repeat until all the posts are straight.
Additionally, you can use a mini hacksaw to remove the hex nuts and replace them with matching cap nuts. Note that this is just an optional step.
You must also ensure that you wear safety gloves throughout the process. No matter how handy you are, you can never be sure with sharp equipment. Children and pets should stay away from the work area, and you must never leave your tools unattended. After all, it is better to stay safe than sorry.
FAQs
How do I measure my steps?
Start by measuring the overall height, i.e., the distance from the landing of the lowest step to that of the highest step. Then, determine the overall horizontal length by measuring the distance from the edge of the nose of the first to the last step.

Further, the length of the nosing will determine the length of the top deco of the handrail. For this, you will have to measure the slanting distance between the edge (nose) of the first to the last step.

Also, you will require the depth and height of the tread. For this, simply measure the length and height of a step.

Interestingly, tons of websites offer staircase calculators, so you can use one of those to ensure more accuracy.
Do I need a handrail for two steps?
The International Building Code recommends having a handrail for a staircase with two or more risers, but it largely depends on your requirements. If your area is prone to rain and snow, even climbing those two steps without support can become a challenge, especially for older adults.
However, if you do not have any elders or kids in the house, you don't need a handrail for two steps.
Do I need a 4 ft or 5 ft railing for 4 steps?
sually, handrails for four steps measure about 4 ft. However, we still recommend measuring the area and purchasing accordingly instead of assuming the ideal dimensions.
How high should a handrail be on outside steps?
According to the ICC Handrail Codes and the ADA-Compliant Handrail Height, the height of a handrail should be between 34-38 inches above the steps.
Are handrails required on both sides of exterior stairs?
Although we suggest having handrails on both sides for more safety and support, staircases with a width less than 44 inches can have just one railing. Moreover, staircases with less than four steps need not have a railing at all.

However, this too depends on your personal preference and requirements. If your family consists of senior citizens, children, and specially-abled people, consider getting railings on both sides of the stairs.
How much does it cost to install railing on front steps?
On average, if you do not opt for DIY railing kits, installing a handrail on the front steps can cost $900. The cheapest deals can range from $500 to $700. On the other hand, if you opt for high-end materials, you may have to shell out more than $10,000.

Note that these prices are subject to change according to your location, the kind of railing you choose, the material of the steps, and more.
Conclusion
With that, we come to the end of this comprehensive review-based guide. Besides introducing you to the best outdoor metal railing kits on the market, we hope we've clarified your doubts regarding the installation process, cost of installation, and more.
We tried to consider different preferences and requirements, and suggested these products accordingly. However, if you feel the need to find one for yourself, we recommend going through the buyer's guide to know the factors that make one product different from the other.
Lastly, here's a tip before we sign off- always consider the requirements of your family members while shopping for hand railings. While a particular product may look fancy, it may not be sturdy enough, which kills the purpose of having a handrail.