5 Best Outdoor Reclining Chairs With Footrests
Imagine laying outside on the deck lazing in your favorite chair with a coffee in hand. Yes, we know, it sounds amazing!
Understandably, reclining chairs are some of the most comfortable options out there. You will be able to push back and relax in the most suitable positions.
Also, most chairs will allow you to adjust the reclination level depending on your needs, perfect for a night of stargazing outside. In this guide, we have listed down the top 5 outdoor reclining chairs with footrests, along with their pros and cons.
This should help you in making a choice, so, let's dive in!
5 Best Outdoor Reclining Chairs With Footrests
1. Hanover Outdoor Luxury Recliner Chair
Buy on Amazon
One of our first recommendations is the Hanover Outdoor Luxury Recliner Chair. Most people love it for its all-weather wicker, which stays in perfect condition even in changing outdoor conditions.
The manufacturers have woven the wicker onto a steel frame, which is rust-resistant. That's why you can keep it outside the house in sun, rain, and snow.
Next, you will get cushions that dry up very fast. A UV-resistant olefin material covers the cushions and protects them from discoloration over time. Also, the cushions fit in the chair snugly even without Velcro ties to keep them in place.
What's more, the chair cushions are not prone to stains, meaning you do not have to worry about maintenance at all. You can easily let kids sit and relax in the chair, and remove accidental stains easily with a simple wash.
We recommend using water and soap for this purpose as the material will dry up very quickly after washing.
Moving on, you can recline the chair in 3 positions. So, whatever the mood or the ambiance, the chair will allow you to relax in your own way.
Pros
Adjustable up to 3 positions
Premium olefin UV-resistant material
Dries very fast
Not prone to stains
Cons
2. PHI VILLA Outdoor Metal Recliner Chair
Buy on Amazon
If you are looking for a simple design, then the PHI VILLA Outdoor Metal Recliner Chair is an incredible choice.
We were very happy to see the ergonomic design and you will not need any buttons or levers to operate it. Just slide into the seat and push back to get into a zero-gravity position.
Moving on, this chair has metal steel legs, and they are not prone to discoloration when it rains. The body is also rust-resistant, and you can keep the chair outside in all weather conditions.
Naturally, it is very sturdy; you can keep using it for years to come, and it will not catch rust or become discolored. Besides that, you will be getting olefin fabric cushions that are soft and easy to maintain as the padding is stain-resistant and will not get discolored easily.
Moreover, this chair can hold a weight of up to 300 lbs. Hence, most people can use it easily without fearing that they will fall.
However, we were not very happy with the customer service, and we wished that they would be more efficient. While the product is good, nobody replied to our query mail.
Pros
Olefin fabric cushions
Weight limit up to 300 lbs.
Ergonomic design
E-coated steel frame
Cons
Inefficient customer service
3. ATR Outdoor Resin Wicker Recliner Chair
Buy on Amazon
Up next, we have the ATR Outdoor Resin Wicker Recliner Chair. This comes with 3 adjustable levels, allowing you to move the seat accordingly. You can shift among 90 degrees, 135 degrees, or 100 degrees to relax.
Additionally, you will be getting hand-woven resin wicker, which looks very attractive. The high-density polyethylene wicker is durable, and UV rays cannot damage it. Hence, you will not notice cracking or fading of the parts since it does not hold moisture, sweat, and oil.
Moving on, you will be receiving an aluminum powder-coated frame. The coating will prevent it from rusting without compromising on portability. In fact, it is very lightweight but can withstand weight up to 330 lbs. That's why almost everybody can sit on it comfortably.

Also, the cushions are weather resistant and protected from UV rays. You can remove the zippered covers to wash them once in a while to keep the cushions in top shape, preventing them from getting dirty.
However, you should know that the instructions provided are pretty vague, and you might have difficulty assembling it.
Pros
Powder-coated aluminum frame
Choice among 3 inclination levels
High-density polyethylene wicker
UV-resistant body
Cons
4. Grand Patio Outdoor Wicker Recliner Chair
Buy on Amazon
If you are looking for adjustable legs, then the Grand Patio Outdoor Wicker Recliner Chair will be perfect. It reclines up to 160 degrees, thanks to its side panel to deliver optimum comfort.
Moving forward, the wicker body can withstand all kinds of weather conditions. It is UV resistant, and it will stay protected for 3,000 hours to withstand cracking or fading.
Also, each cushion is soft with olefin zippered covers that are removable and thick. You can remove the covers easily and wash them at regular intervals without any difficulty.
Now, the steel frame is also powder-coated, and it will not catch rust but more importantly it delivers a weight capacity of 330 lbs, meaning anybody can sit on the chair. That said, it is not very heavy, and you can move it around if necessary.
What's more, you will get all the parts for assembly while the brand has added the necessary tools that you will need during the process. All you need to do is fasten a few bolts to have a fully assembled product in very little time.
Pros
Easy to assemble
Reclines up to 160 degrees
Olefin cushions
Resistant to changing weather conditions
Cons
Does not extend fully at all times
5. Outsunny Outdoor Wicker Recliner Chair
Buy on Amazon
One of our final recommendations is the Outsunny Outdoor Wicker Recliner Chair. It is the perfect option to relax after a long day at work. The chair is not only beautiful to look at, but you can recline it too.
And the best part about this product is the side table that comes attached to one of the arms. There is a side panel, and it will protrude out from the side. Place your drink on the top and enjoy the summer breeze.
To top it all, this item has a polypropylene resin body, and it is very durable. It looks like traditional wicker, and bad weather cannot cause any harm to it. You can relax in the sun, rain or snow and there will be no discoloration at all.
Besides, it is easy to maintain this chair, and you will not have to spend hours on it. Use your garden hose to spray water on it once in a while, and it should be clean in a jiffy.
However, remember that this is an expensive item, and you might have to go above your budget to afford it.
Pros
Efficient side panel
Polypropylene resin body
Protected from all weather conditions
Easy to clean
Cons

Buying Guide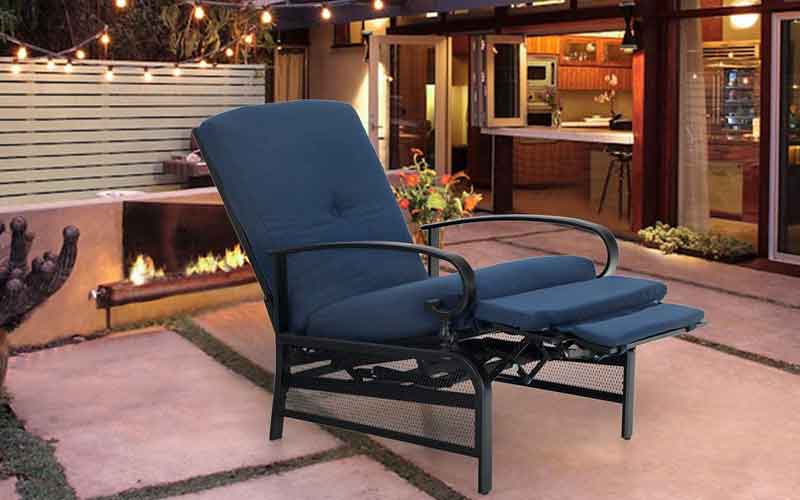 Selecting a outdoor recliner chair can be tough, especially if this is your first time purchasing one. However, we have listed down some factors that can help in making a decision. Remember that the most expensive product will not always be the best one.
You might want a certain degree of inclination that only a few products would allow. Some might also want a product that they can easily assemble. So, please read through carefully and then choose one.
1. Ergonomic Design
A chair should provide you with much-needed comfort. It should be able to give you that perfectly comfortable position that you are seeking from it. An ergonomic design is always very satisfying as you can improve your working conditions a lot.
Before purchasing, check for the steel frame and the rattan body and see how comfortable it is. Some products may have a resin or a PU cover on top. Whatever the material is, it should prove to be comfortable.
Also, cushions come with the chair. The cushioning should be such that you do not feel any pain in the back after sitting for hours. It should provide ample support to your back and your hip. Check the cushioning on the top part where the head rests and see whether there is some amount of cushioning provided there.
While all chairs will not come with a headrest, if you plan to lie down, then it is going to be important.
2. Reclining Mechanism
Since these are reclining chairs that we are talking about, they should be adjustable. You might just want to sit back and read a book. That would only require a slight inclination, while stargazing would need the chair to recline up to 160 degrees at least.
Most options that we have listed here will allow you to toggle among different reclining options. Always choose one, which will allow you to change the reclination level. Then it will be perfect for multiple purposes.
3. Weather & Rust Resistant Frame
Since you are looking for an outdoor chair, you would not want bad weather to affect the body. Now UV rays can cause discoloration and brittleness in general cases. However, if the metal features a proper coating, then there should not be any further problems.
Next, you will have to protect the body from rain and humidity. The metal body needs to be water-resistant. That will prevent rust from forming on the surface. Also, cushions come with most chairs, and covers come with cushions. The cover material dries easily in case the cushions get wet.
4. UV-Resistant Cushion
The cushions will generally be of a specific color, which can fade with time. Hence, make sure that you only purchase UV-resistant cushions that will not lose their colors. You can opt for olefin material, and it will be waterproof. While the inside of the cushions has to be soft, you will need to have a protective cover on top.
5. Weight Capacity
The weight capacity varies with different products, and you should always check it out before purchasing. If you have plus-sized individuals at home, please check if the chair will provide ample support. The brand will mention the weight limit in the description itself, and you should not face any problems.
Also, if you have 2 or more kids who are most likely to share the chair, then the chair should have perfect balance. Ensure that all the legs touch the ground and are of the same size. In case of a slight imbalance, your kids might fall off. If you notice an imbalance, then you should immediately contact customer care and ask for a replacement.
6. Easy To Assemble
Nobody wants to spend hours trying to assemble a chair! If you have never assembled one, then the process might seem very difficult. Now, if you need to assemble the chair, you will be getting an instruction booklet for it. Use it wisely and follow every point. In case you are unable to understand any of the points, call up customer care and ask them immediately.
You can also look up videos on Youtube to better understand the process. We will recommend purchasing a semi-assembled chair if you have no experience with it.
Conclusion
We have finally reached the end of our guide, and it is time to wrap up.
Now that you know all about the best outdoor reclining chairs available out there, make a choice depending on your needs. Moreover, pay attention to the color and size as these factors would determine if the product will fit in the space well.
Also, if you have kids or pets in the house, we recommend opting for dark-colored options to prevent staining of any kind. You would not want to spend the better part of the day cleaning.