Best Smart Coffee Table with Refrigerator
A coffee table is one of those things that seems rudimentary in current times.
It just sits in the center of your room acting as a glorified dump for books that you rarely read, and sundry details that are nothing but clutter.
The only time when it seems to be of any practical use is during a weekend do when you are hosting guests. Or when you want to kick your feet up, Netflix and chill. No pun intended.
But hey, it's literally the focal point of your living room. Getting rid of it would be akin to interior décor blasphemy, wouldn't it?
That's precisely why smart coffee table with refrigerators have become such a rage.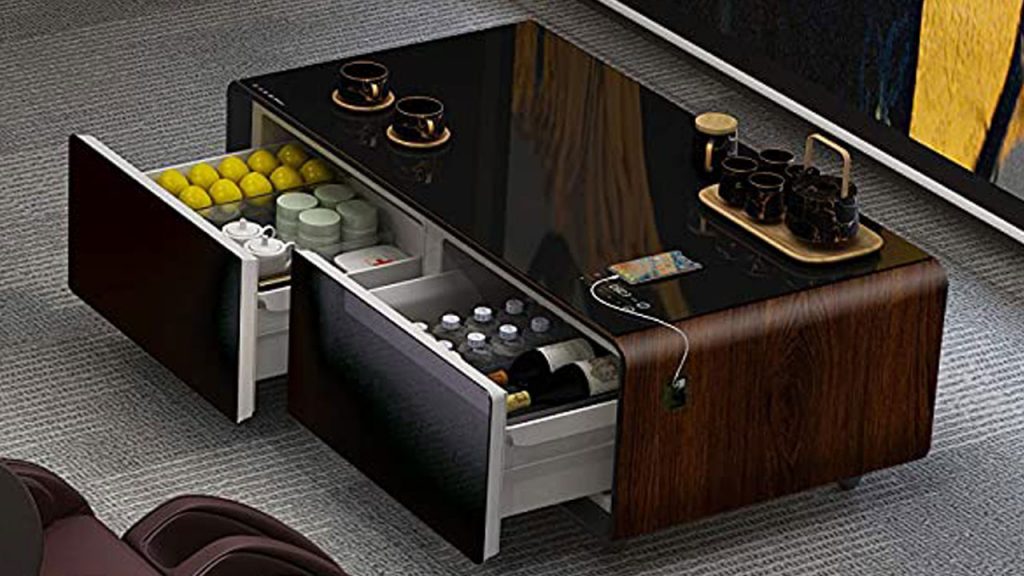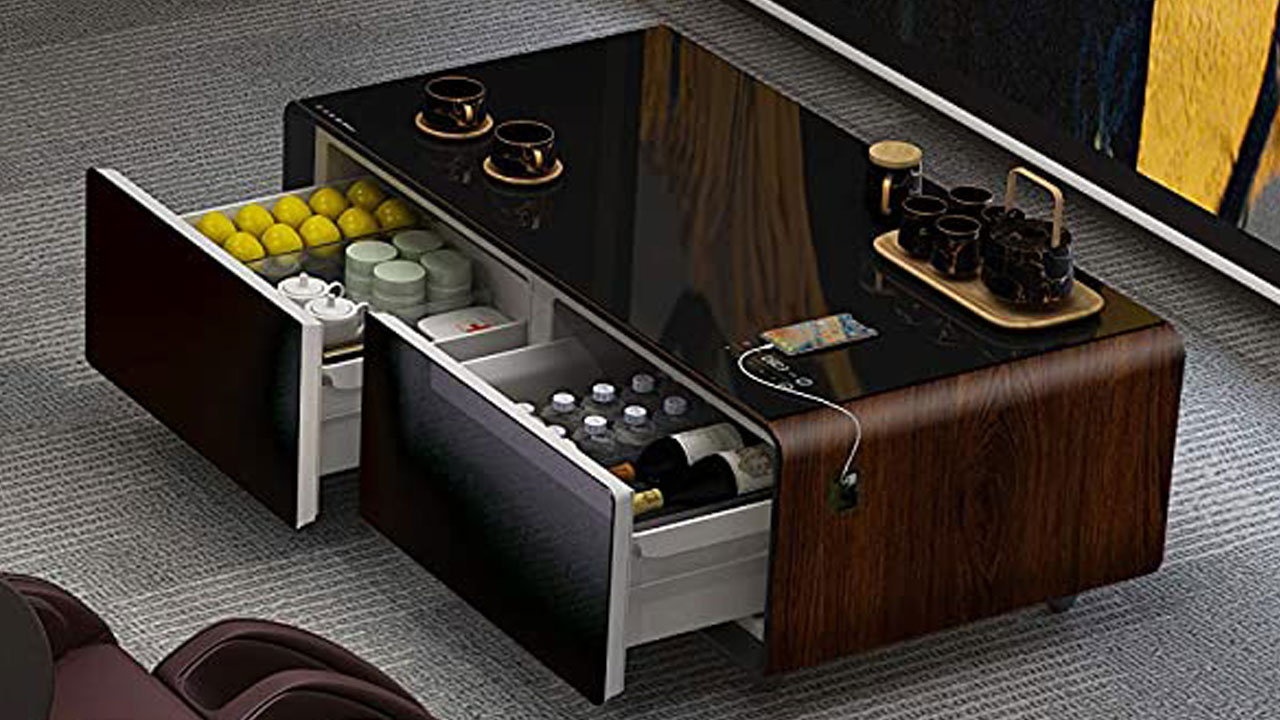 Fitted with a bunch of storage options that minimize clutter, and incorporating some cutting edge tech including a refrigerator and Bluetooth speakers, this protean furniture piece can do just about everything.
Irrespective of whether you are looking to improve the functionality of your house, or are smitten by smart gadgets, these tables fit the bill perfectly.
The Best Smart Coffee Table with Refrigerator
Today, we will take a look at two of the best smart coffee tables with refrigerators. Strap in and enjoy the read.
1. Primst Smart Coffee Table
Buy on Amazon
The Primst Smart Coffee Table features the best of all worlds.
Classic styling, contemporary features and a whole lot of tech, bundled into an attractive package that will garner compliments galore.
It's almost inconspicuous in its appearance. Looks just like any other modern coffee table. But if the adage 'looks can be deceiving' had a face, this would be it.
Here's a quick look at some of the amazing features that it boasts of.
The Primst smart coffee table has a classic rectangular design with a natural oak finish, that compliments a variety of décor themes. It features a capacious tempered glass top surface that's 51" wide and 26" long. Ample room for coffee mugs, mags, cans, dishes and tired feet.
We love the rounded edges, which are a thoughtful addition that look neat, as well as protect children (and tipsy adults) from an accidental bump or two.
On the inside there's a durable metal frame that keeps the more delicate components well protected. There are casters under it, which allow you to move it around the house if need be.
Let's talk about the important stuff, shall we? There are two 65 Liter refrigerated drawers embedded in the coffee table that can accommodate 164 standard-sized cans of your favorite beverage. The temperature can be adjusted from 1-12 degrees and the controls are independent for each drawer.
If you are catching your favorite game or TV show, the only reason why you'd want to get up from the couch is to use the restroom. Your favorite perishables and drinks will now be within arm's length.
Apart from the beverage rack, you can also use these drawers as a cooler to store fruits and other food items for kids. Also, this frees up more space in your refrigerator and allows you to separate food that can leave a lingering odor.
Just in case you are hung up over storage and are not looking to use it as a refrigerator (oh yes, there are people who do this), 130 Liters is a sizable storage unit. Most of your frequently used stuff can disappear inside these drawers and accessed quickly. Unfortunately, there's no separate storage unit in this one.
The Primst coffee table also doubles up as an entertainment system thanks to the twin HIFI Bluetooth speakers embedded in it. The speakers can be synced via Bluetooth with any compatible device like TVs and mobile phones. They are positioned towards the rear vent, which means that children will be protected from direct exposure to loud volumes.
It features two USB charging ports that conveniently charge your mobile devices while you enjoy the party. If you like to listen to music for hours at end, this ensures that your mobile never runs out of juice.
One of the best features of the table, is the smart control panel integrated into the tempered glass top. The soft touch buttons are easy to access and allow you to control the temperature, the volume, LED mood lights, time, set the refrigerator on an energy efficient eco-mode and power the unit off.
By the way, you can also control everything through a compatible mobile application from the comfort of your couch. How's that for convenience?
This smart coffee table comes with a lifetime replacement warranty against transportation damage, system OS or compressor failure and other component damage. In a nutshell, you are backed by one of the most comprehensive warranties in the business.
If you are looking for the best smart coffee table with refrigerator, then the Primst coffee table is one of the best options. It ticks all the right boxes that one looks for while shopping for smart furniture. Clean design, easy to use and a bundle of convenient tech. Hard to beat it.
2. Sobro Smart Coffee Table
Buy on Amazon
The Sobro Smart Coffee Table is a more feature rich option, when compared to our #1 pick, the Primst Coffee Table.
For starters, it features a glossy white finish. White furniture blends in easily with all types of décor and can enliven an otherwise damp setting. They also make your room look bigger and brighter.
But apart from the aesthetics, it also boasts of a few additional bells and whistles, which make it a more well-rounded choice.
Let's take a closer look.
The Sobro Smart Coffee table has chic styling with an all-white, glossy finish. The edges are rightly rounded, which gives it a clean appearance and keeps it bump proof. On top, you have a black tempered glass surface that's 43.3" long and 22.6" wide. Not as big as the Primst, but pretty capacious nevertheless.
The glass top is scratch resistant and serves as the perfect surface to empty your pockets on, after a long day at work. On busy weekends, it will ensure that mugs and glasses pushed around won't leave a meandering trail of scratch lines. Oh, you don't need coasters either for your drinks because it doesn't leave water rings.
Godsend! The frame is heavy duty steel with an ABS outer casing, and it weighs a whopping 104 pounds when assembled. While it ships almost preassembled, we do recommend an extra pair of hands to set this up.
We love the fact that the Sobro Smart Coffee Table has two dedicated pullout drawers for storage, apart from the refrigerator. Each drawer is 10" wide and 13" deep, which more than suffices for commonly used items such as remote controls, PS controllers and books. The drawers feature soft touch closure. So even if you have kids at home, you won't hear it banging close.
The Sobro Smart Coffee Table features a 43.6 Liter capacity refrigerator drawer that's 22" tall and 11" deep. It can accommodate up to 32 cans of your favorite beverages. That's not nearly as much storage as what you get with the Primst coffee table. The caveat is that you don't have to use the refrigerator drawers for storage, since this features two dedicated storage drawers, remember?
A lot of times, the Sobro is mistaken for a coffee table with cooler. Make no mistake, this is not a cooler. It is a proper refrigerator with a compressor and temperature control (2-12 degrees celcius). You can however, use it as a smaller cooler unit to free up more space in your primary refrigerator.
You can sync your TV or your mobile device with the Sobro, which features two integrated Bluetooth stereo speakers. The sound quality is pretty decent, as long as you don't expect it to sound like a high end sound system. It does the job, is reasonably loud and does not sound too distorted even at high volume.
There are four USB charging docks in the Sobro. That's double the number of charging points in the Primst and works phenomenally well for families. Oh, did we forget to mention that it also features 2 separate 110V outlets? The Sobro can also double up as a makeshift workstation. Just plug in your laptop, kick up your feet and work away.
This review wouldn't have been complete without a mention of the smart controls, would it? The control panel is more intuitive than the one on the Primst. You can access all of the basic controls in one or two touches. No unwanted toggling, which is amazing. Also, there's a safety lock for the controls which means that you won't accidentally change anything while pushing a glass around.
The Sobro comes with a limited 1-year warranty, which at first glance seems tepid in comparison to the lifetime warranty on the Primst. But there are customers who have used it for years, with zero problems. So we wouldn't get hung up over it. It's certainly not a deal breaker.
Despite a smaller refrigerator, the Sobro Smart Coffee table has enough features to make life easier for you. It looks stylish, has integrated mood lighting, dedicated storage and more charging options.
Primst vs. Sobro Smart Coffee Table
Title
Primst Smart Refrigerator Coffee Table, Wood
Sobro Coffee Table (Updated Version) - White
Dimensions
43.1 x 22.8 x 22.8 inches
Title
Primst Smart Refrigerator Coffee Table, Wood
Title
Sobro Coffee Table (Updated Version) - White
Dimensions
43.1 x 22.8 x 22.8 inches
Conclusion
Which one of these two best smart coffee tables with fridge will be the right one for you?
To be fair, there's little to choose between them. Both are crammed with features and look equally good.
The only notable difference is the size of the refrigerator. If you are looking for a more capacious refrigerator, then you can opt for the Primst. If you like more organization, then Sobro is a better bet.
FAQ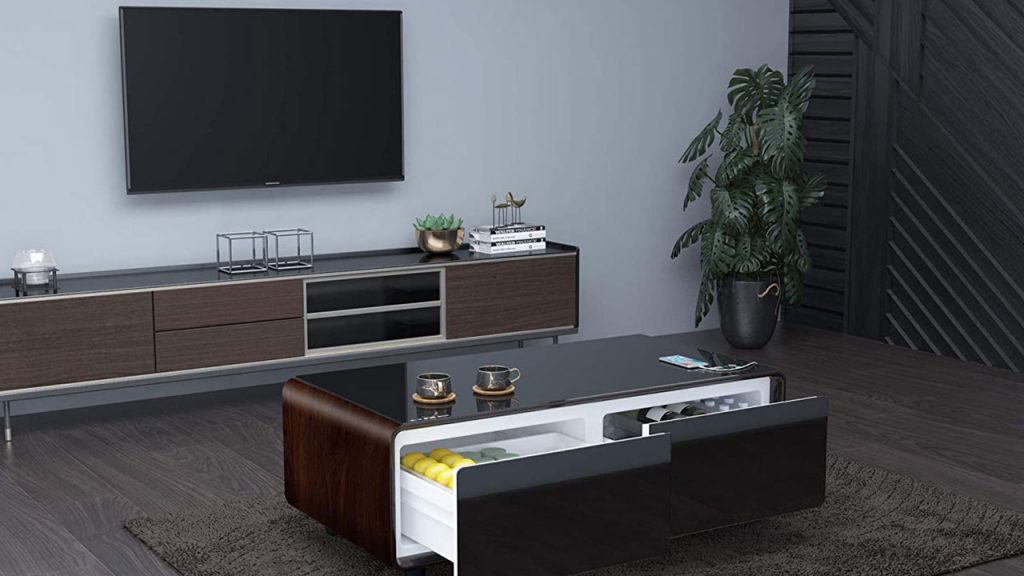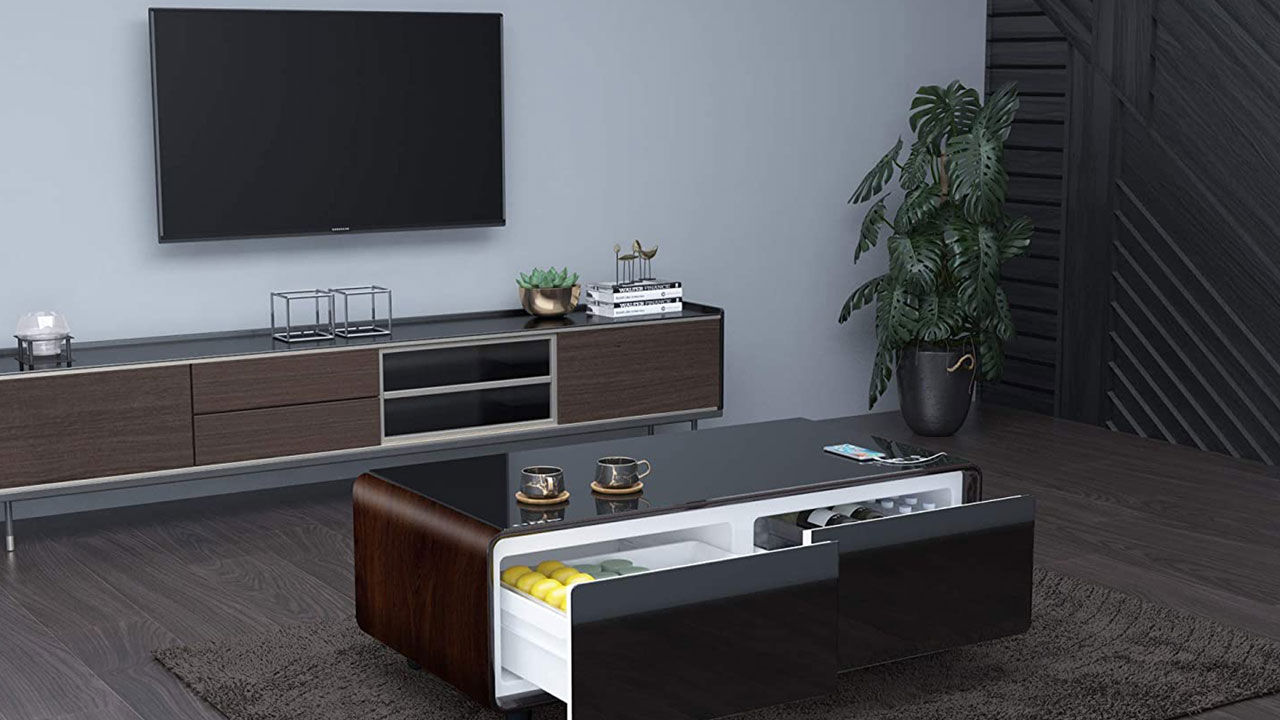 Smart coffee tables are fairly new and a lot of potential shoppers are bound to have questions about their functionality and features.
This brief FAQ aims to answer some of the common ones that we are asked from time to time.
How does the smart coffee table get power?
Smart Coffee Tables are designed for plug and play operation, which means that they come with a power cord that needs to be plugged into a power outlet close by. This sounds more intrusive than it actually is. You can use a cord concealer and run the cord under the couch or the carpet, which makes it almost invisible.
What is its voltage?
Both the Sobro and the Primst smart coffee tables run at 110-volt AC power. You might want to ensure that it's compatible with your household or commercial power supply. If it's not, you can always use a voltage converter or a travel adapter.
Does it require being continuously plugged into an outlet?
Well, if you intend to use the electrical functions, such as the refrigerator, lighting and touch controls, then yes. It does need to be plugged in continually to a power outlet. It does not have an inverter function yet. That said, these tables are pretty energy efficient and the power consumption in a 24-hour duration is pretty frugal.
So, do you need a long extension cord for this coffee table?
That depends on how close or how far the nearest power outlet is. The Sobro ships with a 10' standard power cord and a cord concealer. If you are looking to run a neat and concealed power cord all the way across the room, then an extension cord would probably be helpful. But if it's a small apartment, then you can do without it. You can also consider installing a plug right under the table on the floor. It's a little bit of elbow grease. But certainly makes for a cleaner appearance.
What is the cooling temperature of the fridge?
On an average, temperature in the best smart coffee table with refrigerator can be adjusted from 1-12-degrees Celsius. That's not freezing cold. But works phenomenally well for drinks and food. The idea here is to ensure that you don't miss out on that crucial moment in the game while you head to the kitchen to get a refill.
How noisy is the fridge compressor?
It's as silent as a mouse. The average noise that these compressors produce is less than 37 dB. Anything lesser than 40 dB is considered to be quiet. For some reference, that's the noise level that you get in a library.
Does any size bottle fit in the storage?
The average height of the pullout refrigerator drawers is roughly 14". This means that it can accommodate standard sized bottles, which are 11-12" tall. By the way, you can always store more bottles horizontally as well since the drawers are pretty deep.
Can this be connected to the TV like a soundbar?
Oh yes, it can. Both these smart tables come with a Bluetooth dongle that allows you to connect it to any compatible device including your TV. So, you can connect your TV and play the audio through the twin speakers in the table.
Does this coffee table connect to Google Home or Alexa?
Technically you can since the table features a universal Bluetooth dongle. But since both Alexa and Google Home have integrated speakers, this wouldn't make much sense unless you are looking for it to be louder.