Top 11 Best Tankless Water Heater Brands
Are you looking for a new water heater? If so, you've come to the right place. Perhaps your tank water heater has gone out, and you're in need of a replacement, or you're looking to upgrade your current water heater to something more efficient. Whatever the reason is, we're here to help you pick the best tankless water heater brand for your home.
When it comes to buying a tankless water heater for your home, apartment, cottage, or anywhere else you need a source of hot water; there are a number of things to consider.
The first thing to consider is whether or not you are going to be installing the water heater yourself. Some models won't honor a manufacturer's warranty if the homeowner installs the unit themselves. This is an important thing to note because if you have troubles later on, it can be difficult to get the help you need to fix your water heater.
The next thing you need to consider is how many sources of water do you need to support. For example, if you have 2 or 3 bathrooms in your home and multiple people will be using the showers or sinks at a time. You will need a robust and higher gallon flow water heater to support that kind of use.
This typically means the water heater you choose will be bigger and potentially heavier than lesser flow models, but it's an important distinction to make.
If you live alone or have a smaller home, you can probably get away with getting a smaller unit. Which will cost you less money up front and potentially overall as you won't be using as much water as someone who lives with multiple people or has more than one bathroom or shower source.
The third thing you want to think about is whether or not you want a tankless water heater that is electric, runs on propane or runs on natural gas.
Electric tankless water heater can save you money overall, and so can propane heaters. But the tankless propane water heater still require you to purchase propane and make sure you don't run out. This can mean cold showers in the morning if you forget to get a new supply of propane.
Finally, before you buy a tankless water heater, be sure to see how much voltage you need to run the heater itself. Some models don't require electricity at all, and this won't be an issue if you buy those. But if your water heater needs a power source, you will need to ensure that your home is properly wired to support the installation of such a device.
One last thing, if you need a tankless water heater for outdoor use, be sure to purchase a CSA approved water heater for the outdoors.
Best Tankless Water Heater Brands
Let's look at some of the top brands worth looking at when shopping for the best tankless water heaters.
1. Rinnai Tankless Water Heater

Rinnai is a well-known brand in the indoor gas tankless water heater industry. They manufacture high-quality propane and gas-powered instantaneous water heaters for both residential and commercial facilities.
Their products feature multiple venting options and come in sleek, compact designs. For example, the Rinnai RUC98iN Ultra Series is a small 10-inch thick unit that weighs 6.7 pounds. It has an elegant gunmetal gray exterior and control buttons complete with a digital display on the front panel.
If you are looking for a good gas or propane tankless water heater for residential or commercial applications, then the Rinnai series is a great option. However, their installation is a bit tricky and best left to a professional plumber.
2. Rheem Tankless Water Heater

Rheem is another leading brand of tankless water heaters specializing in gas and electric powered units. One of their well-known products is the Rheem RTE 13 which is a compact unit weighing just 8.5 pounds. It has a width of 7.25 inches and is 10 inches tall.
The unit has a gray metal box and can easily be installed without getting it out of the box. Users can easily control temperature from a convenient front panel with green and red LED indicators. It has a thermostat dial with nine settings.
The RTE 13 can be used to provide hot water in both residential and commercial properties. It is, however, most suitable as a point-of-use tankless water heater. It is energy efficient but not designed for cold climates.
3. EcoSmart Tankless Water Heater

EcoSmart tankless water heaters feature cutting-edge technology in the on-demand water heating systems industry. They have a sleek design and can easily be mounted on a wall.
They come with Patented Self Modulating technology which gives you up to 50% savings on your energy bills compared to traditional tank water heating units. The brand is a leading name in green energy products and innovation. The units have a high energy efficiency rating of 99.8 percent.
Other key features include digital temperature settings that you only need to set once to get a constant supply of hot water at your preferred temperature every day. The brand provides excellent customer care and limited lifetime warranty for their tankless water heating products.
4. Takagi Tankless Water Heater

Homeowners seeking to invest on tankless water heaters should pay attention to the Takagi tankless water heater. One of the significant features of this brand is the comparatively more affordable price.
Despite its lower price, the unit comes with most of the key features found in other tankless water heating model on the market today.
Takagi T-KJr2 is a natural gas -powered water heater that's perfect for all your residential home's instant hot water needs. It is highly energy efficient which saves you from high power bills.
The unit consumes less energy but delivers a high output of hot water on demand. It comes with both inlet and outlet thermistors which help to monitor temperature at all times.
The unit has a maximum flow rate of 6.6 gallons per minute which is more than you need for domestic usage and runs on a 140,000 BTU. It has a portable size and is lightweight too.
5. SioGreen Tankless Water Heater

SioGreen is a leading name in infrared tankless water heaters. For instance, the company's Model SIO18 is designed for both residential and commercial applications. It is ideal for large homes as well as medium to large commercial facilities with a demand for up to 4.4 gallons per minute of hot water.
It is a powerful and highly efficient water heater that uses Quartz infrared heating elements to heat water. It is made for hybrid applications, which allows you to use the unit to upgrade an existing standard water heating unit that uses a tank.
By integrating the unit to a traditional gas or electric tank heater, you can enjoy the benefits of a tankless system such as a continuous supply of hot water whenever you need it and more energy savings.
6. Stiebel Eltron Tankless Water Heater

The Stiebel Eltron brand has been in the water heating industry for more than 90 years. The company is known for manufacturing efficient products ever since they sold their first immersion water heater in 1924. Their line of digital tankless electric water heaters is a good testament to the company's passion for innovation and technology.
A good example of their technologically advanced tankless water heating systems is the Tempra Plus model. It comes with heavy duty electronics, single flow sensor design, advanced flow control, and a convenient hinged cover that gives users easy access to the unit.
It is an energy efficient unit capable of saving you around 15 to 20 KWH of energy compared to the traditional tank heater. It allows you to adjust water temperature from accessible dials easily and does not take up much space in your home. It is one of the most advanced electric tankless water heaters on the market today.
7. Noritz Tankless Water Heater

Noritz is another leading name in the tankless water heaters industry. They've been in the industry for more than 60 years. Noritz introduced the first electronically controlled tankless unit way back in 1981 and had continued to be a leader in development and manufacture of advanced tankless units that deliver superior hot water and energy savings.
Noritz tankless heaters provide numerous benefits to both residential and commercial users. They are convenient to use, eco-friendly, provide significant energy saving, are reliable and long-lasting, and ensure that you get fresh and clean water whenever you need it.
Good examples of Noritz tankless water heating products include the Noritz Eco-Tough Series and the NRC661 that uses natural gas and has an EF of 0.91. Noritz provides consumers with cost-effective and reliable tankless hot water solutions.
8. Bosch Tankless Water Heater

Bosch instantaneous water heaters deliver optimal performance, energy efficiency, and are environmentally friendly. For instance, the Bosch Greentherm Model C 1050 ES comes with an Energy factor (EF) of 0.95. It has an ENERGY STAR rating too.
The unit provides other benefits such as an automatic fully modulating bypass that ensures temperature stability, an inlet water filter, new venting options, and a water heater mobile app where you can easily download technical documents.
Another great Bosch tankless water heater model is the Therm 520 PN that comes with push-button ignition and a modulating gas valve that maintains constant water temperature in varying flow rates.
It is a perfect tankless water heating unit for smaller households that require a maximum of two hot water outlets running at the same time.
9. Navien Tankless Water Heater

No products found.
Navien tankless water heaters feature advanced condensing technology. They have a simple design and are easy to install. They can be incorporated into an existing gas line, which eliminates the need to install an additional gas supply line when installing the unit. They use 2-inch PVC venting which is more affordable and easier to install.
Key features and benefits include seamless installation using existing ½ inch gas line, premium condensing, help to eliminate cold water sandwich problems, have a built-in recirculation pump that saves you money, two stainless steel heat exchangers, and ultra-low emission of NOX among others. If you are looking for a less expensive to install tankless water heater, Navien is your best option.
10. Marey Tankless Water Heater

The Marey ECO is the bad boy of tankless water heaters. You can count on this unit to provide you with properly heated water on-demand given that it has 27Kw of power and 112.5 Amp.
Its Smart technology and digital panel automatically set your water output to your desired temperature. You only need to set it once, and it will continuously give you hot water in all seasons, winter or summer. It is sediment and limescale proof, thanks to its patented technology.
Compared to a traditional tank water heater this unit will save you up to 60 percent of your electric bill. It is ideal for homes with up to 4 bathrooms.
Other key features include durability and Nickel-Chromium heating elements. It is certified for use wherever you are in USA and Canada.
11. Eccotemp Tankless Water Heater

One of the best things about Eccotemp brand is the fact that they provide customers with top-of-the-range tankless water heating units at an affordable price.
An excellent example is the Eccotemp L10 portable tankless water heater that can be used in a wide range of facilities including your summer cabin, RV, cottage, and home. You can easily install the unit anywhere you need to have a constant supply of hot water whenever you need it.
The unit gives you up to 2.5 gallons per minute of hot water, which you can run in multiple outlets at the same time. It delivers hot water with temperature ranging from 80 to 145 degrees F.
If you are looking for reasonably priced yet versatile tankless water heater that you can install just about anywhere, then the Eccotemp L10 Portable model is just perfect for you.
Buying Guide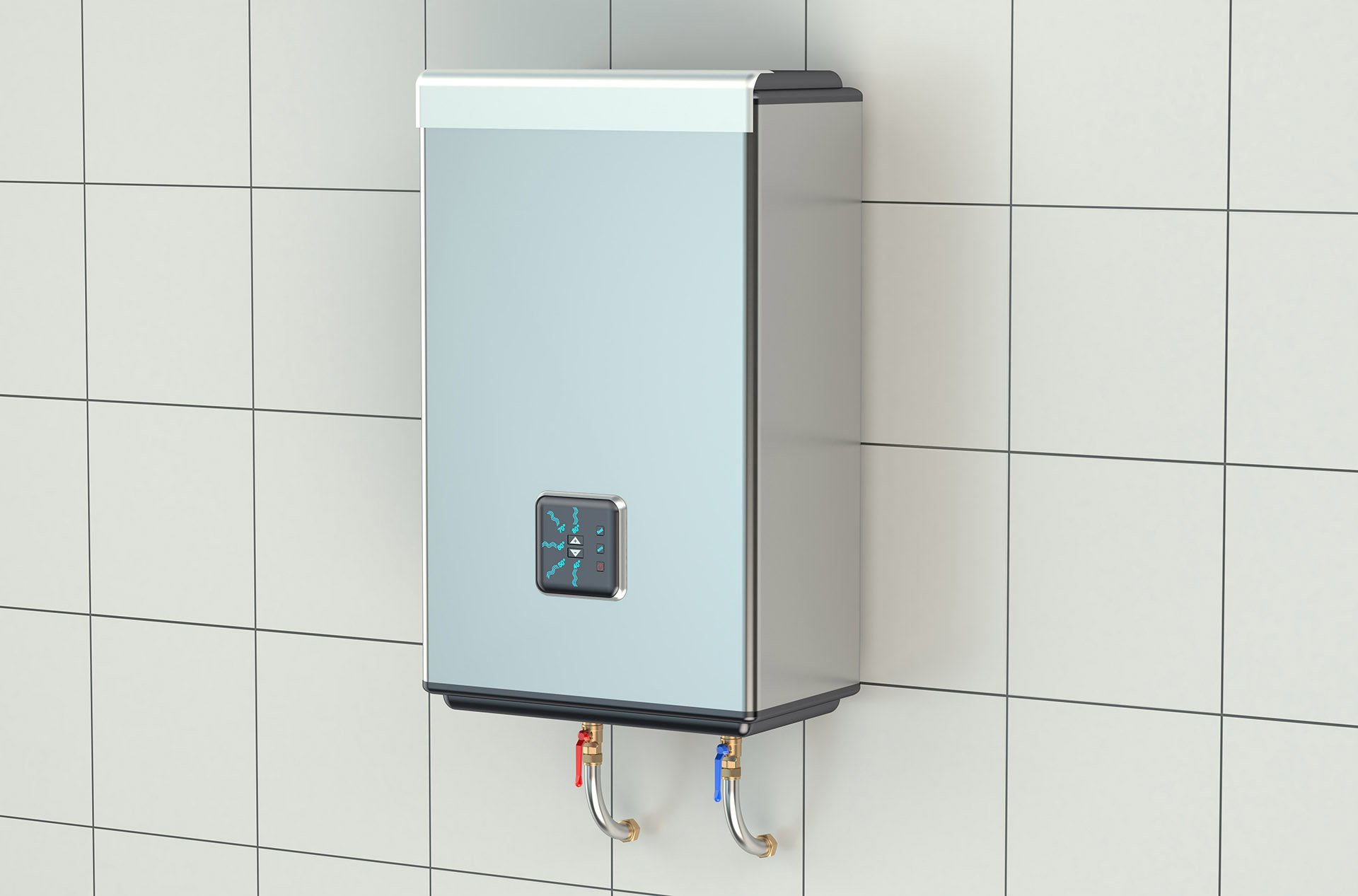 How Tankless Water Heaters Work?
A tankless water heater does not need a centralized water tank. It is connected to the supply system. When you turn on a water tap, the cold water passes through the unit where an electric element or gas burner heats the water instantly. The system delivers a constant supply of heated water. You won't have to wait for a storage tank to fill up with hot water before you can use it.
The system typically provides hot water at a reliable rate of around 2 to 5 gallons per minute. Tankless hot water systems powered by gas have higher outflows than electric systems. However, gas-fired models are limited in the amount of hot water they can provide in large households.
It may be difficult to have hot water running in your bathtub and dishwasher simultaneously with a gas-powered system. The solution to this problem is to install multiple tankless water heaters for different appliances separately.
Types of Tankless Water Heating Systems
There are several types of tankless water heating systems. It is therefore imperative to understand the differences so you can tell which water heater best suits your needs. Let's take a quick look at some of the major types of tankless water heaters.
The non-condensing unit is the first generation of tankless water heaters. The unit has a heat exchanger that provides you with hot water whenever you need, with an efficiency factor or EF of between .82 and .85. The EF generally translates to around $75 to $80 annual savings in your power bills compared to the traditional water heater that uses a tank.
A non-condensing unit, however, has the disadvantage of delivering hot exhaust, which makes it imperative to install expensive stainless steel venting. It also has lower efficiency especially when you use hot water in frequent short draws, such as washing your hands.
The main advantage of non-condensing tankless water heaters is that they are less bulky and cheaper than condensing units.
This is the second generation of tankless water heaters that feature a second heat exchanger to eliminate heat from the exhaust and heat the water further giving you a higher energy efficiency of between .92 and .94. The higher EF translates to annual savings of around $90 to $100 in energy expenses.
The other advantage of these units, besides higher EF, is the fact that they can be vented using less expensive PVC materials. The major downside of condensation units is that they come with a higher price tag than non-condensation units.
A condensing hybrid unit can be considered as the third generation of water heaters. It is not entirely tankless but a more advanced system that comes with a small 1 or 2-liter holding tank, hence the name hybrid.
The small tank works as a reservoir of already heated water and eliminates the disadvantage of lower efficiency of short regular draws found in both non-condensing and condensing units.
Hybrid units have an EF of .92 to .96, which translates to annual savings in the gas of around $120. They are more efficient but come at a higher price.
A Point of Use (POU) water heating unit eliminates heat loss in the hot water distribution system. As the name "Point of Use" implies, the water in this system is heated as close as possible to the outlet, such as the sink, bath, or shower, rather than from a central heater.
Point of Use water heaters helps to boost water temperature at a fixture located away from the central heater. The system provides better energy efficiency, especially in large premises or homes.
However, installing multiple POU heaters separately for your kitchen sink, bathroom, and laundry comes at a higher cost.
Fuel Types of Tankless Water Heater
Selecting the right type of fuel for your tankless heater is an important consideration. The fuel type you choose will have an impact on the size, usage, and energy efficiency of the unit.
Ultimately, it will determine how much you spend annually on your hot water needs. It is also essential to choose the right fuel type when building a new home as changing fuel sources once the unit has been installed can be quite expensive.
There are basically three types of fuel choices for tankless water heating systems, namely gas, propane, and electricity.
Your choice will depend on the type of fuel readily available in your area but if you are lucky to have all options close at hand, then compare costs and energy efficiency of each option before making your decision.
To help you make an informed decision, let's look at each of the available fuel options.
Tankless water heaters powered by gas are normally less expensive than electric or propane powered units. They have a better performance than electric units and have better energy savings from an operating costs perspective.
A gas unit heats water fast giving you quick response time and a consistent high heat output. However, they require professional servicing regularly, which may add up maintenance costs over time.
Propane tankless water heaters can significantly reduce your energy costs. With the rising costs of utility, heating water using propane provides a more cost-effective and energy efficient option than electricity.
Another major advantage of propane tankless water heaters is the fact that they are eligible for federal tax rebates of around $300 and other state incentives. The propane unit saves you money in the long term while providing your home with a constant supply of hot water on demand.
One of the major advantages of tankless water heaters powered by electricity is that they are comparatively cheaper to buy and install than gas and propane units.
The drawback is that they have a higher energy demand to operate. Additionally, if you plan to upgrade your home's electrical system, the tankless water heating unit will significantly increase the cost of the project.
Electric systems have a more straightforward design than tankless gas systems. They are simple to repair and require minimal maintenance thanks to their simplistic design.
Compared to gas units, electric tankless water heaters are much cheaper, with price tags of $500 to $700 while a gas unit costs $1,000 or more. They are easier and less expensive to install too. They don't produce exhaust gases, which eliminates the need for venting. Electricity doesn't produce greenhouse gases which makes these units more environmentally friendly than their gas or propane counterparts.
The price of electricity is more stable than gas. It rises at a much slower rate, which makes this type of demand water heaters one of the most preferred choices for most homeowners.
Energy Efficiency of Tankless Water Heaters
Tankless water heating systems are more energy-efficient than traditional storage tank water heaters. For instance, a home with a daily usage of about 41 gallons of hot water or less has an energy efficiency of between 24 and 34 percent when it has a tankless water system installed.
A home with a higher hot water demand of up to 86 gallons per day has 8 to 14 percent more energy efficiency with a tankless system compared to one with a hot water storage tank unit.
The energy-efficiency provided by tankless units is because they prevent standby heat loss characteristic of storage water heaters. With a demand water heater installed at each hot water outlet, you stand to achieve higher energy savings of 27% to 50%.
According to estimates by ENERGY STAR, a family with an ENERGY STAR qualified demand hot water unit saves around $100 or more every year in utility expenses.
Despite the higher cost of installing this type of water heater, compared to a traditional storage water heater system, the unit lasts longer and has lower energy and operating costs. The savings it gives you on utility costs will offset the purchase and installation costs in due time.
Pros and Cons of Tankless Water Heaters
Pros
Tankless units have many advantages compared to standard stored-water heaters. Here are some of the key benefits you get when you install a tankless water heating system in your home.
The unit only operates when a demand for hot water arises, which reduces energy costs for up to 35% or more per year. ENERGY STAR states that there are units with energy factors as high as 95 percent. They are more energy efficient than standard hot water tank units.
With a tankless system, you are assured of getting hot water every time you need it. Your family enjoys a constant stream of hot showers whenever they need it.
The system allows you to have hot water in multiple outlets of fittings at the same time. You can be taking a hot shower while the dishwasher and laundry are running at the same time. It allows you to take full advantage of your Jacuzzi tub or Roman bath without fear of running out of hot water.
Tankless units are more durable than most standard hot water tanks. They come with warranties of 10 to 15 years and can last as 20 years before you consider getting a replacement. Standard tanks have a warranty of around 6 years and will only last between 8 and 10 years. You'll typically go through two or three tank units before you can replace a single tankless unit.
A demand water heater saves you money. It only heats water when you need hot water while the tank system wastes energy by heating water when it is not required. The energy saved by a tankless unit reduces your utility costs by up to 30 percent every year.
Can be installed anywhere
Hot water on demand units don't take up much space of your home. They can be installed just about anywhere in the house. In most cases, they are hung on the wall either inside or outside the house depending on your local climate. It helps you save valuable closet or floor space.
A tankless unit provides cleaner water too. Standard water heaters can potentially build upscale and rust inside the tank over time, but a tankless unit gives you cleaner and fresh hot water all the time.
Reliability is another advantage you get from a hot water on demand unit. With a properly sized unit, you'll always have a continuous supply of hot water at a preset temperature. The units provide as much as 7 gallons of hot water per minute and will never run out of hot water.
The units also score high in terms of safety. They only operate when needed to unlike standard tank units that are always turned on and susceptible to wear and tear. The latest hot water on demand models come with innovative safety-enhancing features such as water pressure and flow monitors. They automatically turn off in case of system failure.
Cons
There are a few drawbacks to tankless water heaters including the following:
They have higher upfront costs than standard tank units. The unit costs almost twice as much as the conventional storage tank but is more energy efficient and saves you more money from a long-term perspective.
They have a higher installation cost bearing in mind that you'll need pricey venting for some models.
You may need to install a water softener in places with hard water. This is necessary as hard water could potentially damage the unit.
Cost of Installation
One of the major drawbacks of tankless water heaters is that they cost more to purchase and install than standard tank storage water heaters. The cost of buying and installing a tankless unit in a typical two bathroom home can be twice that of a standard water heater.
However, with a propane system, you are eligible for a $300 federal tax credit and other state and local rebates available in your area. The system has fewer maintenance costs than the water storage system and will only need to be replaced twice in its entire lifetime. It's a better long-term investment despite the higher purchase and installation costs.
So what are the typical costs of installing a demand hot water system in your home? Installation costs range from $1,500 to $2,000 depending on factors such as type, size, and model.
Installation costs will also depend on other factors such as materials, labor, and permit costs in your region as well as the brand and capacity of the water heater you intend to install.
What Size Tankless Water Heater Do I Need?
How to select the right size tankless water heater? Tankless water heaters are rated according to the maximum temperature they can provide at a specific flow rate. To determine the size of a tankless water heater, you'll need to know its flow rate and the rise in temperature needed in the house.
When considering the right size of unit for your home, avoid making the mistake of undersizing the unit just to save money. Here are a few steps to follow when selecting the right size of a demand water heater.
1. Number of devices
Find out the maximum number of fittings or outlet devices you need and determine their total flow rate in gallons per minute. Get the total flow rate which is actually the rate you'll want from the heater.
For example, if you expect to run a faucet with 0.75 gallons per minute flow rate simultaneously with a shower head that has 0.26 gallons per minute flow rate, you would need a heater capable of providing at least 3.26 gallons per minute. You can reduce flow rate by installing water fixtures with low flow.
2. Temperature rise
Find out the required temperature rise by subtracting the temperature of incoming water from the output temperature you need. You can assume incoming water has a temperature of 50 degrees F if you don't live in warm climates and, as most people do, expect to heat your water to 105 or 115 degrees. In this case, the expected temperature rise should ideally be 55 degrees F.
3. Sizing
From the example provided above, the right size of tankless water heater should be able to give you a temperature rise of 55 degrees F with a flow rate of 3.26 gallons per minute. You'll also need to consider other important factors such as how much hot water you need at a time and if you intend to run two hot showers at the same time together with your sinks.
Your expected hot water usage, budget, and type of tankless water heater system you intend to install will help to determine which size best suits your home.
Conclusion
If you are looking for the best tankless water heater on the market today, go for the Rinnai RUC98iN Ultra Series We like it because it offers the most robust options for natural gas water heating. Has an excellent warranty, offers a great water flow of 9.8 gallons per minute and is small enough to store anywhere in your home.
References:
Energy.gov
Mrrooter.com
Compactappliance.com
Fastwaterheater.com
Wikipedia.org