Takagi Tankless Water Heater Reviews
Ever since being established in 1952, Takagi has been providing quality services thanks to the creativity and professionalism of their engineers. This company was the first to introduce tankless water heaters to North and Central America, and it has certainly gained the trust of customers with incredible features and astonishing tankless products like the T-H1 model that has a 95% thermal efficiency rating, and the T-K3, which is a "direct vent convertible" tankless model.
Takagi also commits to protecting the environment through its eco-friendly products that would appeal to anyone and aims at providing the safest usage through unique features like the air-fuel ratio shaft. No matter your personal preferences and needs, Takagi got you covered.
Top Rated Takagi Tankless Water Heater
Takagi T-H3-DV-N Condensing High Efficiency Natural Gas Indoor Tankless Water Heater, 10-Gallon Per Minute, 199,000 BTU
Endless hot water, On-demand usage, Compact, Space saving, Energy conservation
Computerized safety features, No pilot light to have to worry about
Safety features include freeze, overheat, surge protection, and troubleshooting diagnostic codes
Satisfies the 2012 SCAQMD Rule 1146.2 for Ultra-Low NOx Emissions
Primary heat exchanger utilizes commercial-grade copper alloy for 25 times better heat transfer than stainless steel, Integrated controls and power cord as standard features
Takagi T-KJr2-IN-LP Indoor Tankless Water Heater
Vent Type: Direct Vent ; Water Connection Location: Bottom ; Water Connection: 3/4 Inch
Product Weight:38 lbs; Safety features include freeze, overheat, surge protection, and troubleshooting diagnostic codes
140,000 BTU
6.6 GPM max flow rate
4-Inch category III stainless steel venting required
Takagi has a rich catalog containing many quality tankless water heaters, we've compiled a list of the top three products on the market, each of which is designed to meet specific needs.
These products were chosen after going through different factors, like the various technical specifications, size, and personal preferences, so whatever model you decide to go with, it will most probably check your boxes.
1. Takagi T-H3-DV-N
Buy on Amazon
The T-H3-DV-N Tankless water heater model from Takagi easily tops our list thanks to its wide range of features. It is Japanese-made, and that already says a lot about the quality. It has a compact design, measuring 11.2 x 17.8 x 24.9 inches and weighing around 59 pounds, which makes it suitable in any space in your house. After all, isn't that the purpose of going tankless?
The unit works on 199K BTUs, so make sure to adjust your pipelines before trying to install it. That efficiency is enough to provide hot water for four bathrooms in warm areas and weathers or three bathrooms in cold climates.
The burning chamber contains a primary heat exchanger made of copper and a stainless steel secondary condensing heat exchanger, each of which takes care of a precise task.
The installation process is easy and straightforward. The only thing that you must be aware of here is the fact that this unit requires 3/4" gas lines, not the usual ½" ones. The water heater is delivered with a comprehensive installation guide, but do not hesitate to contact a plumber if you're not that handy around tools.
While working, the unit doesn't produce much noise, so you won't face any problem no matter where you place it.
Concerning the safety, this unit features computerized safety features and abides by the 2012 SCAQMD Rule 1146.2 for Ultra-Low NOx Emissions, so you should be safe if you purchase one as you're in the right hands.
As for the warranty, Takagi's T-H3-DV-N tankless water heater is covered for ten years if the water hardness is below 7 grains.
Pros
Easy installation
Computerized safety features
Safeguarded against condensation
10-YEAR Warranty
No emissions or leakage
Cons
Some users reported that this product isn't long-lasting, but they were a minority
Heating may take some minutes if the water is destined for the upper floors
2. Takagi T-KJr2-IN-LP
Buy on Amazon
This tankless water heater is the perfect solution for those seeking on-demand hot water for their small house or apartment. Measuring 6.7 x 13.8 x 20.3 inches and weighing 38 pounds, this unit is perfect for light residential.
The BTUs for this model range from 19.500 to 140.000, and it uses propane as fuel. That may not be enough for some people, but it's suitable for the purpose for which the unit was designed. Do not get fooled though, for this heater is sufficient to cover an entire house if you know how to use it.
Installing the Takagi T-KJr2-IN-LP requires 4-Inch category III stainless steel venting, and it's an easy process overall. When the water is flowing, the unit may produce some noise, so you're better off installing it far from the bedrooms. Just like the T-H3-DV-N, this model also needs ¾" gas pipes to work properly, so you may need some upgrades if you're using the usual ½" lines.
What we like about this model is the fact that it has balanced metrics, with 6.6 GPM max flow rate, an Energy factor of 0.81 to 0.83%, and a low Nox emission rate. It also features an Inlet thermistor and an outlet one for constant temperature monitoring, which is a relief as you don't have to check the temperature status yourself.
Pros
Easy installation
Small size, perfect for light residential
Constant temperature monitoring thanks to an Inlet and outlet thermistors
Cons
Requires a special venting
Produces some noise while working
3. Takagi T-M50
Buy on Amazon
The Takagi T-M50 model is often referred to as The Monster Tankless, for it's designed for hardcore usage. It measures 25.3 x 24.8 x 11.8 inches and can provide hot water for 4-6 Showers at once, making it perfect for commercial use or those living in big houses or guest homes.
Just like the other products on our list, this unit has commercial-grade components. It features a massive BTU of 380,000 and 14.5 GPM, which is expected from such a model. This model can also be linked to 4 other units to generate over 140 GPM. What's convenient about the linking process is that all the heaters can be controlled through a multi-controller unit.
The installation is straightforward, and it can be done either indoor or outdoor, with or without venting, making It a versatile solution for any situation.
Usability-wise, controlling this unit is as easy as pie as it offers precise control over water valves and eight dipswitch temperature settings that make it one of the best commercial-grade tankless heaters on the market. Besides, it features Ignition indicators, and 7-segment LED for error codes to ensure easy monitoring.
This unit is bound to last for a long time thanks to its Dual-Heat Exchanger system and HRS copper, both of which are known for durability.
Pros
The unit can produce 380k BTUs and 14.5 GPM, making it perfect for commercial use
Durable HRS copper, which is stronger than standard copper
Air-Fuel Ratio (AFR) Sensor
Easy-link capability
Cons
No issues have been reported for this model
Types of Takagi Tankless Water Heaters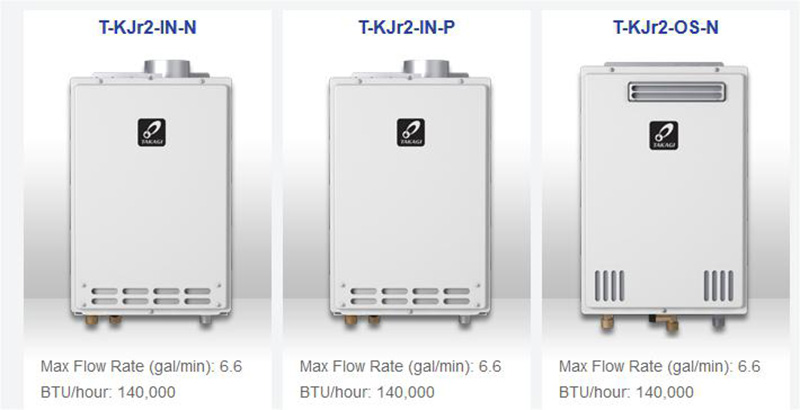 There are two types of gas tankless water heaters: those that use natural gas, which is delivered in a gaseous state, as fuel and those that work on propane, which is provided in the liquid state. Takagi offers both types, and you're the only one who can choose because it depends on your house and preferences. So, what's the difference between the two?
Availability
Unlike propane that comes in portable canisters, natural gas is delivered through gas pipelines that distribute this fuel inside the house. These pipelines aren't always available. If your home isn't equipped with them, the choice Is already made, and you must go with a propane-based tankless water heater unless you're willing to go through the hassle of performing an infrastructure upgrade in your house.
Cost
This is where things get a bit tricky. Although a quick comparison would show that natural gas, for which the cost is measured in price per cubic foot, is cheaper than propane, for which we measure the rate in price per gallon. Things aren't that simple though, as the real cost depends on many factors, like the efficiency of your appliances. To simplify the matter, the cost can be measured using BTU.
BTU, or British Thermal Unit, reflects the heating efficiency of the tankless water heater. Propane has a BTU rating of 2490, while natural gas has only 1030. That practically means that even though natural gas is cheaper on paper on a per-unit basis, propane is more effective as it is cleaner and burns efficiently.
Portability and Usability
As propane is usually delivered in canisters, it's more portable than natural gas. That may seem like a disadvantage for some people as canisters may take some space, but It can actually be an advantage as you can place it anywhere in the house. You can also get your canister outside for your barbecue parties using a gas grill. Besides, you can use a propane canister to fuel other appliances, like the stove, clothes dryer, or any other off-grid machine, which makes this fuel the second resort when natural gas fails.
On the other hand, natural gas is far more efficient for big households where hot water is continuously required at the different point of the house for daily uses like showers, laundry, and dishwashing. Besides, if you live in a cold area, this fuel is the way to go as it can keep the same performance despite temperature drops or significant pressure.
Which fuel should you choose?
As much as we'd like to help you out with this, we can't. You need to consider your home installation, location, your budget, and your needs. Go over those factors, and you'll be able to make the right choice.
Features of Takagi Tankless Water Heater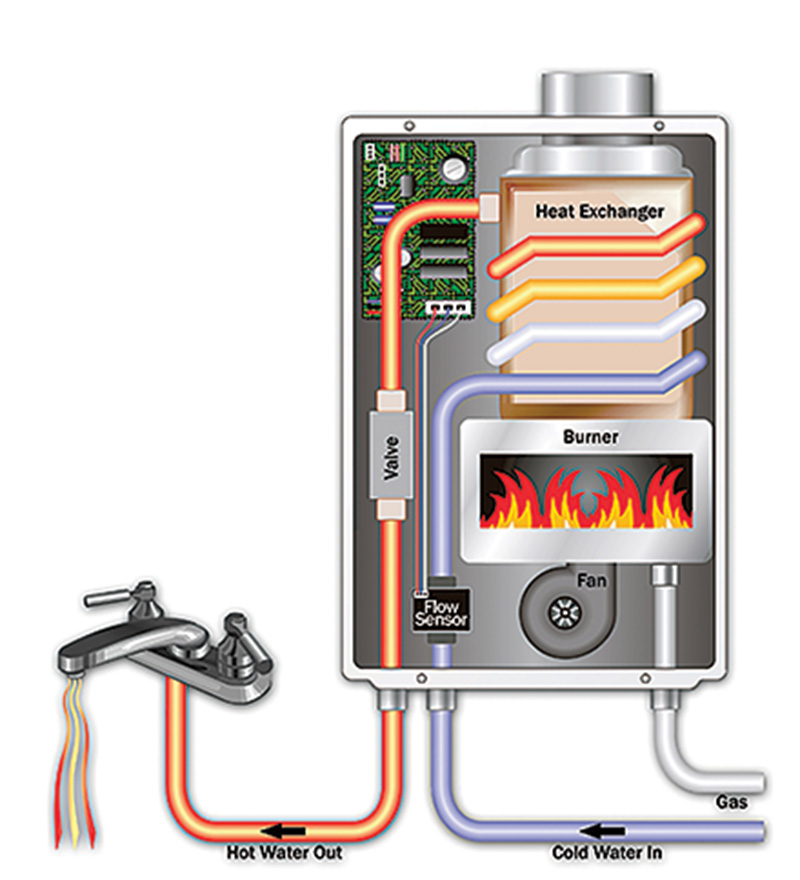 As mentioned above, Takagi is a well-established brand in the industry, and its reputation didn't come from thin air. Customers have been satisfied with Takagi's products for years, and that's due to some features that are provided with each water heater, which are:
Safety
When it comes to security, Takagi isn't playing around. After all, we're talking about gas here, and when gas is involved, there are many risks involved. Each tankless water heater has various security measures in place, so you should be safe while using Takagi's products.
Air-Fuel Ratio (AFR) Sensor
Takagi took things to the next level safety-wise by introducing their unique Air-Fuel Ratio (AFR) Sensor, which monitors the amount of released fuel and air at all times to ensure a balanced mixture between these materials. That's important because it provides efficient combustion and a reduced leak of gas.
In addition to the AFR sensor, Takagi has other security measures in place, including:
Freeze Protection System
Which is installed in every tankless heater from Takagi to ensure proper protection against freezing of the water in frosty climates. This system prevents the water temperature from falling under an absolute limit to provide a hot flow whenever you need it.
Hi-Limit Switch
This switch prevents the water temperature from surpassing safe limits. You wouldn't want to get burned during your morning shower, would you? The switch disengages the gas valves when the temperature is about to hit unsafe levels, which effectively shuts down the heater.
Overheat Cutoff Fuse
The overheat cutoff fuse turns off the unit in case the surface of the exchanger absorbs too much heat when there's a combustion breach.
Durability
Takagi's tankless water heaters are the epitome of quality in the industry thanks to the company's exceptional care of innovation and creativity. Each product features a commercial grade heat exchanger that contains an HRS35 Copper Alloy. The HRS35 has eight times the tensile strength of regular copper, which makes it more robust while maintaining a fine grain. In other words, the HRS35 is more resistant to erosion effects that affect most heat exchangers.
In addition, Takagi's tankless water heaters feature 25% thicker drums to avoid the damaging effects of thermal expansion after numerous ignition cycles, especially in commercial application.
Takagi took things even further in its condensing models by introducing a 316L stainless steel secondary condensing heat exchanger to take care of the rest of heat transfer. This exchanger uses stainless steel as the base material because acidic condensation may occur because of the lower temperature degree.
Water Valves
The heat exchanger isn't the only component that benefited from Takagi's innovation, as they strive to conform every element to their commercial standards, including water valves.
The T-D2/U, T-H3, T-M32, and T-M50 models are known for their longevity and durability over the years as they feature bypass & flow adjustment valve that offers an excellent quality that's capable of resisting harsh and high-volume conditions effectively.
Water Flow
Takagi's heavy-duty commercial models (T-M32 series & T-M50 series) feature condensation functionalities that aim at reducing the potentially damaging effect of this phenomena. That's mainly possible thanks to a redesigned water flow that ensures a new distribution of water as the heat exchanger drum and finned coils are higher than the dew point, which reduces condensation risk.
Besides, the pitch of the heat exchanger fins is wider which reduces the blockage risk improves durability and keeps the condensation chances at a minimum as this structure maintains higher temperatures on the upper finned coils.
Sizing Takagi Tankless Water Heater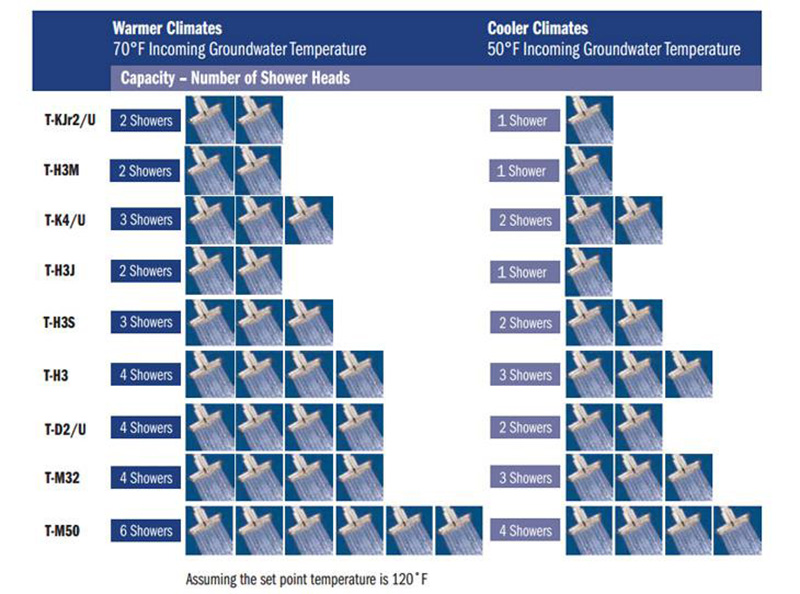 Having several choices ahead of you, you must be confused as to which size better suits your needs. People face that problem all the time. The size of Takagi's water heaters depends on various factors, including the application, extreme temperature-rise scenarios, and the peak flow rate requirements, which in turns depends on the difference in temperature between the input water and the desired output. Once you go through all those factors, you can refer to the comparison chart on Takagi's website or the one labeled with every unit to decide which model better suits your needs.
How to Install Takagi Tankless Water Heater
Verdict
In today's time and age, tankless water heaters are becoming a necessity as everyone wants to save space in their properties. Takagi promises to provide everything you may need in this category, and it's a brand that has been known for offering quality products for years.
Out of the products mentioned above, our first recommendation is the T-H3-DV-N model as it's a feature-packed model that follows the market's latest standards, and it generally fits the bill for any house.
That doesn't mean that the other products aren't as good though, but they're more purpose-specific, with the T-KJr2-IN-LP being suitable for small residential while the Takagi T-M50 is more inclined towards commercial use. Remember, no matter which product you choose, you're bound to find quality, durability, and innovation.