5 Best Paints for a Front Door
A vibrant, elegant front door can create a great first impression on your guests.
Is it finally time for you to re-paint the front door? Well, you might find the choices overwhelming. With so many bold color options in the market, making the right choice takes patience. To make it easier for you, we present to you our recommendations of the 5 best paints for a front door.
Whether you already have a color scheme in mind or not, finding the right paint is essential. Look for something long-lasting and durable that requires minimal maintenance.
So, without further ado, let's get straight to the deets!
The 5 Best Paint for Front Doors
1. Modern Masters Front Door Paint
Buy on Amazon
One of our favorite paints from the list was the Modern Masters Front Door Paint. This is a water-based paint that is long-lasting and durable – something we think is extremely important for a front door.
Since your front door is frequently exposed to pollution, dirt, dust, and sun damage, it's essential to choose paint that doesn't fade quickly. Moreover, with 18 colors to choose from, you can go with any theme you had in mind. For a subtle effect, opt for the darker shades of black, white, or grey.
However, if you prefer a color that complements your bold personality, opt for shades of red, blue, or even yellow! This paint is effortless to apply, even for a DIY job. Its thick consistency ensures that there aren't any drip or splatter marks that can otherwise ruin its smooth effect.
Pros
Excellent range of shades
Fast-drying
Thick consistency eliminating splatter and drips
Plastic container with screw top lid for storage
Cons
2. Mediterranean All-in-One Paint
Buy on Amazon
The next item on our list is a chalk-style paint which contains no wax. The best part about this paint is that it comes with a built-in primer and top coat, so you don't require any other adhesive. It is super easy to use and dries relatively quickly.
With 25 beautiful Mediterranean-inspired colors, you can completely transform the aesthetics of your front door. A unique stretch factor of this paint allows it to adhere to absolutely any surface without hassle.
Although most paints require multiple coatings, Mediterranean All-in-One Paint doesn't! Two even coatings with this paint are enough to bring out its natural vibrancy. Its self-leveling and self-sealing factor makes it easy to work with.
Pros
Beautiful range of colors
No wax, primer, or sealant required
Needs just 2 to 3 coats
Fast-drying paint
Cons
Does not have a glossy effect
3. Rust-Oleum Oil Based Door Paint
Buy on Amazon
A cranberry-color front door can make any entrance look like something out of a picture book! If you have recently found inspiration to go cranberry, our next recommendation can be your best bet.
Rust-Oleum Oil Based Door Paint in Cranberry is a high-quality option for your front door. It has an exceptional weather and corrosion-resistant coating that ensures that it remains bright and doesn't fade. This is especially helpful if you live in an area which has high amounts of dust or pollution.
The satin finish adds a special sheen to the paint once it dries. It ensures that the cranberry shade of your front door looks slightly glossy and bright rather than dark and dull.
Pros
The satin finish adds sheen
Weather and corrosion-resistant formula
Covers up to 105 sq. feet
Does not fade or chip
Cons
Takes 1-2 hours to dry completely
4. Montage Signature Water Based Paint
Buy on Amazon
If you have a particular vision for a subtle and elegant front door color in your mind, then this paint will be ideal. Montage Signature Water Based Paint is an excellent choice for those who have a soft spot for earthy and subtle tones.
The best part about this paint is that it is eco-friendly, making it an excellent choice for environment-conscious homeowners. Using only pollutant-free and ecologically sustainable materials, this paint is a top choice for your front door.
Moving on to its durability, we loved the fact that the manufacturers offer a 10-year warranty. This shows the immense trust they have in their products and in building good customer relations. Offering superior coverage and protection, the paint will add aesthetics and value to your home.
Pros
10-year premium warranty
Superior coverage and protection
Eco-friendly materials used
Earthy tones add elegance
Cons
The color swatch behind the paint can isn't exactly representative
5. Prestige Paints Acrylic Based Paint
Buy on Amazon
Let your front door speak for itself – this subtle but elegant color by Prestige Paints is a fantastic option for those looking for a lighter shade for their front door. The acrylic-based latex paint is easy to apply but takes a few hours to dry completely.
The color itself is remarkable, but the main USP was its durability. After testing the paint, we noticed that though it attracts dirt and dust due to its light color, it is easy to wipe off. Using just soap and water, we were able to remove most stains effortlessly.
If you are looking to paint over a darker colored door, this paint is excellent for the job. With just 2 or 3 coats, you can efficiently cover up any previous darker tone without much hassle.
Pros
Easy to clean
Satin finish
Smooth application with good coverage
Low VOC (less than 50 gms/L 0.42 lbs/gal)

Cons
Buying Guide
When it comes to the type of paint you can use, you'll find many. As we mentioned above in our list, you will find glossy, semi-gloss, satin finish, oil-based paint, acrylic-based latex paint, no wax chalk-style paint, and water-based paints.
With so many options to choose from, it can definitely get confusing. Well, let us tell you about the best kind of paint you can use, based on a few factors.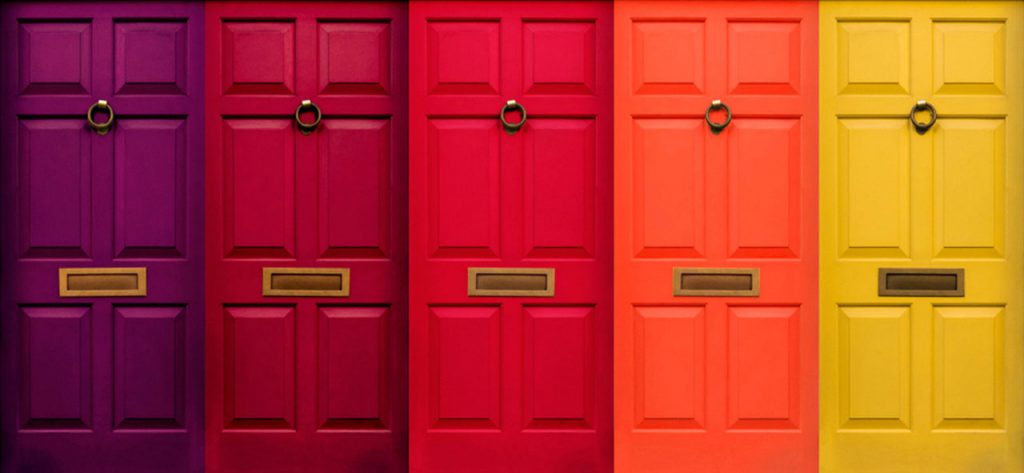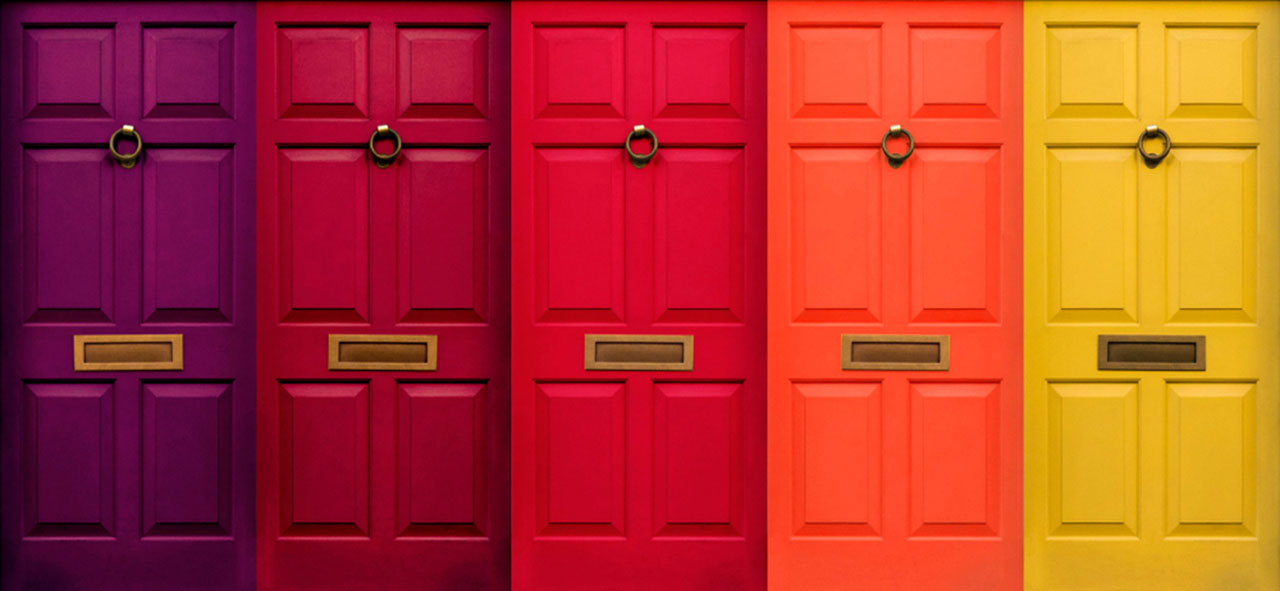 Firstly, if your front door doesn't have a screen or glass for added protection, you will need durable and long-lasting paint. Moreover, it needs to be weather-resistant. In that case, opting for semi-gloss paints can be your best option.
This is because semi-gloss paints give you a smooth surface and are typically very durable. They are also easy to clean, in case of stains, marks, dust, and dirt damaging them. It helps to find a semi-gloss paint with an inbuilt primer and top coat, so you don't need to buy them separately.
However, semi-gloss paint without these features is still excellent, and the best option for your front door.
If you don't live in an area with a lot of humidity, dust, and pollution, opting for acrylic-based latex paints and water-based paints is a good option. These paints are also relatively easy to clean and maintain.
With the right kind of care, they can last for years without requiring any touch-ups. The various shades offered are amazing and give you plenty of options to choose from.
How to Paint a Front Door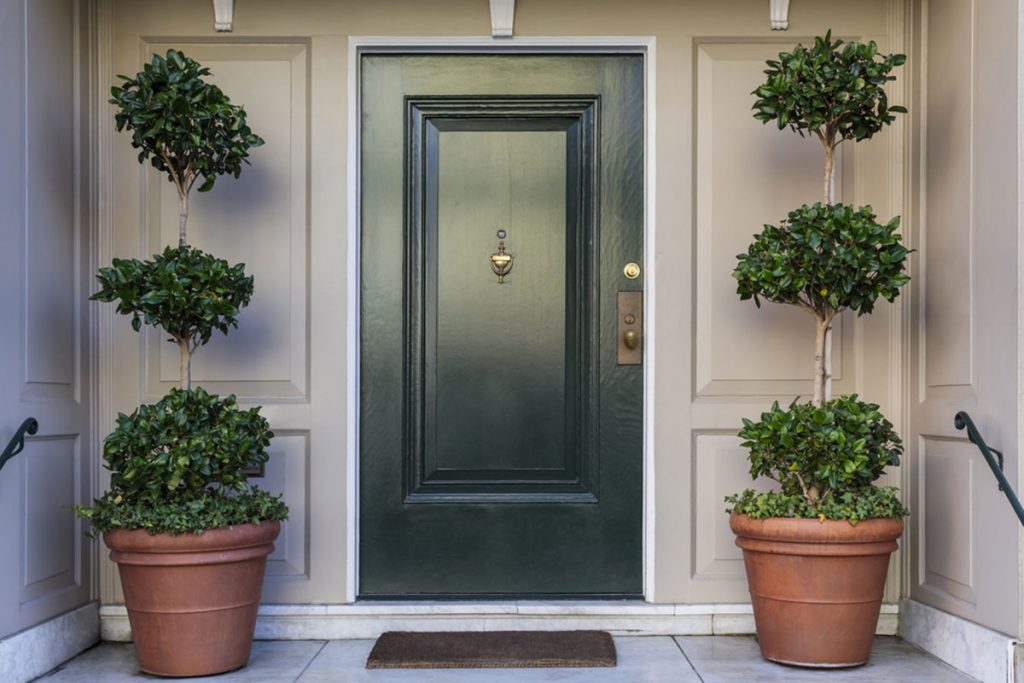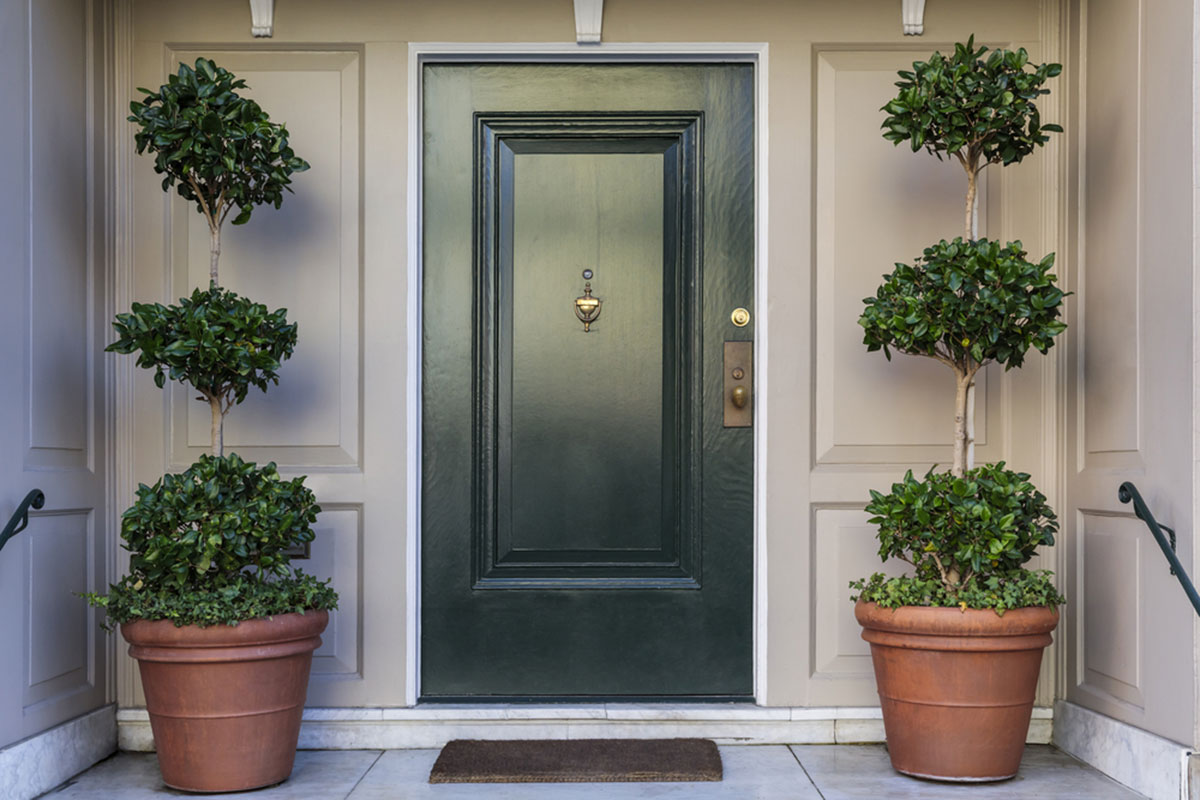 Now that you know the type of paints available and the best options, let us move on to the painting process. Although you can always hire a professional to do the job, there is a certain joy in doing it yourself.
If you plan on making it a fun project for you and your family, then read on. Here is the best way you can paint your front door yourself.
Step 1 – Clean & Prep
The first thing you need to do is clean and prepare your front door and its surrounding area. Use any mild soap and water with a sponge to clean and wipe it dry with a cloth. Then, you have to seal off the areas you don't want to get the paint on using tape.
Step 2 – Paint Door Edges
Now, open up your fresh tin of paint and dip a medium or small-sized brush into it. Stir the paint quite well before you begin. Make sure you are wearing protective gloves and a mask while doing this. You can also choose to wear a protective covering over your clothes.
Paint the door hinges and reveals first. Make sure to pick up the right amount of paint on your brush, so you don't leave drip marks all over your door. Start from the top and go down. It is best to work fast so that the paint doesn't dry and leave marks.
Next, get a broad paintbrush or a roller and dip it into your paint can. Remove any excess paint from the brush before you begin, and work from the top and go down. Paint in horizontal slides first and then go over the area vertically. This will ensure that you get the paint evenly throughout.
Step 3 – Let It Dry
Typically, you need to apply two or three coats of paint to get the true color. Make sure that you work fast; otherwise, the paint will dry unevenly. Moreover, allow the paint to dry for three hours before closing the door.
Generally, it shouldn't take more than a few hours for it to dry completely, but try and not touch the door overnight to ensure that it is completely dry.
The next morning, carefully peel off all the tape and apply a top coat if necessary. Your front door will be pretty and ready to show to the world!
Conclusion
You've heard of 'painting the town red,' right? Well, for now, let's just stick to your front door!
We hope our guide helped you find the best type of paint for your front door. When choosing a color, it is best to stick to a theme you have in mind. You can always look online or ask a professional for inspiration.
Painting your front door a bold, bright color has become the new trend. If you're ready to take up the challenge, pick one of the bright and vivid colors from Modern Masters Front Door Paint.
But if you'd rather stick to something simple yet elegant, opt for Montage Signature Water Based Paint.
Until next time, happy painting!