10 Best Affordable Standing Desks for Home Office (Under $200 & $600)
Staying glued to our chairs and staring at computer screens has become a regular part of our day-to-day lives.
And while complaining might seem redundant, leading a sedentary lifestyle poses numerous health risks and increases the chances of premature death. We don't intend to scare you, but sitting continuously for long hours can increase the risk of chronic diseases.
But, standing desks are here to save you! Alternating between sitting and standing allows for proper blood circulation and, in turn, a healthier life. While it is still not a solution to lack of exercise, it is undoubtedly a step forward.
In this guide, we have reviewed the ten best affordable standing desks for home office. So, without further ado, let's begin!
10 Best Standing Desks for Home Office (Under $200 & $600)
1. Fezibo 40″ Height Adjustable Electric Standing Desk
Buy on Amazon
With four color options and an elegant design, the Fezibo Standing Desk is one of our favorite models. It is 40 inches in length and 24 inches in width, thus offering plenty of workspace to the user. It can hold your laptop, coffee cup, pen stand, notebook, and much more.
Moving on, the sturdy steel electric lift system is an excellent addition and supports up to 155 lbs. Furthermore, it lets you adjust the table height from 27.16 inches to 46.06 inches so that you can switch seamlessly between sitting and standing.
Besides, the product has a cable management rack to keep messy wires out of your sight and two desk hooks to hang your bag or headphones. An interesting feature is its anti-collision technology, which prevents the table from bumps by sensing any obstacles in the path of the lifting column.
Pros
Elegant design
Sturdy steel construction
Provides sufficient space
Innovative anti-collision technology
Cons
2. Eureka 41″ Ergonomic Height Adjustable Computer Desk
Buy on Amazon
If portability, ergonomics, and extra storage space are what you are looking for, this Eureka Desk is for you.
Equipped with lockable swivel caster wheels, you can move it around the house until you find a comfortable space. Besides, it has 16 height options ranging from 28.2 to 43.2 inches, so you can switch between different heights.
Further, it has a CPU stand (where you can also place your feet), a broad shelf or riser that can hold two monitors, and one 41-inch large table. So, space will never be an issue with this product.
In addition, the Eureka panels are of top-rated, eco-friendly material and are SGS-certified. With its ergonomic design and expansive space, this muted brown computer desk will make long work hours bearable and give you greater flexibility at work.
Pros
Eco-friendly construction
Equipped with wheels for portability
Spacious design
Different height options
Cons
Adjusting the height is a time-consuming process
3. Furmax 43″ Electric Adjustable Sit Stand Home Office Desk
Buy on Amazon
Trendy and sturdy, this Furmax model is the perfect blend of aesthetics and functionality. The tabletop boasts high-quality wood and rounded edges that give it a neat look. Besides, the table is 43 inches in length, making it suitable for placing books, files, printers, etc.
Moving on, the electric motor facilitates seamless height adjustment, and the table can go from 28.3 inches to 45.7 inches. If not for office work, you may use this product for studying, gaming, and other activities that require your undivided attention.
Further, there's a digital panel with four buttons that records and memorizes different height changes. The anti-collision feature stops the desk from moving upward or downward if there's an obstacle in its path and thus prevents any damage to the electric motor.
Lastly, the wooden table is easy to clean and is waterproof, so the chances of warping or mold formation are minimal.
Pros
Anti-collision technology
Waterproof tabletop
Quiet electric motor
High-quality wood construction
Cons
Vague assembly instructions
4. Songmics 47″ Height Adjustable Electric Standing Desk
Buy on Amazon
With its rustic brown finish, this Songmics Standing Desk is perfect for people who like antique furniture. It has a length of 47.2 inches and a width of 23.6 inches, which gives you plenty of space to place your laptop and other office supplies.
To prevent any loose cables or wires hanging around and ruining the look of your workspace, the table features two holes on either end and an organizer to keep the cables sorted.
Further, you can adjust the height of the table from 28.7 inches to 44.9 inches, and the noiseless motor facilitates quick action. Besides, the table can easily handle up to 220 lbs, and it features an up/down button on one end for height adjustment.
Although the tabletop is of particleboard, the legs are of sturdy steel, which gives it added durability. Also, the assembly is a breeze, as the brand offers all instructions and details.
Pros
Easy assembly
Rustic brown finish
Noiseless motor
220 lbs weight capacity
Cons
No anti-collision feature
5. Famisky 48″ Height Adjustable Electric Standing Desk
Buy on Amazon
With a sturdy iron frame and 176 lbs weight capacity, this Famisky model will be a safe bet for those who are looking for a durable and portable desk.
It comes with a 48 inches length and 24 inches width, making the tabletop spacious enough to hold a printer, files, laptop, and other office supplies. Besides, it has an electric height adjustment system, a dual-motor with a longer lifespan and moves quietly (40 dB) to give you the desired height.
Furthermore, the rubberized swivel casters rotate 360-degrees and allow you to move the table around the house without leaving scratch marks on the floor. So, you can move the table from your living room to the dining hall and work in a new space every day.
Not to forget, the desk has some additional features like desk hooks and a cable tray to keep your workspace neat.
Pros
Dual motor
Portable
Rubberized wheels for scratchproof movement
Sturdy construction
Cons
Table comes in two parts and has a seam in between
6. SHW 55″ Height Adjustable Electric Standing Desk
Buy on Amazon
With a simplistic design and rich, cherry-colored wood construction, this SHW Standing Desk is for all the minimalists out there. It features a 55-inches long and 28-inches wide tabletop that can hold all your office supplies, including two monitors.
Moving on, the telescopic height adjustment system moves the table legs from 28 inches to 46 inches, thus allowing a hassle-free transition between seating and standing positions. Further, it has a digital display with four presets for quick height adjustment.
What impressed us the most was the high-quality industrial steel construction and the grommet attached to the desk that holds your wires. Besides, it has a cable basket under the tabletop that prevents wires from hanging around the desk and giving it a messy look.
Lastly, the desk has glides at the bottom that you can adjust to stabilize the tabletop.
Pros
High-quality construction
Digital display with presets
Efficient wire management system
Spacious tabletop
Cons
7. Flexispot 55″ 2 Tier Electric Adjustable Standing Desk
Buy on Amazon
The Flexispot Standing Desk has a very minimalistic design with a white frame and natural top and looks aesthetically appealing in any workspace. Besides, it comes with a 5-year warranty on the motor and desk frame and a 2-year warranty on the electrical components. So, you can rest assured that this purchase will be worth the investment.
Moving on, the top shelf is adjustable and has three different settings, which you can adjust up to 5 inches to get a suitable height. Further, it has a highly advanced control panel with preset buttons so that you can program your desired height.
What's impressive is that the brand uses sustainably sourced construction material, and the wood used is EPA and CARB-certified. In addition, this desk is suitable for any room and has a two-tier shelf which provides sufficient workspace.
Lastly, we're sure you'll like the product's ergonomic design and the glides placed on the feet to stabilize the tabletop.
Pros
Ergonomic design
Two-tier shelf
Minimalist design
Advanced control panel
Cons
Assembly can be challenging for some
8. ApexDesk 60″ Electric Height Adjustable Standing Desk
Buy on Amazon
Next on our list is the 60-inch desk from ApexDesk's Elite series, launched in 2015. It's an elegant piece, with light oak and white finish. Made of engineered wood, the tabletop is one inch thick and 29.5 inches wide.
Further, the desk can move from 29 to 49 inches with the help of a digital controller (that comes with four programming presets) and can hold up to 235 lbs. Moving on, the unit is easy to assemble, and in case of any damage, the brand ships the replacement parts within 24 hours.
Besides, the edges of the desk have a beveled look, which gives it a sophisticated design. You get five color options to choose from, and this unit is pretty easy to assemble. However, you might have to wait for a while to receive the entire order as it arrives in three separate packages.
Pros
Easy assembly
Different color options
Quick replacement in case of damage
Comes with a digital programmer
Cons
Ships in separate packages
9. Vivo 63″ Height Adjustable Electric Standing Desk
Buy on Amazon
Next on our list is a fantastic model from Vivo. With its 63 inches height and 31.5 inches width, it is one of the most spacious models on our list. It can hold multiple desktops or printers, thus providing you with a comfortable workspace.
The tabletop has a matte black finish and curved edges, which lends it a sophisticated vibe. Moreover, it has a sturdy steel frame that can hold up to 176 lbs and improve the product's lifespan.
Further, this unit features a quiet motor that lets you adjust the height from 29.5 to 49.6 inches. The controller comes with customizable memory settings and a timer to ensure a seamless transition between sitting and standing positions.
Moreover, this table has an efficient cord organization system that keeps the wires neatly organized and comes with a three-year manufacturer's warranty and tech support.
Pros
Stylish black finish
176 lbs weight capacity
3-year warranty
Sturdy construction
Cons

10. Bush 72″ Height Adjustable Electric Standing Desk
Buy on Amazon
Functionality and style go hand-in-hand in this Bush Standing Desk. It comes with a length of 72 inches and a width of 30 inches, making it a fantastic choice for people looking for a spacious tabletop. Further, it has a gray metallic base, which is pretty sturdy and adds to its durability.
Moving on, the laminated tabletop is not prone to scratches or stains. Also, the legs have a sturdy steel base that gives the desk a weight-bearing capacity of 200 lbs. Moreover, you can adjust the table's height from 27 to 46.7 inches by simply using a button. And, you can record your favorite heights using the programmable presets.
The best part is that this model is available in multiple finishes to suit different types of workspace. In addition, it comes with a 5-year warranty and meets all quality and safety standards.
Pros
5-year product warranty
72-inches wide tabletop
Sturdy metal base
200 lbs weight capacity
Cons
Buying Guide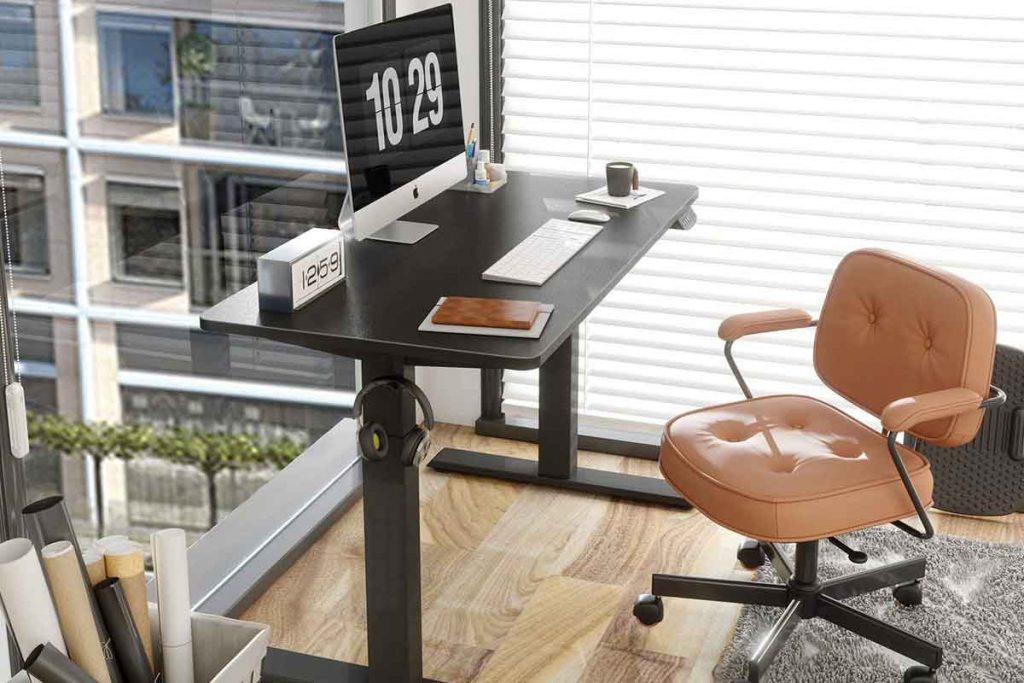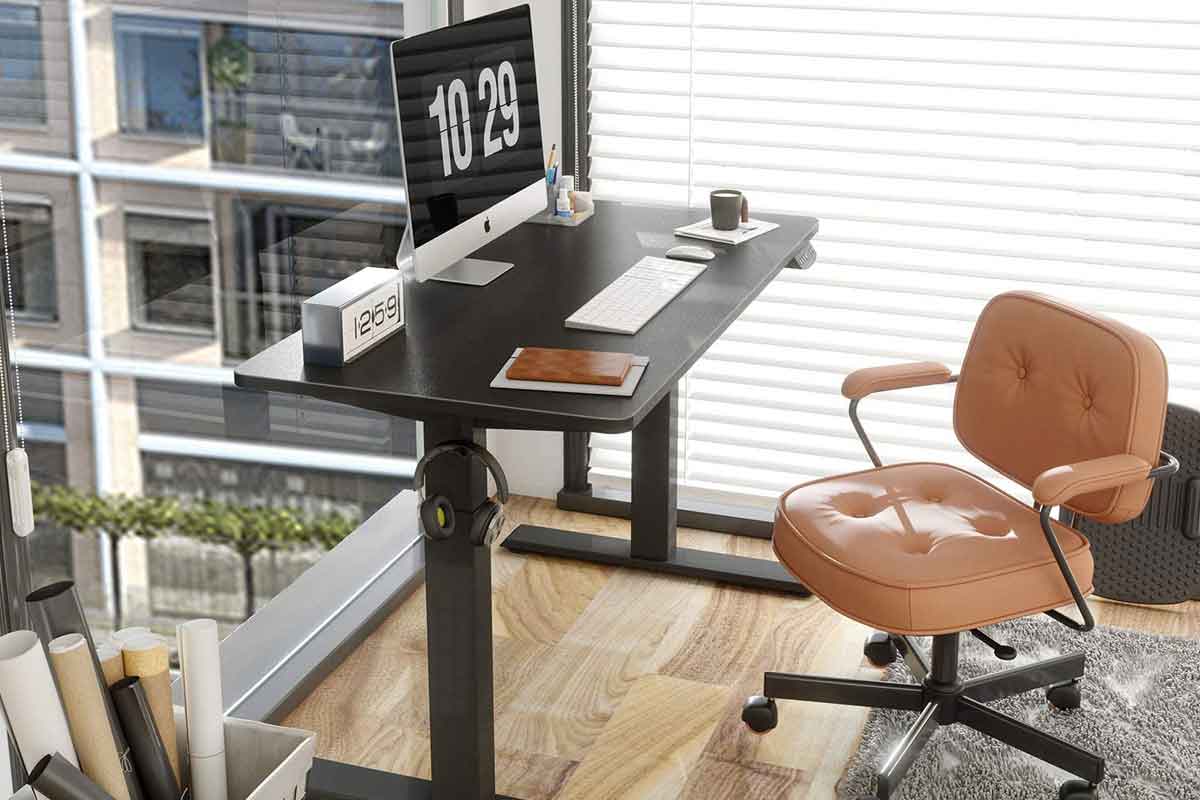 With that, we come to the end of our reviews of the best standing desks for home office. However, buying a standing desk isn't as simple as it seems. There are several factors that you have to consider before you can make a purchase. Besides, since there are innumerable choices in the market, confusion is bound to arise.
Standing desks correct your posture, improve blood circulation, and reduce fatigue. Therefore, you need to consider the budget, advantages, and functionality before you can make a purchase.
Here are some factors you should look at:
1. Adjustable Height Range
One of the first things you should look at while purchasing a standing desk is the adjustable height range. It helps you determine how low or high the desk can go and whether it is suitable for standing and sitting heights.
Whether you are standing or sitting, the desk should be comfortable, and any laptop or desktop placed on it must be at eye level. Although the adjustment range varies for different models, remember to purchase one that is suitable for both standing and sitting positions.
You can opt for a tabletop that comes with multiple height adjustment systems if you need flexibility. Besides, a wide adjustment range is suitable for people who want to move the table around and are never seated in one place.
2. Desktop Size
When you are working in a home office, it's essential to work systematically and have all your office supplies in place. This helps you focus, and you wouldn't have to get up to fetch one thing or another.
The desktop size simply refers to the workspace you get on the table. So, carefully go through the product's measurements while purchasing a standing desk, as smaller work areas can lead to congestion and messiness. Besides, measure the area where you intend to place the table.
The good news is that most high-quality standing desk models are pretty comprehensive and can accommodate office items.
3. Lifting Mechanism
Among the most overlooked aspects of a standing desk is its lifting mechanism, which depends entirely on the motor type. Typically, single and dual motors are the most popular choices for standing desks. You also get manual desks that are less expensive but not as efficient.
If you want a standing desk for light use, a single motor model will suffice. But, if you want the table to bear greater weight, opt for a dual motor desk. Needless to say, dual motors render greater power and adjustability. Besides, they offer a seamless transition between sitting and standing positions but are expensive.
4. Weight Capacity
Weight capacity determines the load your desk can handle, which largely depends on its lifting mechanism. Dual-motor desks have a higher weight capacity and can carry over 200 lbs and more.
With more weight capacity, you may place more books, files, and other office supplies on your desk without worrying about damaging the table. Tables that have a higher weight capacity are unlikely to warp or buckle.
5. Noise Implications
One of the significant drawbacks of standing desks is the loud noise they make during operation. So, while adjusting the height, you may hear the motor make a cranking noise, distracting you and hampering productivity.
If you work from home, people in the house are likely to get disturbed every time you adjust the table to stand or sit. Similarly, if you have a shared workstation, you want to create a serene work environment. Most models mention the motor's noise levels, so remember to check it out before purchasing.
6. Programmable Preset Feature
Adjusting the height of a desk is pretty straightforward. However, if you want to make things easier for yourself, consider opting for a model that comes with programmable features and height memory.
Here, you can use the control panel to set a preferred height, which will help you shift between positions quickly. You wouldn't have to adjust the height every time you want to switch to a new working position. Simply press the programming button, and you're good to go.
While most models offer one preset button, some come with three or four memory presets, allowing you to record multiple preferred heights. You can choose any one of them using the up and down keys present on the keypad.
The programmable preset feature is a convenient addition to a standing desk as it reduces the time you would've spent adjusting the height.
7. Speed & Stability
When it comes to a standing desk, speed and stability are of utmost importance. After all, you'd want the desk to adjust itself as quickly as possible so that you can go back to work. If it takes a lot of time to move, it may distract you and hamper productivity. Both speed and stability depend on the table's lifting mechanism.
If the lifting mechanism is powerful, the desk will move quickly and render greater stability during adjustment. Usually, a dual-motor can offer unrivaled stability and high speed.
In addition to the lifting mechanism, the quality of construction also adds to the table's stability. As such, tables made out of the metal frame and solid wood provide tremendous stability.
8. Quality & Durability
Standing desks are of different types. While some manufacturers pack their products with highly advanced features, others focus on durability. And, then some manage to find the perfect blend of aesthetics, functionality, and durability.
No matter how advanced your standing desk is, if it's of poor quality, it's not going to last. Therefore, it is essential to invest in a model that offers longevity and value for money. After all, we're sure you don't intend to purchase a new desk every two years.
Some features that improve the durability of your desk include stain-resistant coating, powerful motor, metal and solid wood construction, and so on.
9. Warranty
The warranty of the product determines its longevity and quality. Reliable brands offer high-quality products and come with a guarantee of over a year for the motor and frame. Even the electrical components have a more extended warranty.
So, always remember to check the warranty of a product before making a purchase.
10. Easy to Assemble
Standing desks do not arrive in a single piece and you have to arrange them with the help of the right tools. Most brands provide a detailed instruction manual, and you have to follow it carefully to get the device up and running.
If the instructions aren't clear, you may refer to YouTube tutorial videos for help. Alternatively, you can ask a friend for help. However, if you are a novice, go through the product reviews and try opting for easy-to-assemble models.

How To Use A Standing Desk Correctly


The purpose of a standing desk is to provide utmost comfort and support. And, while you might think using a standing desk the right way is a no-brainer, the truth is most people aren't using it right.
Its ergonomics are pretty simple, but people have different heights and body types, and it is essential to adjust the desk properly to derive maximum benefits. Here are some instructions on how you can use a standing desk correctly:
It's essential to have the correct posture when you are standing. To achieve this, you have to adjust the desk so that your elbows can rest comfortably on it. Besides, your forearms should be parallel to the surface of the desk, and while typing on the keyboard, your wrists should be straight and relaxed.
Poor wrist position can lead to health issues like carpal tunnel syndrome, injuries, and chronic pain. Further, keep your posture straight, with relaxed shoulders and an erect neck. Ensure that your shoulders aren't slumping, as most cases of back pain arise from poor postures.
When sitting, adjust the chair's height so that your feet are parallel to the ground, your back is straight, and the knees are parallel to the seat's cushion. A proper posture while sitting helps you avoid back and shoulder pain.
Besides, the chair should have a padded backrest to provide adequate support to your back. Poor back support is directly linked to pain in the lumbar region and excess pressure on the spinal cord. Lastly, lower the table in such a way that your wrists can rest properly on them.
If you are using a desktop, place it at eye level and at a considerable distance from your face. Besides, your neck should be straight. Incline the monitor at an upward angle in such a way that you don't have to bend your neck to view it.
However, if you are using a laptop, you will need a separate laptop stand to make sure it is at a proper angle and at eye level. In addition, we recommend getting a separate mouse and keyboard to keep the screen at a suitable height.
Standing-To-Sitting Ratio
The standing-to-sitting ratio refers to the amount of time you should spend standing for every hour spent sitting. As per research, you should aim to stand for two to three hours for every one hour you spend sitting.
Maintaining a proper standing-to-sitting ratio ensures that your posture remains erect and you can avoid any health issues associated with a sedentary lifestyle.
Conclusion
With that, we have reached the end of this guide. We hope finding the perfect standing desk will now be a cakewalk for you.
While each of the options on our list is affordable, efficient, and durable, remember to check out its specifications and assembly instructions before you make a purchase. In addition, determine the area where you intend to place the desk and buy a product with suitable dimensions.
That's all we have for today. Till next time!