20 Forest-Themed Bedroom Ideas
Dreaming of a bedroom that feels like a snug retreat nestled deep in the woods? Look no further! We've curated an enchanting list of 20 forest-themed bedroom ideas to help you bring Mother Nature into your sanctuary. From rustic wooden furnishings to whimsical fairy gardens, we've got design inspirations that'll make you want to kick off your hiking boots and stay awhile. So, if you're eager to blend the tranquil vibes of the great outdoors with the comfort of your home, let's dive right into this woodland wonderland of ideas!
1. Wooden Accent Wall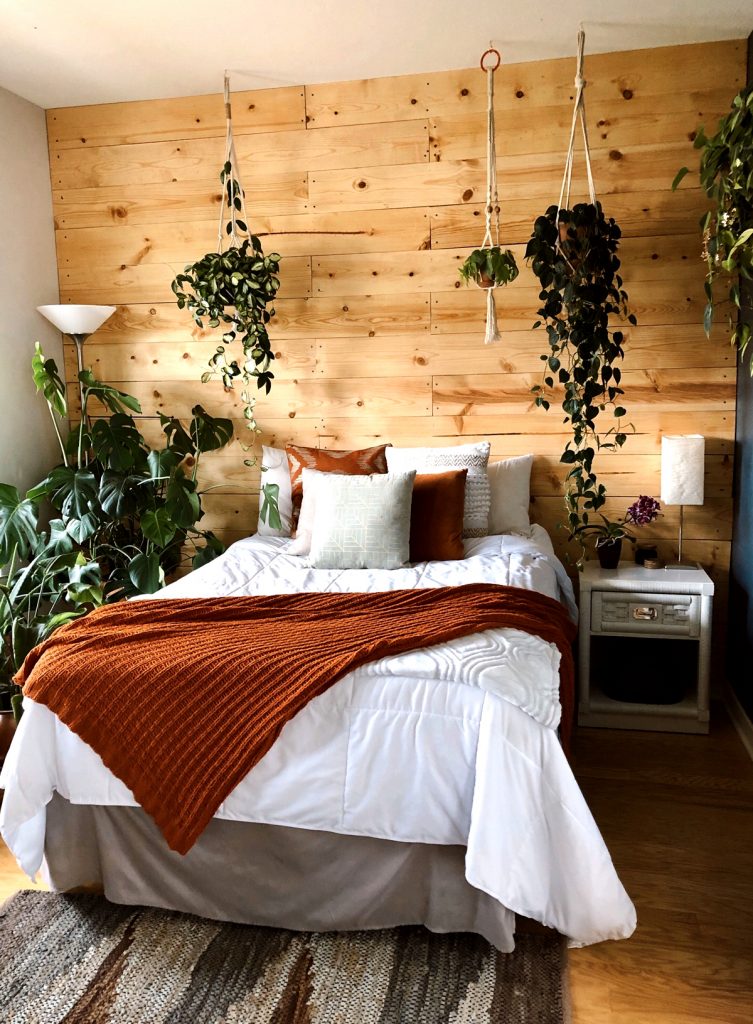 First, the wooden accent wall. It is an absolute game-changer in the world of forest-themed decor. Imagine this: A wall clad in rustic wooden planks or sophisticated shiplap, setting the stage for your woodland escape. The texture and natural hues of the wood instantly bring warmth and character to your space. It's like having a piece of the forest as the backdrop for your daily life. Perfect for modern and rustic settings, this wall becomes the focal point, inviting your eyes and thoughts to wander and relax. Transform your bedroom into a nature-inspired oasis with this stunning feature. You won't regret it!
2. Forest Mural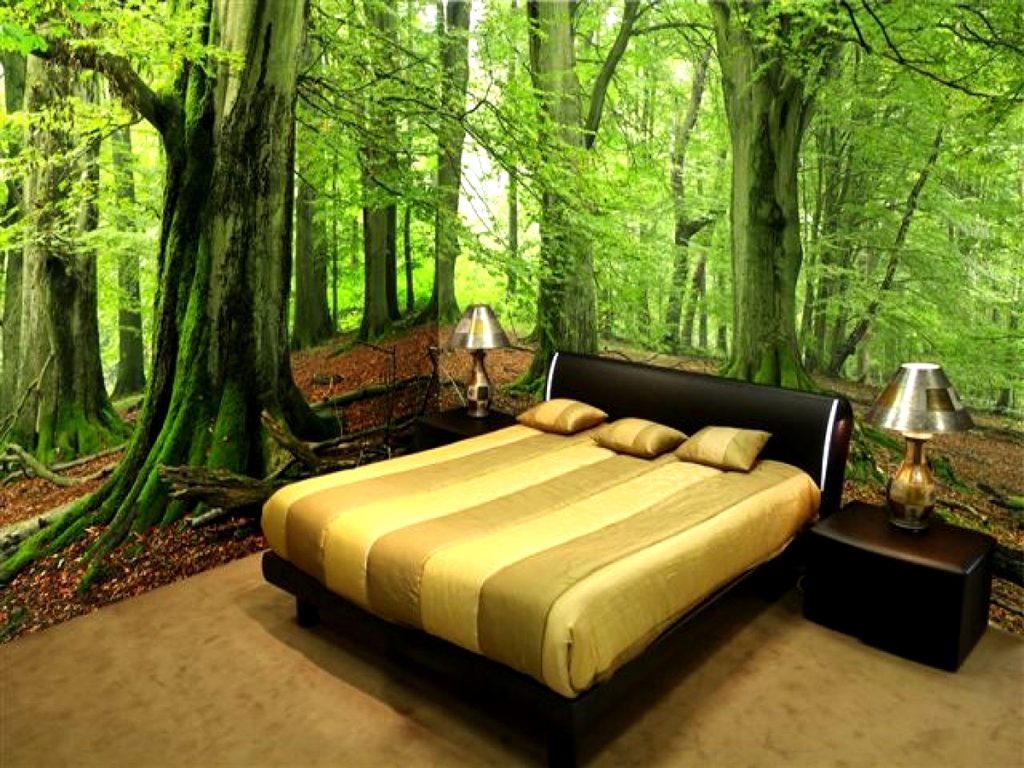 Say hello to forest murals! This eye-catching feature can transport you straight into an enchanting woodland from the comfort of your bed. Picture towering pines, misty mountains, or even a magical twilight sky—the options are limitless. The best part? It's a visual feast without any of the maintenance that comes with real greenery. Whether you opt for a removable wall decal or go all-in with custom paintwork, a forest mural is your ticket to a room that's more than just four walls—it's an experience. Your bedroom just became the ultimate getaway destination!
3. Birch Tree Wallpaper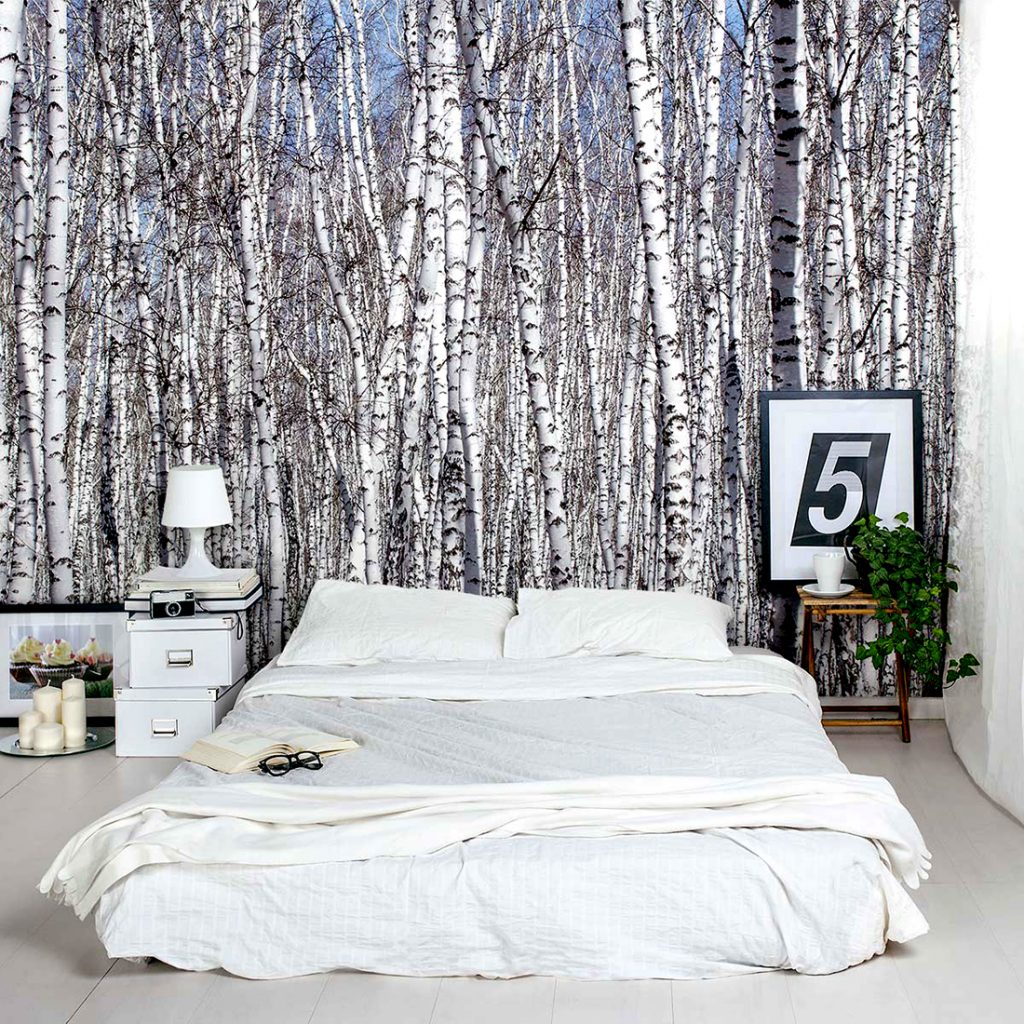 Via: wallums
This chic option brings the beauty of slender, white-trunked birch trees right into your room. It's like a stylish woodland in monochrome! The high contrast between the black and white gives your space a contemporary edge while staying true to the forest theme. The simplicity of birch tree patterns means it can easily blend with various color schemes and decor styles. And don't worry, installation is a breeze with today's peel-and-stick options. Get ready to wake up in a trendy forest every morning—no hiking boots required!
4. Tree Stump Nightstands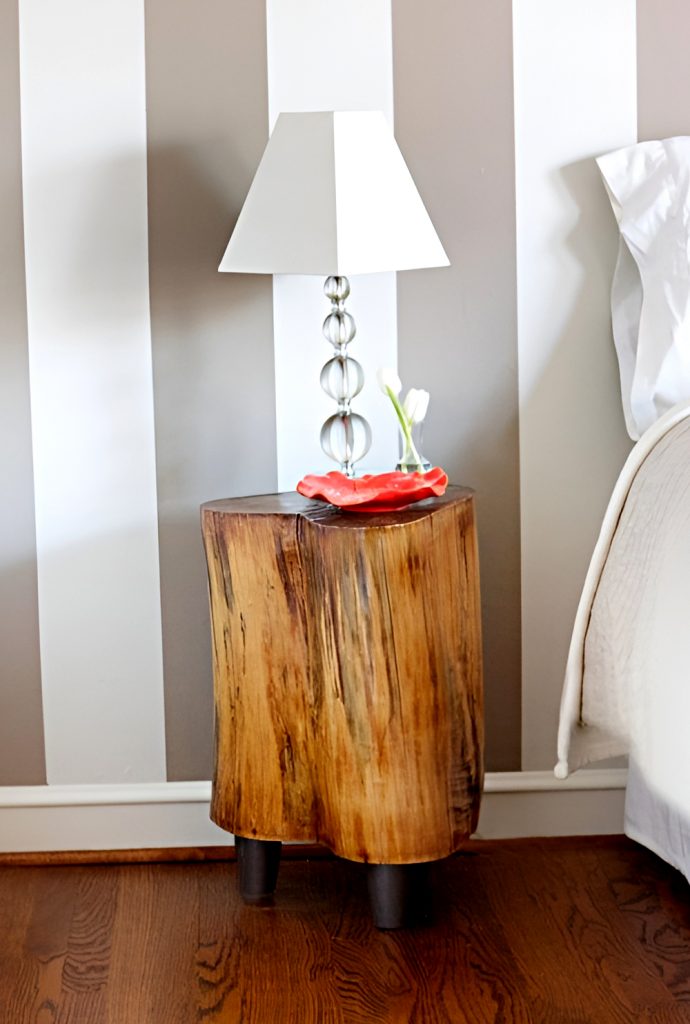 Next on our list of must-haves is the tree stump nightstand. Talk about a conversation starter! These unique pieces offer the perfect blend of rustic charm and functionality. No two stumps are alike, meaning your nightstand is a unique masterpiece. They're sturdy enough to hold your latest bedtime read, a chic lamp, or even a cup of herbal tea. Plus, it's eco-friendly, especially if you opt for reclaimed or salvaged wood. With some sanding and a protective finish, these natural beauties are ready to serve you night after night. Upgrade your bedside game with this forest-friendly option!
5. Cedar Furniture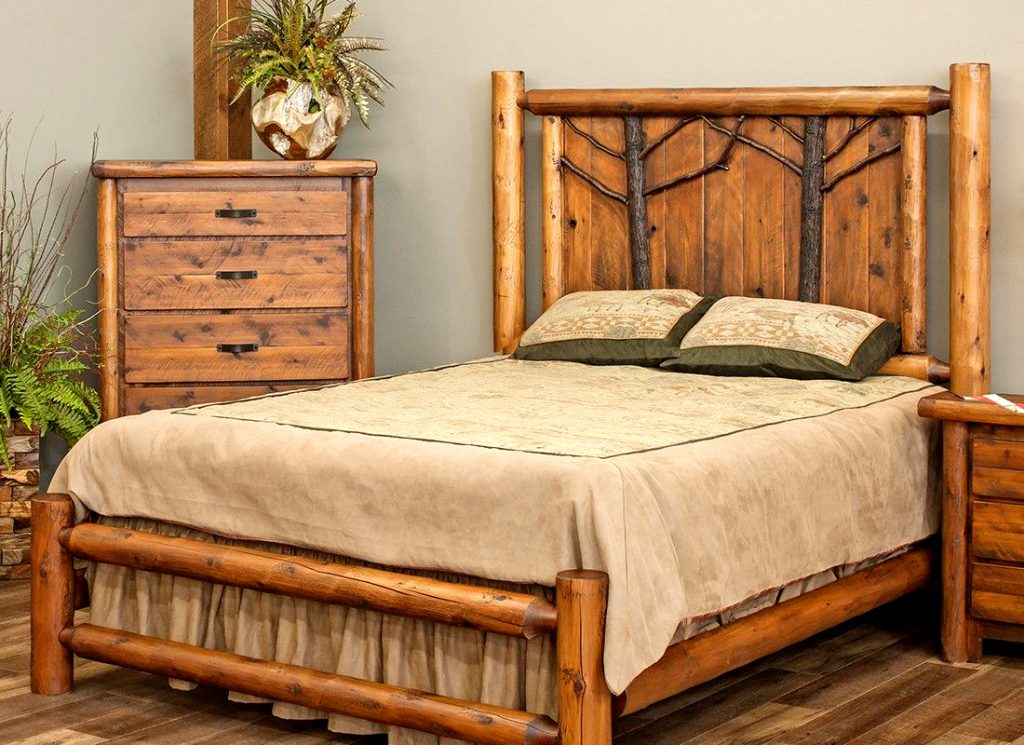 First, on the furniture front, let's talk cedar. Cedar furniture isn't just about the aesthetics; it's an experience for your senses. When you walk into your room, you're greeted with a fresh, earthy aroma reminiscent of a forest hike. From dressers to beds, cedar pieces bring a natural richness that complements the forest theme perfectly. Plus, this wood is known for its durability and resistance to decay, ensuring you're making a long-term investment. It's like bringing an evergreen forest indoors without needing a green thumb. With cedar furniture, your bedroom doesn't just look good—it feels good, too!
6. Canopy Bed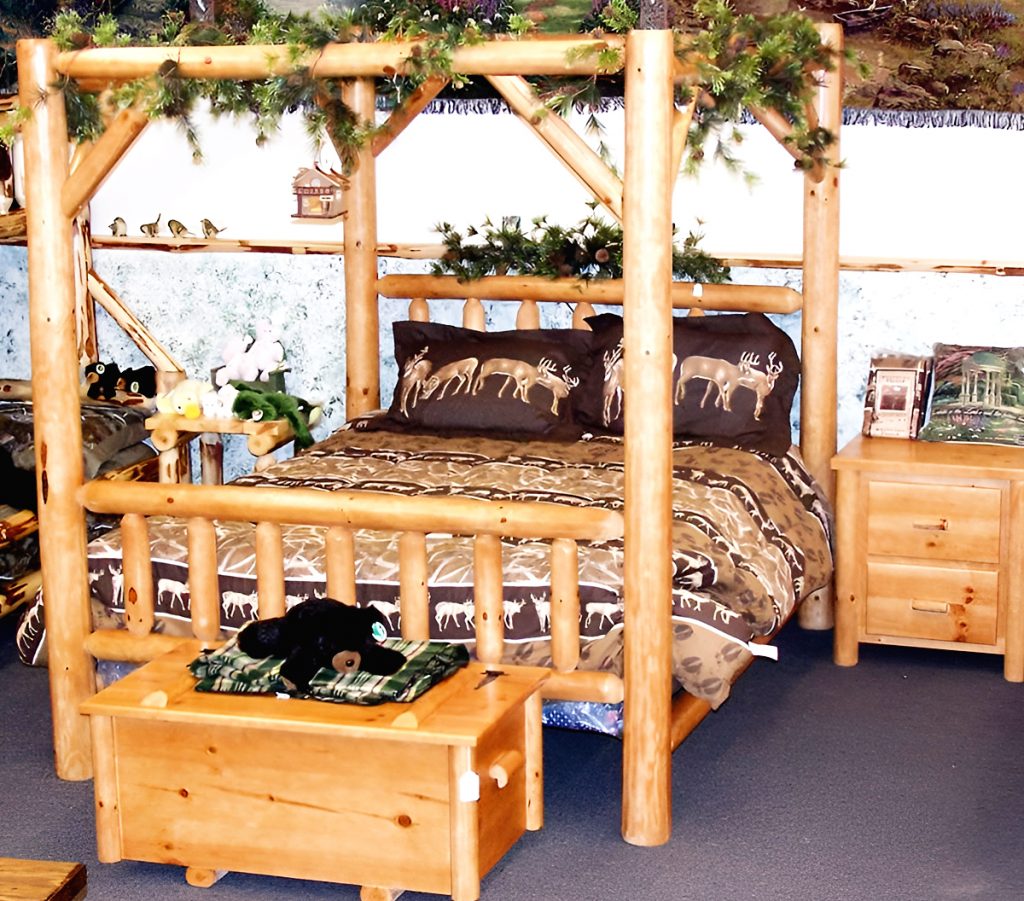 Next, we've got the canopy bed—an elegant showstopper for any forest-themed bedroom. Picture yourself nestled in a wooden frame draped with light, flowy fabrics. It's like sleeping in your private grove. The canopy bed adds structure and grandeur to your room, making it the focal point for all the right reasons. You can add some twinkling fairy lights or hanging vines to the canopy for that extra touch of woodland magic. Best of all, the top can be as elaborate or as minimalistic as you like. It's not just a bed; it's a personal retreat within your retreat.
7. Rustic Ladders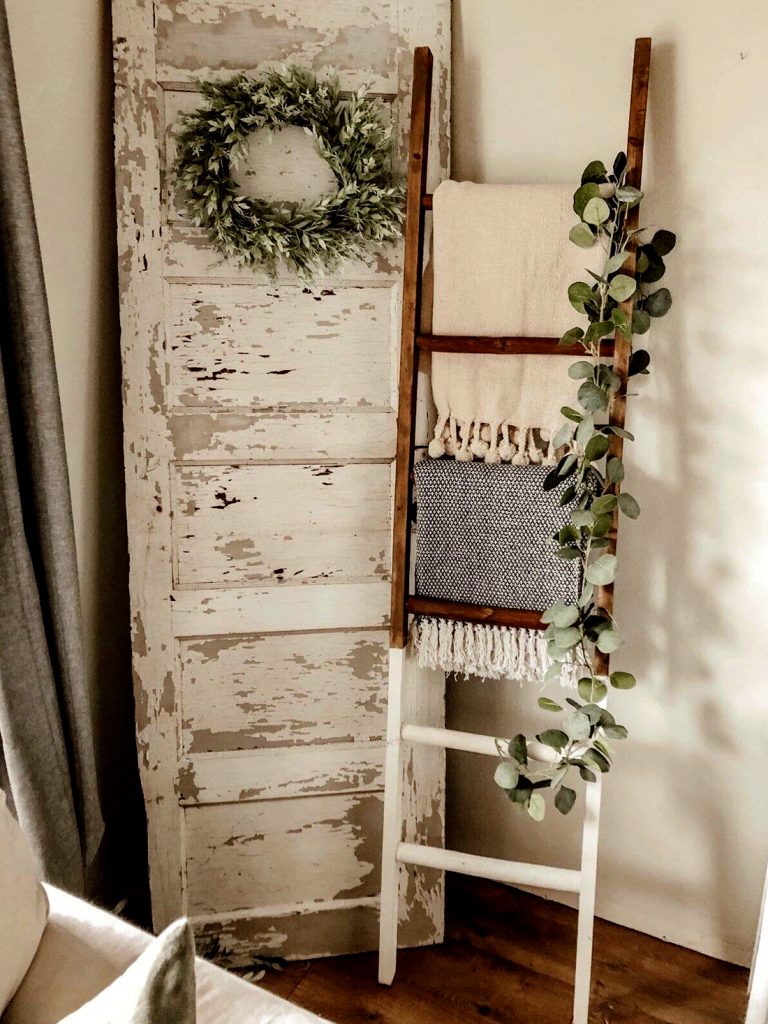 The other furniture lineup is rustic ladders. Don't underestimate this versatile piece! Far from just a functional item, a rustic ladder leans into the forest theme with its weathered wood and farmhouse appeal. Use it as a unique shelving unit for books, candles, or small plants. Or drape it with a soft, cozy throw for an inviting touch. It's not just about aesthetics; these ladders are also space-savers, perfect for smaller rooms. So, a rustic ladder nails the balance between style and practicality, whether you're showing off trinkets or adding some vertical interest.
8. Pinecone Decor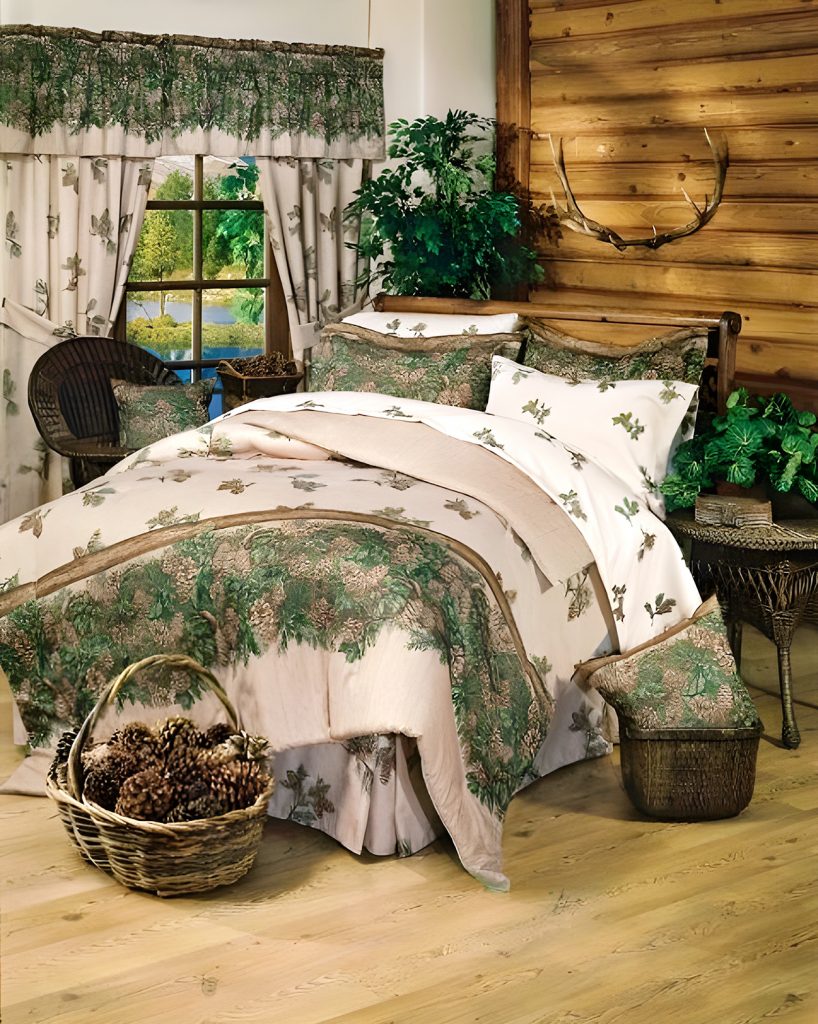 Next on our list of captivating accents is pinecone decor. A little goes a long way with these natural beauties! Tuck a few pinecones into a decorative bowl on your nightstand, or use them as filler in a glass vase. Consider pinecone-shaped candles or pinecone-print textiles for a subtle yet impactful nod to the forest theme. Pinecones' textured, intricate design adds visual interest without overwhelming the space. And the best part? You can easily update them for the seasons—spray them with gold for the holidays or pastel shades for spring. It's a woodland charm all year round!
9. Moss Green Bedding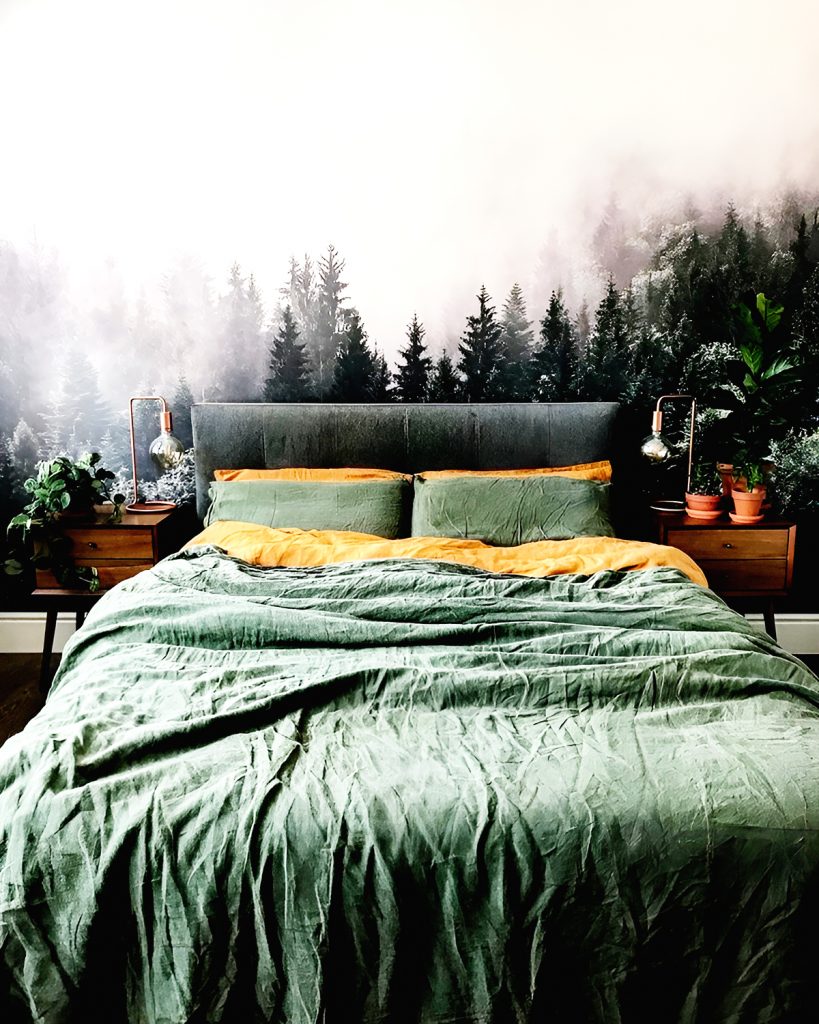 The moss-green bedding is a simple yet transformative addition to your forest-themed room. Imagine sinking into sheets with the lush, inviting hue of forest foliage. It's like cuddling with nature! Moss green blends seamlessly with other earth tones, making it an ideal choice for bedding. Plus, it sets a calming backdrop to help you unwind after a long day. Want to up the cozy factor? Layer on a plush, moss-green comforter and a few matching throw pillows. You'll sleep like a log and wake refreshed like you spent the night under the stars.
10. Faux Animal Rugs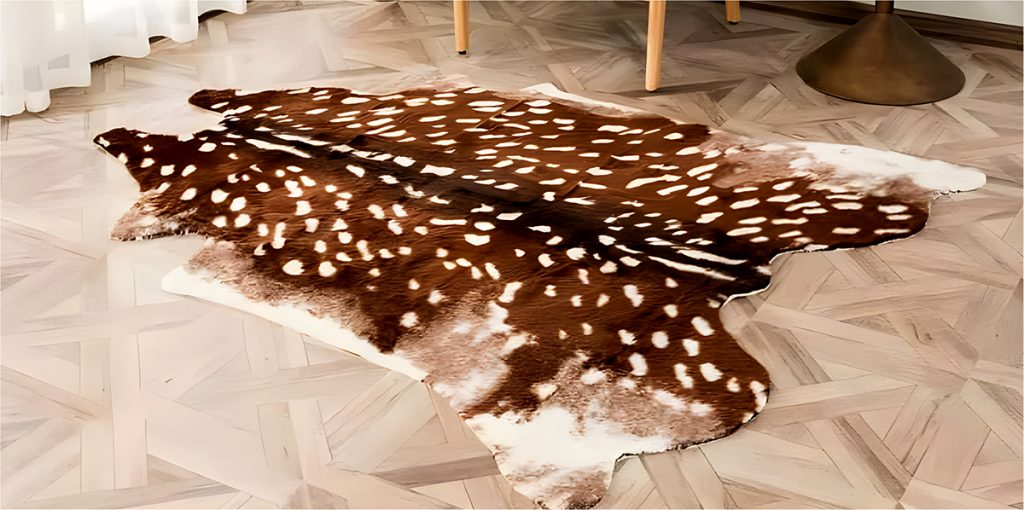 Next in our lineup is faux animal rugs. Now, you can bring a cabin floor's rustic, cozy feel to your bedroom without harming any critters! These rugs come in various shapes and designs, from bear to deer, allowing you to pick what best suits your forest fantasy. Perfect for stepping onto first thing in the morning, these rugs offer a plush, warm experience for your feet. Plus, they make a fantastic focal point—lay one by the bed or drape it over a chair for that extra woodland flair. Cozy and cruelty-free—what's not to love?
11. Cabin Quilts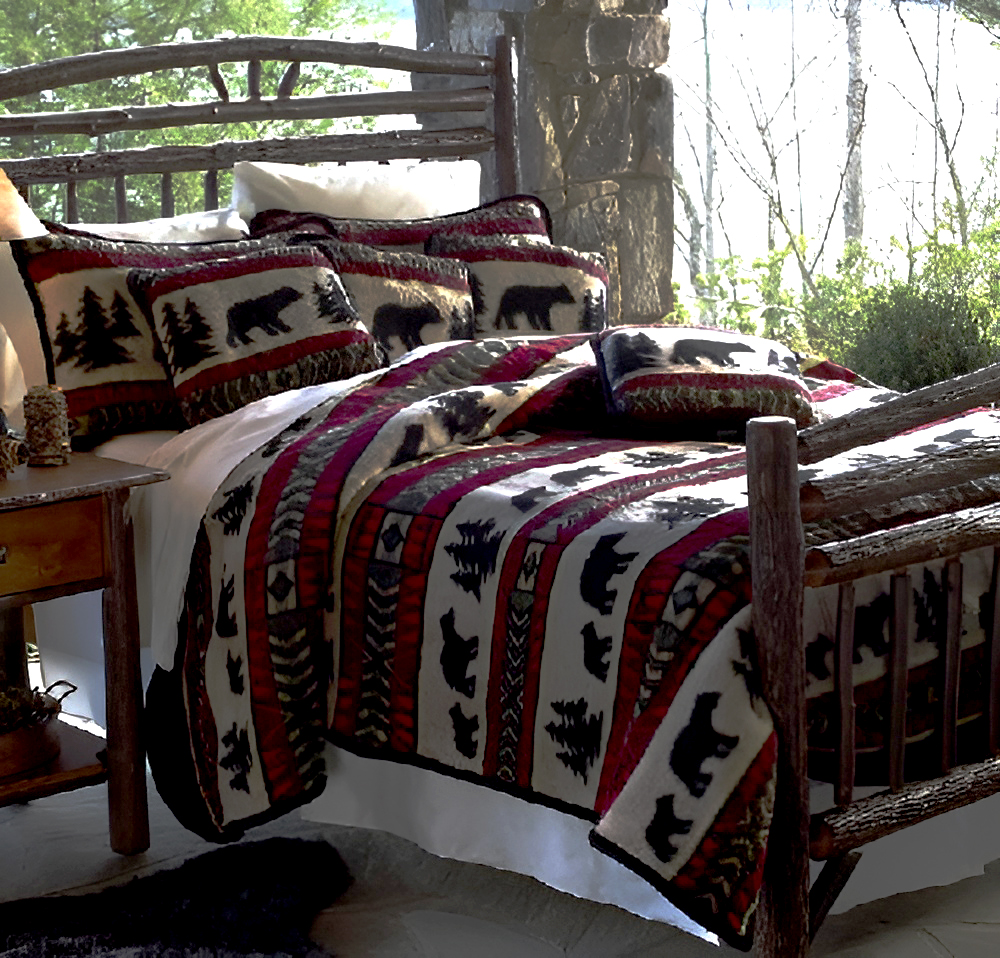 These aren't just blankets; they're works of art with stitched patterns that tell stories of woodland adventures. Think bears, deer, and scenic forest landscapes right on your bed. It's like sleeping under a tapestry of nature! These quilts blend traditional craftsmanship with rustic designs, making your bed the room's natural focal point. Perfect for layering in colder months or as a light cover in summer, cabin quilts are as functional as they are beautiful. So, snuggle up under a quilt that channels the comfort and charm of a secluded mountain cabin.
12. Log Pillows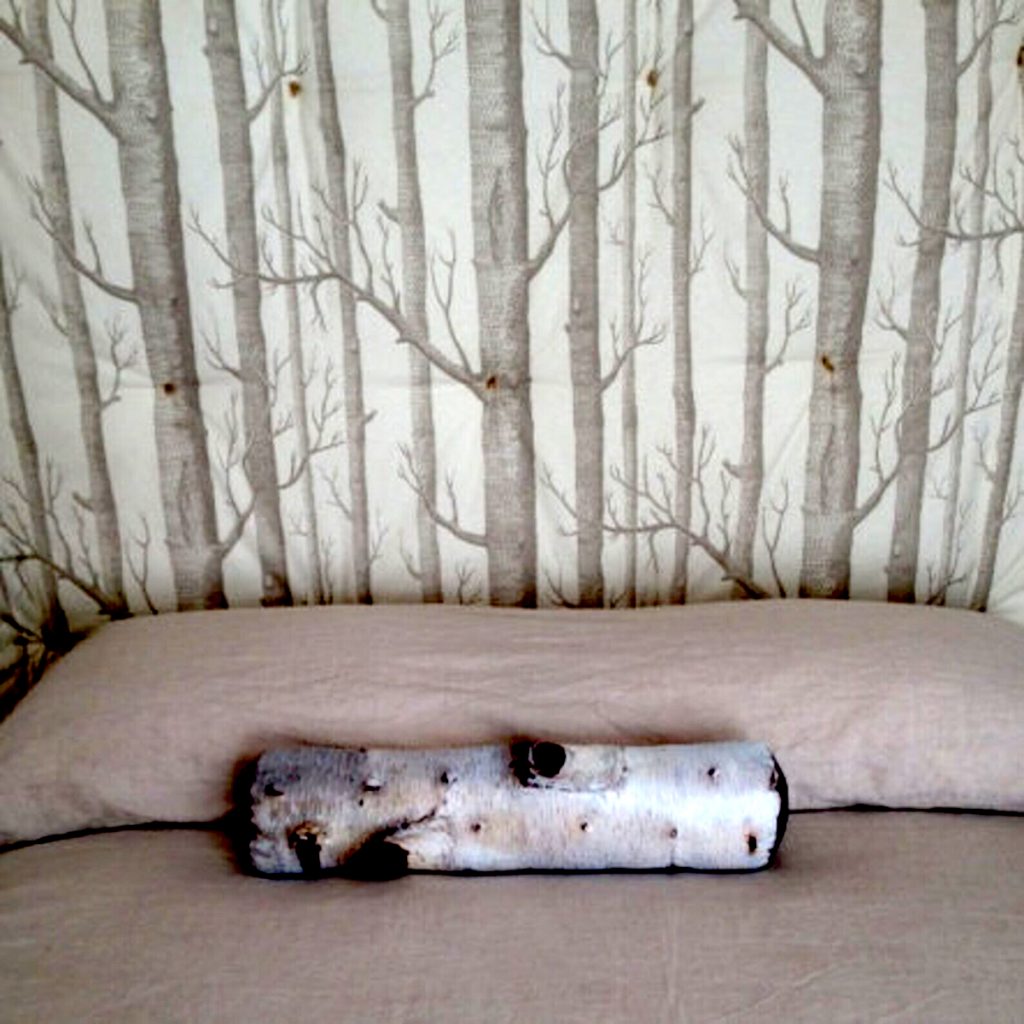 Now, let's talk about log pillows. Yes, you heard that right—pillows that look like logs! These whimsical cushions add a playful and rustic touch to your bed or couch. Made with detailed fabric to resemble bark and tree rings, they're a quirky way to amp up the forest theme. Plus, they're super comfy! Whether curling up with a good book or taking a well-deserved nap, log pillows offer style and comfort. And let's be honest, they're also great conversation starters. Who wouldn't want to rest their head on a plush piece of the forest?
13. Maple Leaf Accents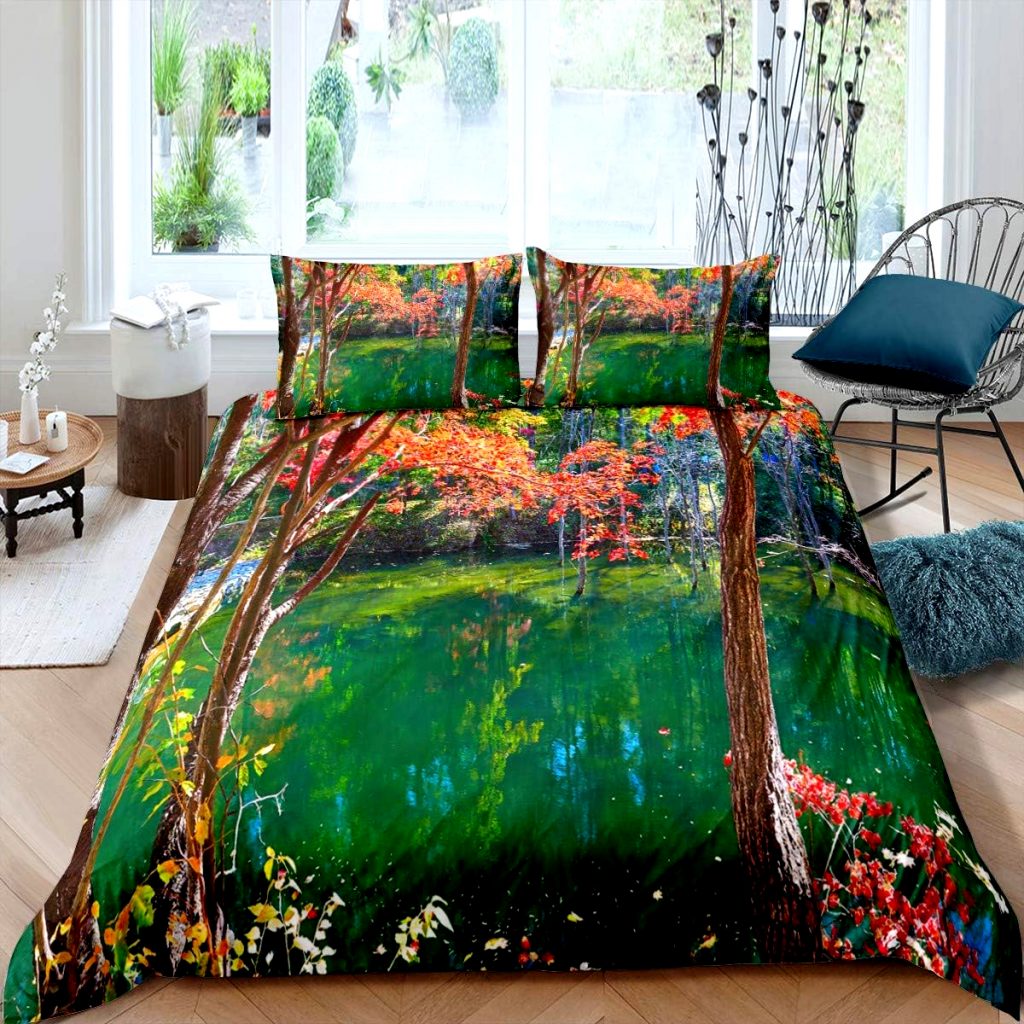 Next in our textile category is maple leaf accents. Think vibrant reds, burnt oranges, and golden yellows—the colors that make autumn in the forest a breathtaking spectacle. Adding maple leaf motifs to your bedroom decor can be as simple as a throw pillow or statement-making as a wall art piece. The shapes are organic, while the colors add a seasonal pop. Bonus: they're versatile. Blend them with darker earth tones for a cozy fall feel or with lighter hues for a more spring-like touch. Maple leaf accents capture the beauty of the forest, no matter the season!
14. Twinkle Lights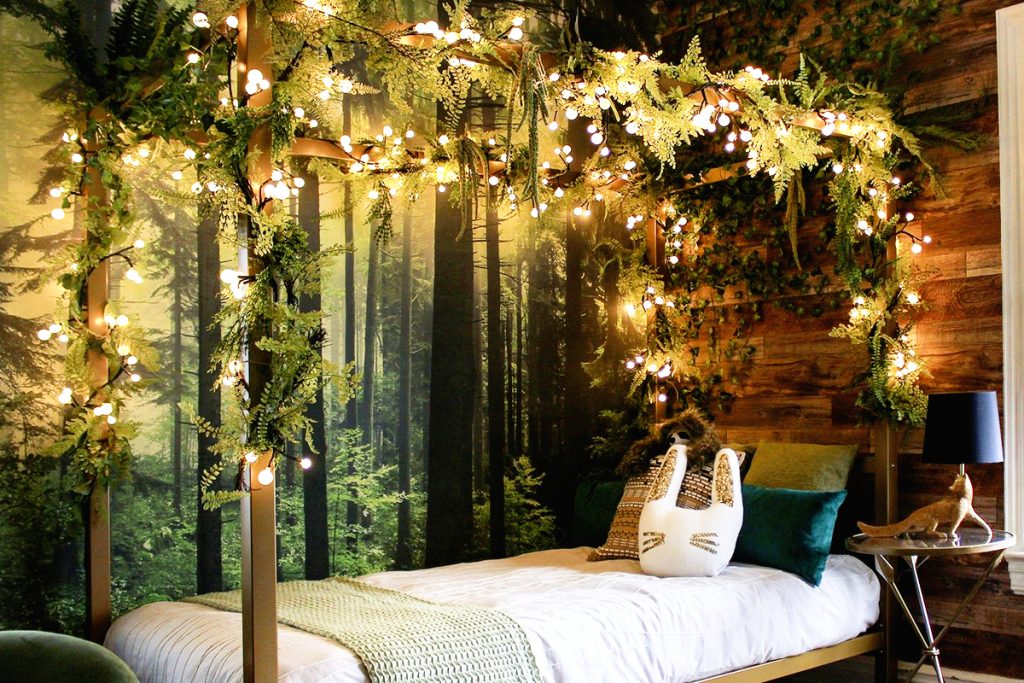 Let's delve into the magic of twinkle lights. Picture tiny stars suspended from your ceiling or wrapped around your bedframe. Ah, instant coziness! Twinkle lights add a whimsical touch, turning your bedroom into a nighttime forest fairyland. Easy to install and energy-efficient, they create a soothing and romantic ambiance. Whether you drape them across a canopy bed, string them along a rustic ladder, or even place them in a mason jar, they never fail to enchant. It's like capturing fireflies and having their glow brighten your room every night. Pure magic!
15. Antler Chandelier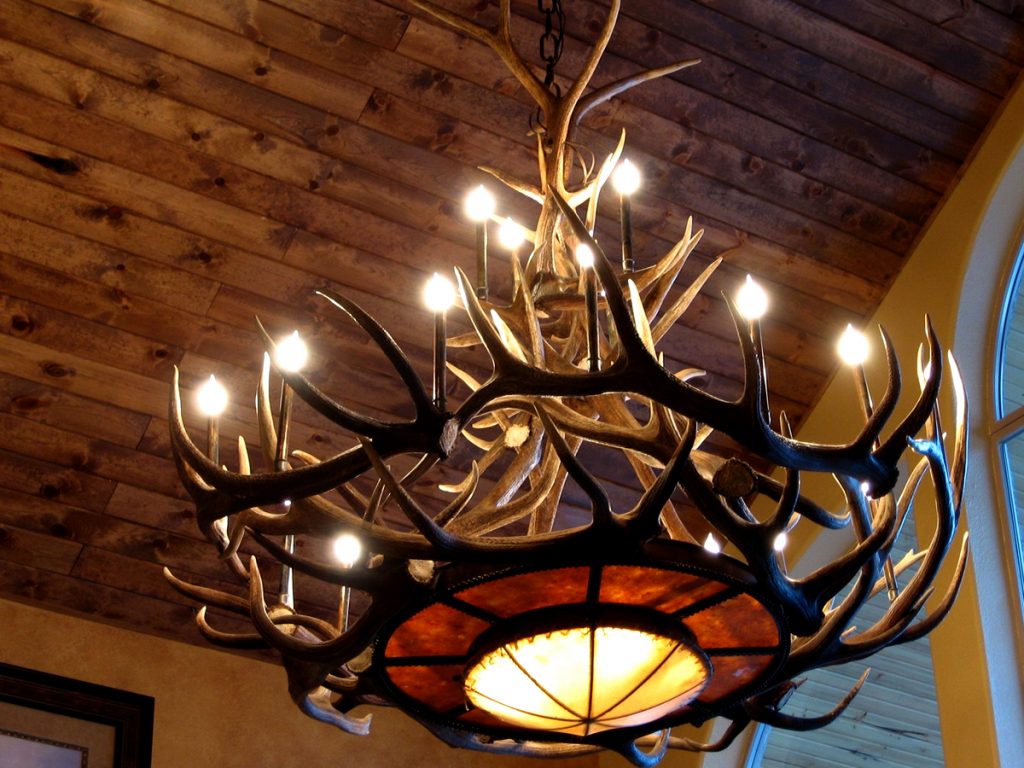 Next up in the lighting department, let's talk antler chandeliers. Hang one of these overhead, and you have an immediate statement piece that screams rustic elegance. These chandeliers come in various sizes and styles, ranging from intricate designs to simpler, more minimalist options. And fear not, animal lovers—faux versions offer the same aesthetic without harming any wildlife. Whether you choose a dramatic, multi-tiered piece or a smaller, single-tier version, an antler chandelier adds a touch of the wild to your room. It's not just a light source; it's a work of art.
16. Lantern Lights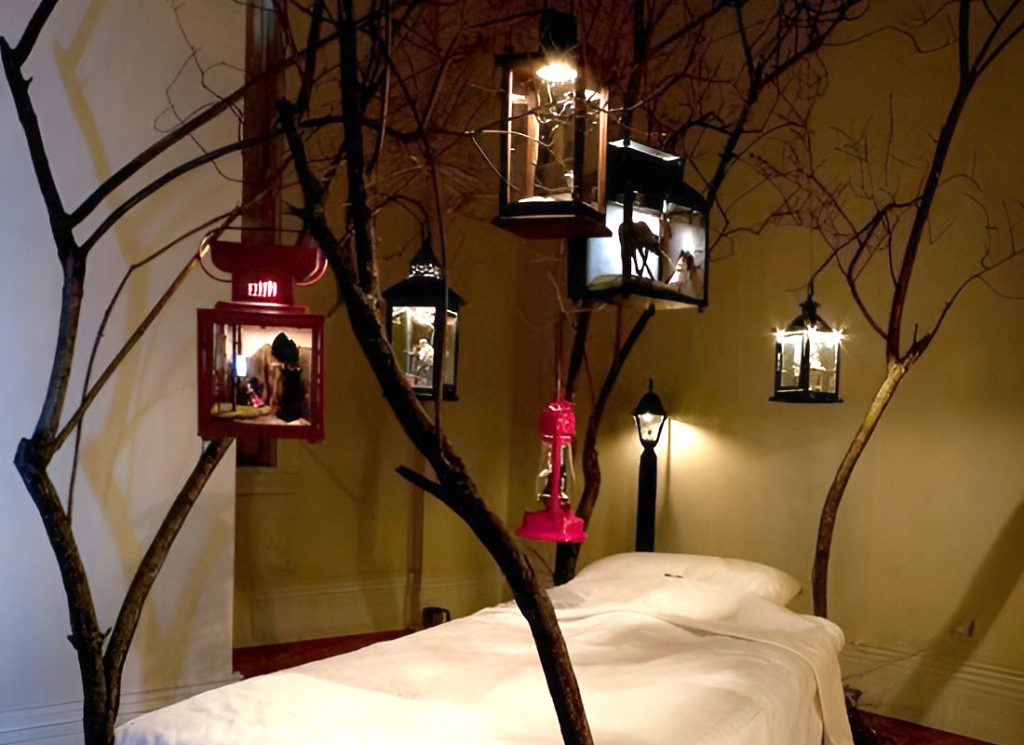 Think of lantern lights as portable pockets of coziness you can place anywhere in your room. Their vintage design evokes a sense of rustic charm, blending seamlessly with a forest-themed setting. Whether you opt for traditional metal lanterns with glass panes or a modern twist with battery-operated LED versions, they infuse your space with a warm, inviting glow. Place them on a nightstand, hang them from a hook, or even line them along a windowsill. Lantern lights are like little campfires for your bedroom, minus the smoke and the bugs!
17. Leafy Plants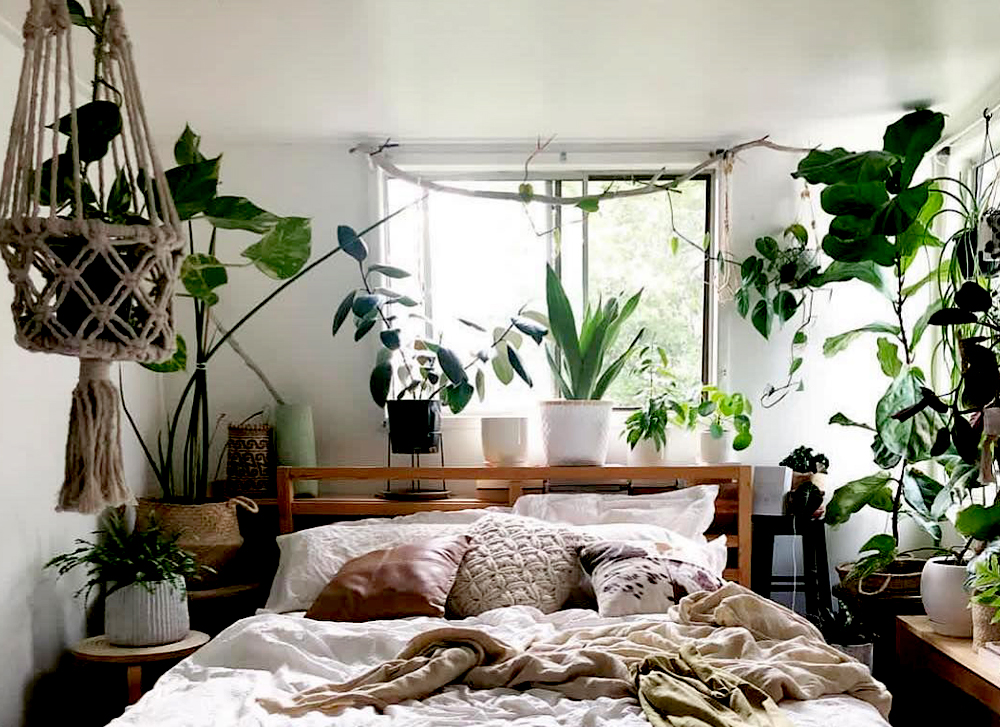 Why settle for forest-inspired decor when you can bring actual pieces of the forest into your room? From snake plants to fiddle-leaf figs, leafy plants add a living, breathing element to your space. They enhance the natural vibe and purify the air—talk about a win-win! Place them in corners to fill empty spaces or use smaller ones as decor on shelves or nightstands. With their lush foliage and varying shades of green, these plants make every day feel like a walk in the woods. Nature is calling right from your bedroom!
18. Stone Accents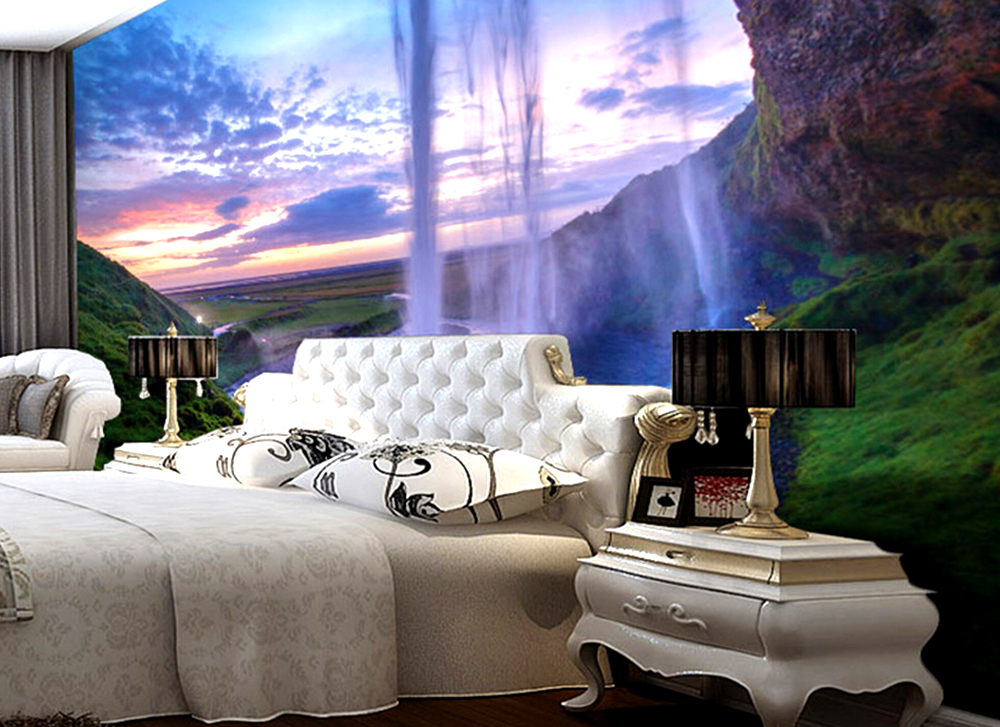 Next in our nature-inspired journey is stone accents. Imagine entering your bedroom and feeling like you've just entered a serene mountain cave. Stone elements, whether as decorative bowls, wall art, or even stone-textured wallpaper, add a raw, earthy edge to your forest-themed bedroom. They offer a tactile contrast to the room's softer wood and fabric textures. And the cool part? Stones come in various colors and forms—think marble coasters or a slate-grey vase. These pieces don't just serve as accents; they ground your space, making it a tranquil retreat. With stone accents, you'll be rock-solid in style!
19. Fairy Garden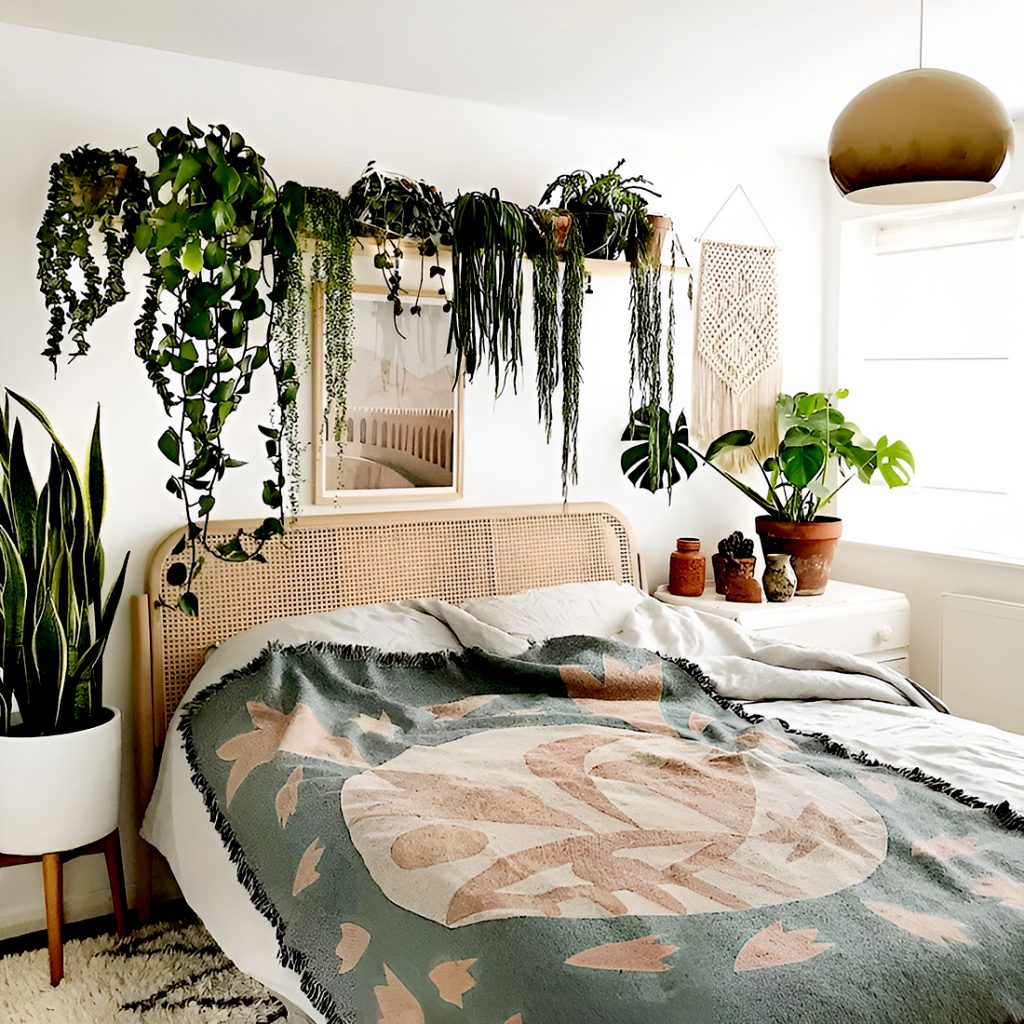 The fairy garden is your chance to infuse magic into your forest-themed room. Think miniature: tiny plants, itty-bitty furniture, and even pint-sized fairy figurines. Set it up in a terrarium, a shallow dish, or an unused drawer. From moss-covered "floors" to little toadstool "seats," each element adds a layer of enchantment. Place it on a window or bedside table as a delightful focal point. The fairy garden is a small, ever-changing landscape that you can adapt to the seasons. It's like having a pocket-sized enchanted forest right in your bedroom!
20. Woodland Creatures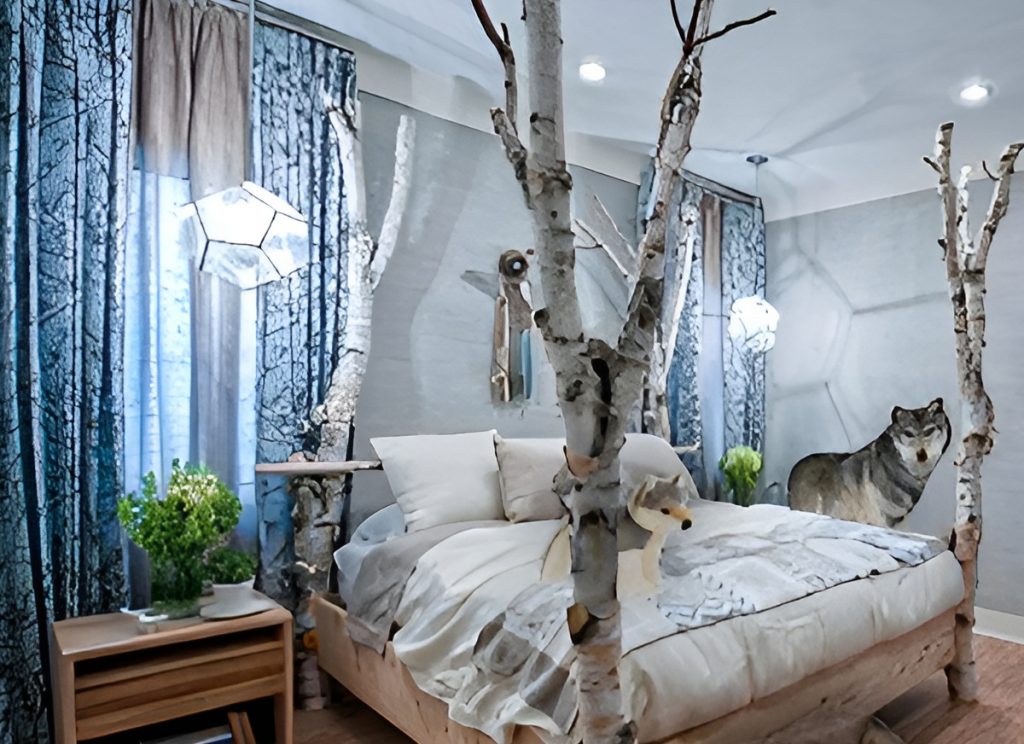 From cute owls to majestic deer, these animal accents inject life and whimsy into your forest-themed sanctuary. Think stuffed animals for a younger vibe, or go sophisticated with artistic prints or sculptures. Place a fox-shaped pillow on the bed or hang a canvas print of a serene deer on the wall. These critters not only serve as delightful decor but also help tie together the whole forest theme. You can even go the extra mile with creature-shaped drawer pulls or wall hooks. It's like your room comes alive with the charming inhabitants of the forest!
Conclusion
There you have it, folks! From log pillows and moss-green bedding to charming fairy gardens and sophisticated antler chandeliers, we've journeyed through a forest of ideas to make your bedroom a rustic retreat. Each element offers its slice of woodland wonder, bringing the tranquility and beauty of nature right into your sanctuary. So mix and match these elements to create your dream forest-themed bedroom.