45 Teenage Girl Bedroom Design Ideas
This post contains affiliate links. As an Amazon Associate, We may earn commissions from qualifying purchases made from our chosen links.
Whether you agree with it or not, nowadays teenagers are more fashionable and trendy than adults themselves. They have a unique taste with styles and designs. Hence, if you are a parent having teenagers in the house, especially girl teenagers, you should at least see these things through their perspective. Give them a chance to get involved with decorating and arranging their rooms. As we all know, girls are naturally picky and skeptical when it comes to choices.
Bedrooms serve as their hiding venue when they feel like isolating themselves from the world of demands and pressures. Being emotional and sensitive at their age, they usually spend more time alone inside their room busy with their phones and techy gadgets when they are not outside with friends. So perhaps, giving them a place more than a sleeping area would allow them to enjoy and get comfortable in their personal lives.
Functionality should also be accompanied with the aesthetic and creativity in decorating a room. You may provide your girls with study area, shelves for their favorite stuff like magazines, and lounges for their friends.
45 Trendy Pictures of Teenage Girl Bedroom
Do you still find these a bit complicated? A few examples of teenage girl bedrooms below might help you. Enjoy!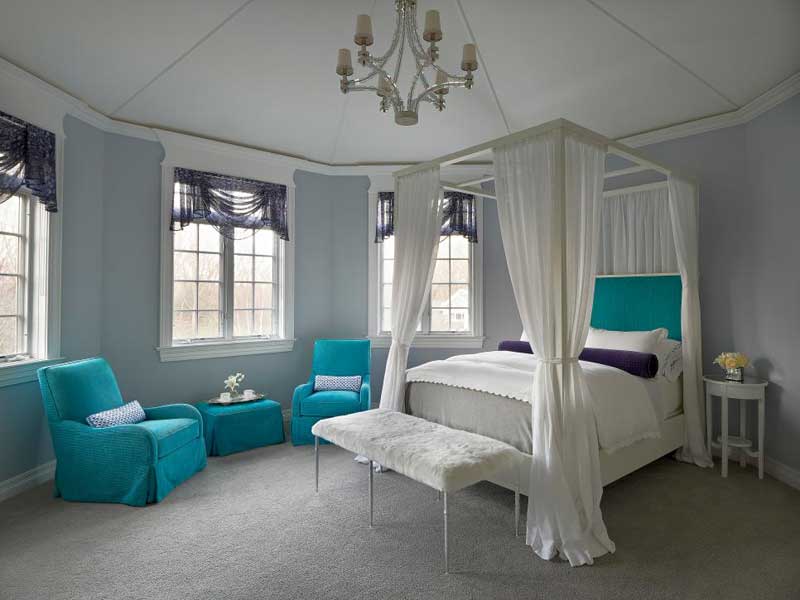 Image via: laurencoburn.com
This room is a simple, plain looking sleeping space touched with a few bright blue covers on the bedroom living sets and bed headboard. The floor is covered with gray rug while the wall in bluish gray color.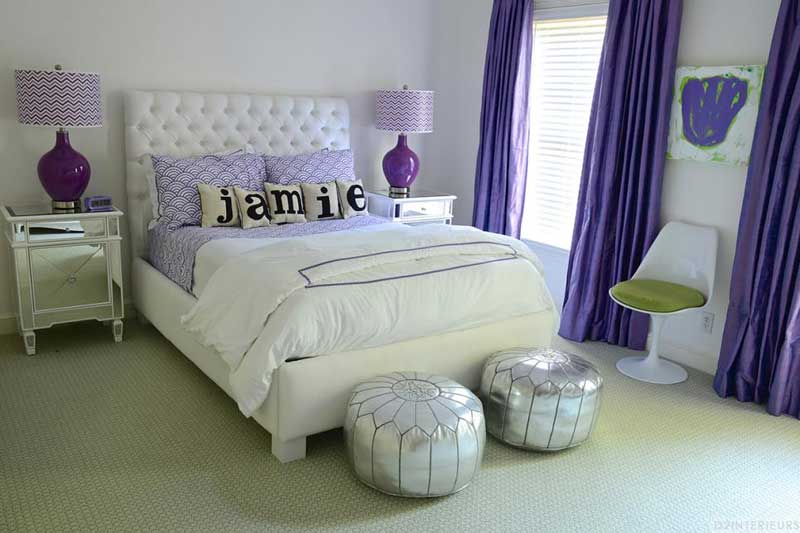 Image via: d2interieurs.com
Girls just love purple! This bedroom is lush with purple curtains, lampshades and purple dashing pattern pillowcases and bedcovers. The wall frame matches the purple theme too! While metallic silver ottomans, glaring pairs of bedside tables, soft bed, textured flooring and name printed cushions do a great deal.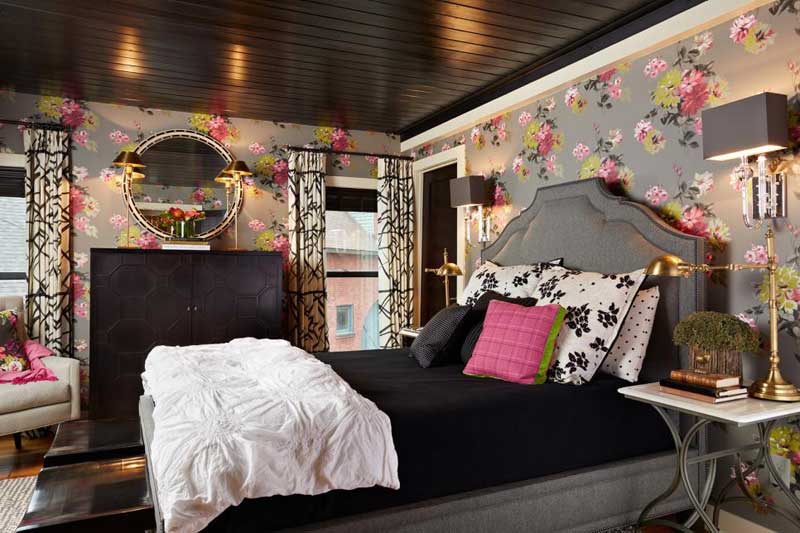 Image via: fiddleheaddesigngroup.com
Floral decorated walls and pillows give color and life to this warm colored bedroom with gray, black and white headboard, bed covers and pillow cases respectively. The ceiling and other wood vanities are gleaming in glossy finished wood works.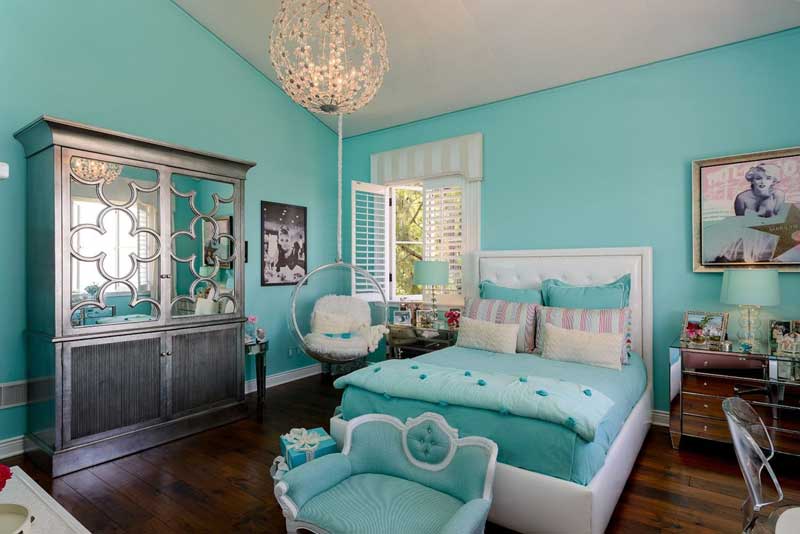 Image via: zillow.com
Isn't it a little warmer when it is all filled with wood touches alone? So here's an explosion of light blue-green on the walls, bench, and bed. Add up the complementing lampshade and pillows completing the bluish setting. Moreover, the shimmering silver cabinets and the hanging bubble chair are enticing on the corners.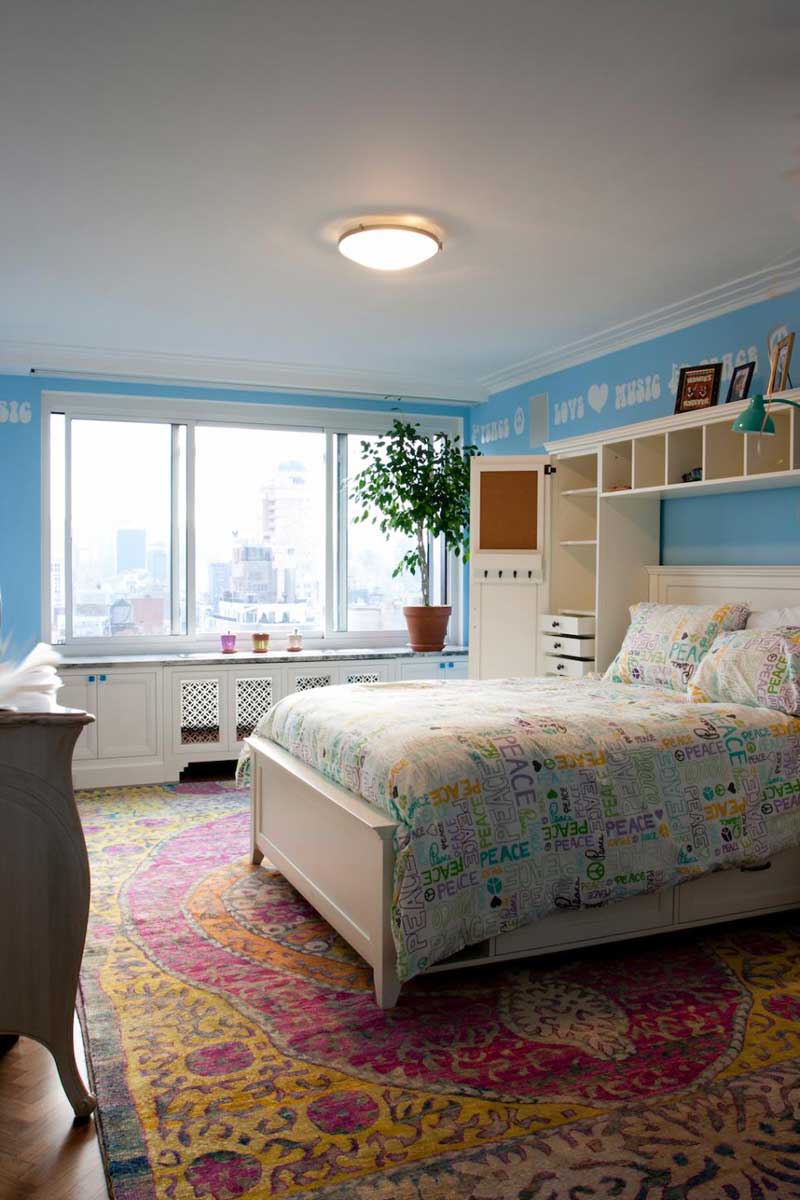 Image via: hgtv.com
Teenagers love bold colors, which reflect their energy and style. No wonder why this bedroom stuns in colorful floor rug and blue walls. What inspires is the printed dedications on the upper wall and bed cover.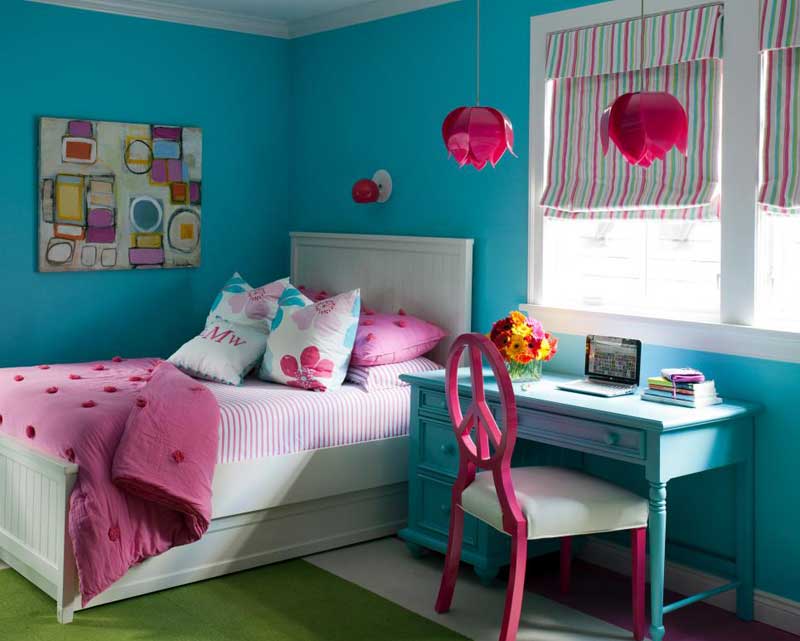 Image via: tobifairley.com
Neon colors are one of the first color choices for teenage girls. They often choose to wear bright pink, yellow or blue and so does with their other stuff. Just take a look at this bedroom's walls, bed covers, desk, and chairs, aren't they striking with colors? Even pillows, curtains, picture frame and the pendant lights are colorful.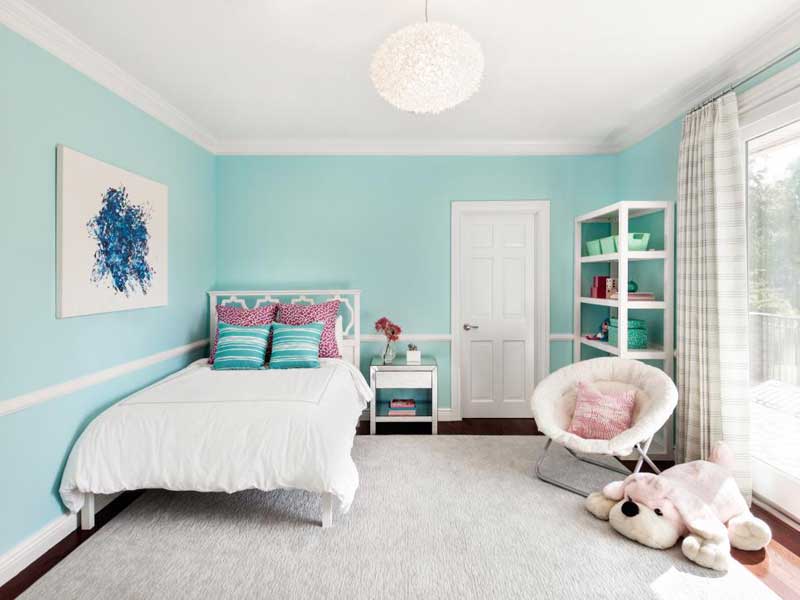 Image via: cleandesignpartners.com
While some of the girls want to have a colorful bedroom, some just want a simple and plain looking room, just like this one. White floor rug on the wooden floor, white bedding, and the like seem to satisfy the view. A few bright colors like the red pillows and items on the shelf, however, give an excellent contrast.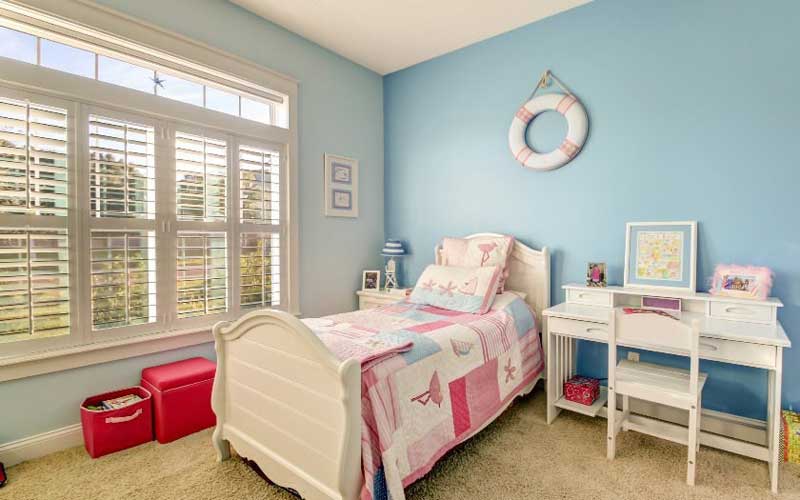 Image via: zillow.com
Soft textured brownish floor rug and white vanities are added in this bedroom while bright colored stuff like storage boxes and printed bed covers and pillows are adding to a livelier look. The blue wall does give a calm atmosphere on the other side.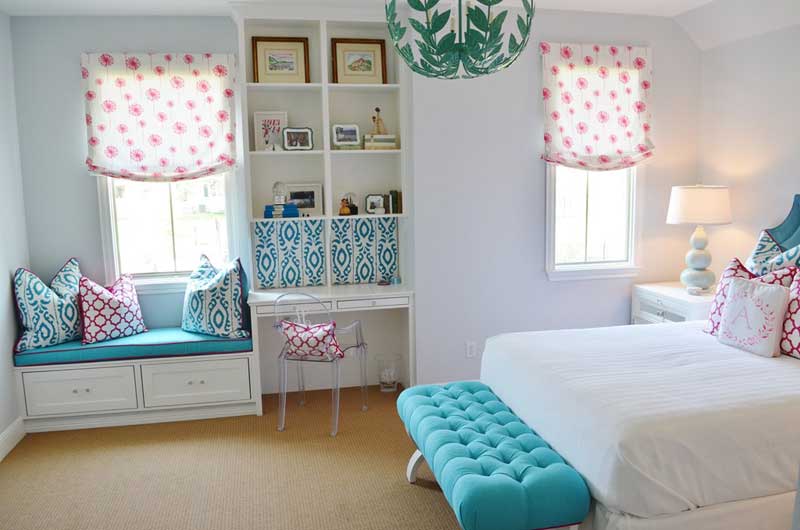 Image via: heatherscotthome.com
Patterns and the color combinations of blue and red work beautifully in this set up as these blends nicely with white bed covers, ceiling and walls. A uniquely designed leaf chandelier is spotted right up the ceiling along with the floral printed window curtains.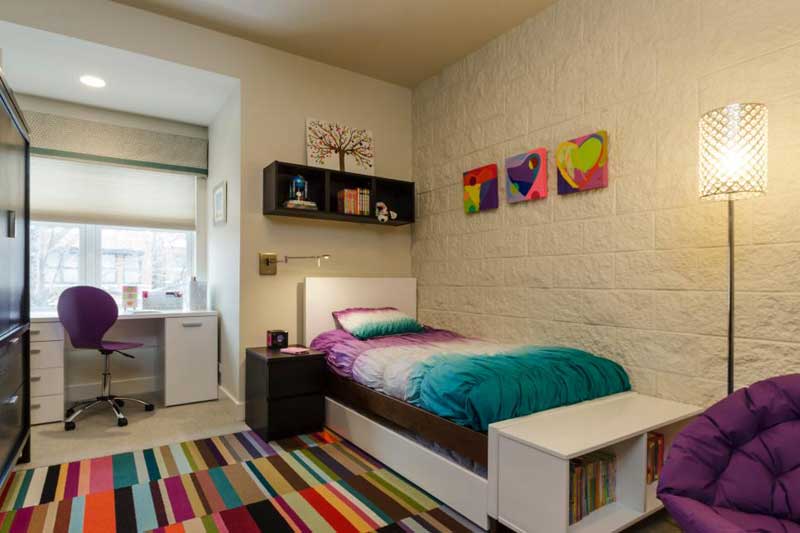 Image via: hgtv.com
This bedroom is quite an explosion of colors and functionality. The striped, multicolor floor rug gives color and warmth to the room whereas the bed is with gradient designed sheet and pillows. The colorful frames, purple study chairs with white vanities, the bookshelf on the edge of the bed and an extra pull out underneath it make this room both bright and comfortable.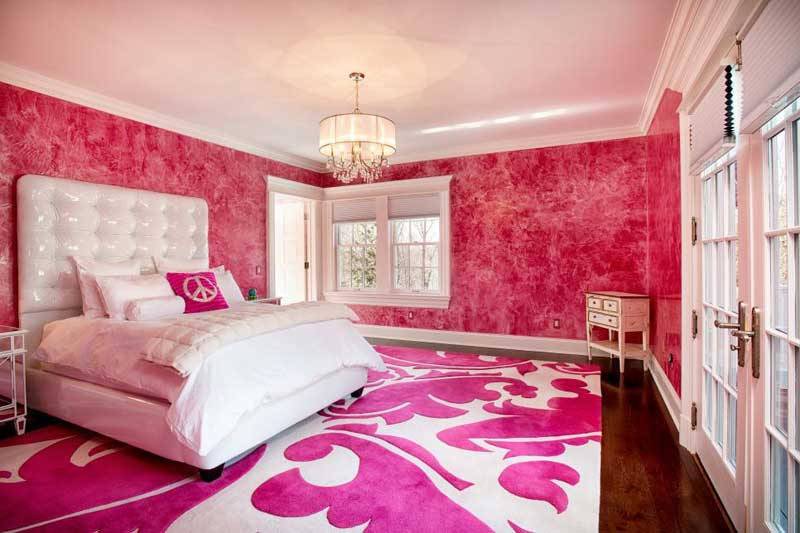 Image via: Houlihan Lawrence
A teenage girl obviously owns this bedroom because of the bright colored designs and patterns on the floor and walls. The full space of this bedroom is only occupied with a few vanities like the corner table, the soft cushioned bed and bedside tables, which is perfect for friends on an overnight fun.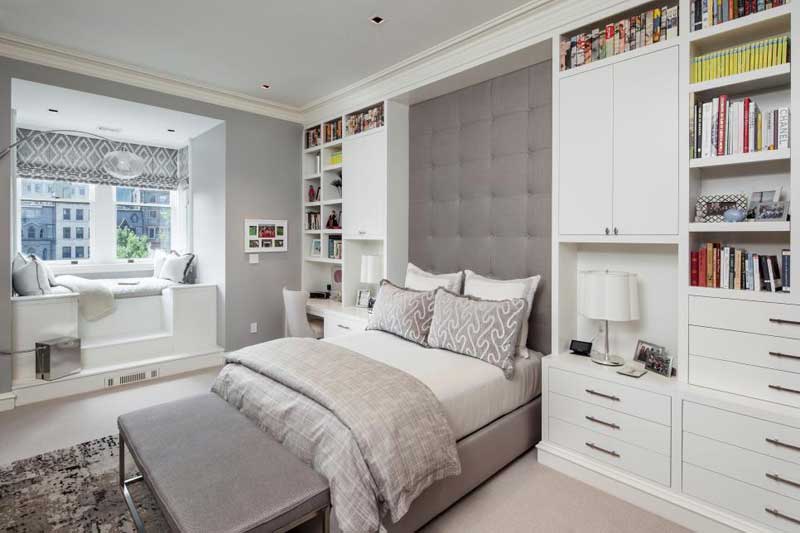 Image via: hgtv.com
This bedroom is pleasant and elegant due to its dimly gray touches on the walls, headboard, curtains, bench, and bedding. The white vanities give it a bright highlight, though. Credits to the high up bookshelves and window seat for the well-served functionality.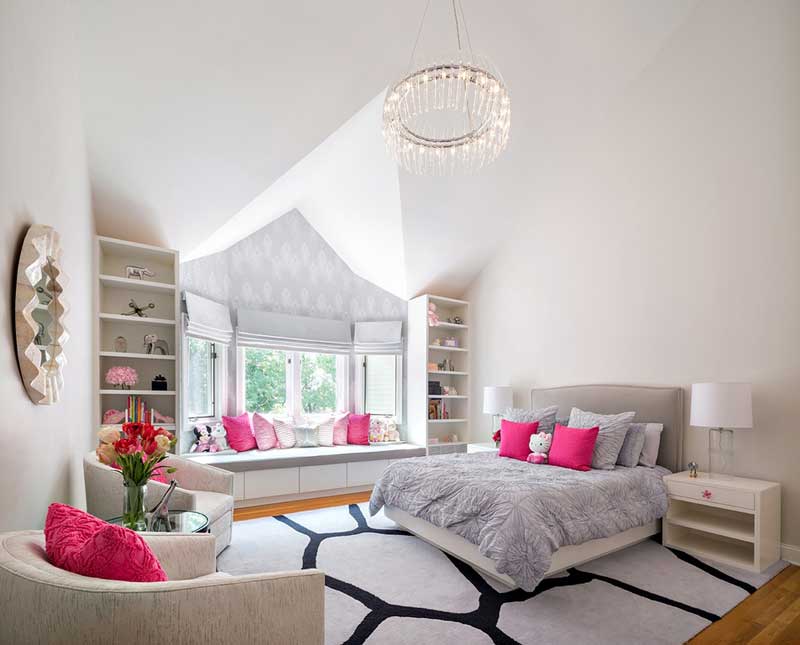 Image via: zillow.com
Hello Kitty and friends seem to sit comfortably in this pretty bedroom. The pink pillows and cushions add brightness to the white and gray combination of this room. The wooden floor is covered with crack pattern rug, and the walls and ceiling are painted in creamy white shades.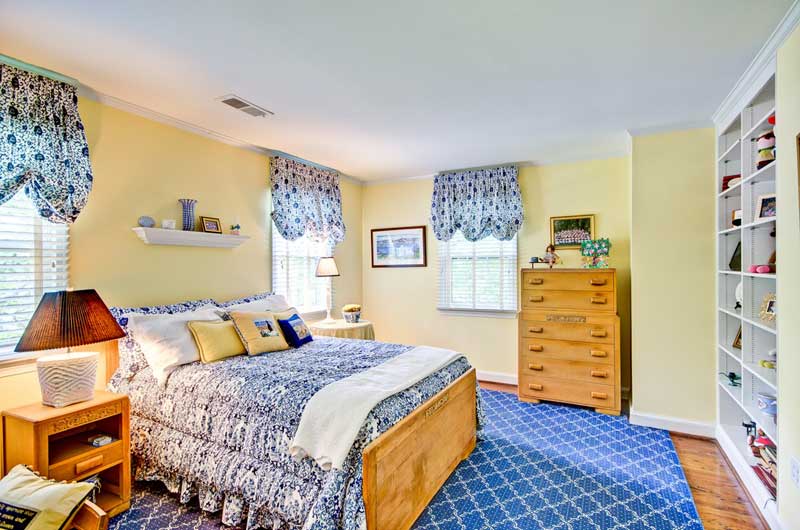 Image via: zillow.com
This room is undeniably cool with the stunning bright blue colors! There is a pattern floor rug on the wooden floor, model bed cover with matching pillows and curtains, a few wood vanities and white shelving for stuff and an overhead shelf for displays.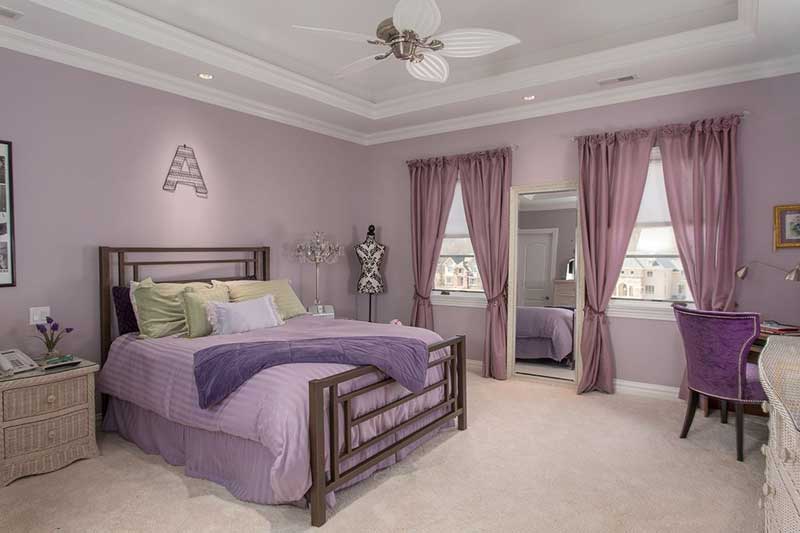 Image via: zillow.com
Different shades of purple seem to dominate this bedroom's color scheme. Starting from the lightest purple on the walls followed by the bed covers, curtains, blanket and the chair. A few addition of native vanities, ceiling fan, decorative dress form mannequin and lampshades are seen here too.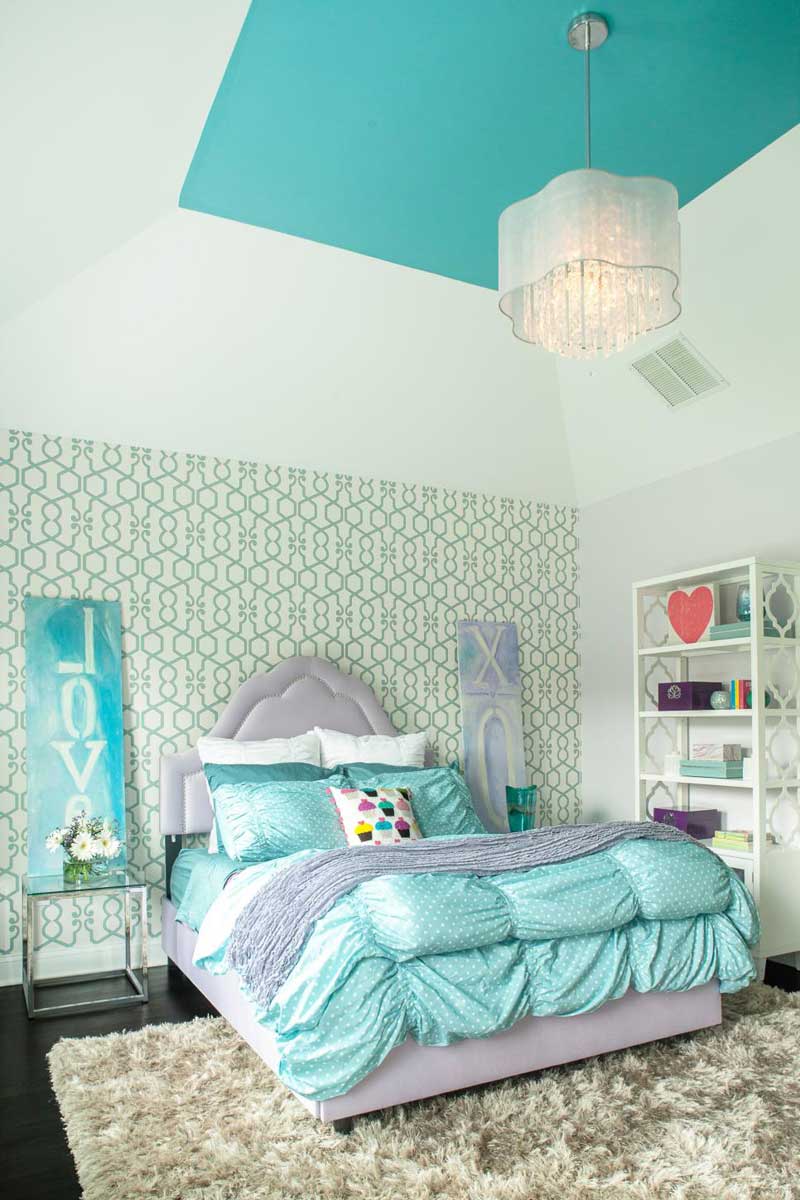 Image via: kbwinteriors.com
This is one satisfying look of elegance and style with its furry floor rug, dotted blue bed covers and pillows, bluish pattern walls, dark floor, decorative shelving and blue ceiling. The love, hug and kisses board on the bed sides give an artsy addition.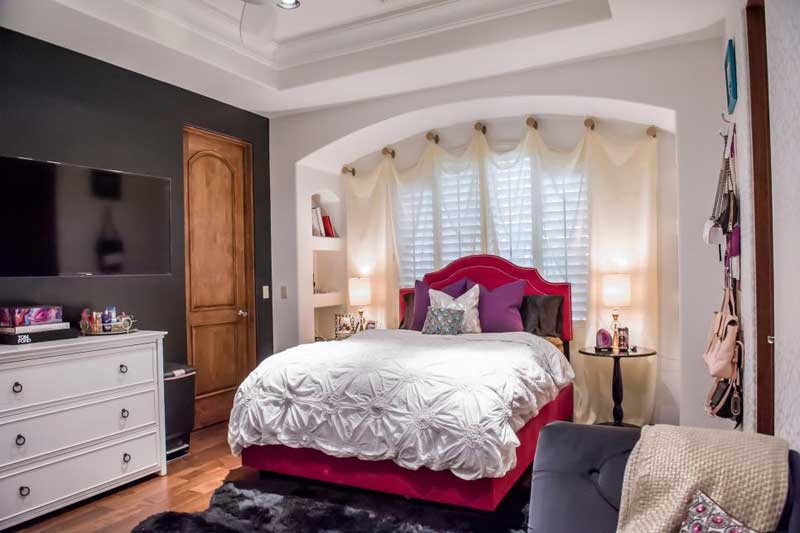 Image via: redeggdesigngroup.com
Isn't it the pink bed that highlights it all? It does stand out amongst the dark wall and stuff inside the bedroom. The floor rug is black as well as the wall, sofa, and a few pillows. Some of the things like the purple pillows and mounted items give extra colorful shades.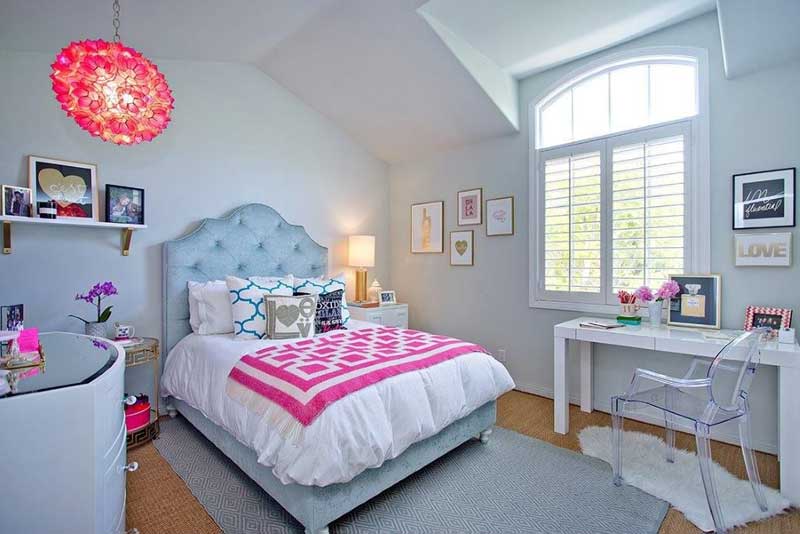 Image via: zillow.com
Gray tones are dim and dull, but when added with a twist of bright pink colors, it becomes lively. This bedroom's walls are shaded in gray as well as the bed and floor rug, but it is highlighted with a pink bed sheet, chandelier, and a few mounted items on desk and shelves.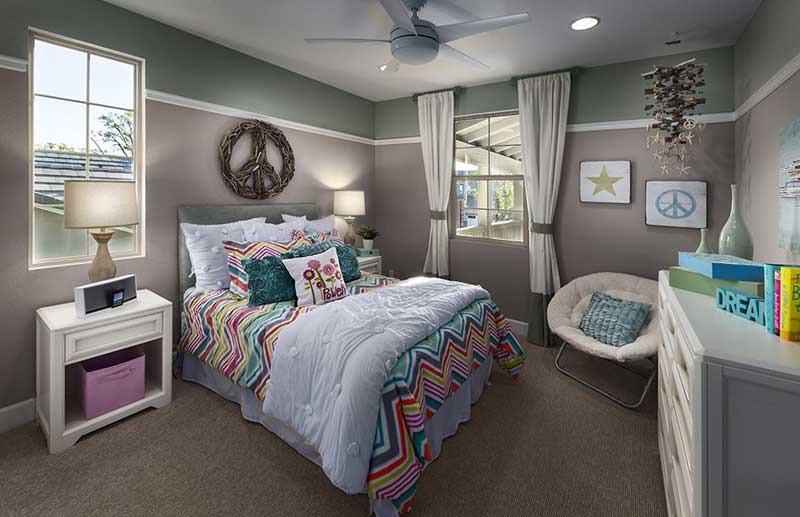 Image via: zillow.com
The colorful zigzag patterns on the bed covers and pillows make an excellent color scheme to this dimly lit up bedroom. The walls, cabinet sides, and ceiling are painted in gray while the floor is covered with a brownish rug. A few personalized collections hang on the wall and ceiling.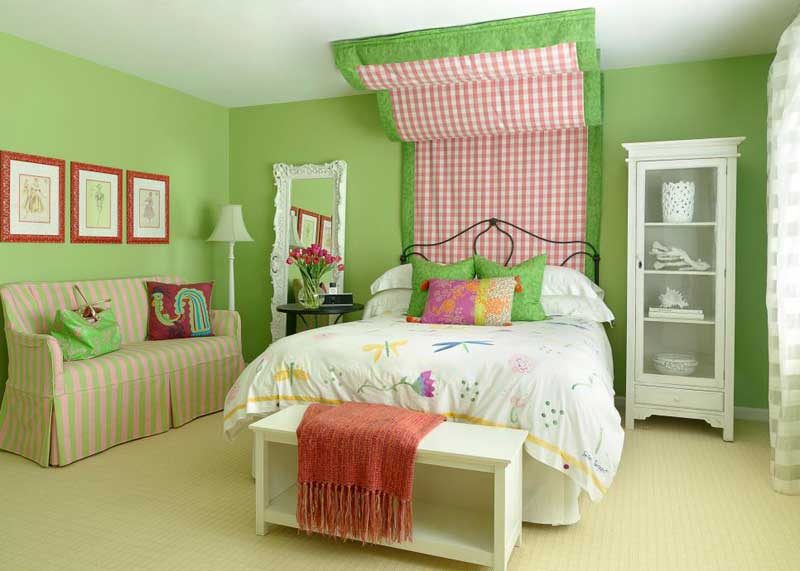 Image via: hgtv.com
This room is as cool and calm as nature. Maybe it is because of the green color shades of the wall, handbag, seat and pillow covers. With accents of pink on them. There are also white vanities present with red frames and red scarf on the bed bench.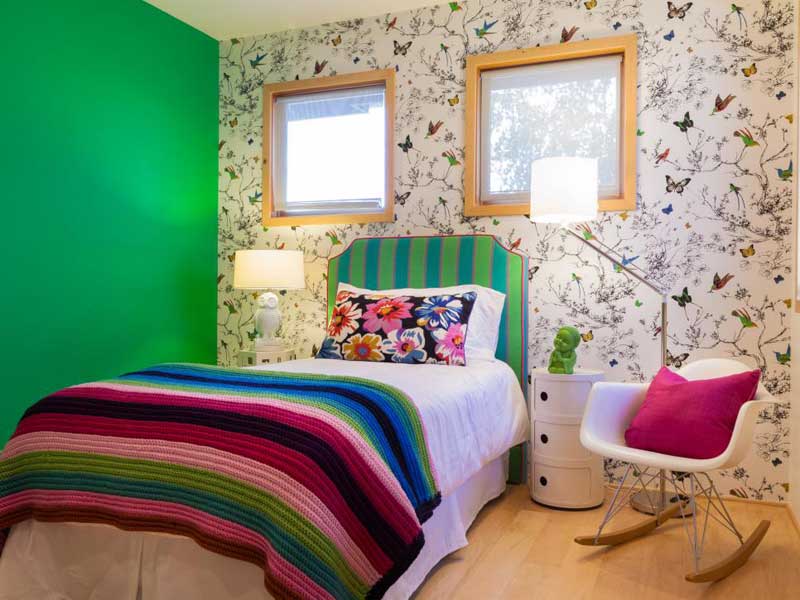 Image via: jacinteriordesign.com
The bed's back wall is printed with the nature-inspired art while on the other wall is a plain green color. The headboard is painted in different shades of green while the hand knit blanket.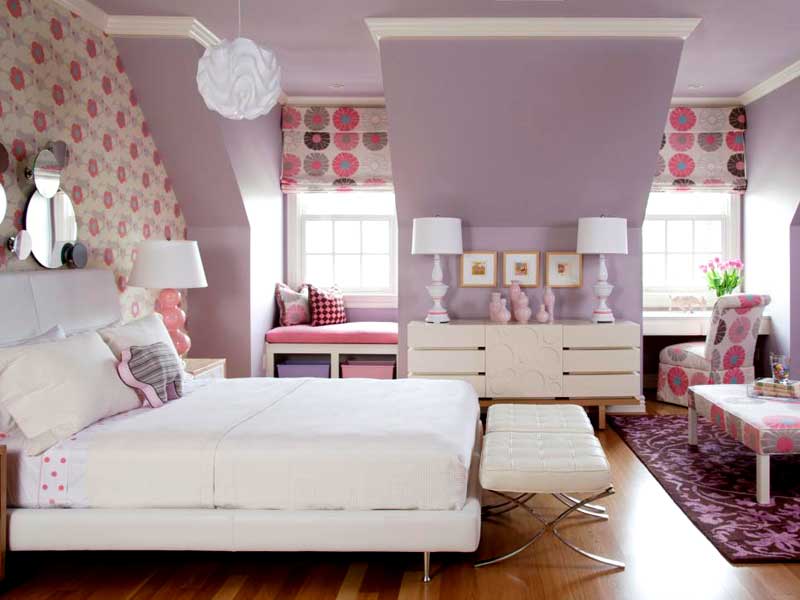 Image via: hgtv.com
Floral and lavender are flooding in this bedroom's walls and furniture. The pillows and window curtains are in floral too while the bedding, bed, bench and cabinet are on their simplest white look. Not only that, the wooden floor is partially covered with dark pattern rug.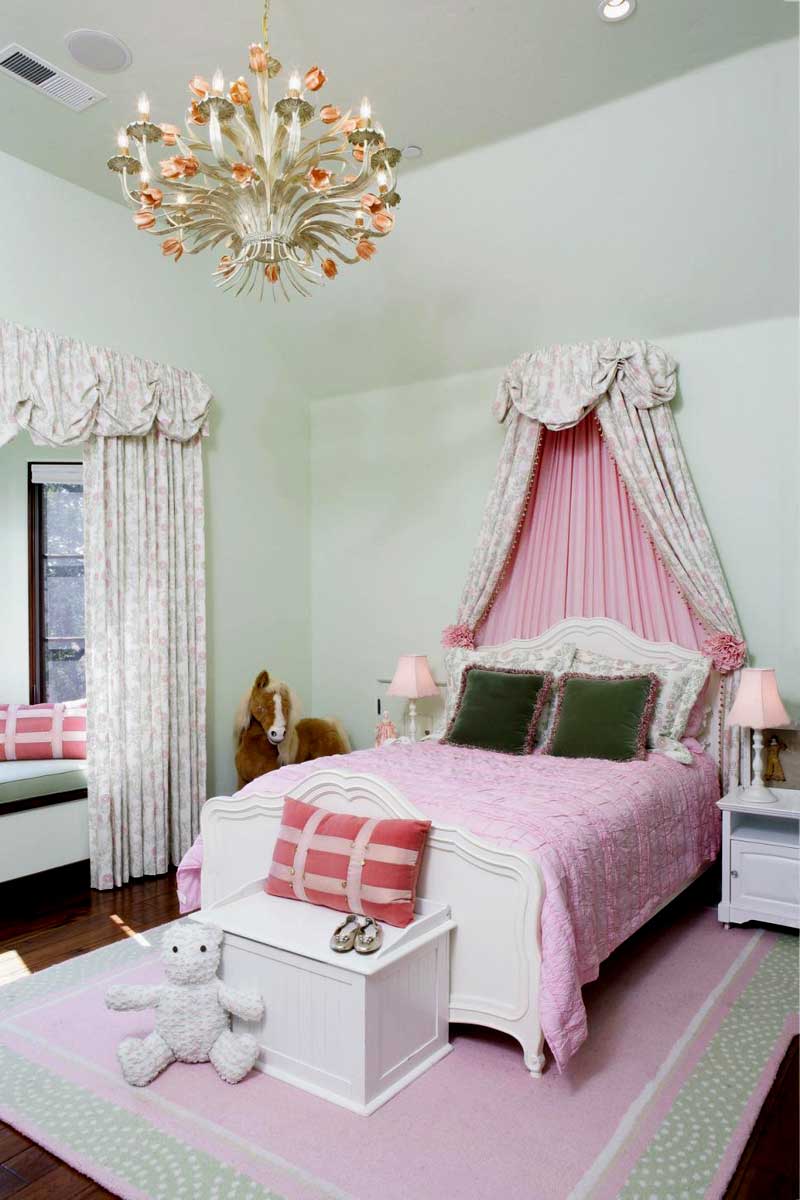 Image via: rkiinteriordesign.com
A very playful looking bedroom with a few kid stuff present, resting on a light pink and green colored floor rug. The bed curtain, bed and pillow and covers have the same colors too. The chandelier looks fancy in its floral design holders.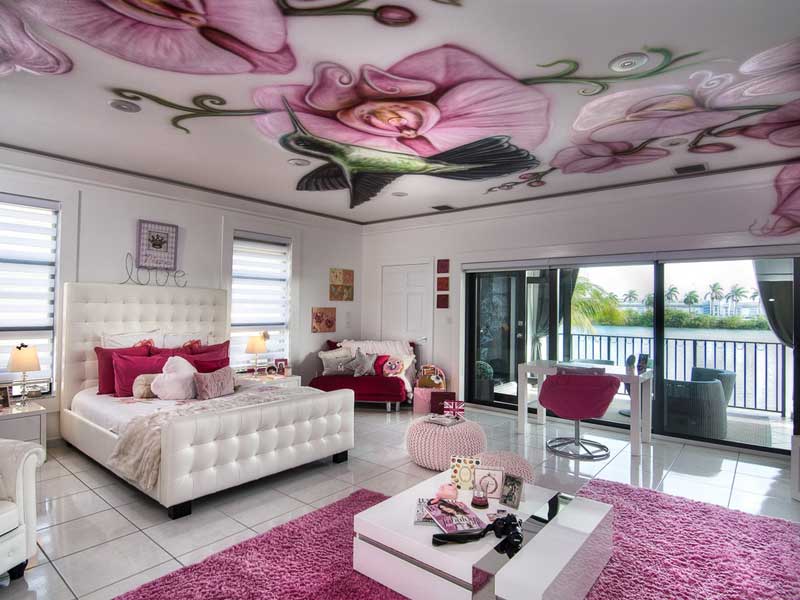 Image via: zillow.com
A very spacious and classy styled bedroom with the bright pink rug on the ceramic tiled floor and pink pillows on a white bed. The corner sofa and chairs are in shades of pink too. The color, uniqueness, and warmth are added by the white ceiling painted with floral and bird designs.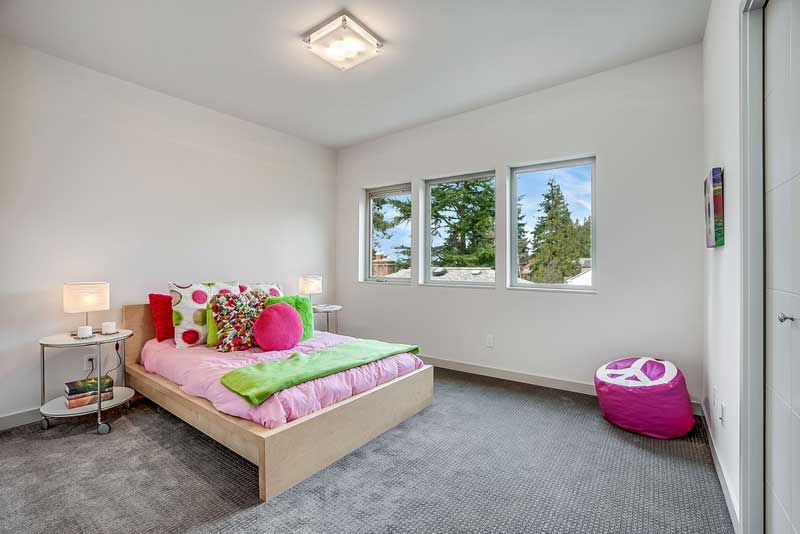 Image via: zillow.com
Limited stuff in the room adds space and elegance. The floor is covered with rug tiling, and the bed is made of wood with pink covered foam mounted with a green blanket and colorful pillows. The pink floor cushion gives a place to relax.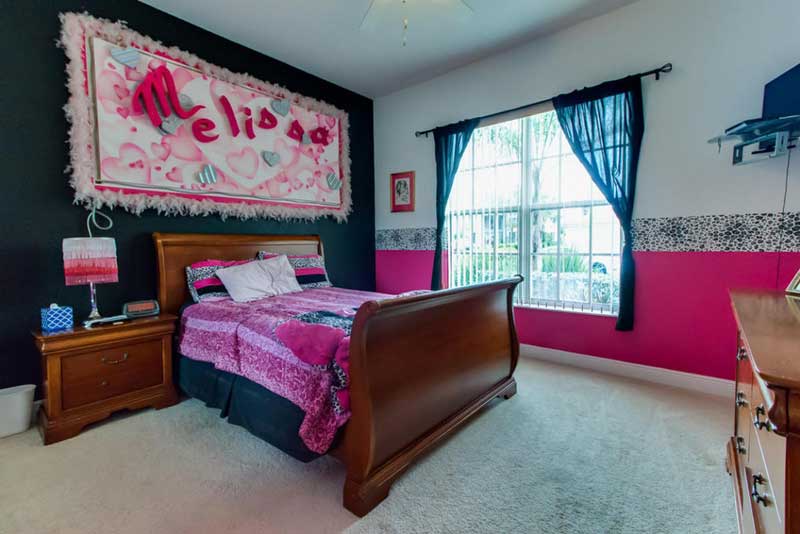 Image via: zillow.com
Melissa is the name written on the fluffy wall frame. This one is highly customized and designed according to the owner's desires. The wall and bed are colored in black and pink. While also present are the hardwood vanities and rug tiled floor.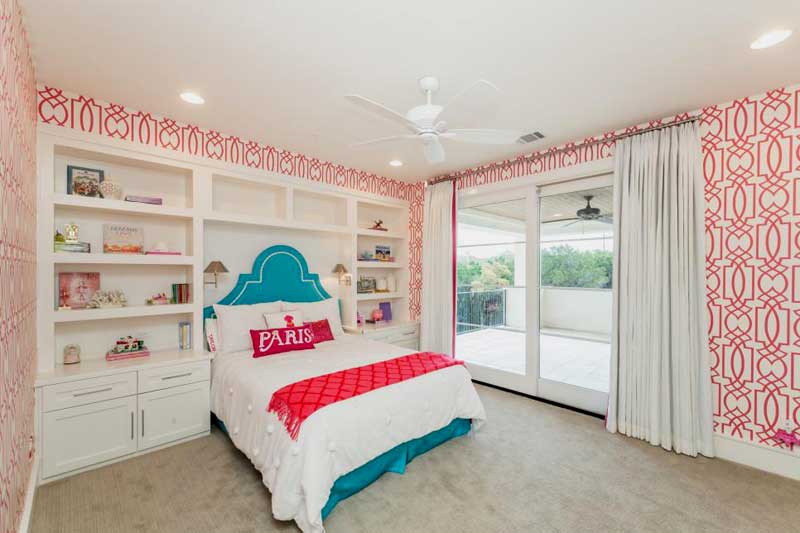 Image via: butterlutz.com
The blue bed is indeed the good looking catch as this accents on a red pattern designed bedroom with white cabinets and shelves. The room has a wide sliding door covered with white curtains.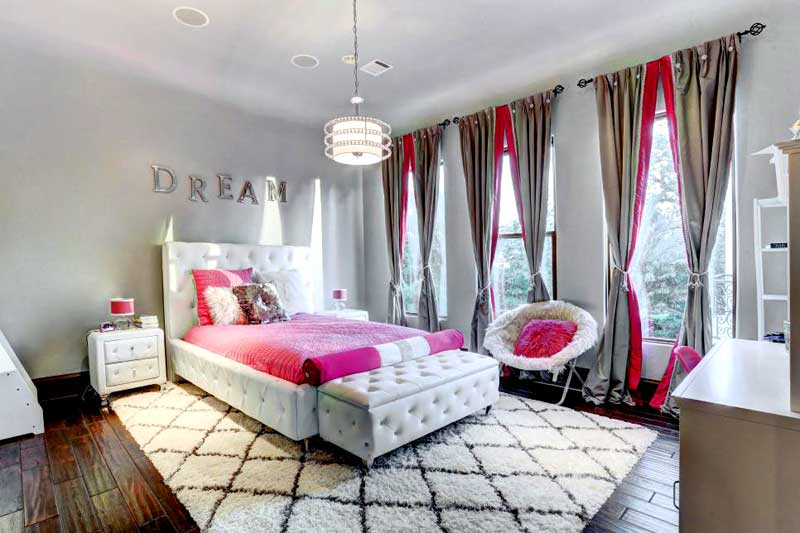 Image via: John Daugherty
The patterned rug on the palette wood floor matches the white tufted bed. On the other hand, the covers and pillows give a nice accent to the white shade. The curtains are in pink and gray colors while the cabinets and walls are in sleek white.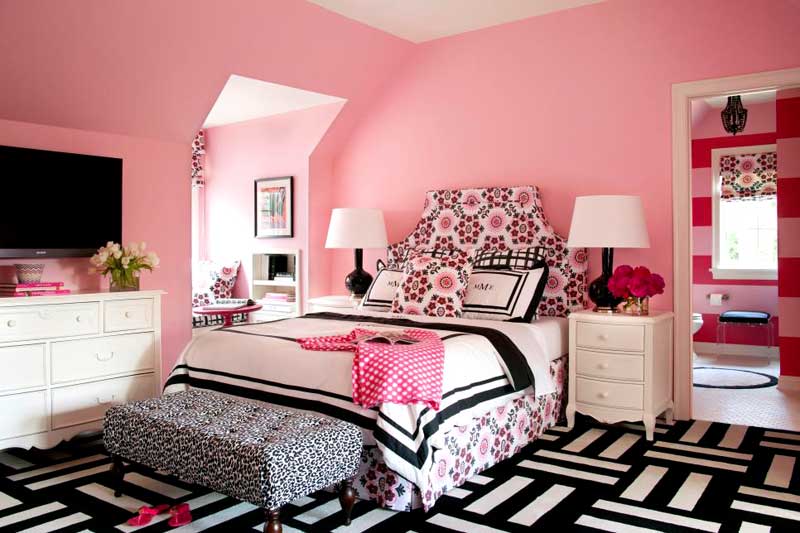 Image via: tobifairley.com
The seamless wall and ceiling are painted in pink while the bathroom walls have pink patterns too. The bed is designed with floral pink, black and white floral patterns while the bed bench is in leopard prints. Most of all, the floor is stylish in its design black and white tiles.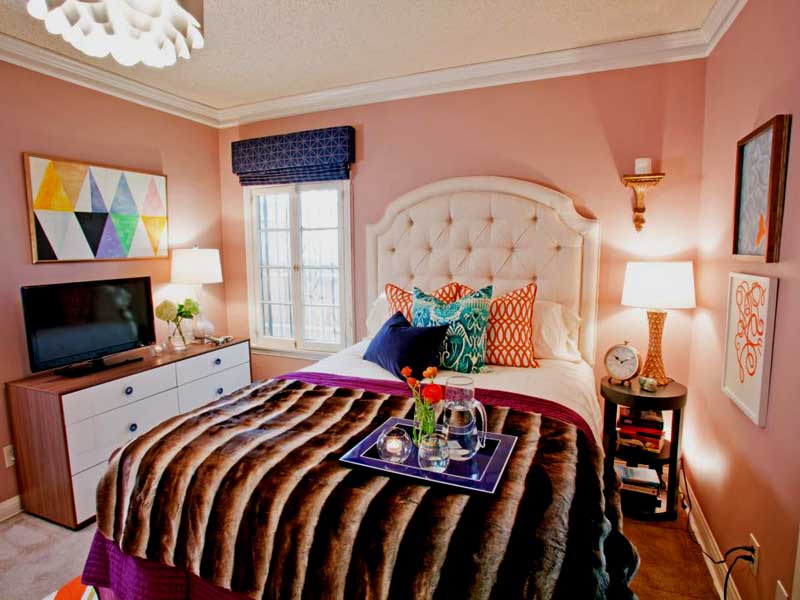 Image via: hgtv.com
The light orange shade on the walls is quite cheerful along with the colorful wall frames and pillows.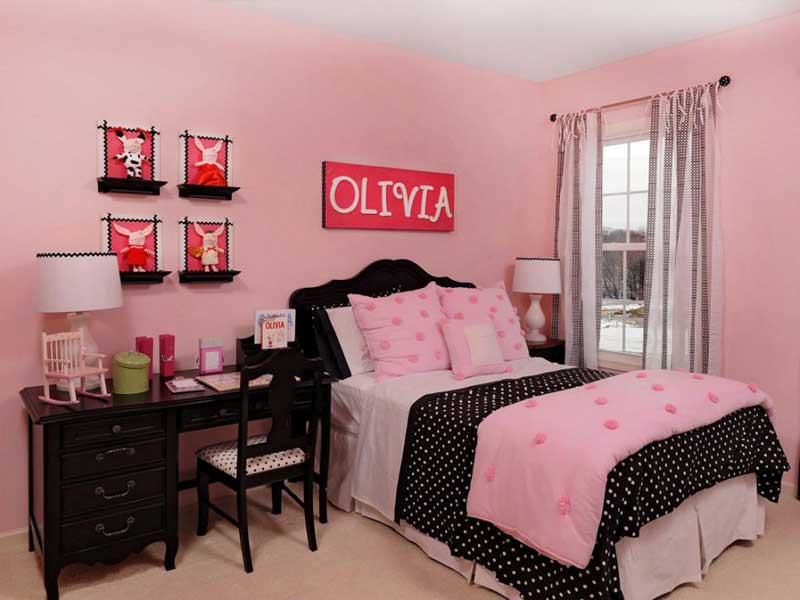 Image via: hgtv.com
This is a highly girlish themed bedroom with the pink wall and floor. The bed covers are in pink and dotted black while the hardwood chair's bottom is in dotted white and black too. The wall is mounted with customized frames and name letters.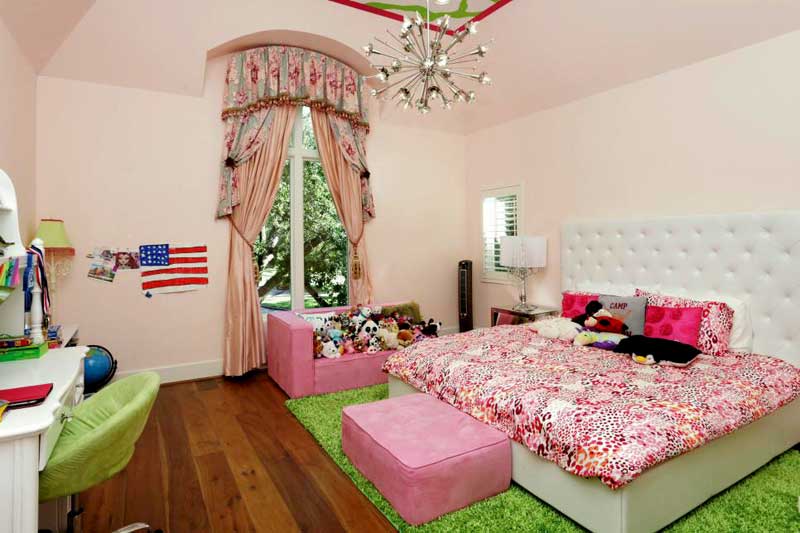 Image via: John Daugherty
Some teenage girls love collectibles, so it is best to have a space for this stuff in their bedroom. These also serve as decorations just like in this preppy pink and green bedroom. The bed covers, sofa, and bed bench are pink while the chair and floor rug are Green.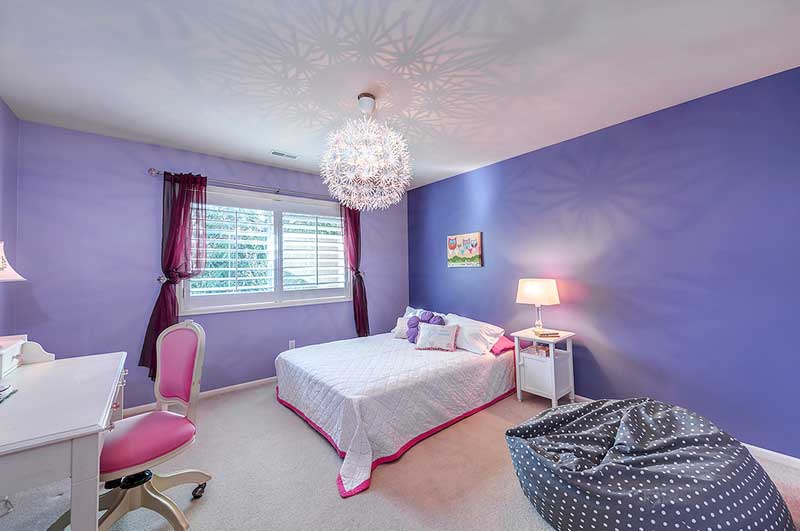 Image via: zillow.com
The walls of this bedroom are coated in shades of purple and are matched with pink accents on the chair and bed cover lining. The floor, ceiling, and tables are white while the floor cushion is in dotted black color.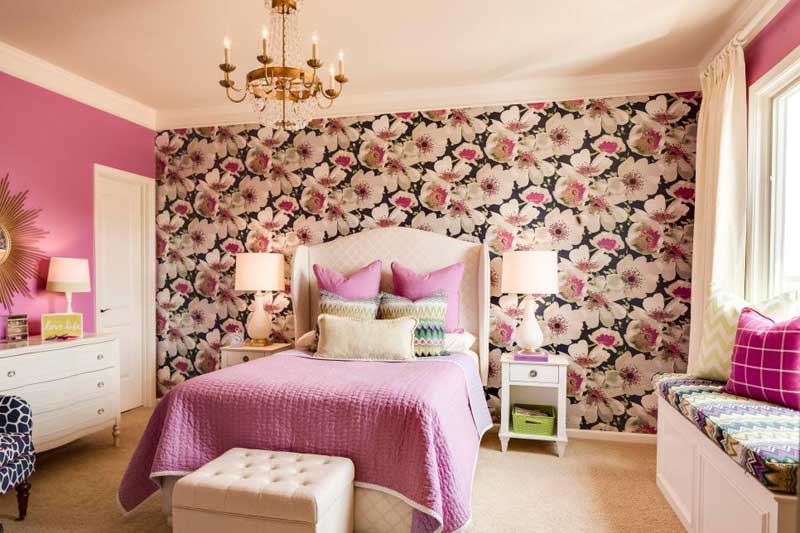 Image via: mccroskeyinteriors.com
The back wall of this bedroom is designed with floral accents. The bed is covered with the colorful pattern pillows and spread, whereas cushions on the window bench are also in the pink shade.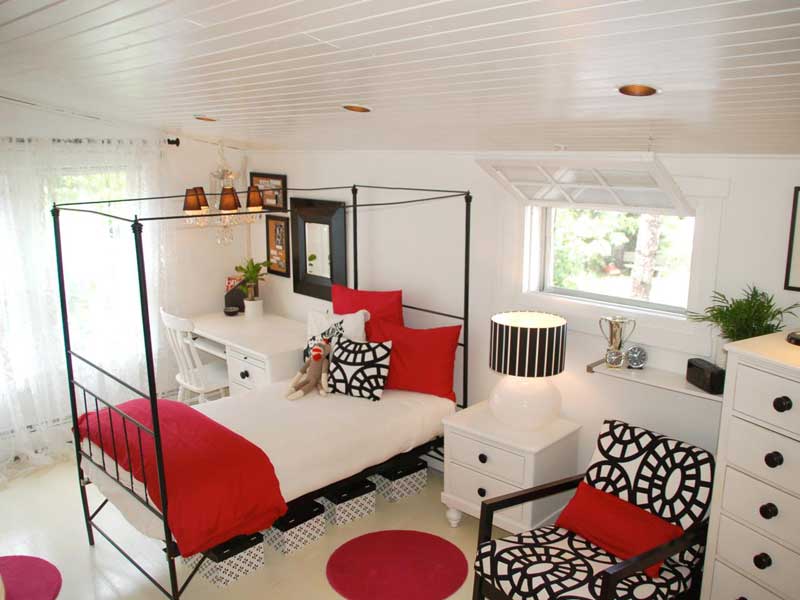 Image via: hgtv.com
The combination of red, black and white color pattern is stylish and cool as the ones on the lampshade, pillows and seat cover. A few of the pattern storage boxes are found under the canopy bed resting on a white floor. The ceiling and walls are as white as the cabinets.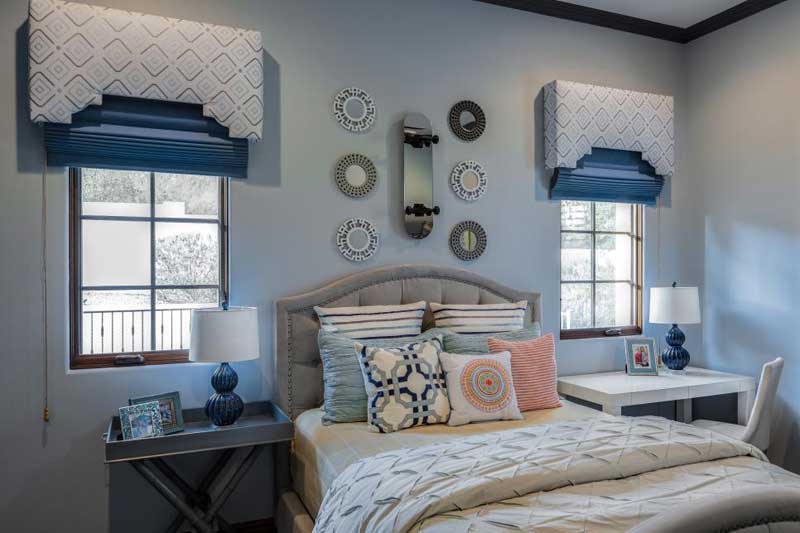 Image via: raeganford.com
An industrial look somehow invades in this bedroom with the soft gray colors on the walls and bedside table. The bed is covered with a gray sheet with pattern pillows. Roller blind boxes are covered with patterns, and the wall is mounted with rounded frames and roller skate-board.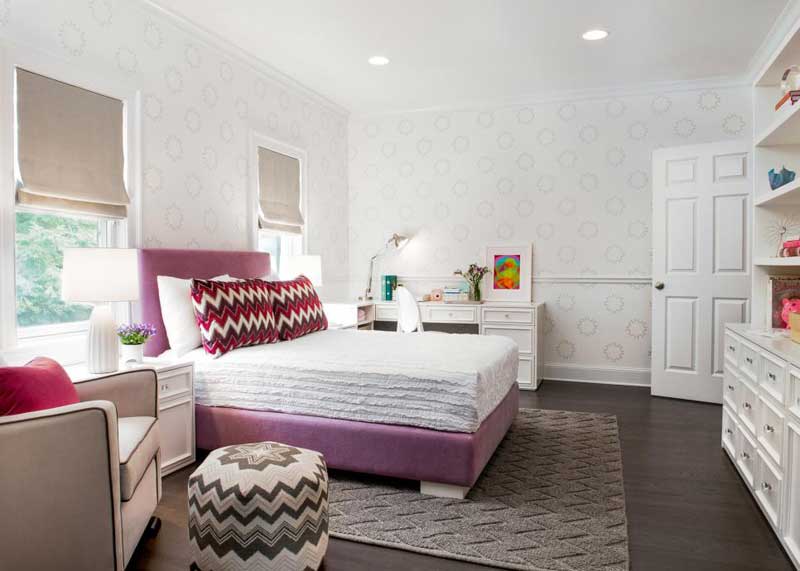 Image via: amyelbaumdesigns.com
Zigzag patterned pillows and pouf sitting on the wooden floor are matching to the soft floor rug. Found inside this bedroom is a soft lilac bed with purple bottom and headboard, soft armchair, white cabinets and white paneled walls with large dotted patterns.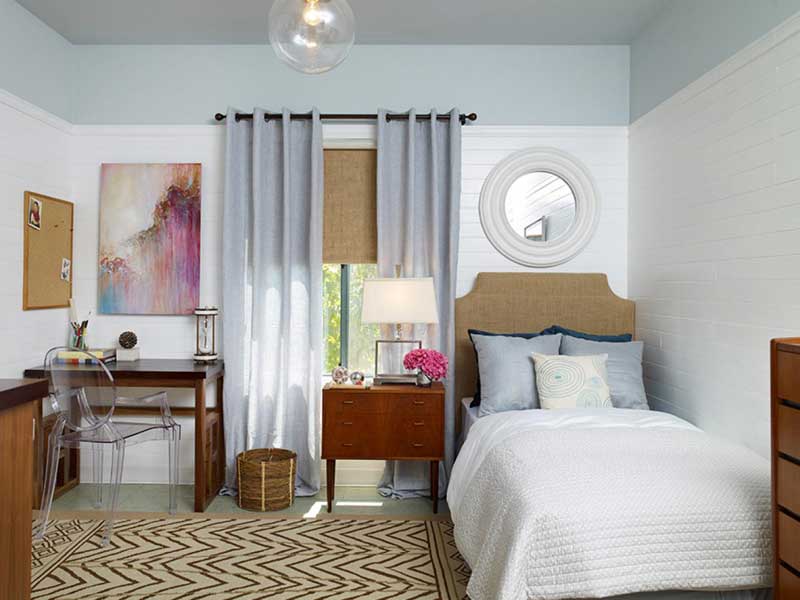 Image via: hgtv.com
This compact bedroom is highly maximized with furniture and vanities. You will see shades of earth colors on the pattern floor rug, headboard, native basket, tables, and cabinets. The walls are painted in white while a few colors in the frame and pillows give a beautiful accent.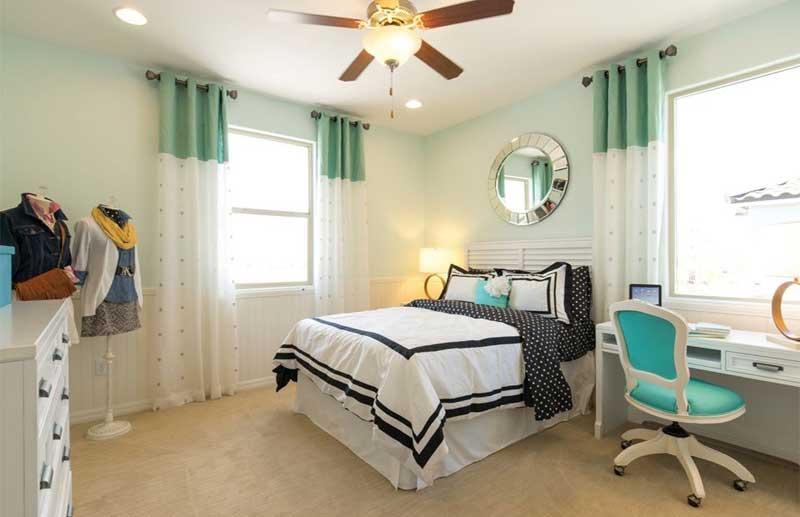 Image via: zillow.com
Bluish green chair, curtains, and pillow accent the dotted black and white bed and pillows. The room's walls are painted in white while the floor is in a brownish shade. The mannequins are get up with trendy dresses.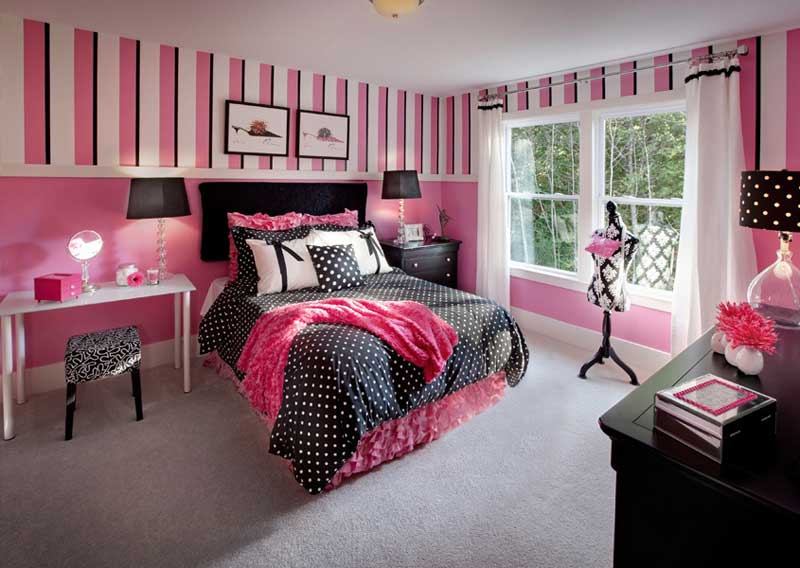 Image via: zillow.com
The combination of Pink and black is so unique and fabulous. The bed and pillow covers are in dotted black and pink ruffles. The matching lampshades and the walls painted in striped pink and black make this room a perfect choice who wants to decor their room with flow and perfection.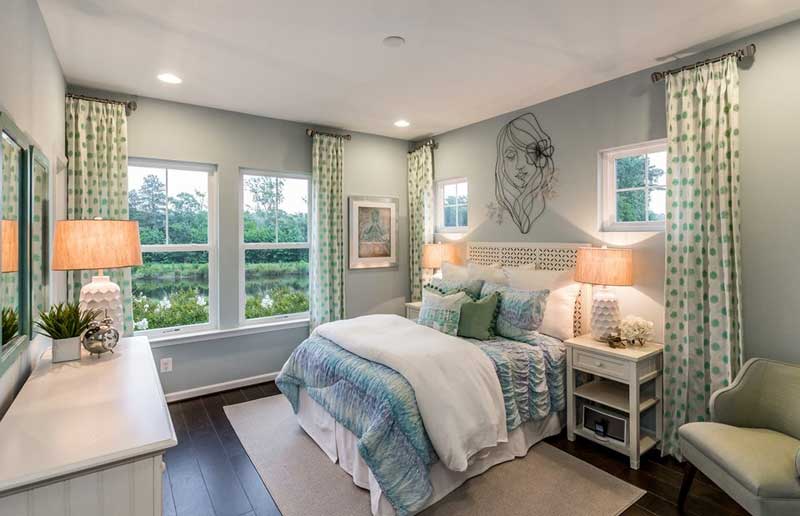 Image via: zillow.com
Polka dots curtains in shades of green are adding beauty to the wide window while the matching graying and chair are resting on the wooden floor. The soft bed is covered with a bluish and white sheet with matching pillows. On the gray wall,  the artsy frame and woman figure add life to the wall.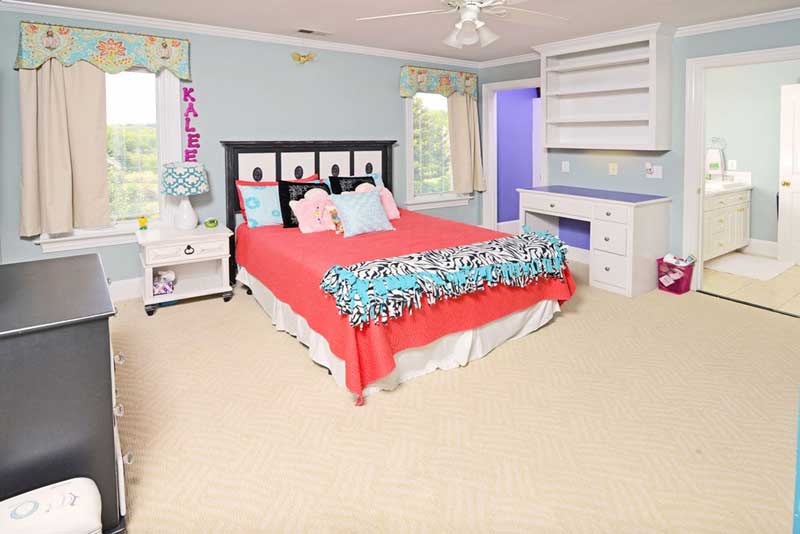 Image via: zillow.com
The red sheet stands out among the other colors. The bed is filled with colorful pillows and a patterned blanket. The wall is painted in light blue color while the bathroom wall is painted in blue violet, the same with the table top sitting under the hanging white cabinet.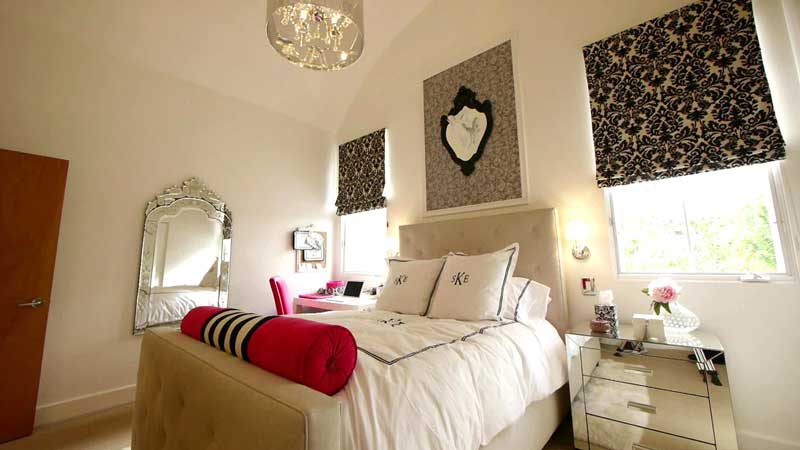 Image via: hgtv.com
With a white background, black is always the best accent as displayed on the walls. This room is furnished with a bed with white pillows and sheets, silver cabinet and a wall mirror. In addition to the black and white combination, the red bolster pillow and chair give life to the room.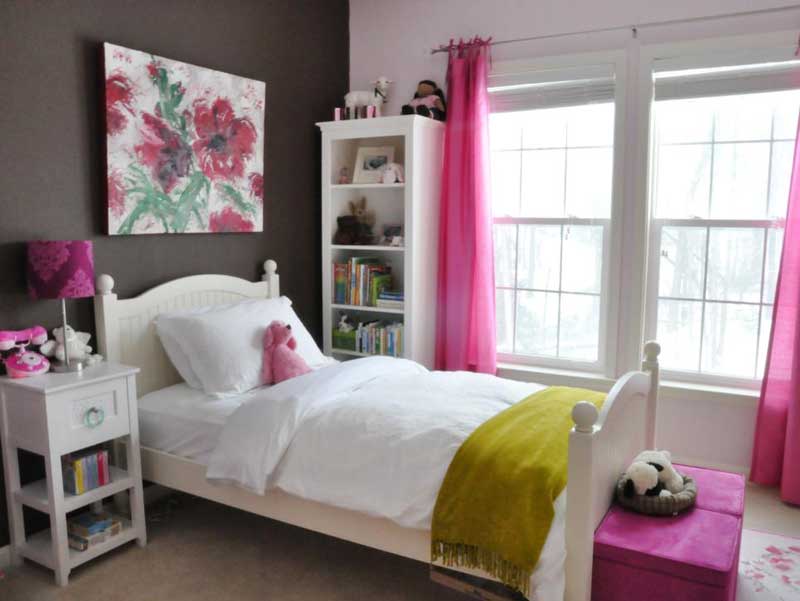 Image via: hgtv.com
Pink is often described as the girls' favorite color. This is why this white bedroom is accented with pink bed bench, toys, lampshades, and curtains. The pink floral accents on the frame and floor added the touch too.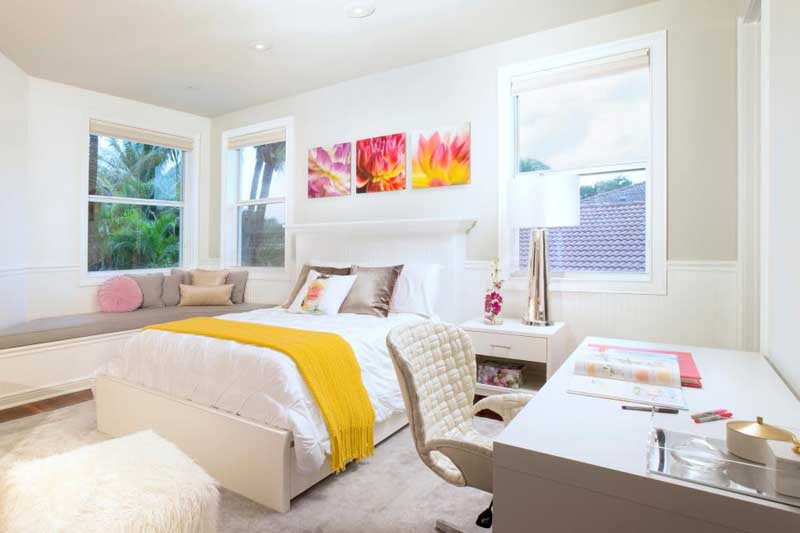 Image via: dkorinteriors.com
While most of the teenage girls' bedrooms are furnished with pink color, this white bedroom is highlighted with yellow. The white color is prominent in this room aside from the pillows, the bench foam, and the wall frames.