10 Best Color Area Rugs for Dark Hardwood Floors
Ask any interior decorator worth their salt, and they'll tell you that nothing beats dark hardwood when it comes to interior flooring.
Wooden floors are not only easy to clean, but they also lend a certain class and character to your home. And in case you're worried about the hard surface, you can always place a rug to accentuate the dark colors of the wood.
Today we have a list of the 10 best rug colors for dark hardwood floors to help you do just that. These products have been handpicked for such flooring and can work wonders with any home decor.
Let's take a look.
10 Best Color Area Rugs For Dark Hardwood Floors
1. Rust
Buy on Amazon
Rust is one of the natural colors that go best with any dark hardwood flooring. Case in point, the beautiful Ethel Medallion Fringe Area Rug from nuLOOM. Designed to withstand daily wear-and-tear, this rust-colored rug goes well with any area of your house.
The adequate pile height ensures that it works well in doorways and underneath furniture without any obstruction. At the same time, the 1-inch fringe detail on either end provides just the hint of style needed. In short, such a rust rug can work well with a dark hardwood floor in any room.
2. Light Gray
Buy on Amazon
The next color of choice that we have for you is light gray, another versatile selection that makes for a striking fashion statement. Just take a look at this Safavieh Adirondack rug, and you'll know what we're talking about.
Made from high-quality polypropylene fiber, this is a durable rug that promises to last longer than most in the category. The contemporary designs, coupled with the light gray hue, help bring out the character of hardwood in any room. And the best part is that you can get this product at a highly affordable price and avoid any pocket-pinch.
3. Silver
Buy on Amazon
Silver is the color of sophistication, and this Rivet Medallion rug lends exactly that quality to your dark hardwood flooring. The abstract marble design of the rug, together with high-quality weaving, provides the perfect combination of comfort and durability.
We like how the silver of the rug contrasts against dark floors. Add to that the marbled design and medium pile, and this rug is ideal for medium traffic indoor areas. At the same time, the mixture of polypropylene and polyester makes this easy to clean and maintain. Overall, if you're going for silver, you can't do better than this.
4. Blue And White
Buy on Amazon
A combination of blue and white goes well with any color, and for dark hardwood floors, this rug from Stone & Beam can work wonders. Made from 100% high-quality wool, this imported rug can be a great addition to your home.
The interlocking white-on-blue hourglass pattern of the rug provides a contemporary look and feel. At the same time, the two-tone color palette offers the perfect combination of understated modernity. All this, together with the durable weaving, makes this product ideal for blending in with any existing home decor.
5. Navy And Light Gray
Buy on Amazon
Whether you live in an apartment or a house, navy and light Gray can be the ideal combination for any dark-colored flooring. Just take this traditional oriental rug from Safavieh, which can lend a look of elegance and sophistication to any home.
Made from high-quality polypropylene, it provides a great combination of durability as well as comfort. The rug is entirely non-shedding and sports a low, sleek design and a mere 0.25-inch pile. Add to that the navy/light gray design, and you've got a product that can accentuate the decor of any home effortlessly.
6. Brown And Rust
Buy on Amazon
We've already mentioned rust as one of the colors that go great with dark hardwood floors. Now, we have for you a combination of rust with brown that can lend a special class to your home.
This rust and brown oriental-design rug from Safavieh can give your home a contemporary accent. The soft polypropylene fibers give the rug a luxurious look and feel, and the low pile height of 0.1-inches ensures zero obstruction. We particularly like the traditional artwork, which sets this rug a class apart from the rest.
7. Ivory And Slate Blue
Buy on Amazon
A combination of two rare colors, ivory and slate blue works wonderfully with any style of decor. As this Moroccan style rug from Safavieh well demonstrates, the geometric design of the rug is perfect for lending a designer look and feel to your rooms.
Made from polypropylene that's soft to the touch, this durable yet delicate-looking rug exudes comfort. The thick, 2-inch pile ensures that your feet sink in deep, and the high-quality material doesn't allow any shedding to take place. Overall, combined with any dark hardwood floor, this rug is enough to make your home the talk of the neighborhood.
8. Light Blue
Buy on Amazon
Light Blue is a color that never really goes wrong anywhere, and with dark hardwood floors, it goes exceptionally well. Don't believe us? Well, then feast your eyes on this chic, Bohemian-style light blue area rug from Nourison.
Made from stain and fade-resistant material, this product provides long term usability and doesn't shed. At the same time, it's easy to clean and can act as the perfect centerpiece for any room or entryway. The half-inch pile height ensures no obstruction, and the edges provide a clean yet contemporary look.
9. Light Gray And Pink
Buy on Amazon
If you're a fan of lighter shades, then a combination of light gray and pink is ideal for your hardwood floors. The lighter colors contrast nicely with dark flooring and make sure any guests notice both the rug and the floor beneath.
As illustrated finely by this polypropylene-made Persian rug from Nourison, light gray and pink is ideal for any room of your house with moderate traffic. Easy to clean and maintain, this product delivers high-quality yet stylish performance. We recommend using it with a rug pad to ensure zero slippage.
10. Orange And Navy
Buy on Amazon
As far as color combinations go, orange with navy is ideal for any home decor. And as this traditional rug from Artistic Weavers demonstrates, this is true of dark hardwood floors as well.
Made from high-quality polypropylene, this rug is 100% kid and pet friendly and can withstand high traffic areas such as the living room. The traditional yet timeless design gives a gorgeous look to your home. Along with that, it's easy to clean and maintain, which makes it ideal for use underneath furniture.
Buying Guide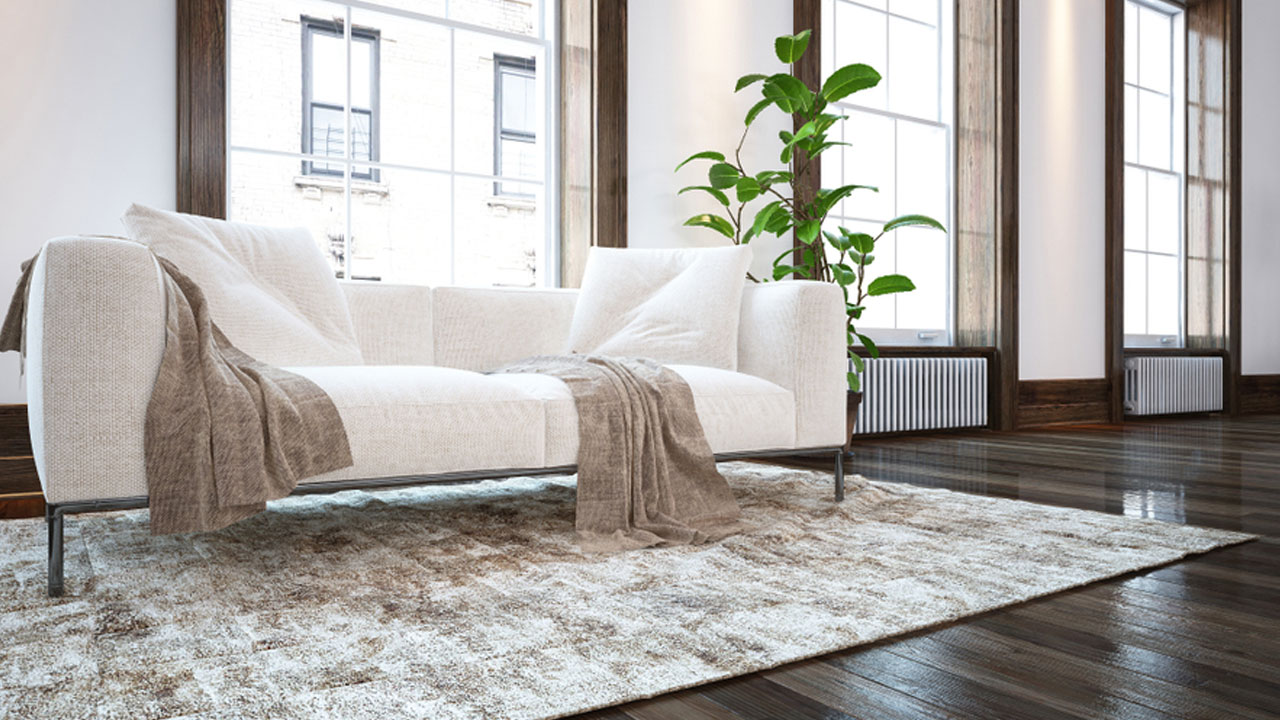 Selecting the best rug color for a dark hardwood floor is easier said than done. Such flooring lends an air of elegance and sophistication to your home. At the same time, the choice of carpeting can make all the difference between a stylish and depressing room.
That's why, when you're selecting a rug color for any dark hardwood flooring, you need to keep a few things in mind. First and foremost, you have to think about the existing decor of your house, the wall colors, and the furniture of the room that you're going to use the rug in.
You'll want to create a contrast with the dark wooden floor, which means you should opt for a lighter colored rug. This will help to bring out the room's decor and draw attention to each element.
Another way you can go is to select a darker shade of rug with areas of lightness. This helps create an appearance of subdued elegance. In case you have dark wood furniture, we recommend adding a vibrantly colored rug that helps make the room come alive.
Conclusion
So, now that you have a better idea about the different rug colors that go best with dark hardwood floors, you can make a better decision regarding which to choose. However, we do recommend that you keep not only the color but the product quality in mind as well.
The choice of rug color depends to a large extent on your interior decor and floor color. You need to settle on the right shade of rug that can help to bring out the beauty of your decorative elements.
However, at the end of the day, your personal choice will play a major role in deciding which rug color you want to select. Just don't forget to choose one that helps to accentuate your room, and you'll be good to go.
That's all for now, till next time!