10 Curtains Over Kitchen Sink Ideas
Ready to sprinkle some charm over that kitchen sink of yours? It's not just a workspace—it's a canvas for your home's personality. Whether scrubbing pots or rinsing veggies, the window area can be a focal point that elevates your kitchen. Forget the notion that curtains are old-fashioned or irrelevant. Our list of curated styles will convince you otherwise. From classic to quirky, we've got something that fits your vibe. Let's turn that overlooked sink window into a style statement you'll love.
1. Cafe Curtains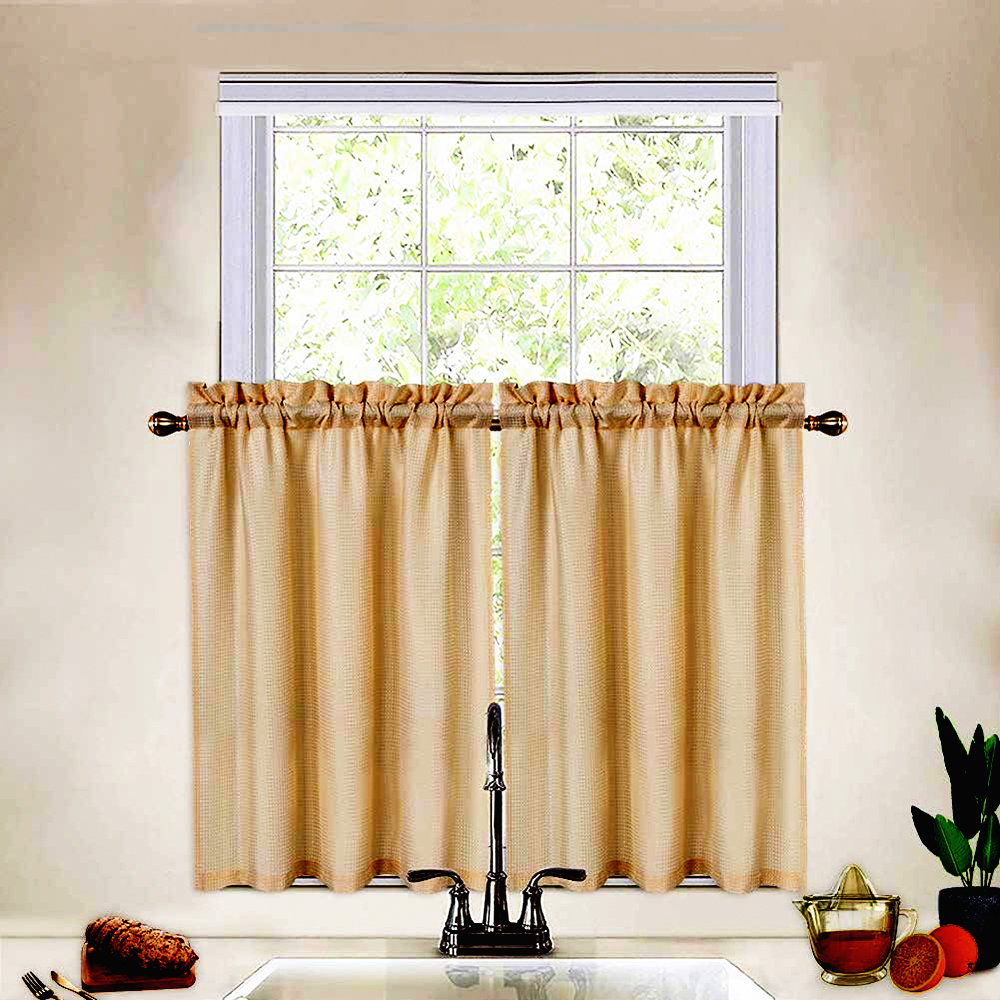 When you think of cafe curtains, imagine sipping a cappuccino in a quaint French bistro. These curtains exude a timeless old-world charm. Think of them as the comfort food of window treatments!
Now, let's talk functionality. Cafe curtains are designed to cover just the lower half of your window. What's the big deal? It's all about balance. Keep the top half open to let in that glorious sunlight. So you won't feel like you're in a cave. But wait, there's more! That lower half? It shields you from prying eyes. Yep, you can dance around your kitchen in your pajamas, and the world will be none the wiser.
2. Roman Shades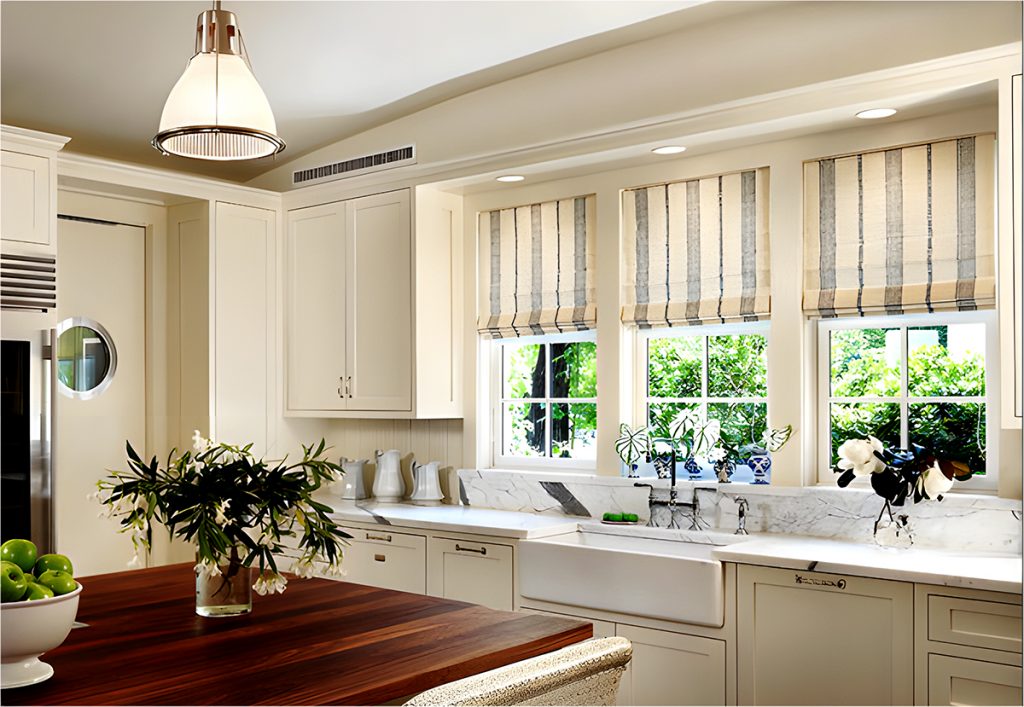 Let's shift gears and talk Roman shades, a favorite for the design-savvy homeowner. Their clean lines and tailored appearance make them an instant modern classic. It's like putting a well-tailored suit on your windows—they just look sharp!
One word: versatility. Roman shades offer complete privacy when you need it. Pull them down, and you've got yourself an elegant backdrop. Need more sunlight? Just pull them up, and they fold neatly into themselves. No fuss, no muss.
But here's the kicker: these shades are not a one-size-fits-all deal. You can pick from an array of fabrics, patterns, and textures. So whether your kitchen leans toward minimalistic or eclectic, there's a Roman shade that'll fit right in.
3. Valances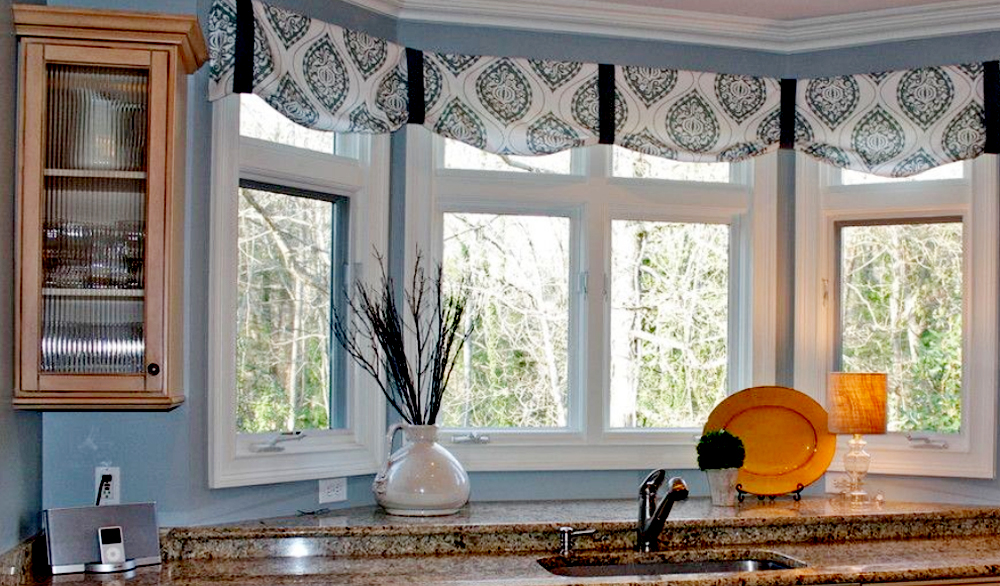 Valances are the epitome of refined style. They're like the crown molding of your windows—a slight touch that makes a significant impact. Often rich in fabric and available in various designs, they evoke a sense of tradition and elegance.
Here's the beauty of a valance: it doesn't take over your window. It just adds a decorative layer at the top, leaving the rest of the space open. This means you still enjoy an unobstructed view and heaps of natural light. But that's not all; valances can hide less-than-stellar curtain rods or hardware, making everything look polished and cohesive.
Material-wise, you've got options galore. Choose a fabric that complements your kitchen decor, from luxe silk to textured linen. Want to amp up the drama? Go for a valance with ruffles or a scalloped edge.
In a nutshell, valances allow you to inject traditional glamour into your kitchen without compromising on the practical stuff. Valances are the way to go if you want to add a touch of sophistication with zero fuss.
4. Sheer Curtains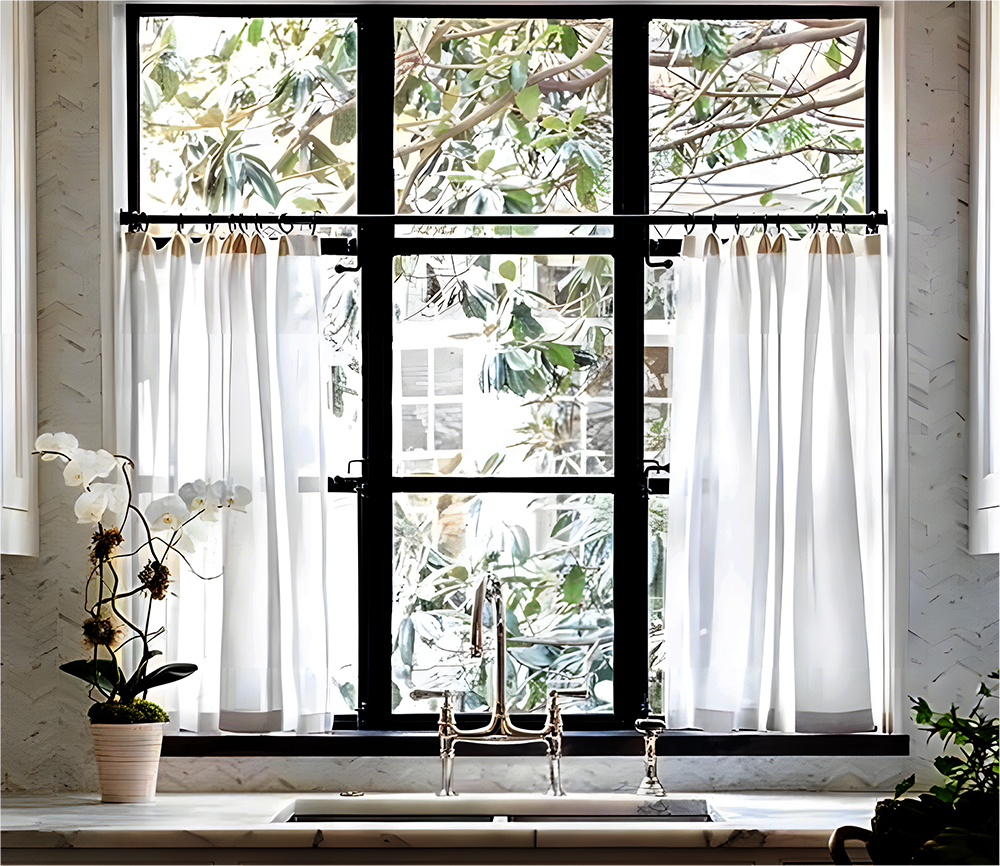 Imagine a light breeze drifting through your kitchen, gently lifting delicate sheer curtains. This is the stuff of daydreams! Sheer curtains make your space feel open, airy, and incredibly inviting. It's the ultimate "less is more" statement in window decor.
The magic of sheer curtains lies in their ability to let in abundant natural light while providing privacy. They softly filter sunlight, casting a warm, flattering glow over your kitchen. No harsh glare or gloomy spots here!
But wait, let's talk versatility. Sheers are like the chameleons of the curtain world. They can stand alone for a minimalist vibe or pair with heavier drapes for a layered look. You can even experiment with colors and patterns if you're feeling adventurous.
And don't forget, sheer curtains are typically easy to maintain. Most of them are machine-washable, making life just a bit simpler for those of us who aren't big on house chores.
Bottom line? If you're after a light, dreamy kitchen where you can sip your morning coffee peacefully, sheer curtains are your go-to. They balance aesthetics and functionality, making them a top pick for anyone craving a bright, welcoming kitchen atmosphere.
5. Bamboo Blinds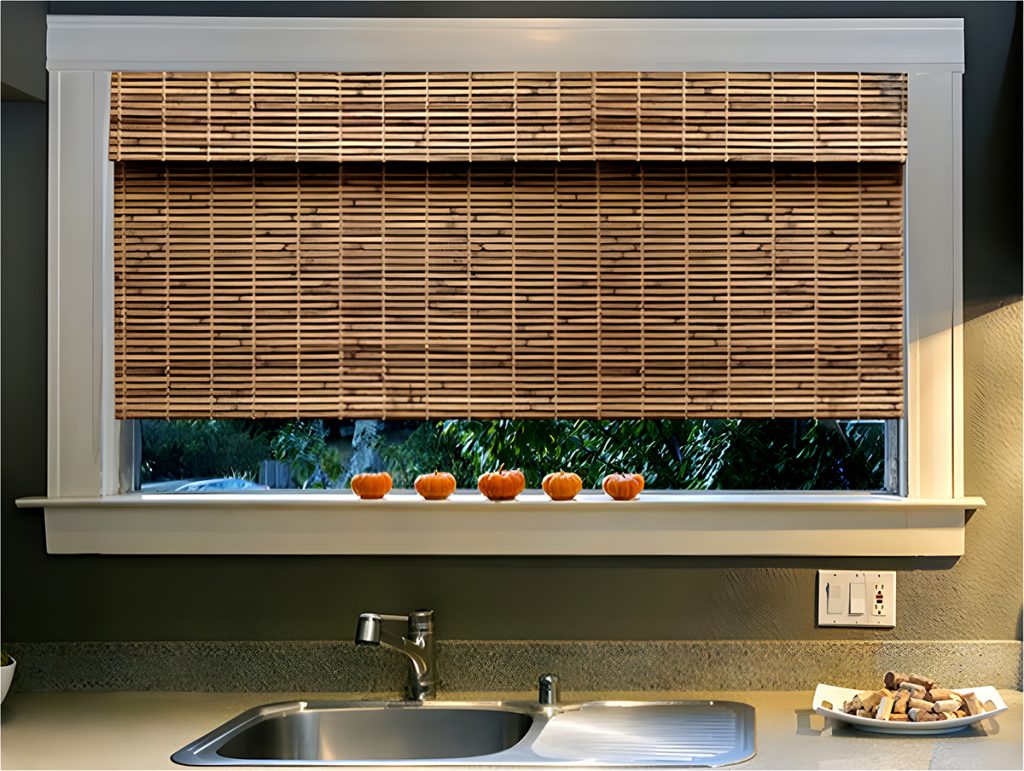 Bamboo blinds are the decor equivalent of a nature hike—they bring the outdoors in. Think of them as a blend of rustic charm and modern elegance. They're versatile but carry a strong vibe of eco-conscious living.
Texture is the name of the game here. Bamboo blinds add visual interest that other window treatments can't match. Your kitchen gets an instant boost in depth and character.
But there's another side to the bamboo story: sustainability. Bamboo is a renewable resource. Choosing these blinds is like giving a nod to Mother Earth. Eco-friendly and stylish? Yes, please!
What about light control? Good news: bamboo blinds offer a range of options. If you want less light, go for tightly woven designs, or choose a looser weave to let more sunshine stream in. Either way, the textured shadows they cast add an extra layer of ambiance.
6. Fabric Roll-Up Curtains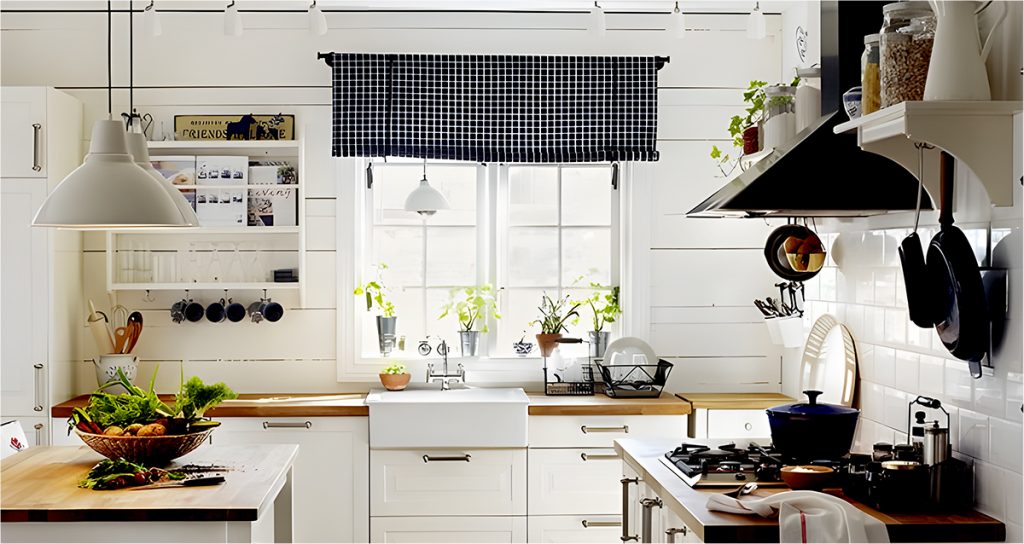 Fabric roll-up curtains are the laid-back, easygoing members of the window treatment family. They're like your favorite pair of jeans—comfortable, versatile, and always in style.
These curtains are all about convenience. Simply pull a drawstring, and up they go, neatly rolled. Want them down? Just release and let gravity do its thing. It doesn't get easier than this.
Now, let's talk fabric. The world is your oyster here. There's a roll-up curtain for every taste, from bold prints to understated neutrals. Whether your kitchen is boho chic or modern minimalist, you'll find a fabric that fits.
And guess what? They're often easy to clean. Many fabric options are machine-washable, so upkeep is a breeze.
So why choose fabric roll-up curtains? They offer the best of both worlds—effortless functionality and unlimited style options. If you're about making life easy without skimping style, fabric roll-up curtains are your match made in heaven.
7. Gingham Checks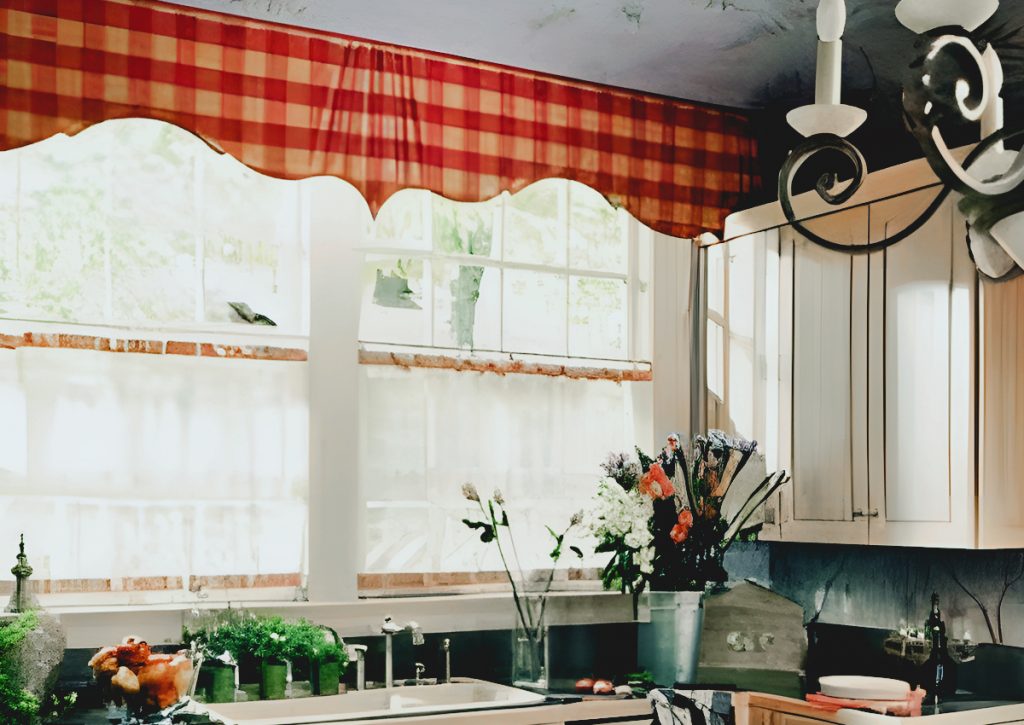 Gingham checks bring that quintessential country flair straight into your kitchen. Imagine picnics, grandma's tablecloths, and comfort food; these curtains epitomize homey goodness.
Gingham is a warm and inviting pattern that never goes out of style. These checks come in various sizes and colors, from classic red and white to subtle pastels. That means you can go as bold or as understated as you like.
But it's not all about looks. Gingham checks are usually made from durable, easy-to-wash cotton. We're talking low maintenance, people!
Here's another fun twist: these curtains don't just belong in a farmhouse kitchen. Modern spaces can get a cozy touch from gingham, too. Use them as a contrasting element to break up sleek lines and monochromatic colors. They add texture and depth, making your kitchen feel more inviting.
8. Blackout Curtains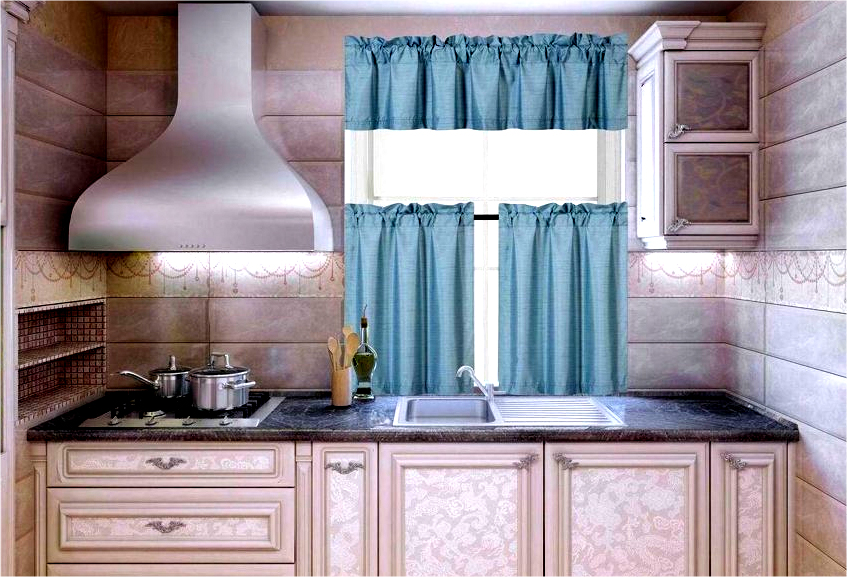 Switching gears, let's delve into the cozy cocoon of blackout curtains. These curtains are the introverts of the window treatment world. They turn any space into a cozy, private sanctuary. These are your go-to if you're craving a secluded escape in your kitchen.
The selling point of blackout curtains is right in the name: they block out light. Completely. That means you get total control over the lighting in your kitchen. Late-night snack runs or early-morning coffee brews? Do it without disturbing anyone's sleep or attracting nosy neighbors.
But wait, there's more! Blackout curtains are usually made from heavy, thermal materials. This adds a layer of insulation, keeping your kitchen cool in summer and warm in winter. Hello, energy savings!
And let's not forget—these curtains come in various styles and colors. You don't have to sacrifice aesthetics for function; you can have both.
9. Burlap Sacks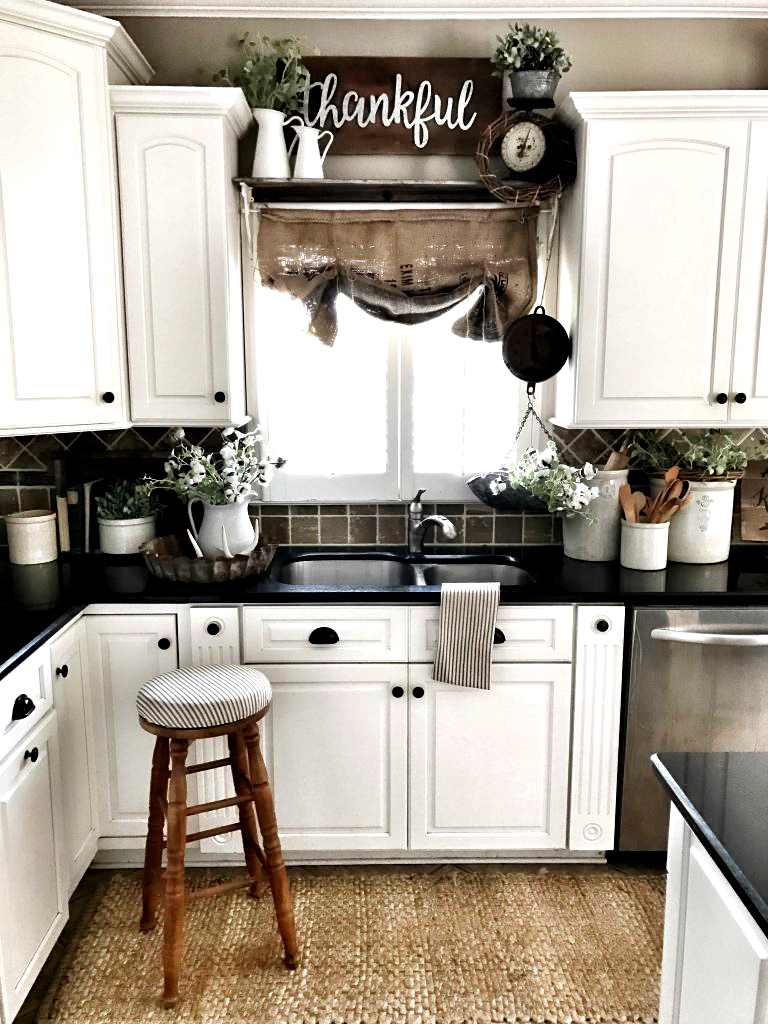 Image: Blessthisnestblog
Burlap sack curtains are all about rustic charm. Think farmhouse chic meets the industrial edge. This window treatment is a nod to simplicity and sustainability, offering a unique spin on kitchen decor.
First off, burlap is eco-friendly. Made from jute fibers, it's biodegradable and recyclable. Talk about making a green statement!
But here's the kicker: burlap sack curtains are a DIY dream come true. Got some old coffee or potato sacks lying around? You're halfway there. With creativity, you can upcycle them into one-of-a-kind curtains that scream character.
Lighting? Check. Burlap has a loose weave, allowing filtered light to pour in. Your kitchen gets a warm, golden glow minus the glare. Plus, those printed logos or text on the sacks? They become fun, quirky design elements.
Another big plus: burlap is durable and easy to clean. A little dusting or a quick hand-wash are as good as new.
10. Patterned Fabrics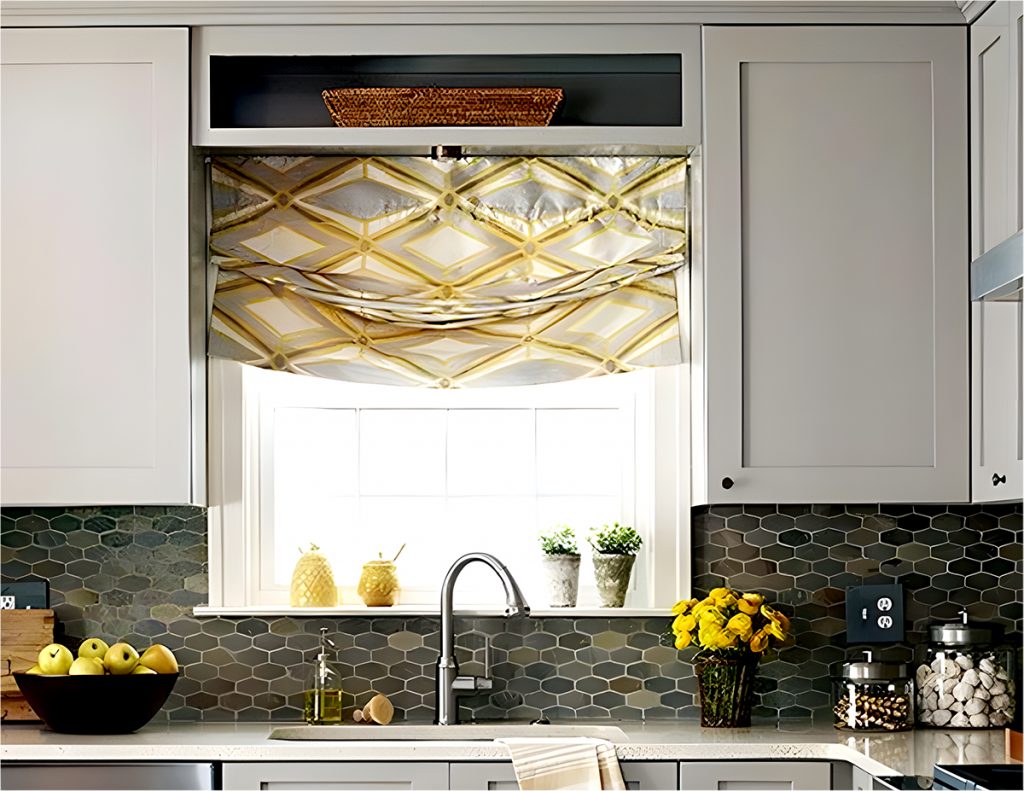 Patterned fabrics bring the party to your kitchen decor. They're the extroverts of the window treatment world, always up for adding some pizzazz and personality to the room. Patterns make your kitchen uniquely you, from florals and geometrics to stripes and polka dots.
The beauty of patterned fabrics lies in their ability to elevate a space instantly. A bold pattern becomes the room's focal point, diverting attention from less appealing elements. Do you have an old countertop or outdated cabinetry? No problem—a striking pattern can steal the show.
The options are endless when it comes to fabrics. Cotton, linen, silk—each material brings its texture and feel. Mix and match to your heart's content. You can even coordinate with other fabrics in the room, like your dish towels or tablecloths.
Functionality? You bet. Most patterned fabrics are available in various opacities, giving you control over how much light filters in. They're usually easy to care for, too—mainly if you use machine-washable materials.
Conclusion
So there you have it, folks—ten curtain ideas for over the kitchen sink. Whether you're all about that farmhouse charm or lean toward sleek, modern vibes, there's a window treatment just waiting to transform your space. From the versatility of Roman shades to the eco-friendly edge of bamboo blinds, the choices are as diverse as they are delightful. Why settle for ordinary when your kitchen can be extraordinary? So pick a style, make it yours, and watch your kitchen come alive. It's time for a window makeover, and your kitchen will thank you!