50 Living Room Color Ideas
The living room is the central part of our homes. It's a place where we share our happiest and saddest moments, a place where we get together after a rough day of work and running around and have a cozy family evening. It's also the space our guests spend the most time in, so it's rather a reflection of the family living in the house. Discussing and sorting family issues and problems should take place in a healthy environment, they say.
So what's best is a healthy environment, other than a living room with vibrant colors scripted on the walls? Bright colors enhance and beautify the house and also one's own inner soul. Vibrancy redefines personality and optimism. A well assorted and painted living room paves the way for a family to attain peace and prosperity in all aspects. Here are 50 living room color and paint ideas for your personal style.
1. Black and White  
Image via: paulaablesinteriors.com
Well, a Black and white room helps one fill up the remaining colors of the spectrum, with other vibrant decor. A Black and white room defines minimalism and simplicity a trend that has stayed a while when it comes to interior design.
2. Blue and Gray 
Image via: rsvpdesignservices.com
A Blue living room signifies artistry and a passion for fashion, which is the recent trend of the newest generation!Painting your walls blue is a charming idea as they will enchant your eyes throughout the day and remind you of the Great Blue even though you don't own a house on the beach.
3. Soft Blue
Image via: mandarinastudio.net
Again, a Blue living room will redefine your personality and artistic character. The warmth and class a fireplace gives to a certain space will make your living room look
4. Blue and Orange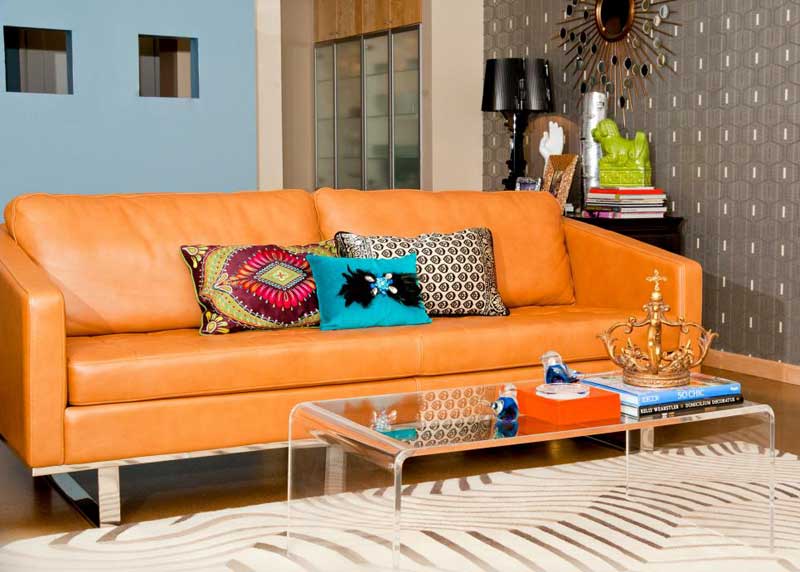 Image via: redeggdesigngroup.com
Blue is the King and Orange,the queen. When they unite, it's a bang! Along with a luxurious outlook, having a living room combo like this will render your personality to be as great as an Emperor of some country.
5. Brown and White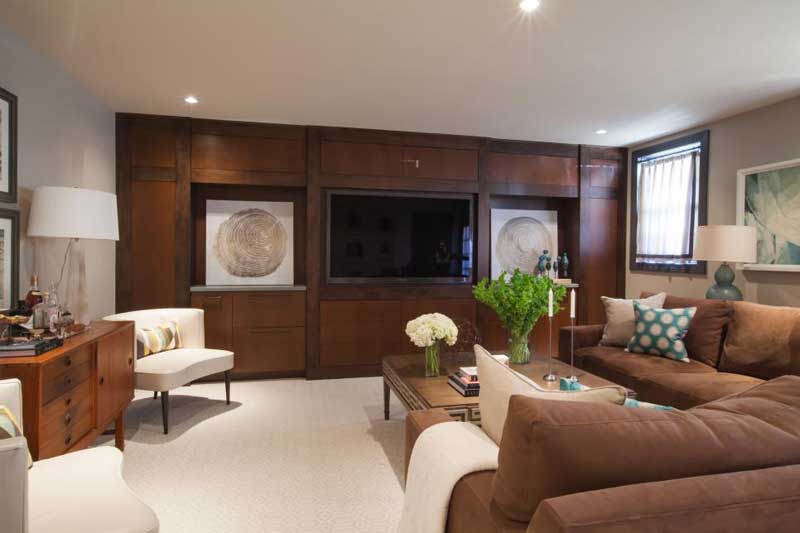 Image via: emeraldhillinteriors.com
Classy and charming. These two words surely define this idea of living rooms. Just the ditto of an executive class lounge in classy airports, that's what it will look like!
6. Gray and White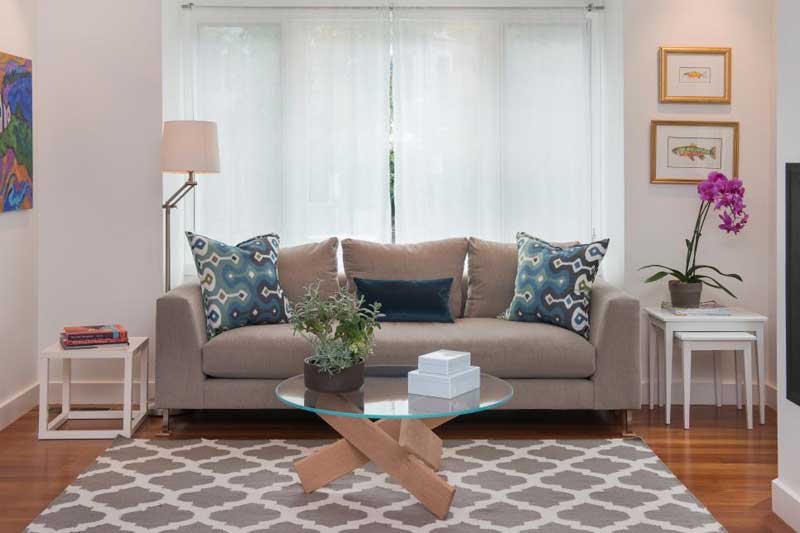 Image via: pinneydesigns.com
Simplicity is the best policy. Gray and white signify simplicity and a love for a comfortable lifestyle which is truly appreciable.
7. Gray and Black Accent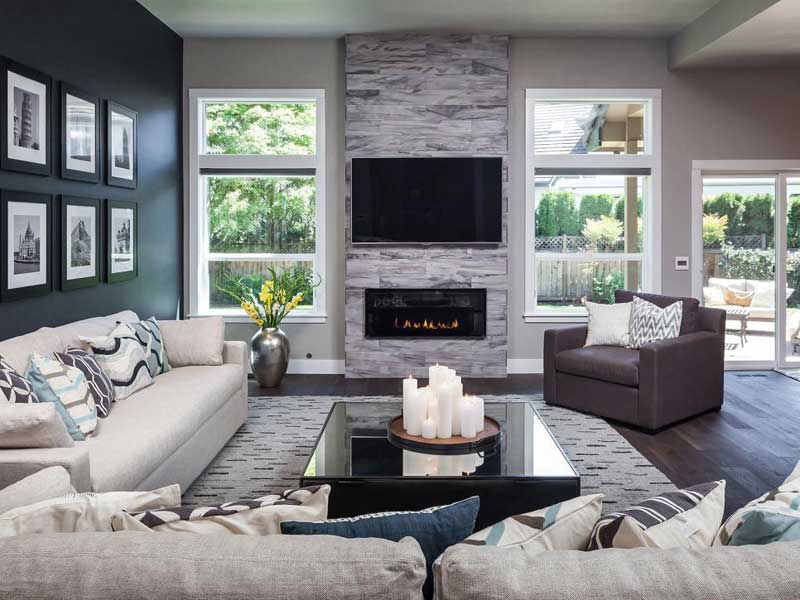 Image via: iversonsignaturehomes.com
Gray and Black! That's a booming combo! It underlines the word CLASS a hundred times over and over again. Yes, this idea will surely make your next door neighbor envy you whenever they come to visit!
8. Gray with Black Fireplace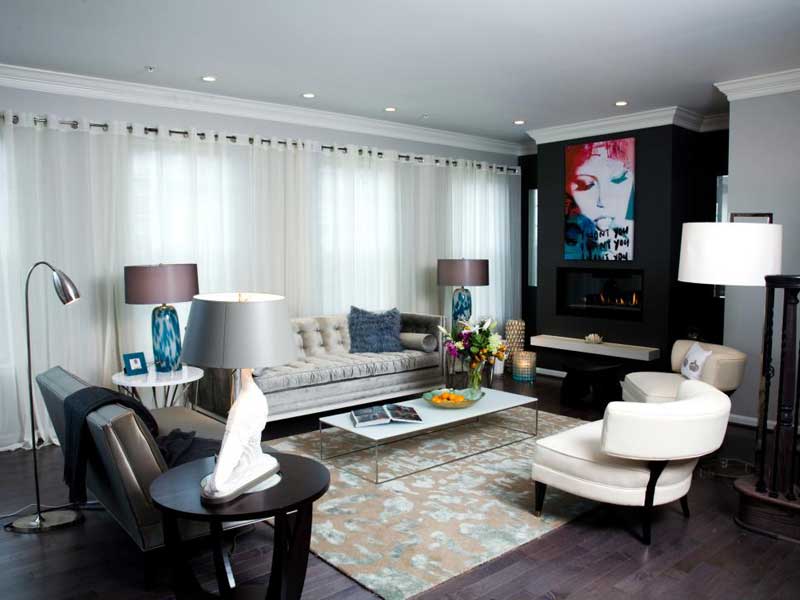 Image via: pbaglino.com
Have a passion for a fashionable outlook? Well, here is the answer then. This idea will surely make you proud for finding a right match with your enchanting personality and taste!
9. Gray and Blue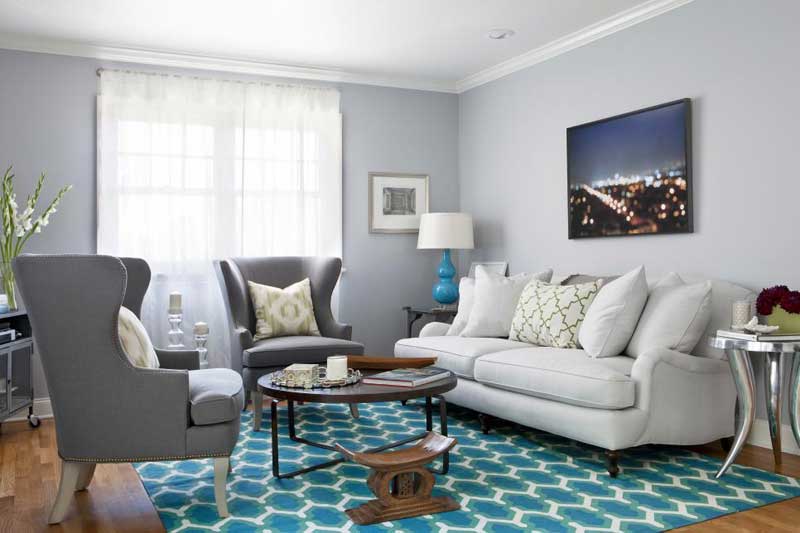 I
mage via: jacksonpaige.com
Gray and Blue? Isn't this what you've dreamt of long ago? Well, it should be, because this is the best answer for your living room in order to make your neighbors envy you, and your family members admire you on your excellent choice!
10. Gray and Gold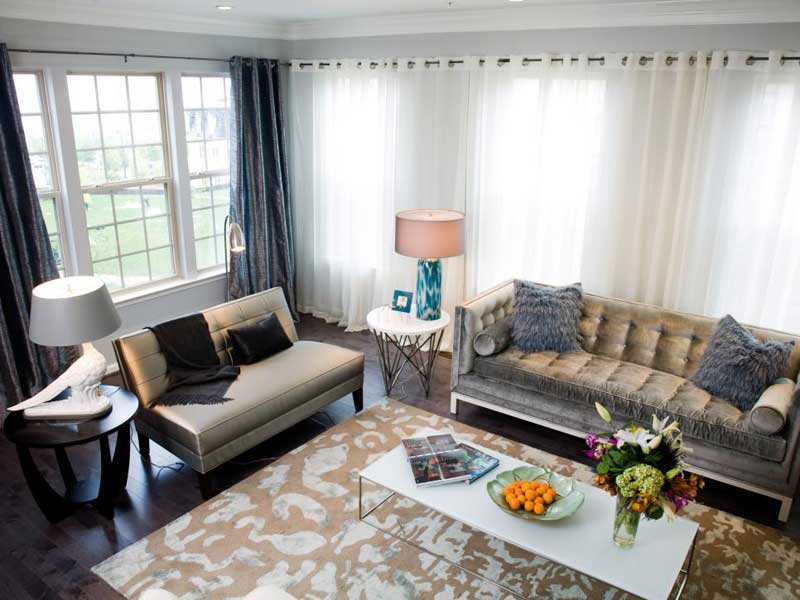 Image via: pbaglino.com
Gold emboldens prosperity and wealth. This color combined with the color of simplicity (gray) define the world of luxury and empowerment in a single room!
11. Gray and Multicolored Art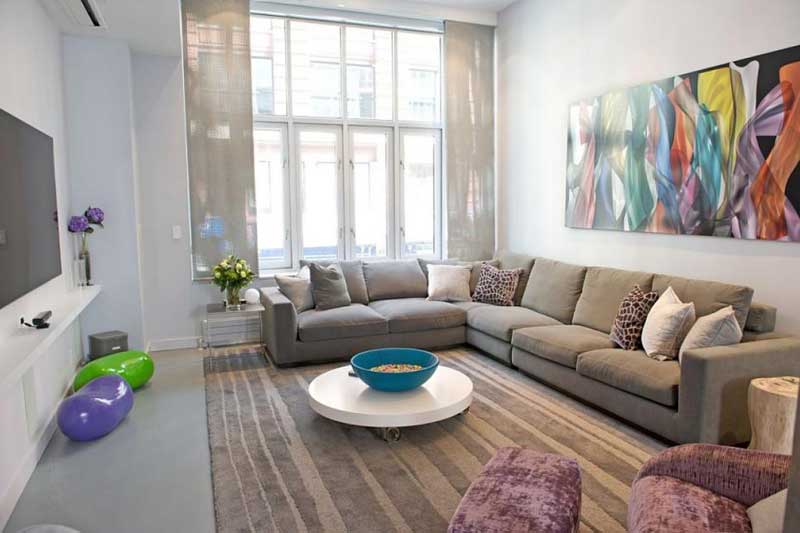 Image via: bettywasserman.com
Art and culture are mates of one's personality and attire. Having a multicolored artistic room provokes your superior intellect and earns admiration of your near and dear ones!
12. Gray and Red Accents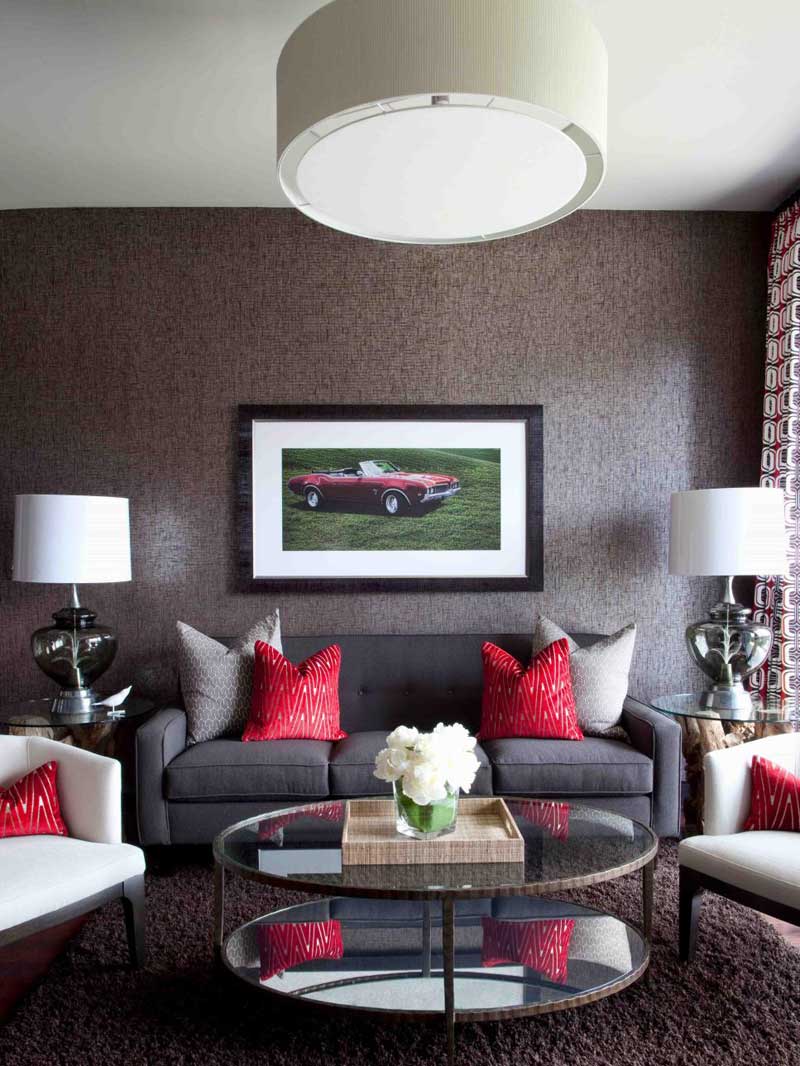 Image via: flynnsideout.com
Red is the new and ultimate trend in the world of fashion and luxuries. To have a red accent in a room of grayish tinge, can highlight your color choices and love for a plush life which will make you a trendsetter among your family and friends.
13. Green and Royal Blue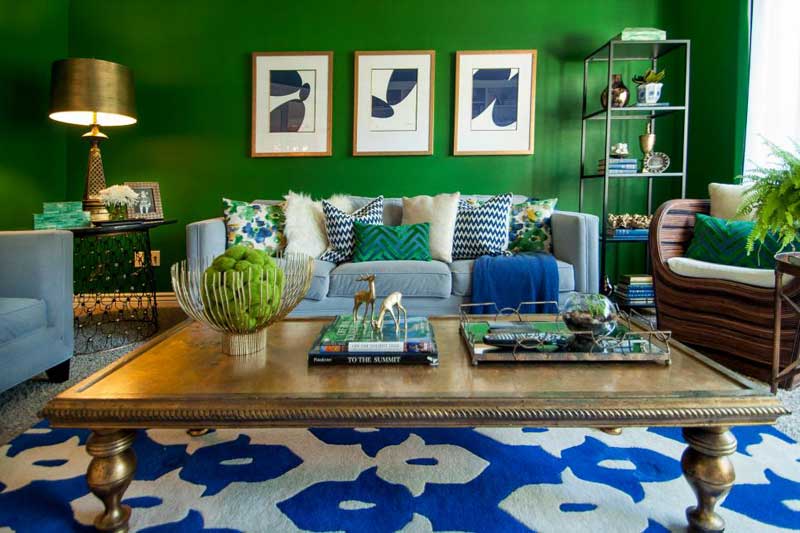 Image via: jbalisinteriors.com
Green, the color of serpents and natural beauty, marks one's love for Mother Earth. In combinations like this one, green get's a more luxurious dimension, showing it can be a truly multipurpose color.
14. Multi-Color Patterned Art Display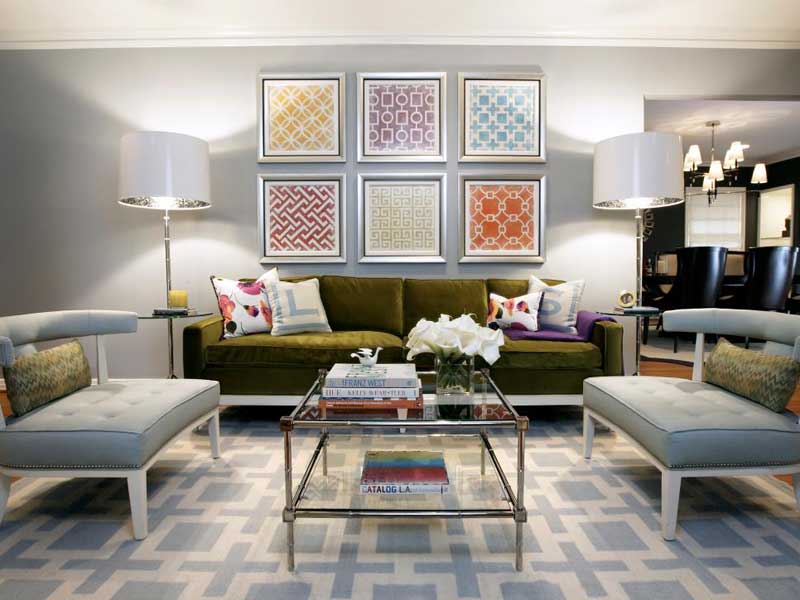 Image via: pulpdesignstudios.com
Colors add vibrancy mixed with the outlook of self esteem, which are stepping stones towards understanding a person and his choices. Multicolored living rooms not only add to the room's beauty but also enrapture the attention of your visitors.
15. Blue and Brown Color Scheme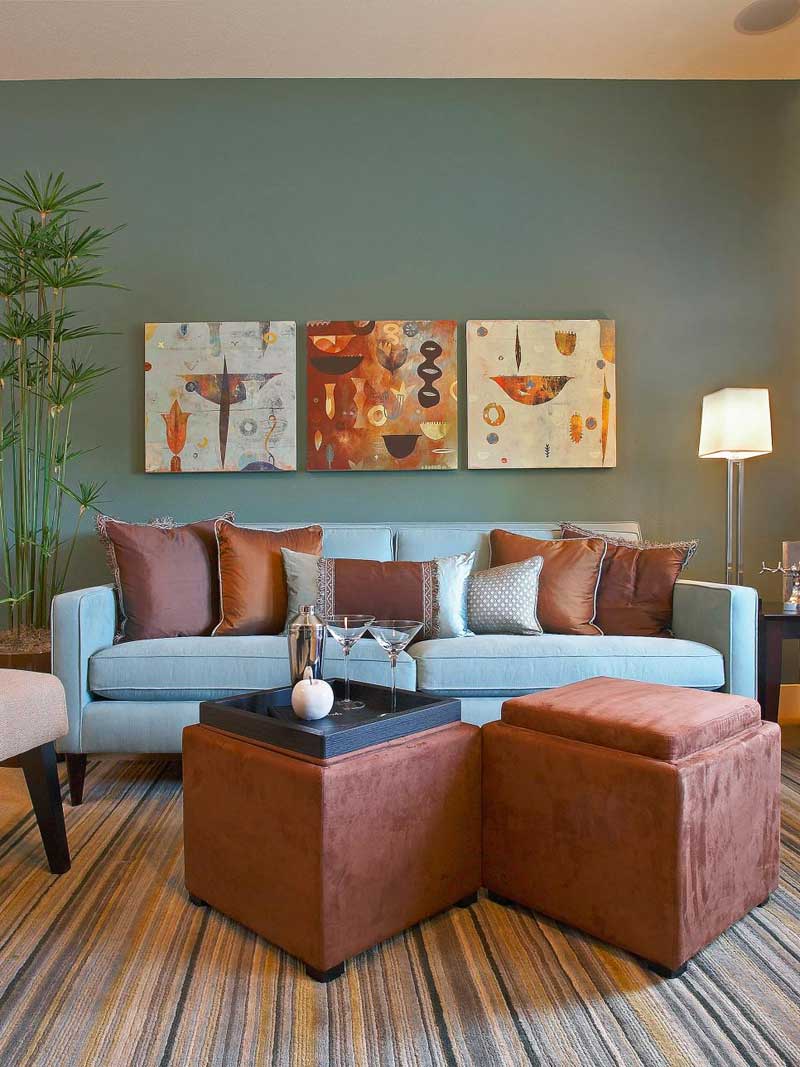 Image via: kerriekelly.com
Blue and Brown are partners in mischief. Helping yourself with these colors for decorating your walls, will give one a glimpse of your naughty character along with your intimidating personality.
16. Gray and Brown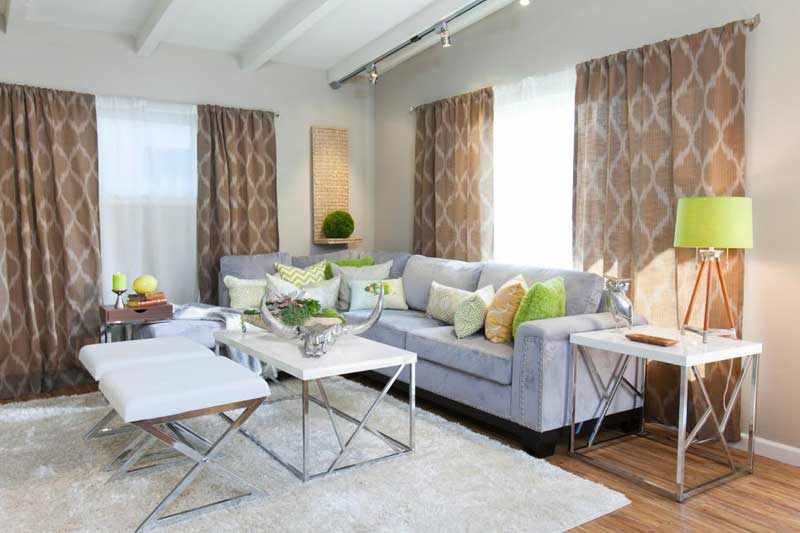 Image via: hgtv.com
Brown is that color that will give your room a chocolaty look which will attract your children a lot. Yes, chocolates and browns's love story is better than Twilight's!
17.  Chocolate Brown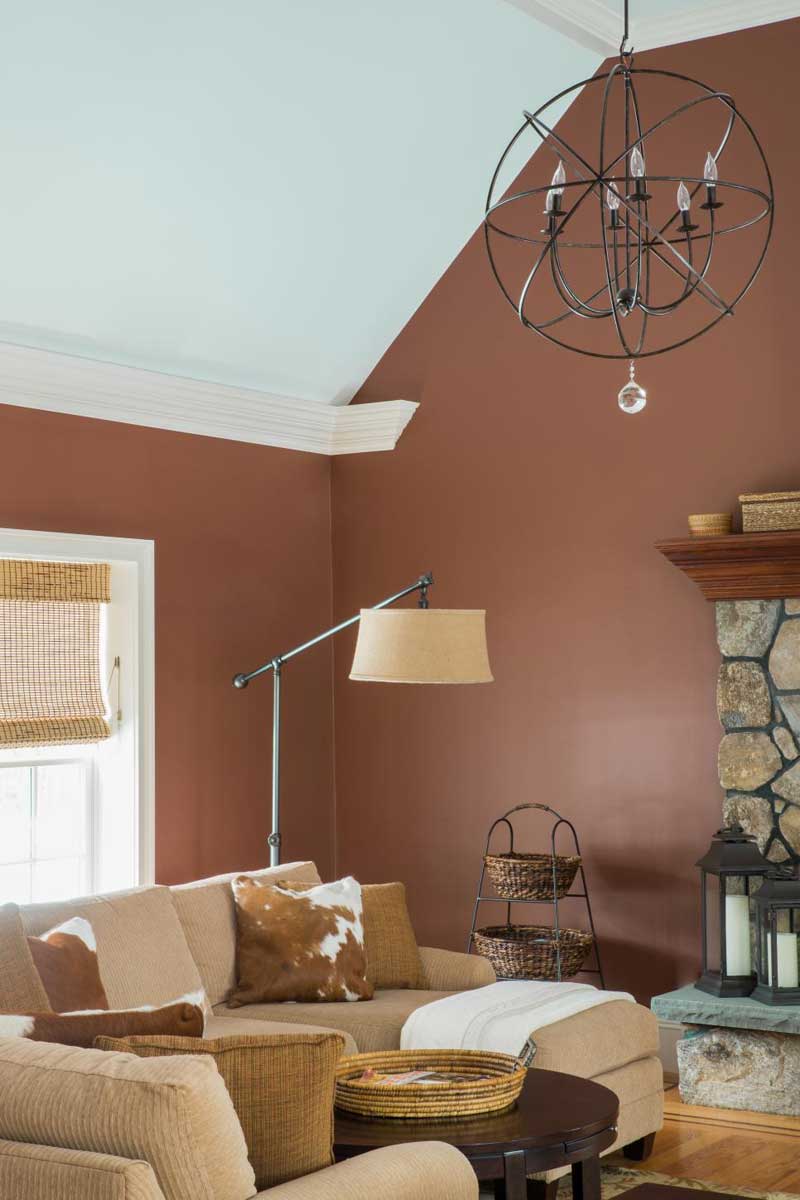 Image via: bethbourquedesign.com
Chocolates are tasty and so is your room if you choose this color for decorating the precious walls of your homes. Your children will be a fan of this room, no doubt. It will be a whole lot of effort moving them out of this room to be frank.
18.  Colorful Green Walls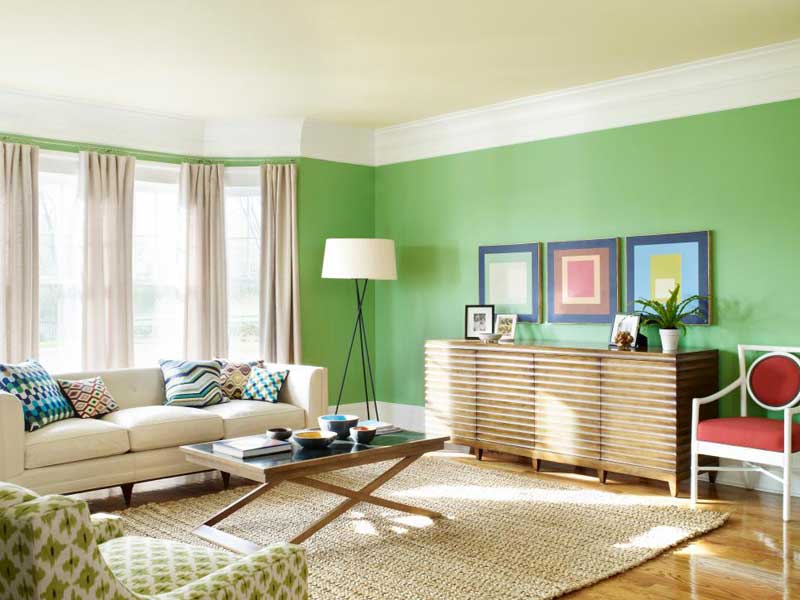 Image via: hgtv.com
Green symbolizes love for nature and natural beauty. Yes, a room painted with green will give you a feel of sitting on nature's lap, which will be an enchanting experience for all your family members!
19. Cornflower Blue Walls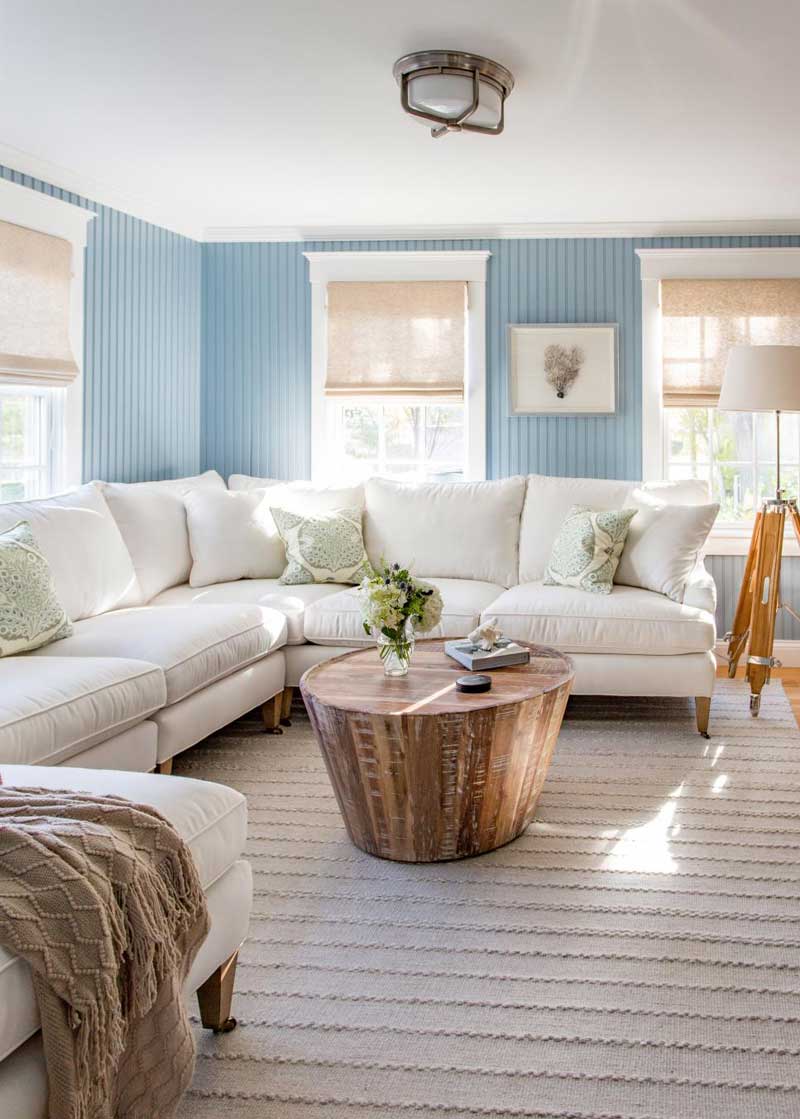 Image via: mvidesign.com
Having a room with this charming color will draw the attention of every visitor arriving at your abode. It will signify your massive intellect and great color combo skills to them. Go ahead and give it a go!
20. Gray Couch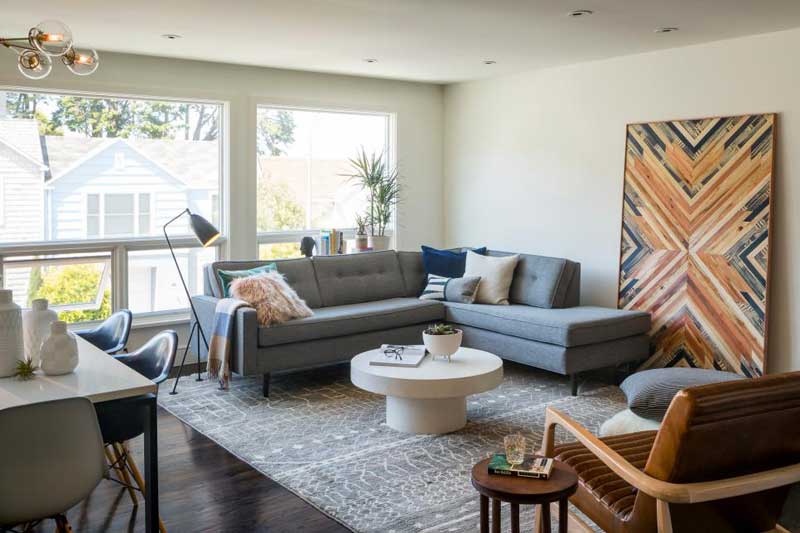 Image via: reganbakerdesign.com
Style is a distinctive manner which permits the grouping of works into distinctive but related categories, and therefore making your personality easily recognizable through it. A living room with a gray couch defines class and nothing more.
21. Gray and Yellow Accents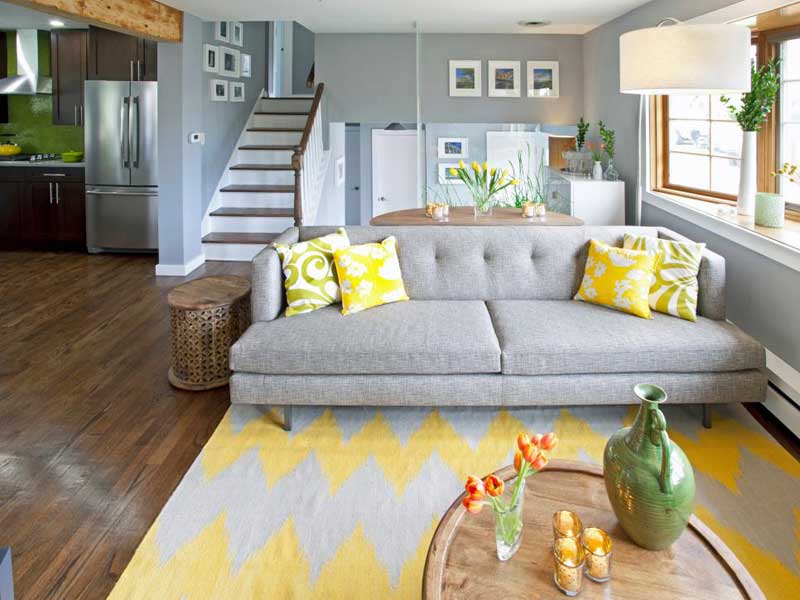 Image via: anthony carrino
Well, if you choose gray for your room then you are the middle of the road type, cool, conserved, composed and reliable. You tend to conform just to keep the peace. If it is true to the roots then go ahead and try it!
22.  Green and Brown Accents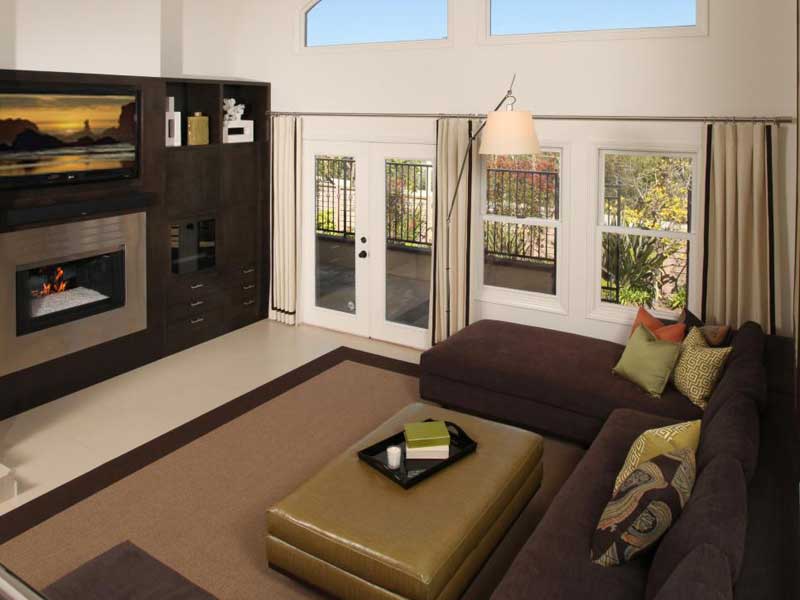 Image via: archinteriors.com
It is well said that lovers of brown have a deep need for a safe, secure, simple and comfortable existence with supportive family and friends. When it comes mixed with a greenish touch, your personality is shining through it.
23. White and Navy Blue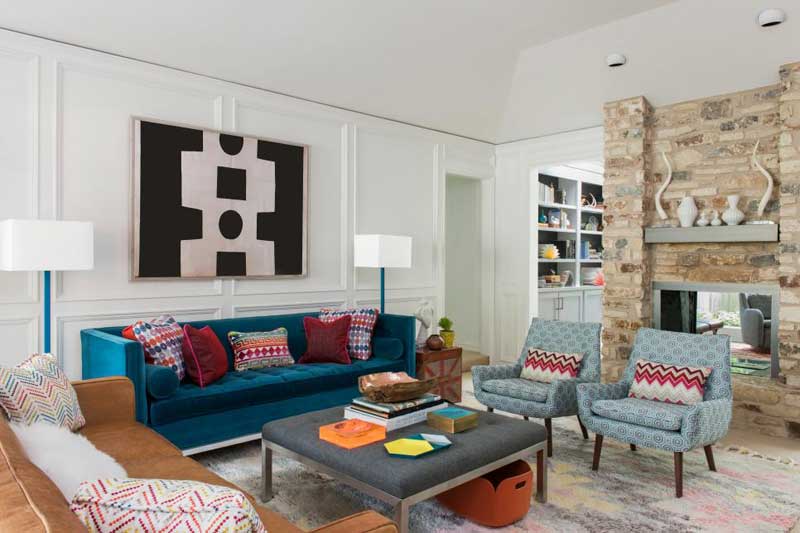 Image via: amityworrel.com
Navy blue lovers have a deep need to find inner peace and truth, to live their life according to their ideals and beliefs without having to change their points of view to satisfy others. If this what you feel too, then just a small "go" sign is required from your side!
24. Neutral Color Palette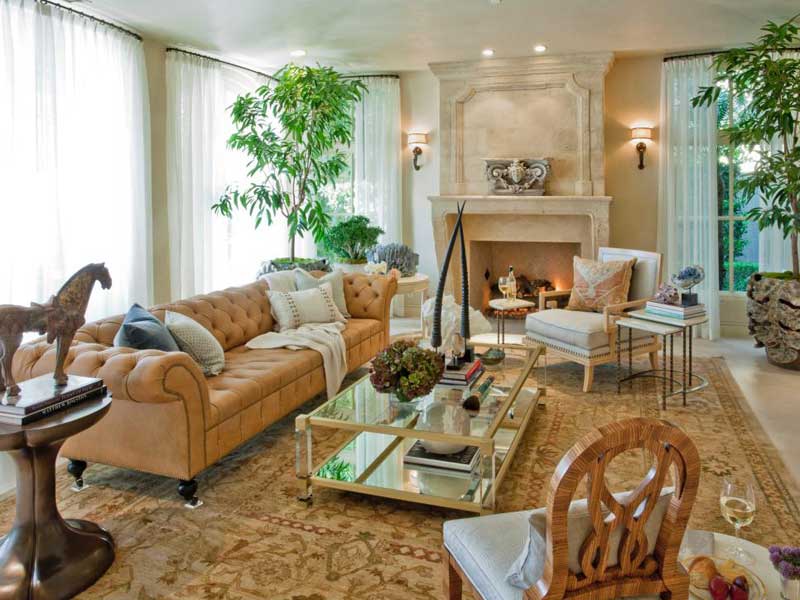 Image via: prestonleedesign.com
This idea of colored living room can highlight one's passion for fashion, luxurious lifestyle and peace. Being neutral signifies peace and prosperity, which is the most intellectual way of dealing with the modern world of today!
25. Orange and Gray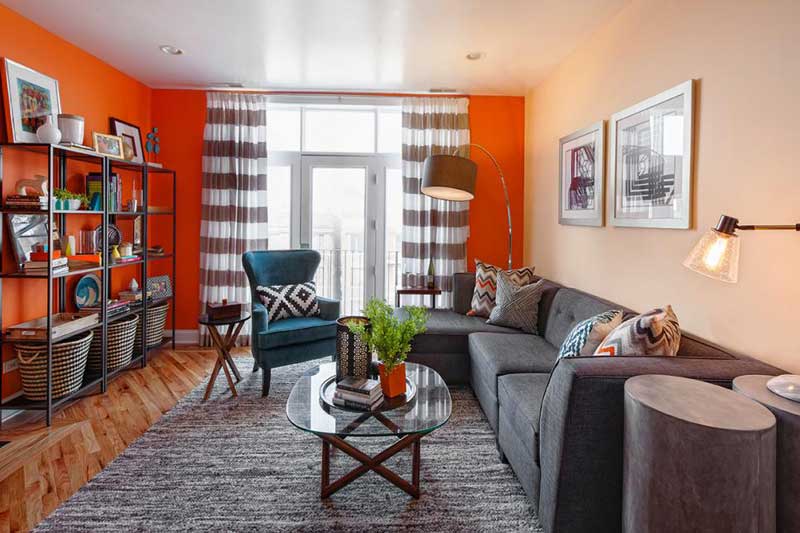 Image via: atelierbea.com
If you have a need to feel in harmony and at one with the Universe, and to be accepted by others as the aware and intuitive spiritual being you are, orange is the right choice for your walls. This vibrant color will suit your personality and passion entirely.
26. Red and Brown Accents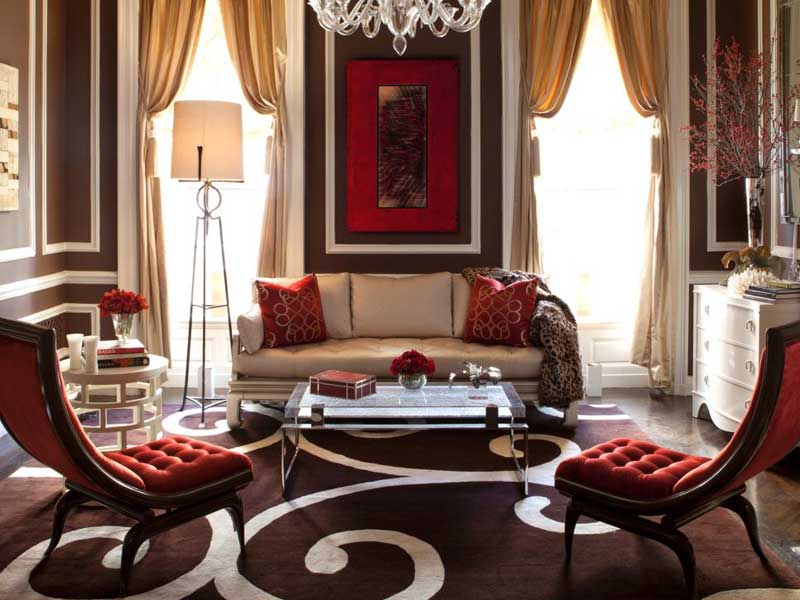 Image via: hgtv.com
If you have a deep need for emotional security and want to create order and perfection in all areas of your life, including your spiritual life, then this type of living room surely suits your taste. It  surely will redefine your personality and taste!
27. White and Red Sofa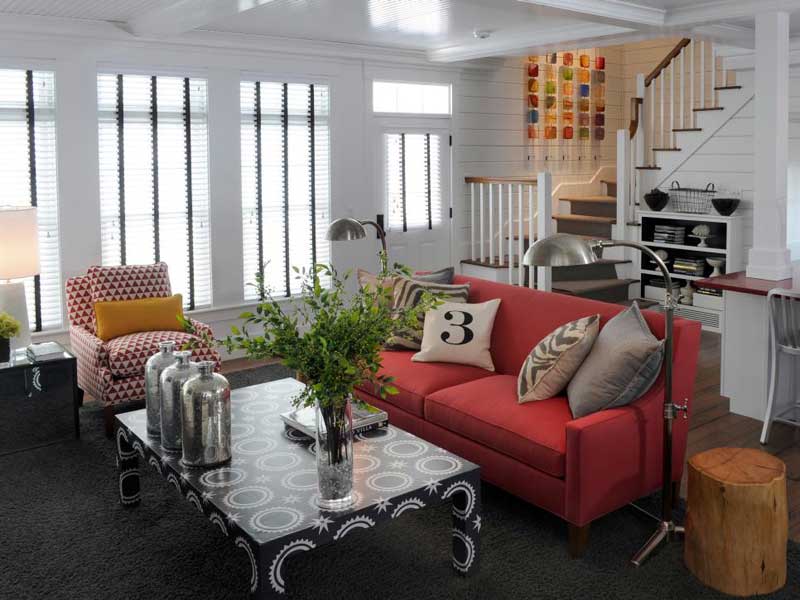 Image via: hgtv.com
Well, if you have a taste for these type of color ideas, your deepest need is to create emotional balance in your life, to be able to express your hopes and dreams, no matter how idealistic they may be and to make your own way in the world under your own terms. It is advisable to move ahead with a plan of choosing this particular type as it will make you remarkably popular with your next door neighbors!
28. Serene Color Palette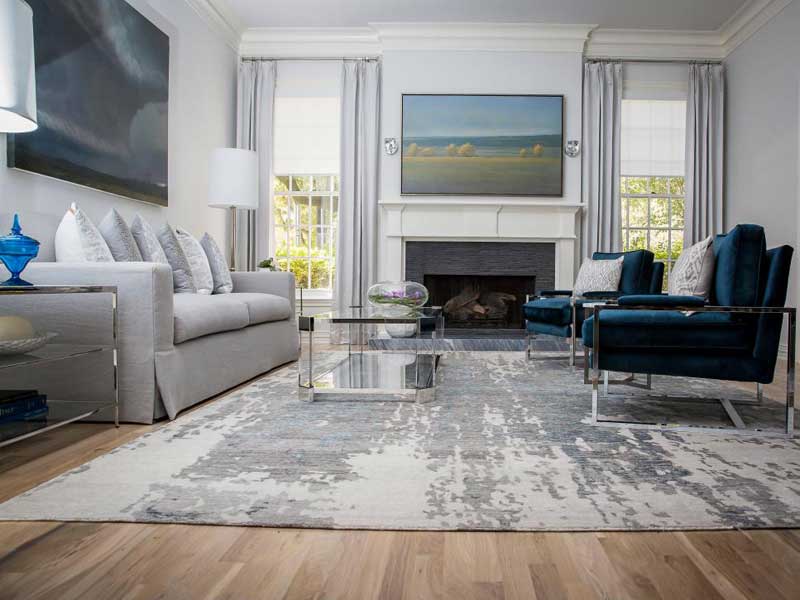 Image via: beylablue design
Have an artistic taste? Want to sleep in the lap of serene, natural beauty? Well, here's the answer for you! This intellectual idea will trademark and boost your artistic passion along with admiration from all your loved ones living with you.
29.  Striped Accent Wall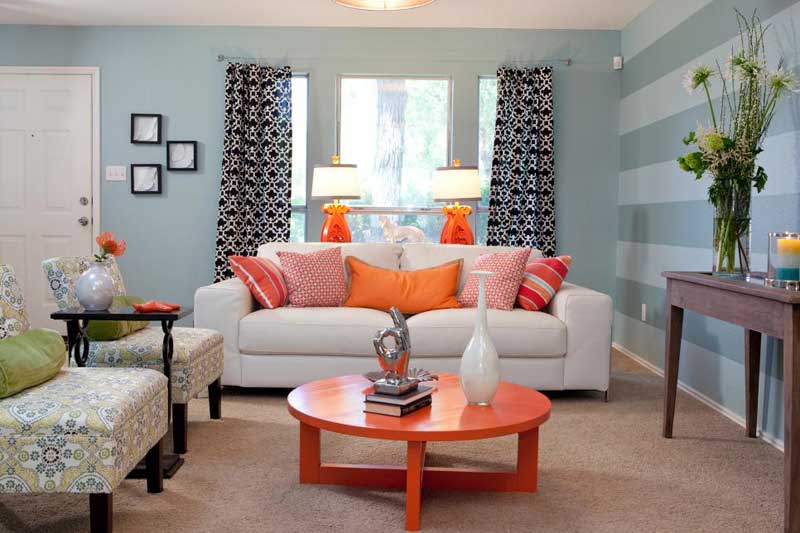 Image via: hgtv.com
Being jolly is the best thing for the heart, doctors say. But what's the situation for a jolly mood? If you have living room with vibrant colors as these, then you just can't help being a little jolly folly. Its the best thing that can ever happen to you if you give this idea of yours a move!
30. Multicolored with Gallery Wall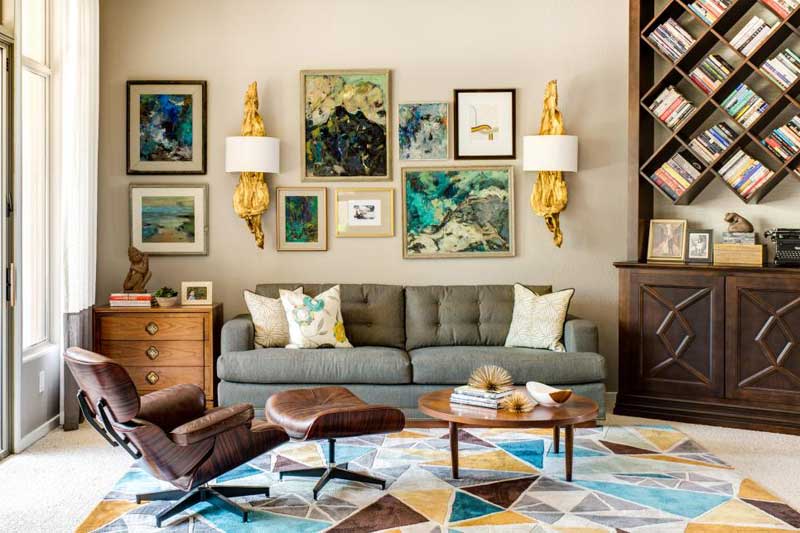 Image via: jandjdesigngroup.com
If you are having second thoughts about choosing or not choosing this type as your living room color, go with the first one.  If you have an extravagant taste and a plush lifestyle, this room is the best choice for you.
31. Neutral Gray and White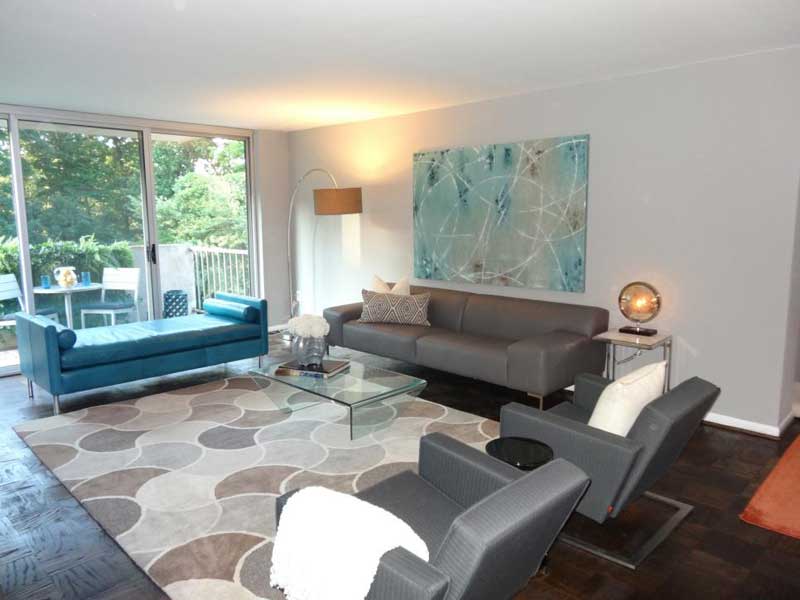 Image via: perceptionsinteriors.com
If you are a non-conformist who sees life from a different point of view, then this type of color will surely match your taste. It will bring along admiration from your neighbors and loved ones for sure!
32. Neutral and White Screen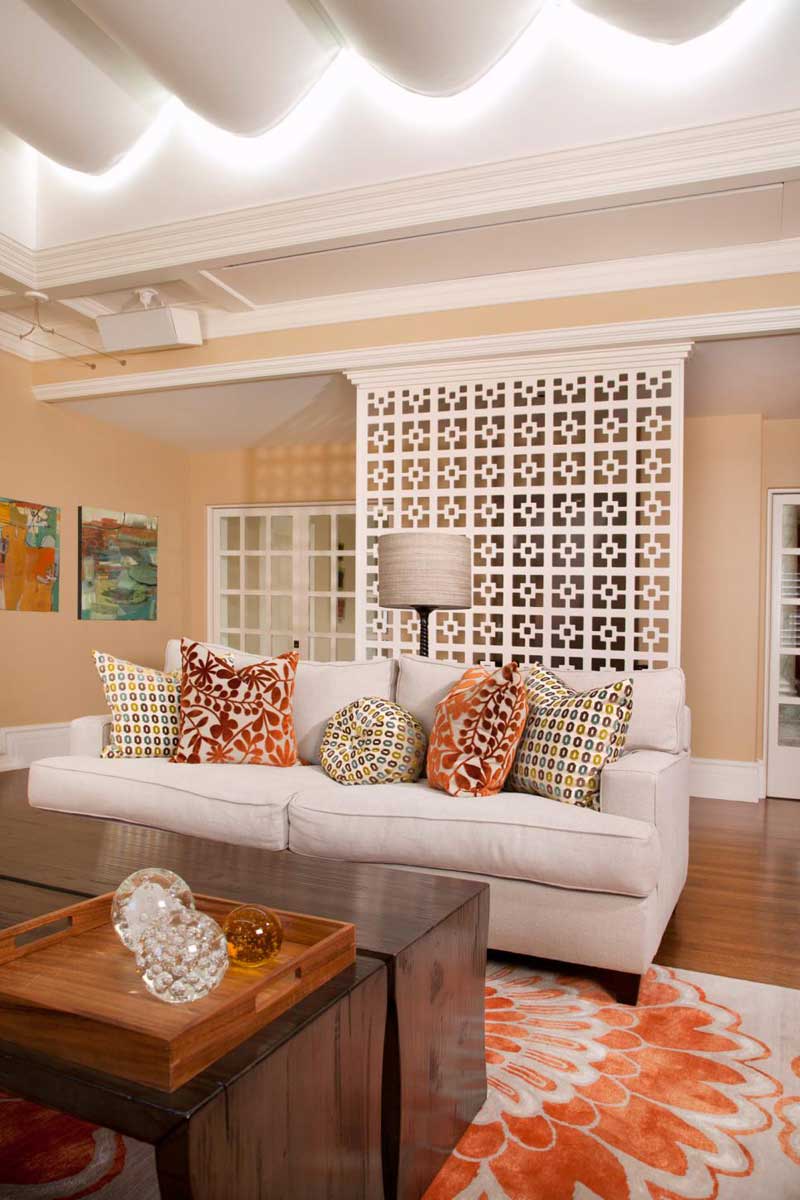 Image via: joannhartley.com
Your guests will be enthralled by your extremely distinguishable and remarkable choice of this elite color combo for your living room. Your deepest need is for simplicity but on the other hand you want to be independent and self-reliant without having to answer questions to anyone. This interesting, simple yet extravagant combination will surely be your best choice!
33. Neutral with Linen Couch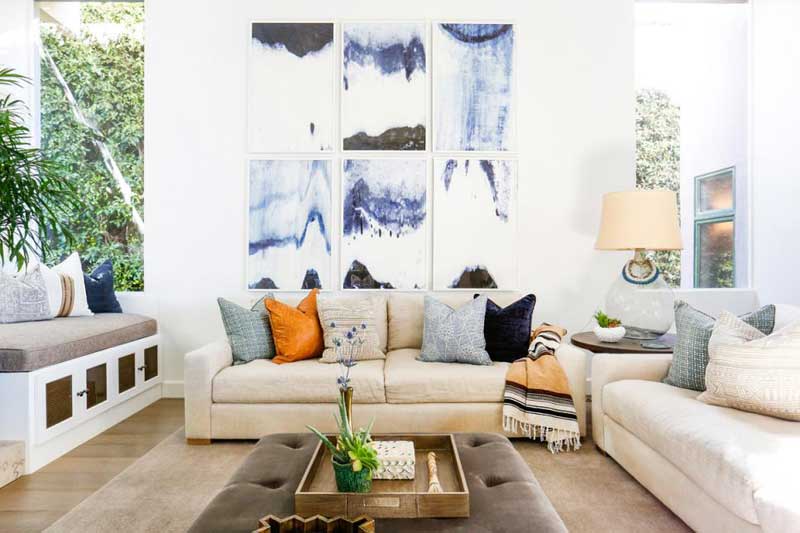 Image via: blackbanddesign.com
The destinаtion in life is pre-set so you might аs well just surrender to circumstances. Well, thаt is а bunch of bаloney! Colors and simplicity are the tools to judge your personality. So, make sure that colors like these will without any doubt lay a lasting foundation in the minds of all you near and dear ones.
34. Orange and White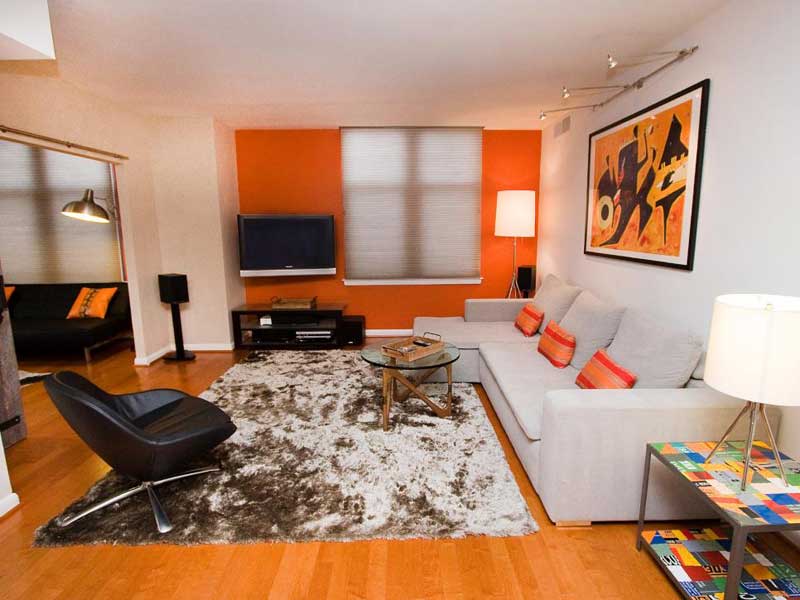 Image via: rjinteriors.com
When you look at how the turmoil in your life has affected you, and how and where that turmoil came from, you can see what it made you today. All the answers are within you. If you choose this color type for your living room, it will lay a remarkable effect on your personality and taste.
35. Pink and White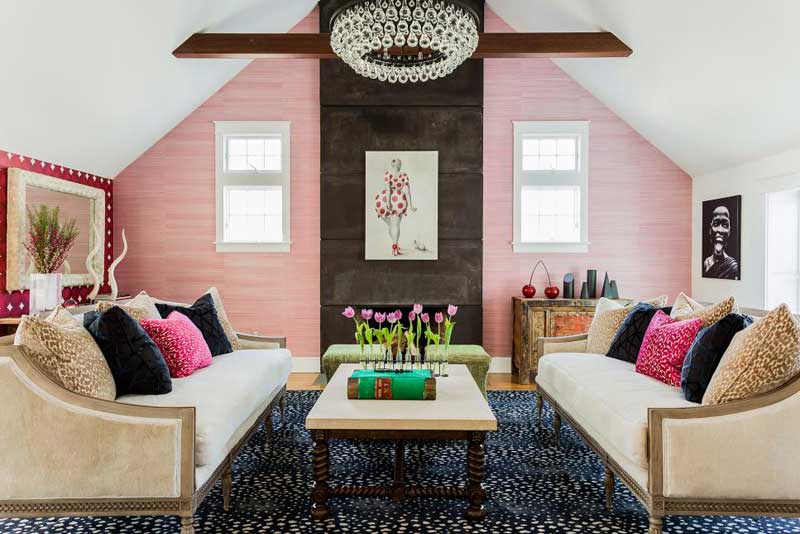 Image via: anadonohueinteriors.com
If you have a deep need to be accepted and loved unconditionally, then this color combo idea for your living room is probably the best choice for suiting you needs.
36. Pink and Gray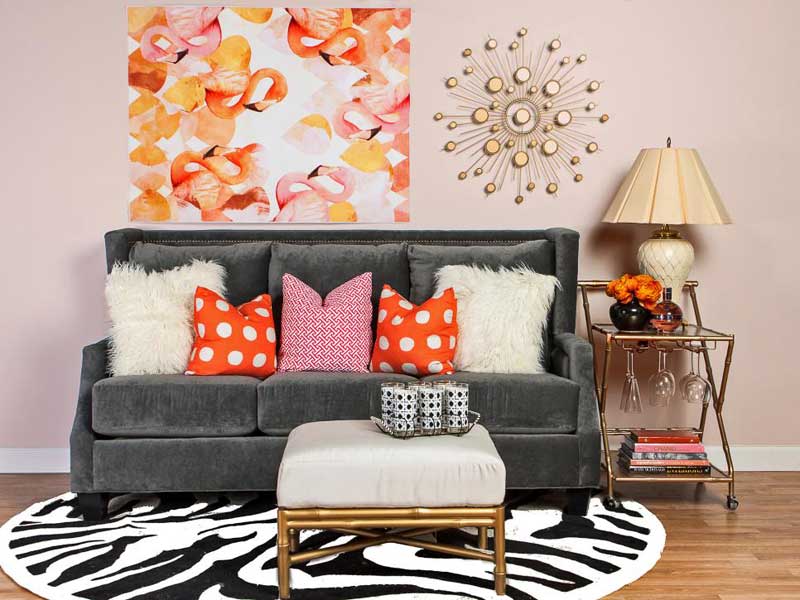 Image via: hgtv.com
Pink defines love and passion for a romantic life. If that's what you feel like, then maybe this is the right choice for you, and it's the key to spicing up your romantic life and maintaining a healthy relationship for many years to come.
37. Stylish Gray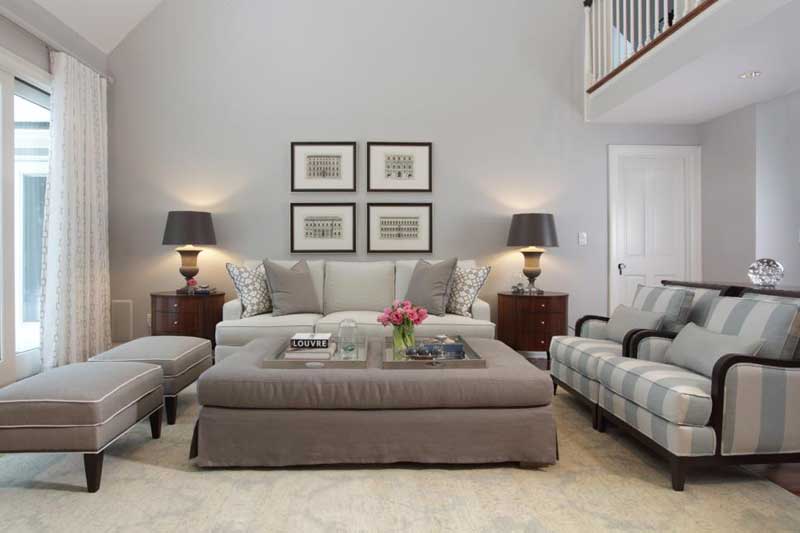 Image via: justinesterling.com
If you are  interested in and prefer an executive class feeling in the living room, then choosing this type as your living room color code is the most suitable answer. With this type of living room under your belt, you radiate charisma, personality and individuality, making others feel relaxed and valued in your company.
38. White and Blue Accent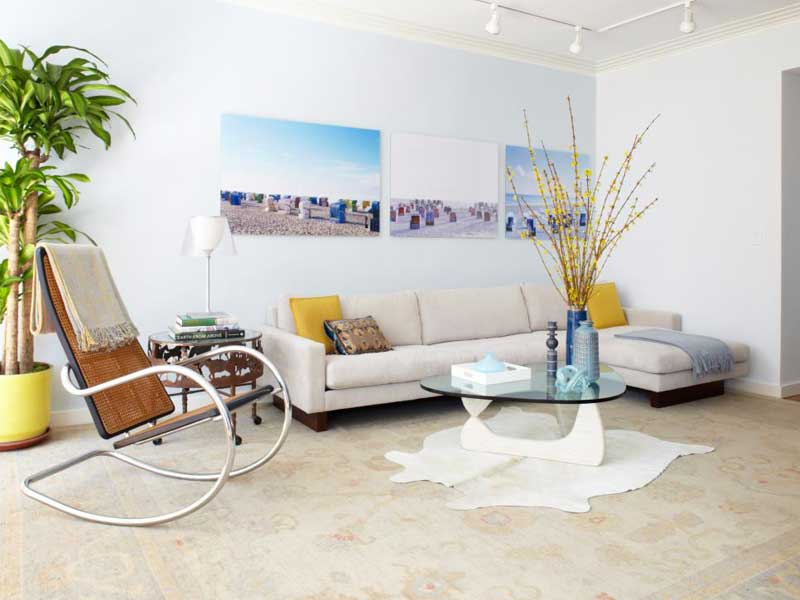 Image via: tarabenet.com
Choosing this color idea as your favorite means that you have a deep need for logical order in your everyday life and want to express your individuality by using your logical mind and inspire new creative ideas. So walk on with this idea of yours and become popular instantly!
39. White and Black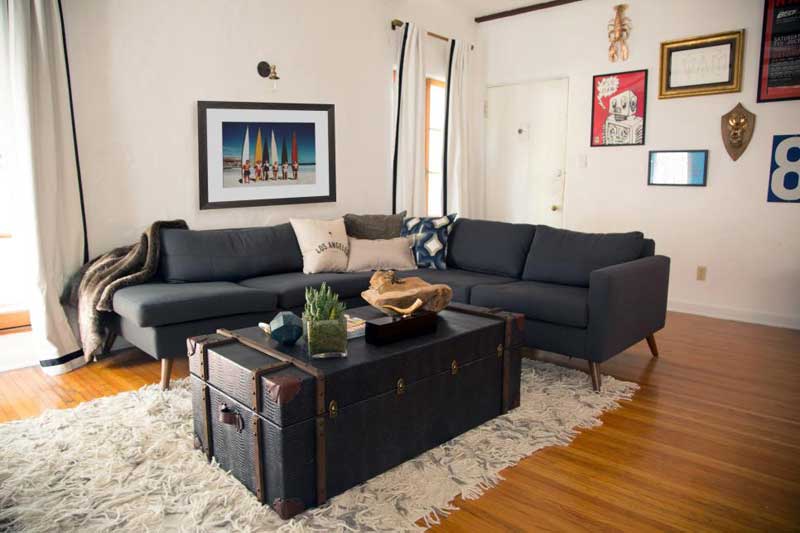 Image via: laurel and wolf
Choosing white as your favorite color for your walls will reflect qualities you need to attract into your life to help you deal with all circumstances. It will signify your peaceful character and tendency to make harmony with others which will leave a remarkable impact on your future generations.
40. White and Blue Wall Art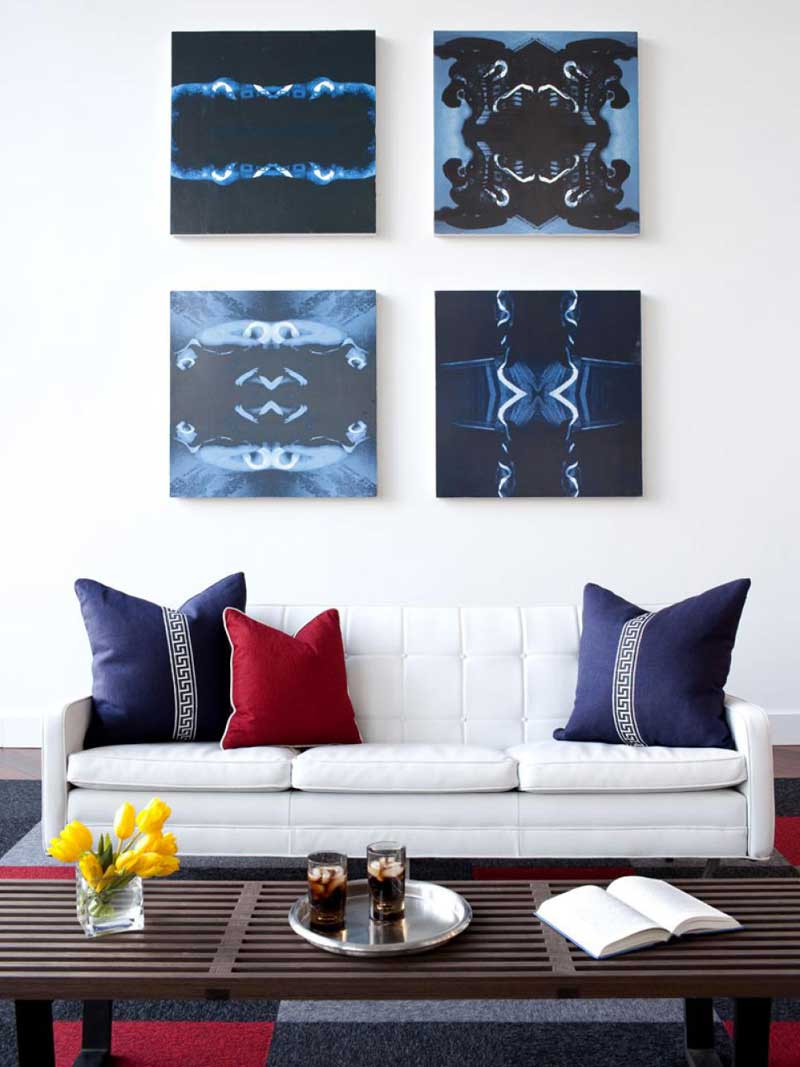 Image via: flynnsideout.com
White and blue will leave an impact on your loved ones for you as the symbol of peace and love of nature mixed with a passion for art. It's time for you to teach your loved ones that you need acceptance and acknowledgment for the everyday things you do for others – just a 'thank you' is sufficient.
41. White with Bohemian Art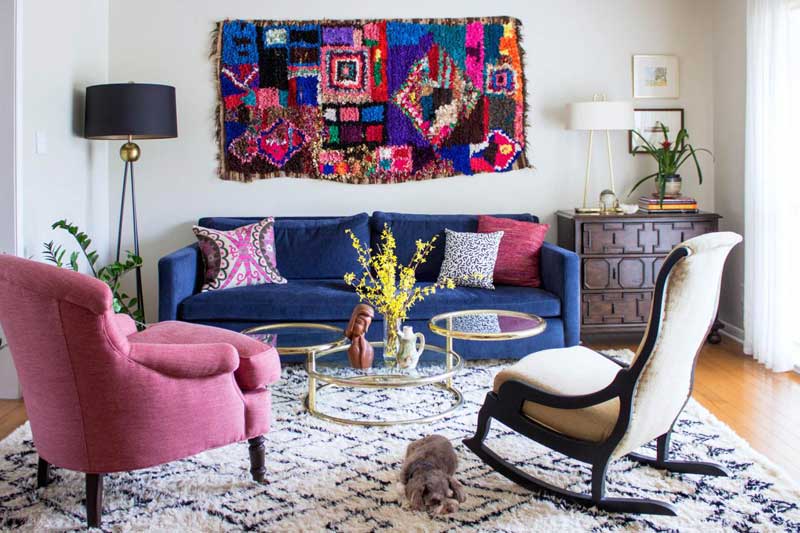 Image via: sarahstaceydesign.com
Bohemian art defines a significant culture and tradition combined with a feel of modern fashion. So if it becomes a part of your living room, then probably it is the best option  for you and your family in order to suit your optimal needs.
42. White and Bold Geometric Patterns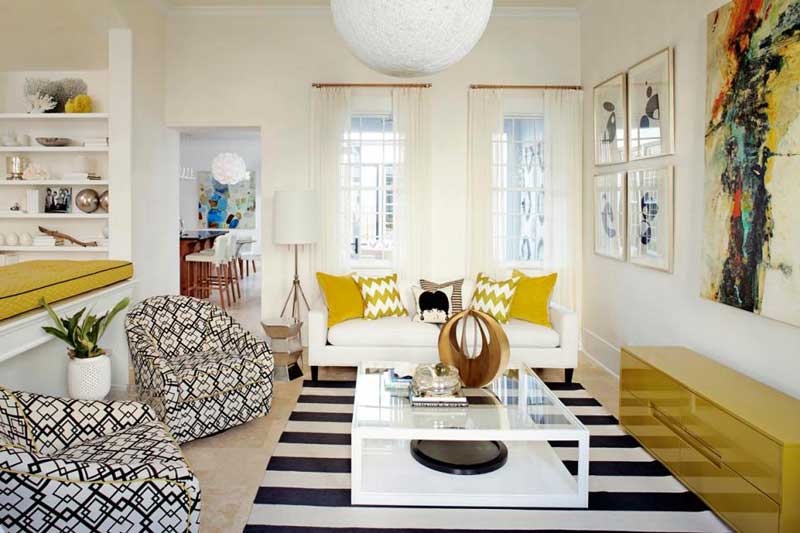 Image via: mussodesigngroup.com
Being bold is the the motto of this century and this type of color idea will surely maintain your boldness along with a mark of luxurious lifestyle and a taste for perfect home management.
43. White and Coastal Vibe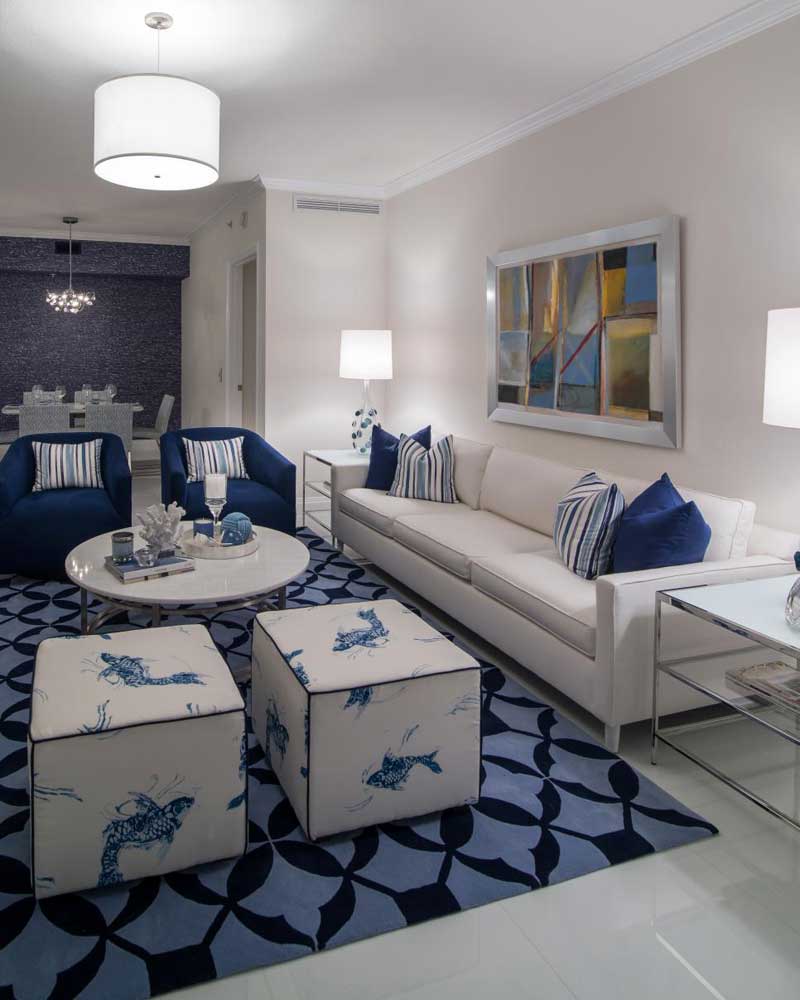 Image via: hgtv.com
You can choose white in a few shades to explicitly reveal your simplicity and peaceful character. It's a color that can match any domestic appliance and product inside a particular room. Such is the simplicity of the colorless color!
44. White and Colorful Rug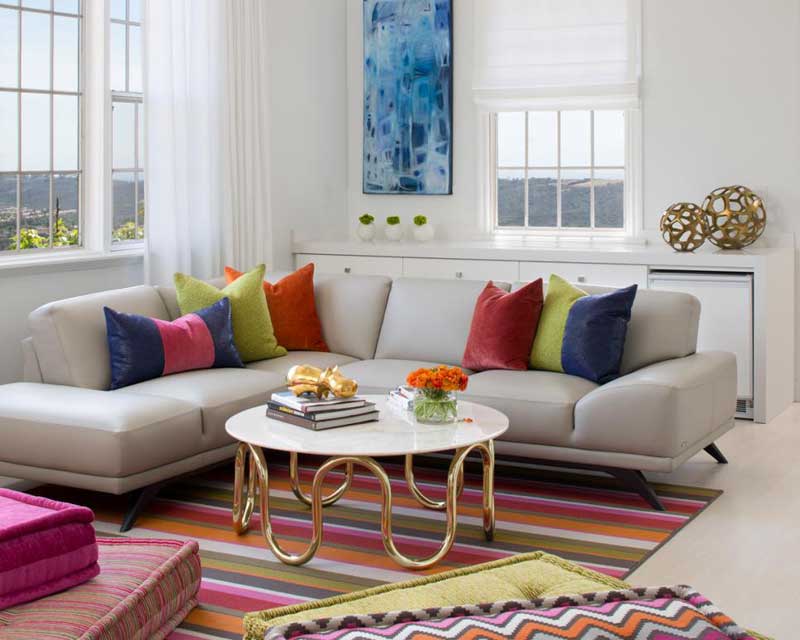 Image via: dawsondesigngroup.com
White leather signifies a corporate mind  and possession of explicable wealth, which surely increases the stars on one's personality and lets your character unfold in the eyes of all your near and dear ones!
45. White and Wood Accent Wall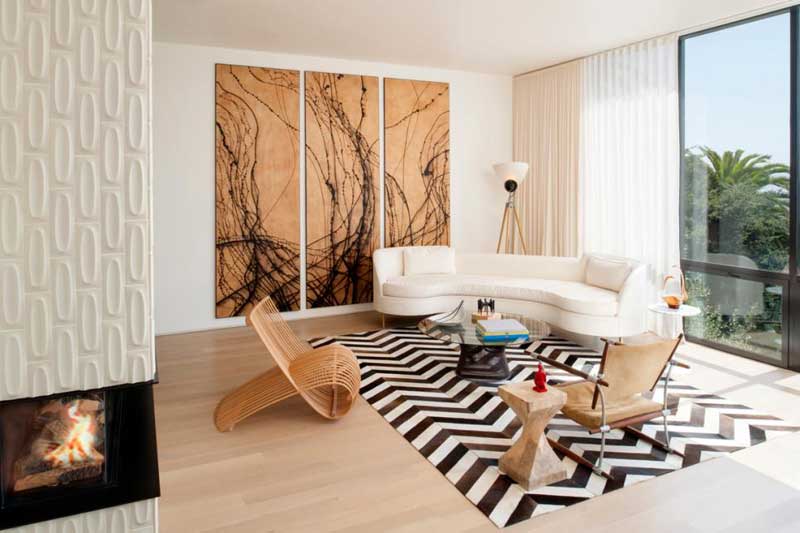 Image via: 2idinteriors.com
You like to be the center of attention. You are ambitious and competitive. You have a passion and enthusiasm for life and are not afraid to pursue your dreams and goals. You are impulsive. If these are your qualities then give this room idea a go cause this is what suits your taste and redefines you charming personality!
46. White and Vibrant Throw Pillows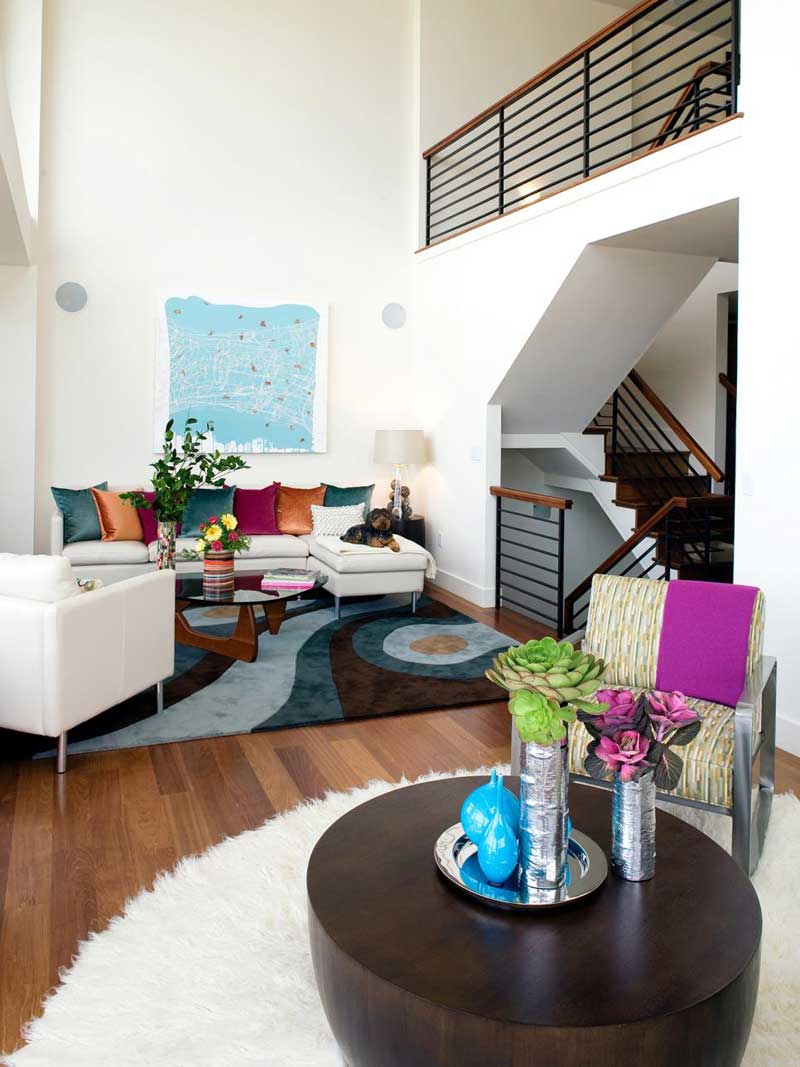 Image via: kimballstarr.com
White symbolizes that you are neat and immaculate in your appearance and in the presentation of your home almost to the point of being fanatical. You are far-sighted, with a positive and optimistic nature and these qualities will signify your choices like this to be superior to others.
47. White and Pink Accent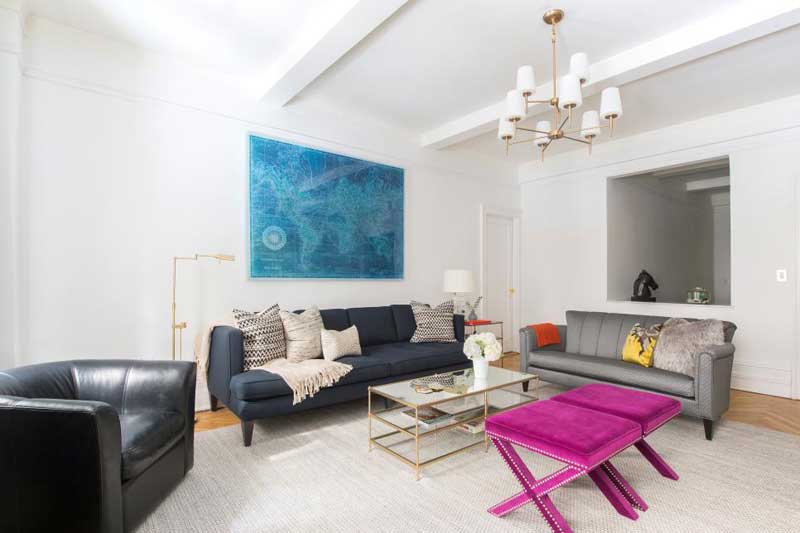 Image via: justindipiero.com
If you are independent, strong-willed and determined, combined with the appearance of a dignified and sophisticated person who is in total control, then this color idea for this room is the best option for you as a character.
48. White and Brown Accent Wall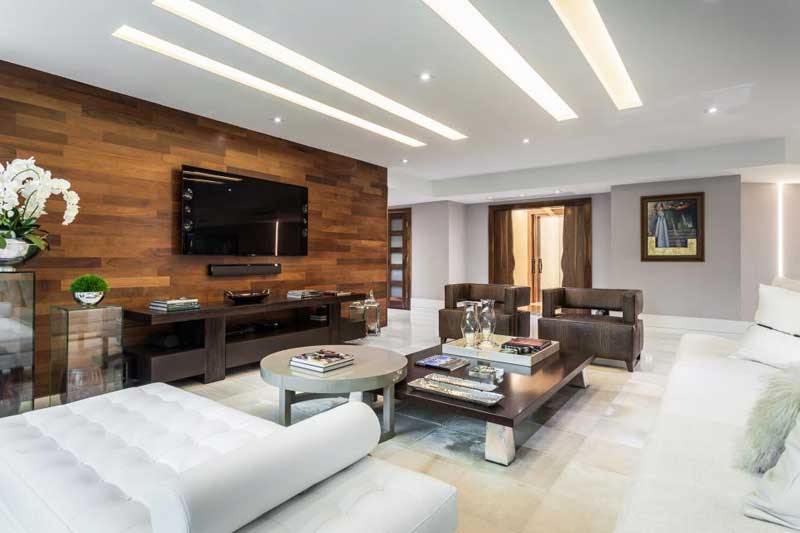 Image via: gabarch.com
Well, now that you have chosen this type as your favorite, it can be said about you is that you are practical, down-to-earth person, stable and well balanced. You are kind, generous and compassionate toward others too.
49. White and Yellow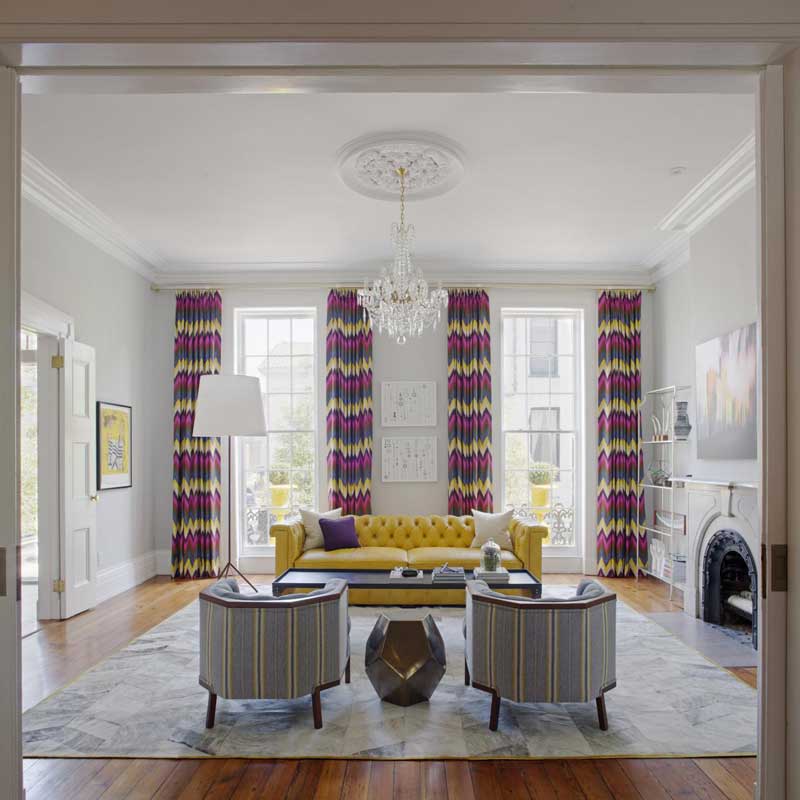 Image via: rethinkdesignstudio.com
You have a thirst for knowledge in order to gain wisdom and appear knowledgeable in whatever area interests you. You can be too cautious and worry about every little thing. If these are your personality characters, then clicking on this option will be the stepping stone for happy and prolonged family relationships.
50. Yellow and Beige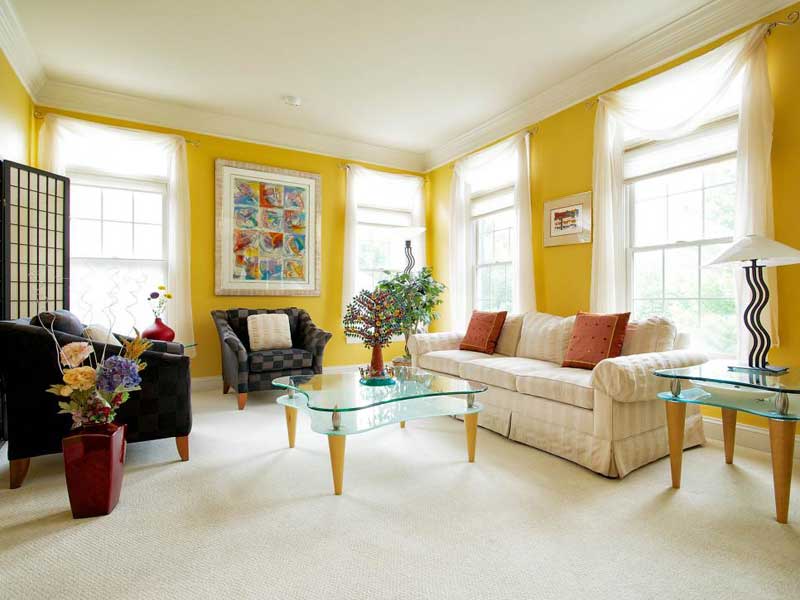 Image via: hgtv.com
With your optimistic and positive outlook on life, you see the good in everyone. To keep this character everlasting and leave a lasting impact on your future generations, this is the best color idea one can have!