8 Best Deck Stain Colors For Wooden Decks
A clean, well-maintained deck provides you with extra space for entertainment and relaxation while adding value to your home. However, just like other outdoor living spaces in your home, your deck is also susceptible to the destructive challenges posed by Mother Nature. As a responsible homeowner, you'll need to ensure that your deck is sufficiently protected from damages. This damages can be caused by the sun, wind, rain, and snow as well as the unavoidable aging process. Fortunately, you can extend the lifetime and good looks of your deck with a beautiful stain. In this article, we will look at the top deck stain colors to extend your deck's life and maintain its beauty in all seasons.
Popular Deck Stain Colors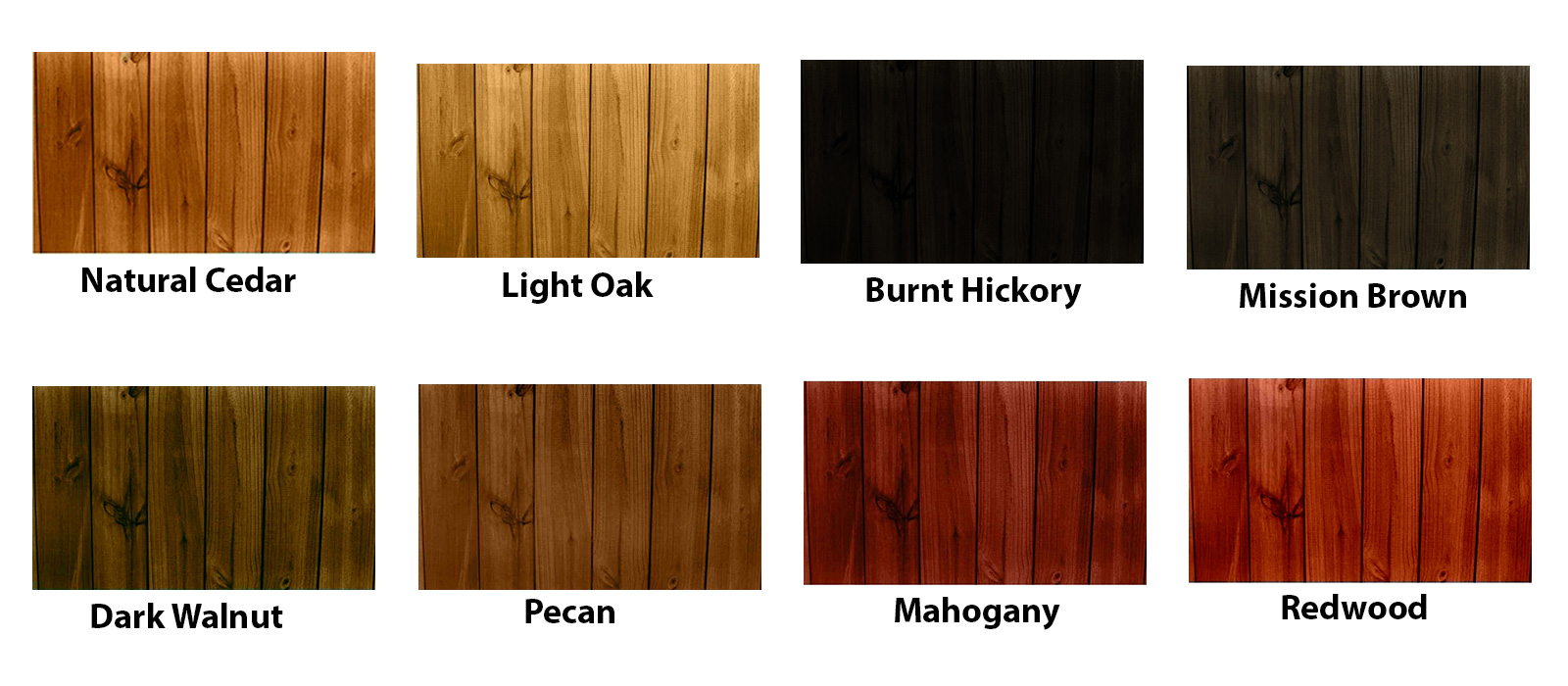 Here are the best deck stain colors available today:
1. Natural Cedar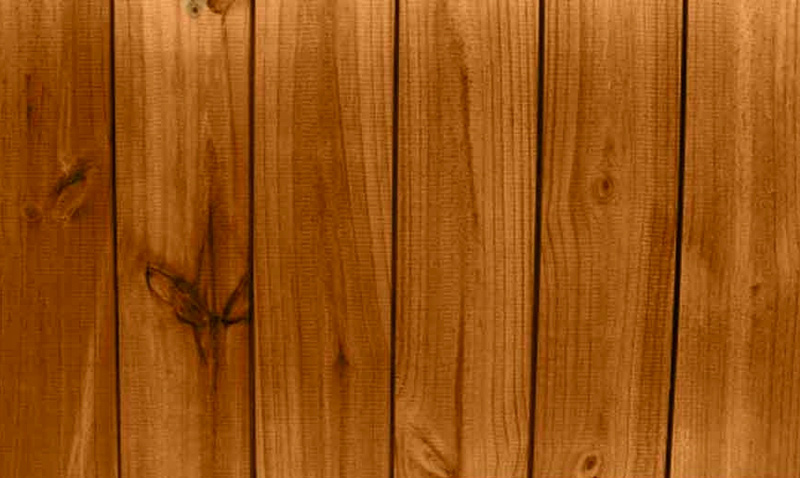 Buy on Amazon
Cedar is one of the most gorgeous types of wood to use for your deck. In fact, there are many color options for cedar decks. But why not maintain the natural hue and beauty of cedar with a natural cedar stain? A natural cedar stain color shows off the natural grain of the wood while giving your deck the valuable protection it needs in all weather. Use natural cedar colored stains to show off the beauty of the wood instead of covering it up with a solid color stain. The natural stain comes in a soft natural brown shade. This gives your deck a classic color and an additional coat of protection.
2. Light Oak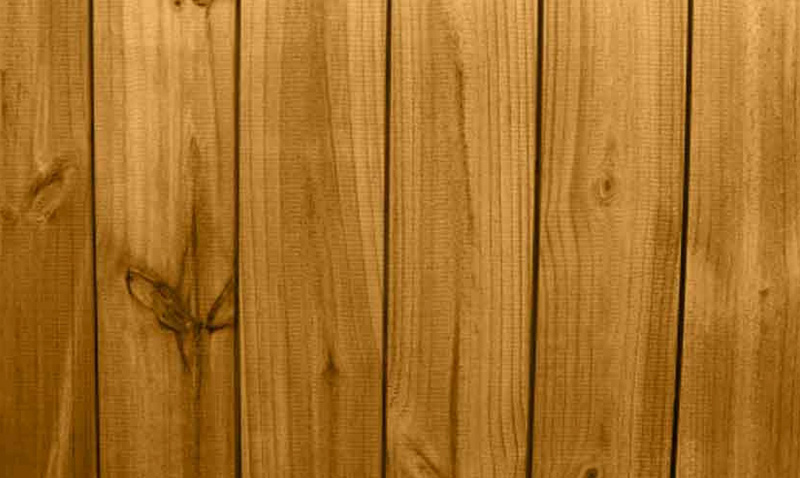 Buy on Amazon
This is another natural-looking semi-transparent light oak stain and sealer in one. Made of a unique blend of high-quality resin, algicide, and oil, the light oak deck stain is designed to penetrate deeply into the wood. This way it preserves the wood and protects it from the damaging effects of the elements. It will also protect your deck from fading, graying, and UV damage due to exposure to the sun. To maintain the beautiful luxurious look of light oak, it is recommended that you clean and recoat the deck's horizontal surfaces every two years and the vertical surfaces every 3 or 4 years.
3. Burnt Hickory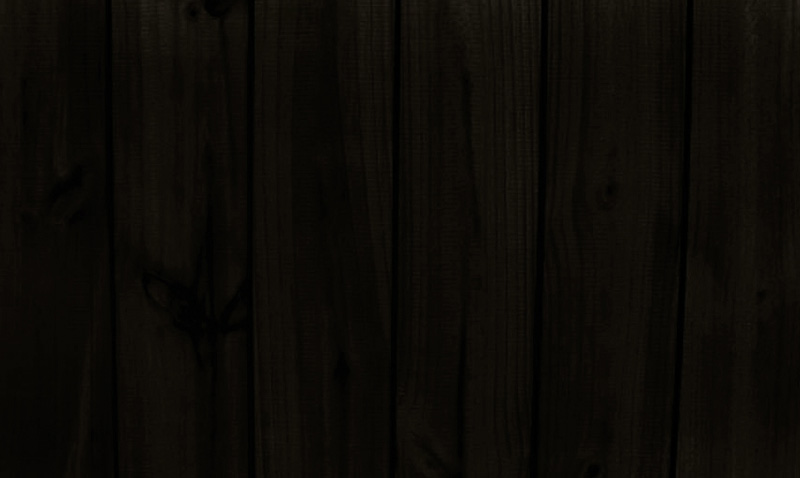 Buy on Amazon
The dark burnt hickory hue of your deck is not only aesthetically pleasing to the eye but also provides adequate protection against the sun's UV rays, thanks to its dark color. Burnt hickory wood stain is a penetrating semi-transparent finish made for both interior and exterior surfaces. It can be used to protect and preserve your furniture, decking, fencing, pergolas, doors, cabinets, and trims. You won't need to wax or apply a seal when you use this rustic glossy finish on your deck or furniture. Burnt hickory deck stain not only maintains the dark beautiful look of your deck but provides protection against the elements too.
4. Mission Brown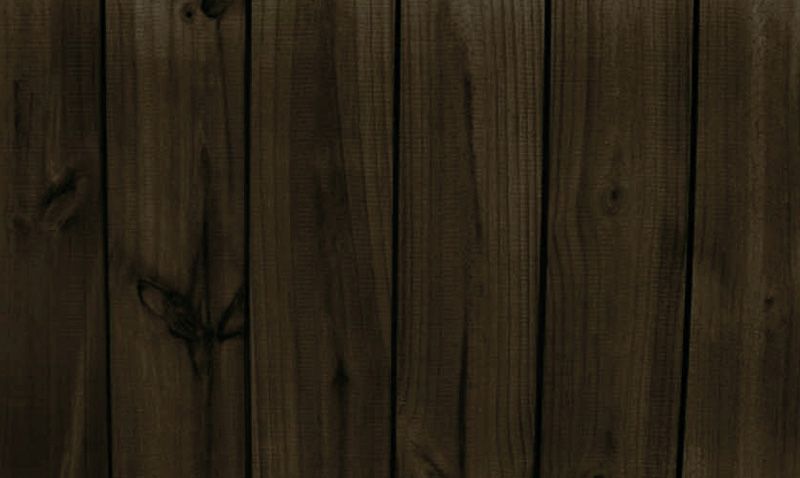 Buy on Amazon
Worn wood may give your deck a rustic look but doesn't help in preserving the deck. When you want to repaint old deck wood and give it a breath of life and freshness, a mission brown stain works perfectly. It not only retains the natural look of wood but it's also a life-extending coat on old deck wood. It is easy to apply using a sprayer, brush, or roller and doesn't even require thinning or diluting before application. This mission brown deck stain blends itself perfectly with your deck's wood. And it can be applied in all temperatures and seasons. It only takes 14 days to reach its true color.
5. Dark Walnut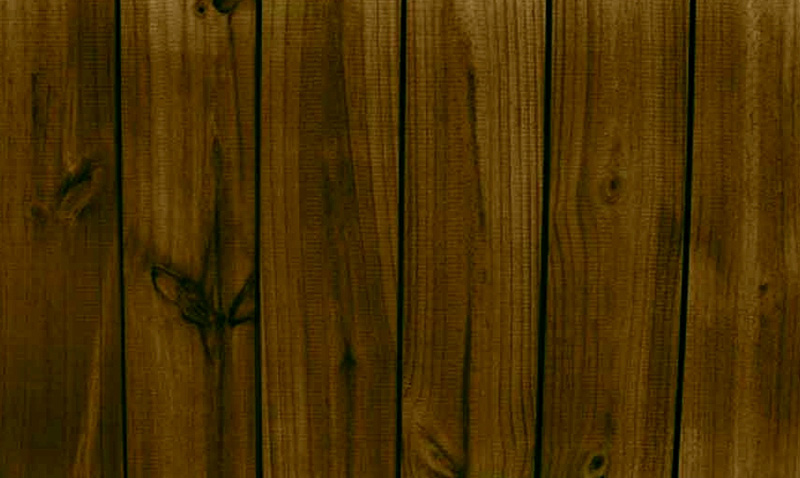 Buy on Amazon
There are many stains and brands to choose from when you want to stain your deck. But if you are looking for a darker shade, then the dark walnut stain is a great option. It is the perfect choice when you want to mask wood grain with a long-lasting solid color deck stain. The dark walnut stain is a low luster coating designed for sprucing up your porch, patio, deck, and other outdoor wooden structures. It works well with indoor furniture too. It is extremely durable and mildew resistant too. Give your decking a gorgeous finish and seal out stains with this dark walnut stain.
6. Pecan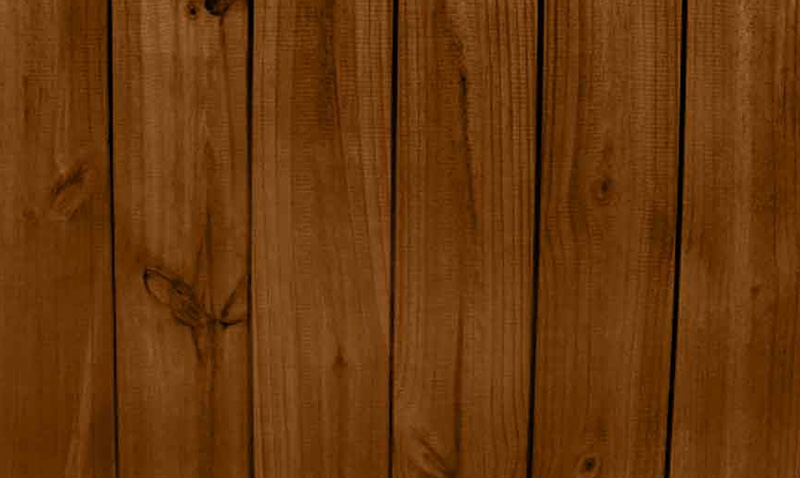 Buy on Amazon
The Pecan deck stain is available in a lighter brownish color almost similar to natural cedar. It is a semi-transparent stain capable of penetrating into the wood for longer-lasting protection while preserving the natural wood grain. It's a richer color suitable for old faded deck wood. However, it's important to note that when applying this type of wood stain on your deck the results will vary depending on the type, age, and prepping of the wood that your deck is made of. The results will also depend on the application method you use. Nevertheless, Pecan is a great stain for all types of decks. It provides perfect sealing too.
7. Mahogany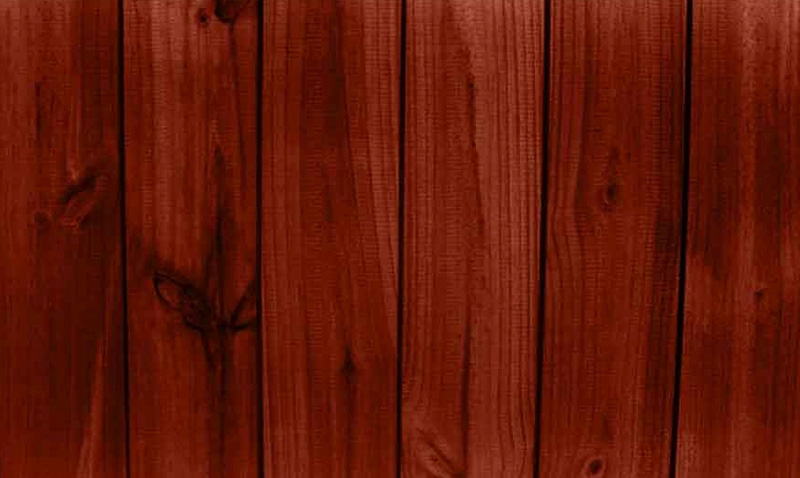 Buy on Amazon
Mahogany is an exotic hardwood with a stunning grain pattern and natural color. A mahogany deck creates strong, beautiful, and long-lasting outdoor living space. It is naturally resistant to rotting but still requires a good water repellant finish to preserve it from the damages caused by Mother Nature. A mahogany deck stain helps to preserve the natural beauty and strength of the wood without altering the wood's appearance. It doesn't form a film on the wood's surface nor does it peel or wear. The stain penetrates the wood's surface and is the perfect choice for decks made of exotic hardwoods such as mahogany.
8. Redwood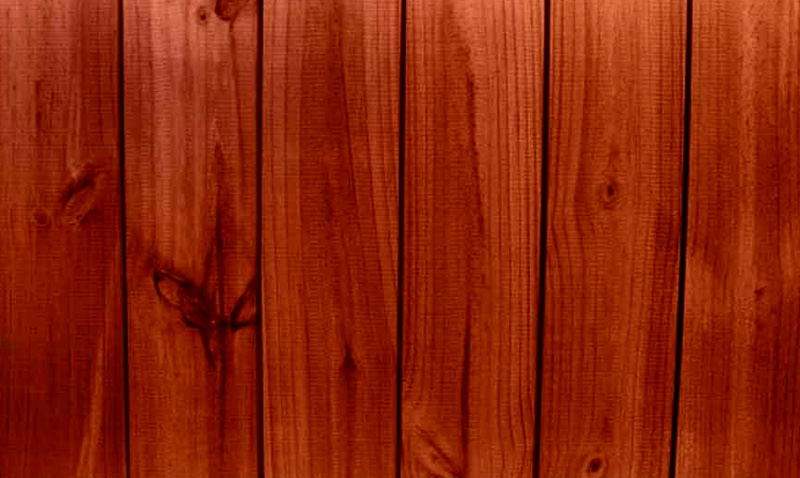 Buy on Amazon
Regular maintenance of your redwood deck helps to slow down the weathering process and extend the deck's life. With regular cleaning and refinishing with the right redwood stain, you will be able to maintain the natural beauty of the deck. This is while providing a reliable layer of protection on the wood. The redwood deck stain is designed to enhance the beauty of your deck and offers protection from the elements. It is a semi-transparent stain that also works as a perfect sealer for your deck. It resembles the natural color of wood and will definitely add to the curb appeal of your home.
Deck Stain Color Ideas
Here are a few deck stain color ideas for more inspiration: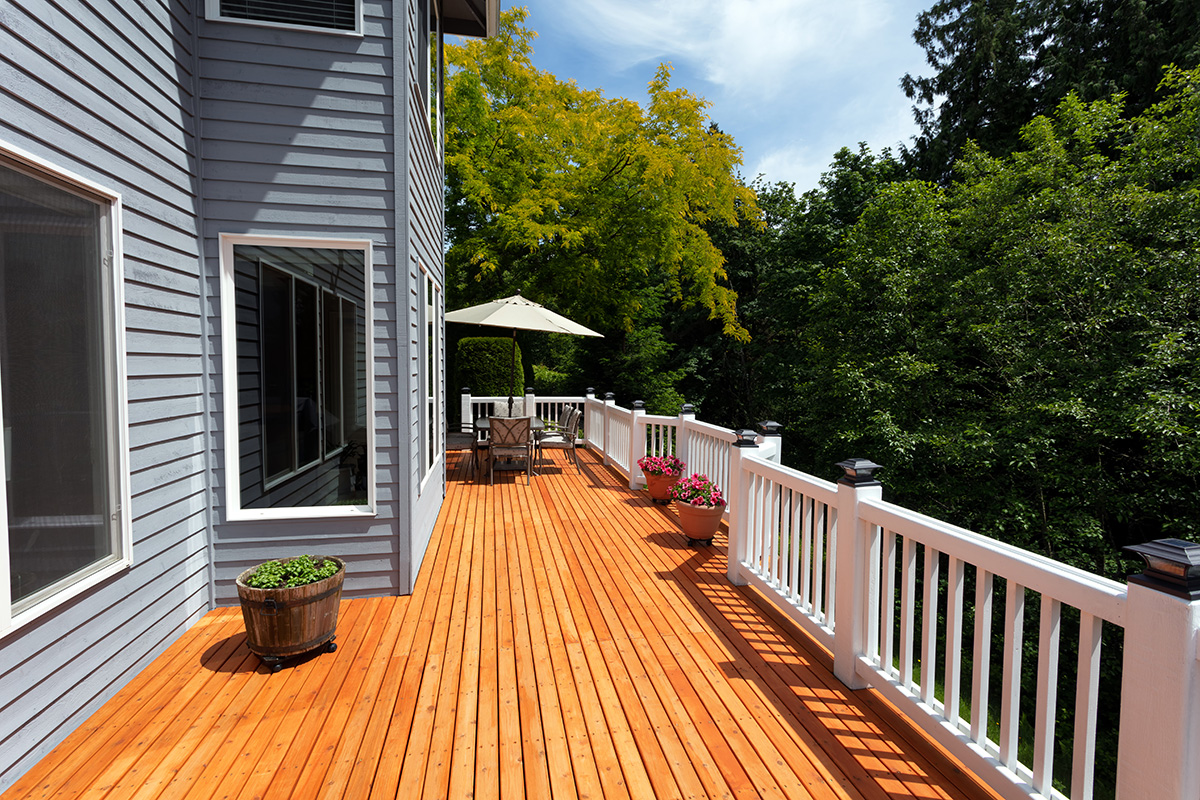 Outdoor living spaces trends and styles come and go but red cedar never goes out of style. When planning for a new deck or redesigning your existing one, red cedar is the perfect wood to work with. It is a blueprint to your decking bliss. This beauty of this decking is enhanced by naturally looking red cedar, which is known for durability and strength. Cedar is a type of high-density tropical softwood known for its strength and resistance to the elements. It works perfectly for outdoor spaces in all seasons and weather conditions. It adds value and longevity to your home while maintaining the beauty of your exterior living spaces.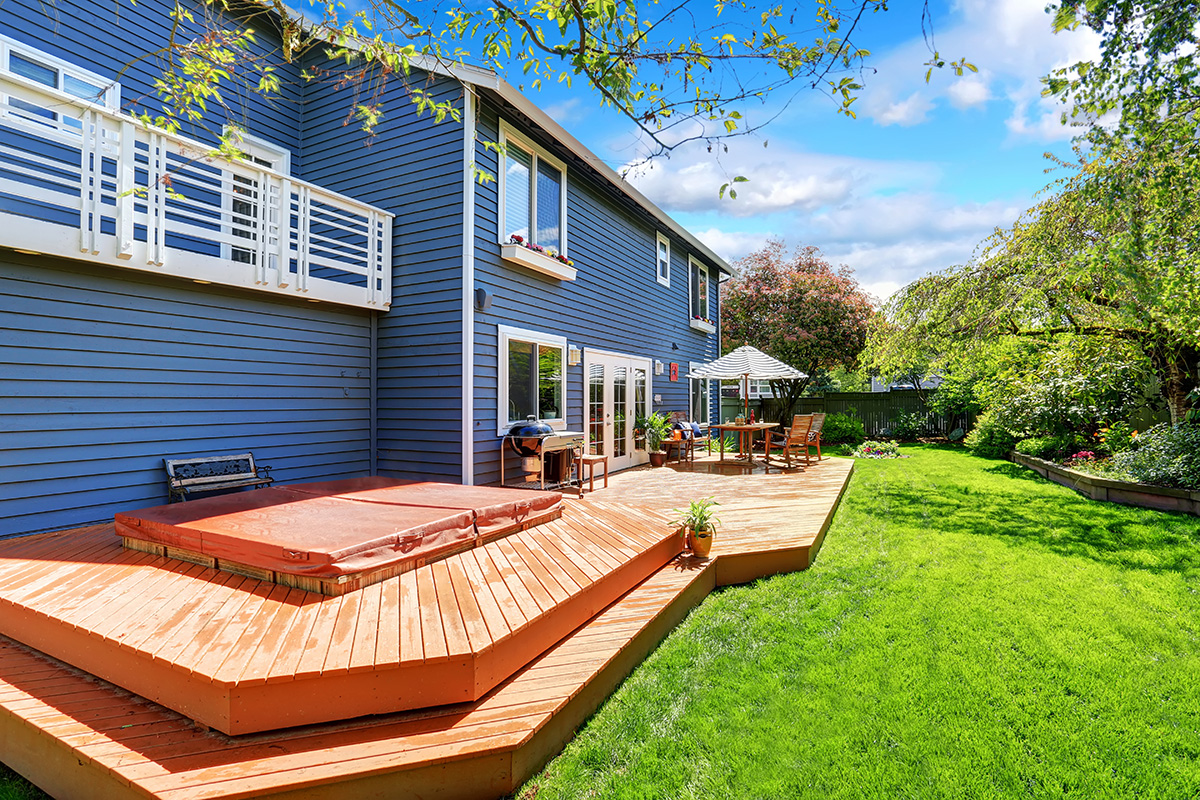 Here is another back decking layout to inspire your home improvement design ideas. It features a perfect back deck complete with umbrella-covered seats and lots of well-kept grass all around. This type of deck setting provides you with the right spot to enjoy the sun on a hot summer day or spend the evening watching the stars. It is a perfect getaway spot when the heat inside becomes unbearable. The quick fix umbrellas and comfortable seats enhance the beauty and functionality of the deck. This style is suitable for all colors of wood as long as it is preserved for longevity with the appropriate decking wood finish or stain.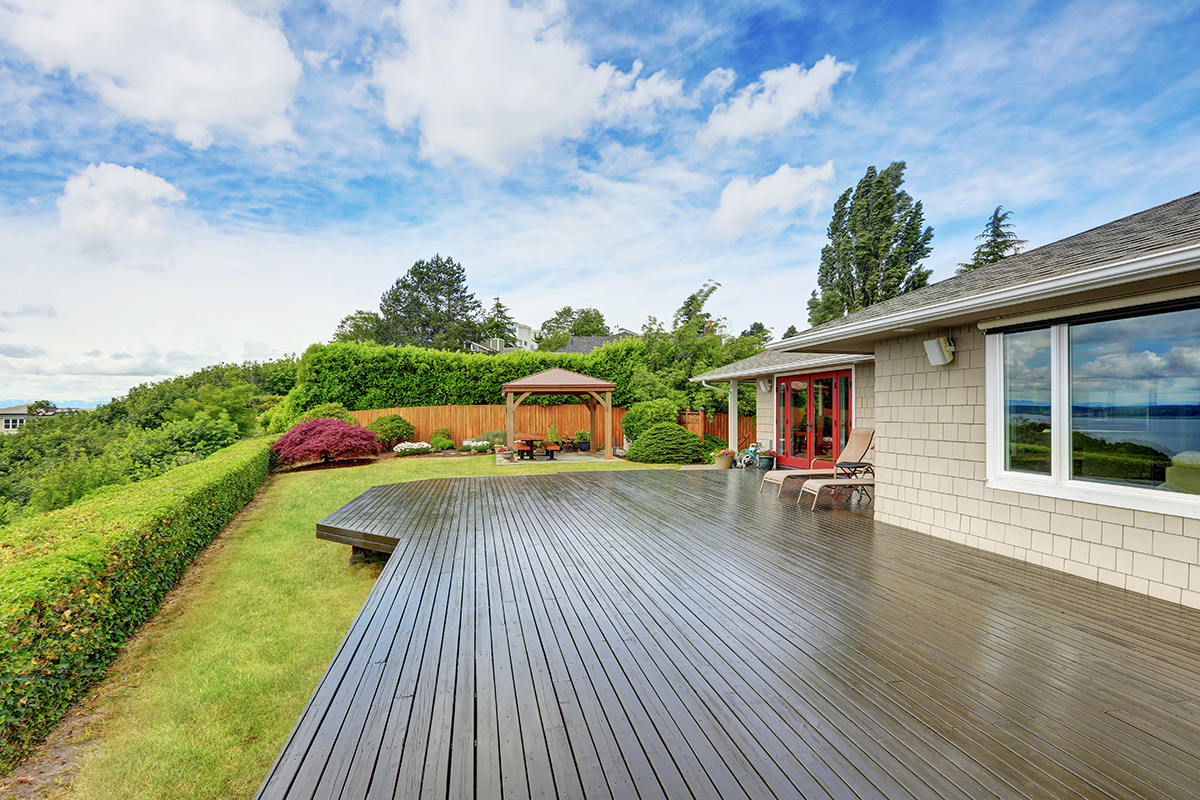 This is a perfect outdoor design idea if your home is perched on a north-facing slope in a location known for heavy winter downpours such as the Northwest. The glossy and luxurious deck is designed to handle excessive rain and dampness while giving you a comfortable and relaxing outdoor space to enjoy the warm weather in summer. It is large enough to give you ample outdoor living space for the entire family. The clean gray-colored deck can be effectively stained with any other color of choice and still retain its natural beauty and appealing look.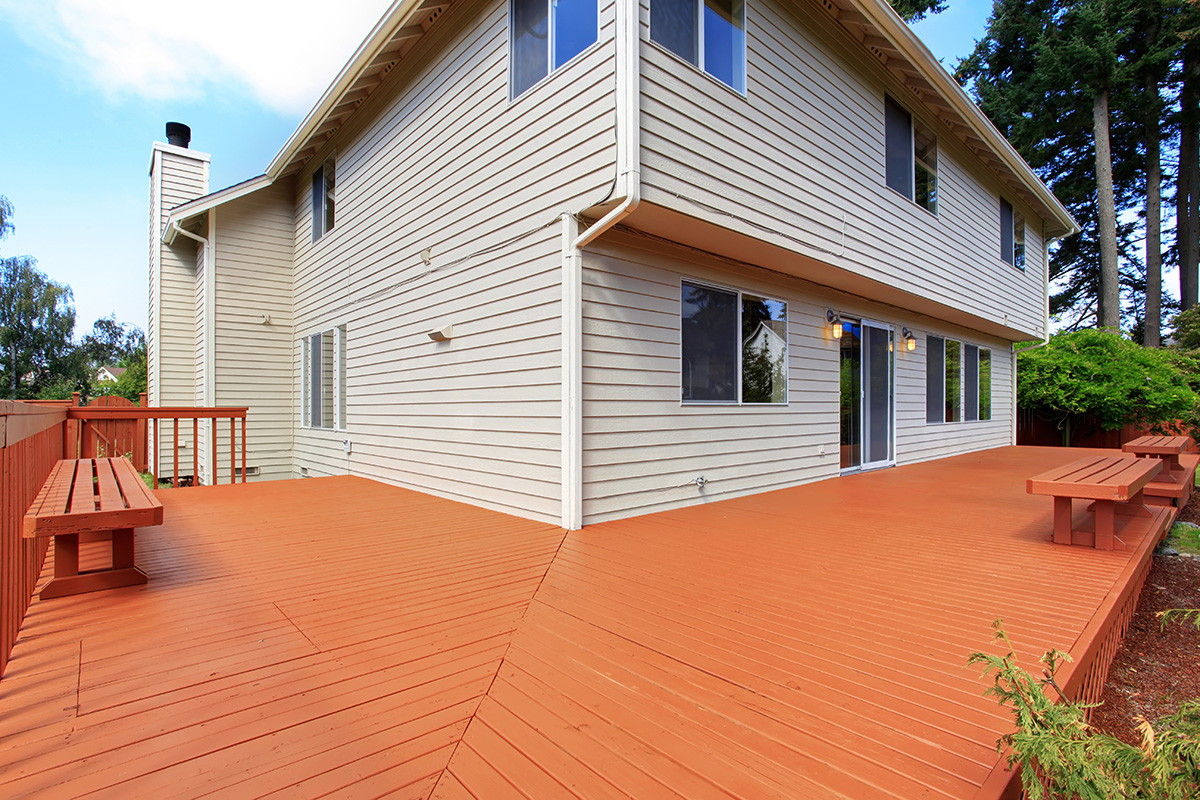 Looking for more inspiration for your decking design? Check this beautiful white house with a spacious walkout wooden deck and built-in benches. The decking is designed in a perfect layout around the rear part of the house towards the backyard. The wood features a natural-looking finish and is designed to withstand the elements while retaining the beautiful look of your home. The benches are a great addition to the deck. They provide ample seating space without taking too much of the deck space. If you plan to build a similar deck consider the right place to locate the benches for proper space utilization.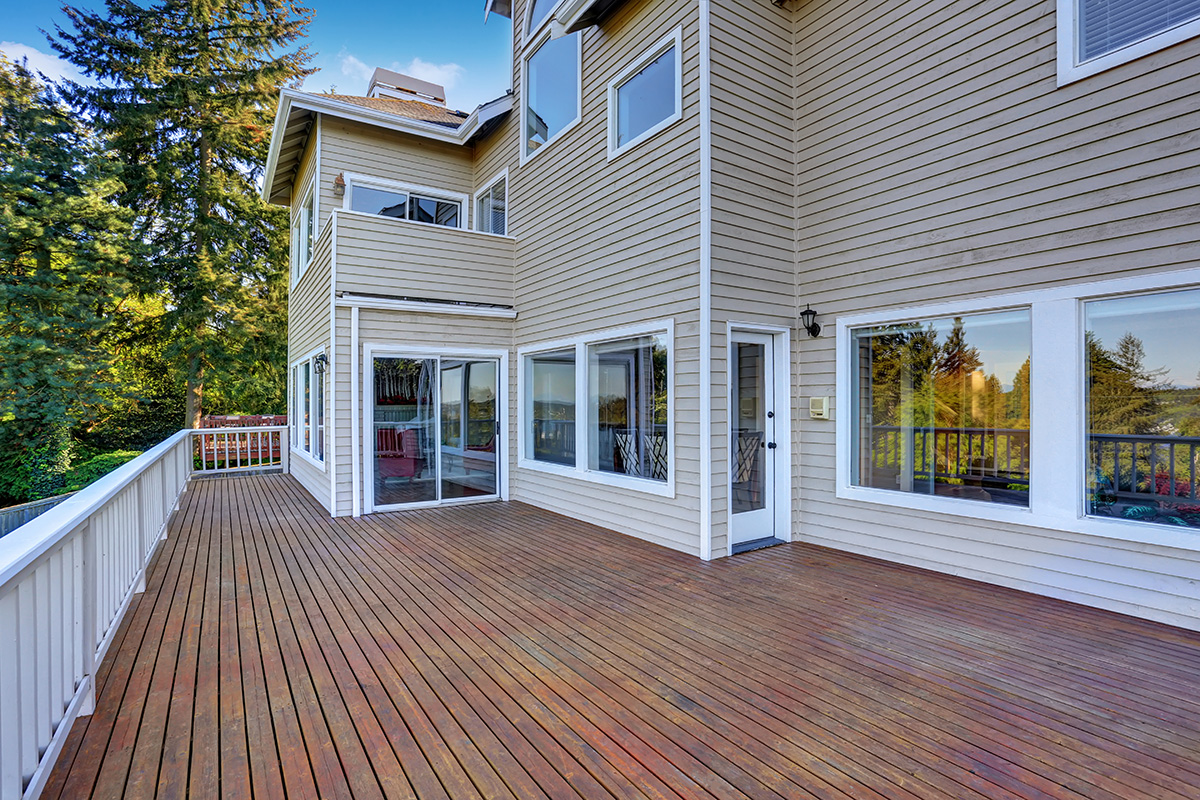 Wooden decking is a great option regardless of your location or climate. It adds aesthetic appeal and value to your home. It is also quite practical when it comes to transforming the look of your home. If you have a garden in your backyard, a wooden deck blends perfectly with your garden to create a functional and natural-looking landscape. This two-story house's aesthetic value is enhanced by the wooden walkout deck facing the backyard garden. It is a functional deck easily designed using any type of durable pressure treated wood including Pine, Redwood, Mahogany, Cedar Larch, or Cypress.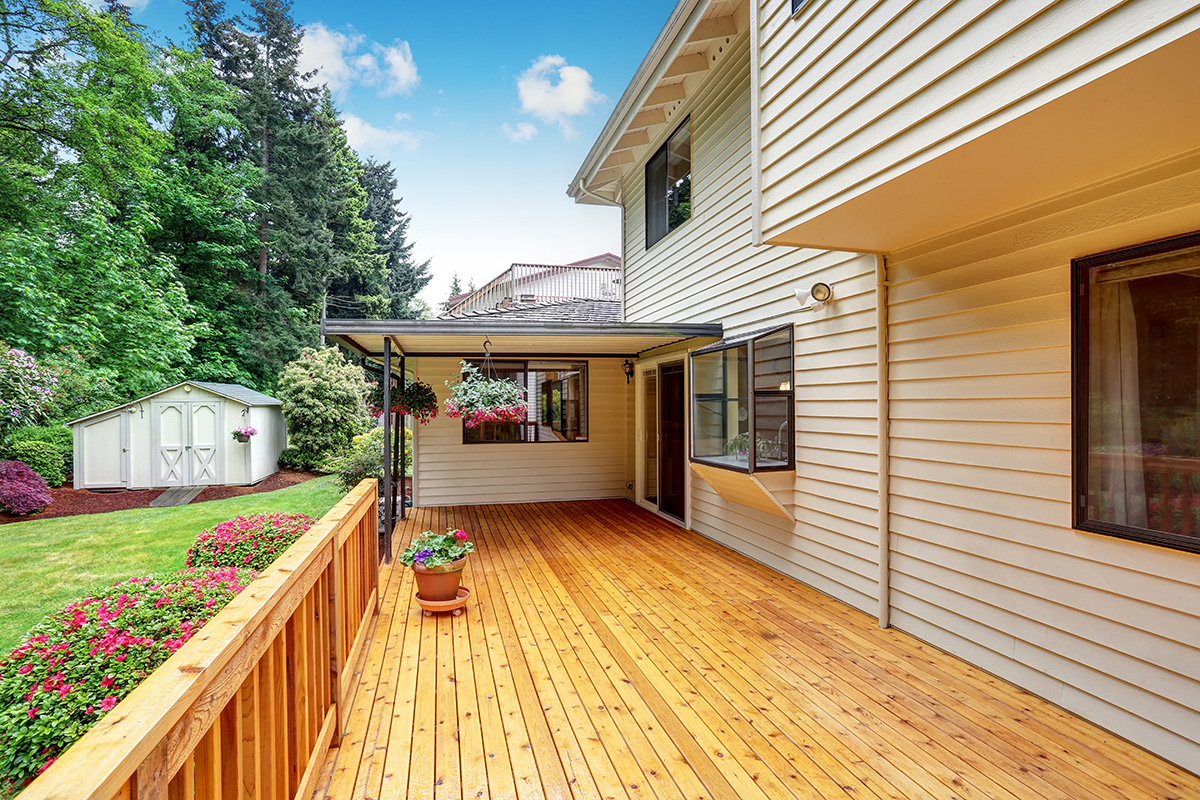 If you are looking for ideas and inspiration for a beautiful wooden walkout deck to give you extra outdoor space, here is another picture-perfect deck from Northwest, USA. It is a beautiful deck where you can cool off on hot summer days or enjoy starry nights with your family in the evening. It is also spacious enough for small dinner parties and general entertainment functions. The neat deck made of natural wood and clear finish enhances the beauty of your garden. This is especially true when you line its edge with well-kept flowers.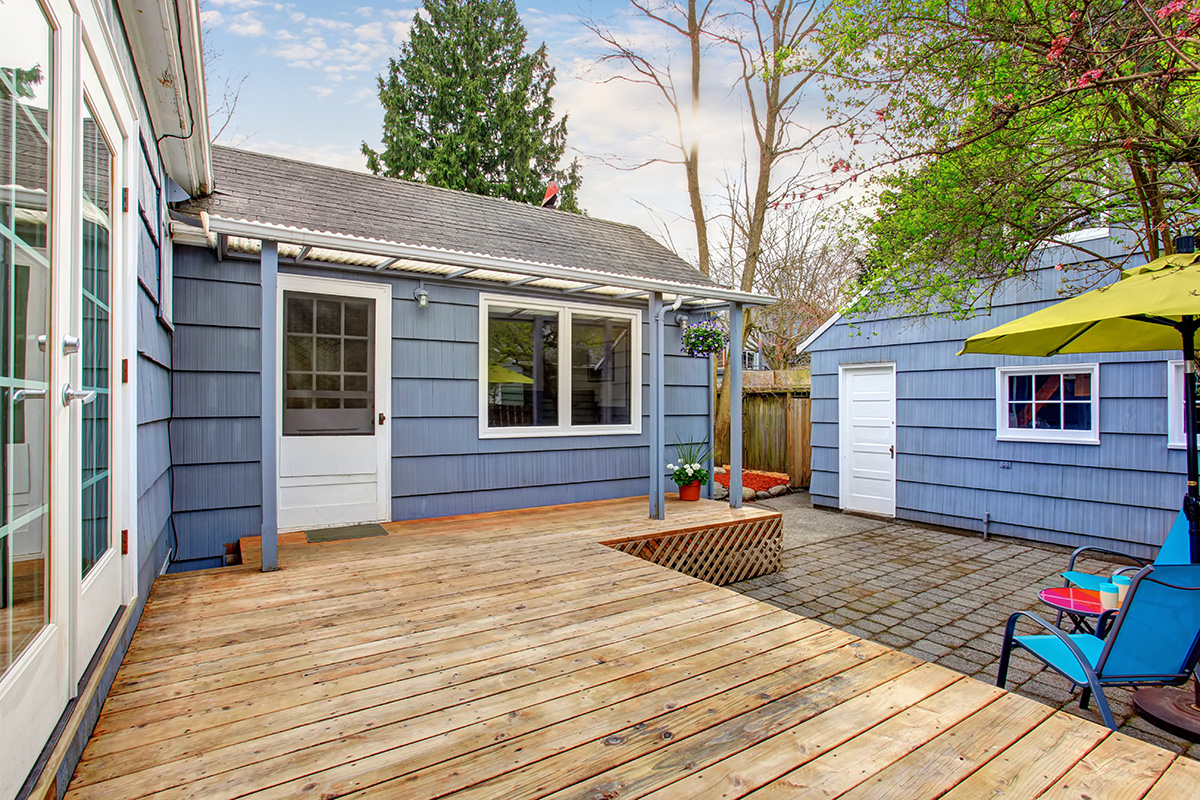 You can also create a beautiful raised deck close to a simple concrete patio featuring a beautiful shady umbrella and comfortable chairs. The patio provides a shaded space to escape to on a hot or drizzling day. To enhance the natural rustic look of your backyard, the decking can be stained with natural cedar or any light-colored finish. The stain not only provides the required sealing but also protects the wood from the damaging effects of the sun, rain, or snow. It also provides a neat buffer between your exterior and interior living spaces.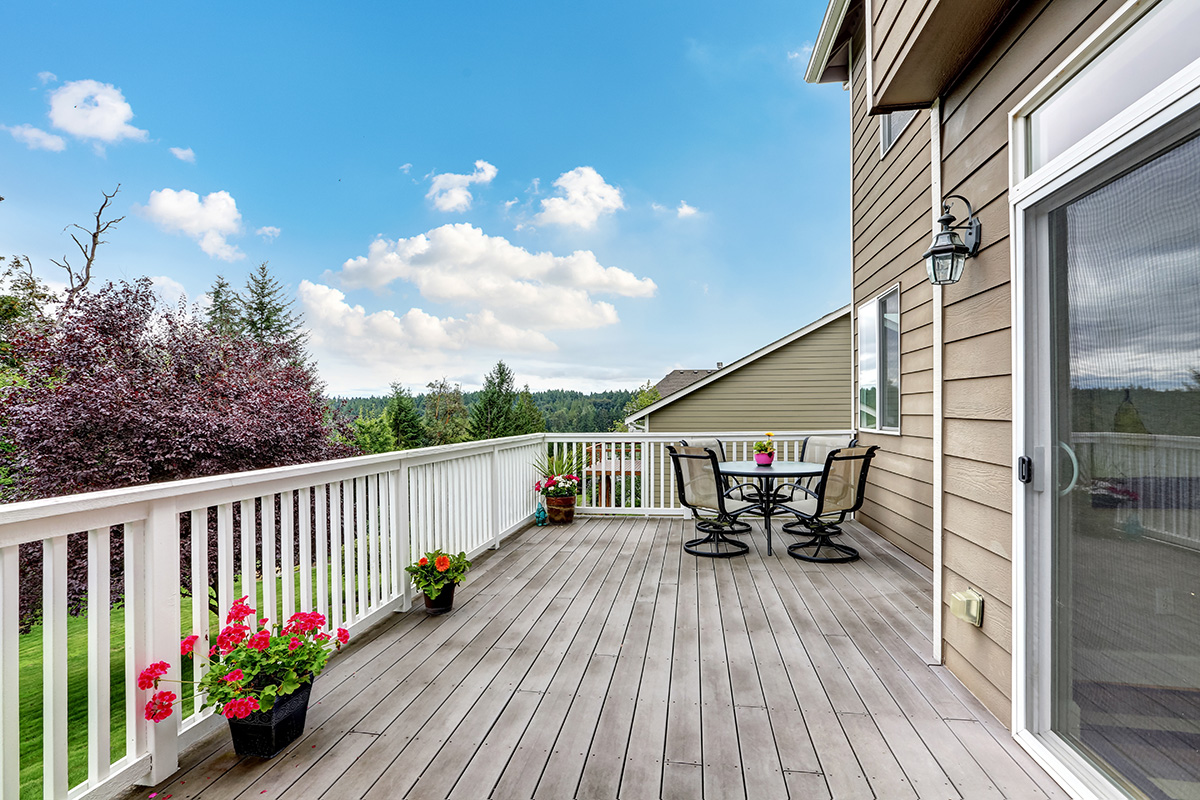 This is a picture-perfect decking style from the Northwest featuring white railings, simple but durable outdoor furniture, flower pots, and beautiful landscape views. The gray wooden walkout deck gives your home a natural rustic look enhanced by neat white railings around the deck. It is also spacious enough for extra seats and tables, especially when you are entertaining outdoors in warm weather. With a perfect semi-transparent stain, the simple walkout deck will last longer even in places with harsh weather conditions such as the Northwest.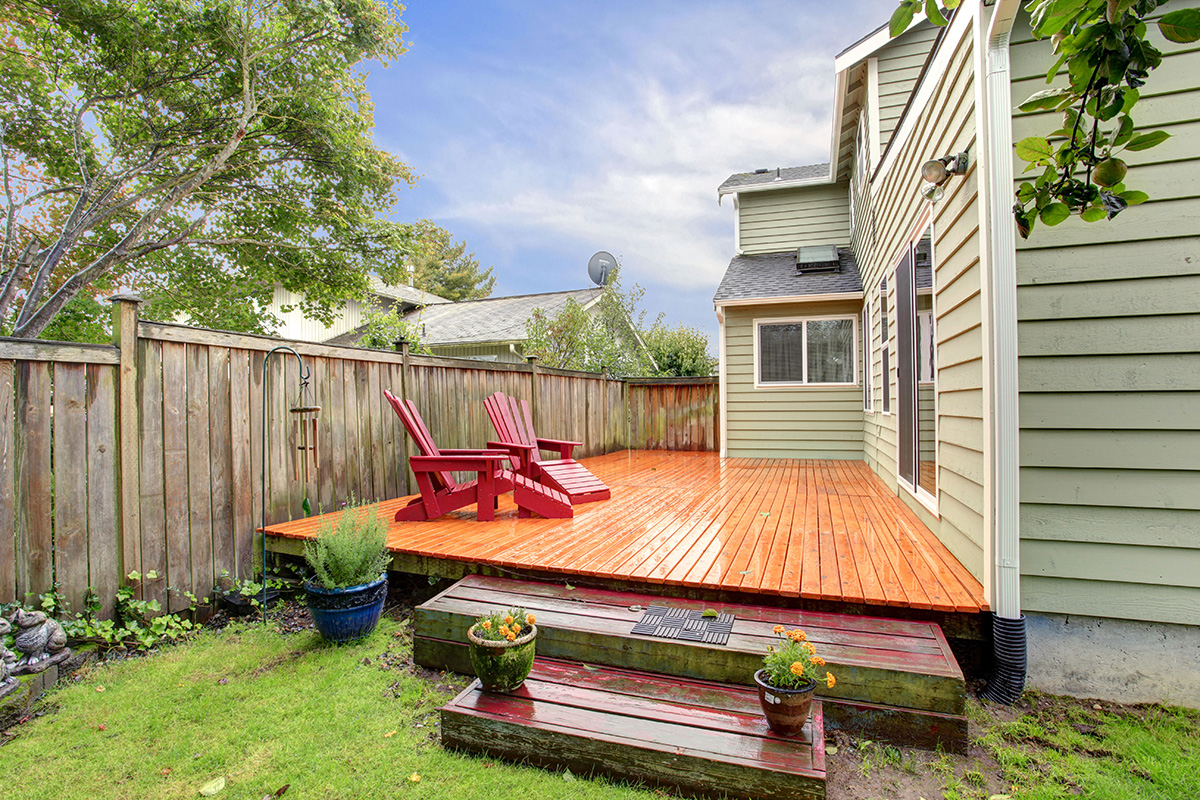 This picture-perfect view of a home backyard after rain shows you how a well-maintained deck and outdoor furniture can withstand water and moisture. The entire deck and outdoor furniture and the fence still retain their natural good looks even after getting drenched by rain. The beauty of the deck and exterior living space is further enhanced by beautiful flower pots and green grass. The wooden fence gives the backyard a rusty natural look while maintaining the home's privacy. The deck doesn't take too much of your outdoor space but is great for all your relaxation needs.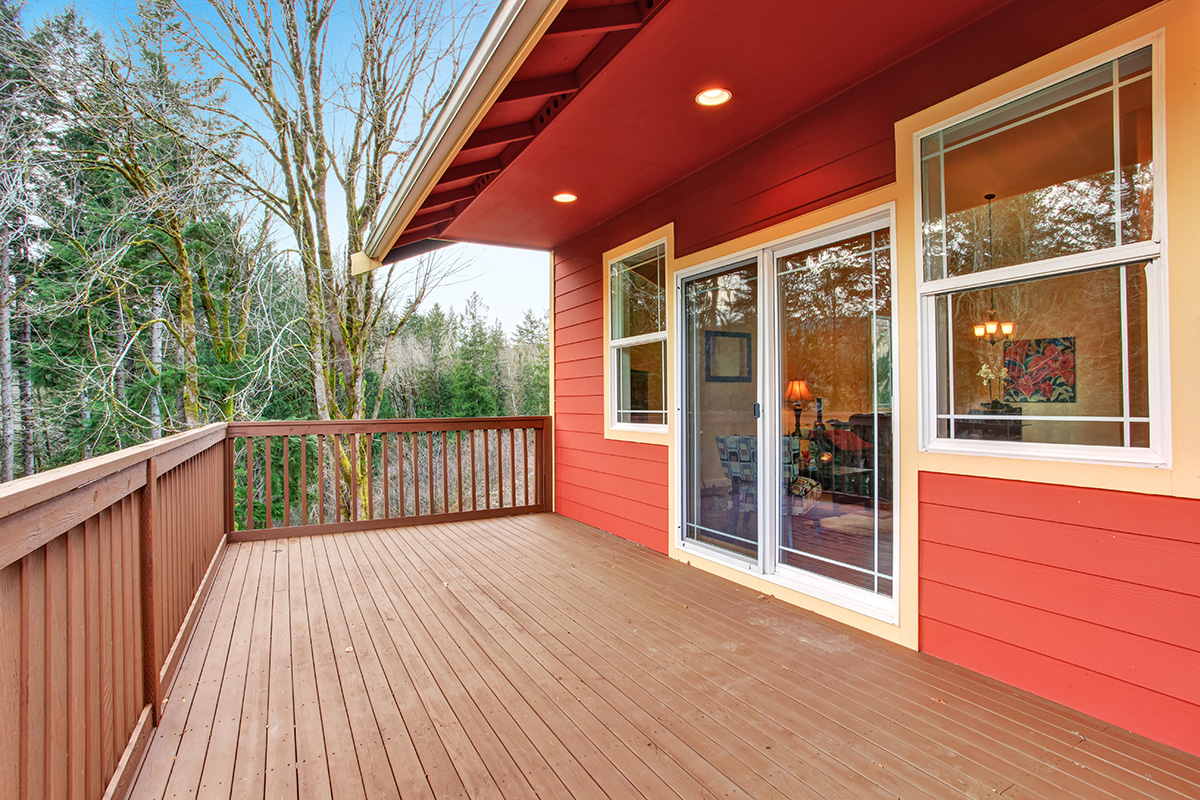 Here is a picture-perfect matching deck to enhance the natural beauty of your home. The red-stained deck looks neat and sufficiently protected from the elements by the roof awning and neat railings all around it. With a perfect seal and stain, the deck will surely last long. At the same time, it will maintain the beauty and value of your home. It is perfectly matched with the white sliding doors leading the living room. If you are looking for the perfect decking between the backyard and your living room, this design is just right for you. It can be designed to match the color scheme of your home's exterior using the right type of wood and staining colors.
How to Re-Stain a Deck to a Different Color
If you want to add a slightly different color to your deck or lighten its tint, then re-staining is the perfect solution. Rather than replace the entire deck with a more dark or light-colored type of wood, the easier and less expensive option is to pickle or re-stain it.
You can easily do this by following these simple steps:
Start by checking the deck to ensure it still has its original solid construction
Remove the existing stain
Clean the deck thoroughly to ensure the new stain is not applied over dirt or debris
Sand the wood's planks until they are perfectly smooth
Conclusion
The right deck stain color can effectively seal and protect your home's exterior living spaces. It also keeps your exteriors looking good and inviting. The main purpose of having a well-sealed and stained deck is to maintain the wood fresh and well-preserved. This is done by locking out the damaging effects of rain and the sun. Fortunately, a majority of commercial deck sealants and stains will help you protect the wood from the elements with just one or two coats. It is also important to ensure that the wooden surfaces are properly prepped and sanded. You should do this before applying a new coat of stain. Always use the right materials and tools when staining your deck afresh in order to get the best results.