Best Brush for Staining Deck
With summer right around the corner now is the time to get that much-needed to do list together. The warmer weather will provide you with the ability to accomplish many outdoor tasks that you wouldn't otherwise be able to take on. One such task might be staining your deck.
A simple application of deck stain will not only protect your wooden beauty, but it will extend its lifespan. All that being said, if you want to make your staining job easier and overall more effective, you are going to require the assistance of a good staining brush.
The Best Deck Stain Brush
1. Perdura Boss Deck Stain Brush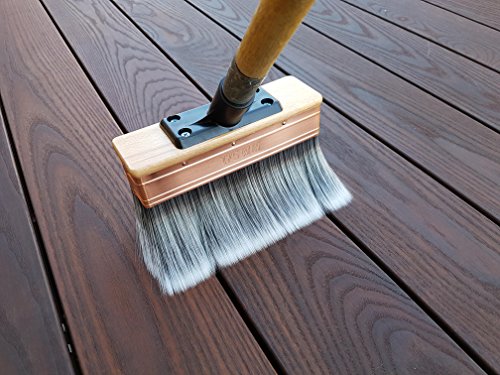 Anyone that is looking to cut their staining time in half and end up with an overall sleeker finish needs to consider investing in the Perdura Boss Deck Stain Brush.
One of the most impressive things about this amazing brush is the bristles. The bristles of the brush as designed in a durable manner. Their heft construction gives them the ability to smoothly and perfectly apply paint, stain, or other sealers to your wooden masterpieces. The bristles get through every crack and won't leave foam or wool behind in the process.
Investing in this product won't leave you just holding a staining brush. No, when you invest in the Perdura Boss Deck Stain Brush, you are also going to get a Perdura Brush Comb along with a can/bottle opener that clips to your key ring.
Pros
7-inch deck paint brush
Bristles are designed for smooth and rough surfaces
Can apply paints and other sealers as well as stain
Super fast applications
Designed to cover more area at once
Cons
The larger brush heads mean more maintenance work
Some individuals have complained about broken plastic grommets
2. Wooster Deck Stain Brush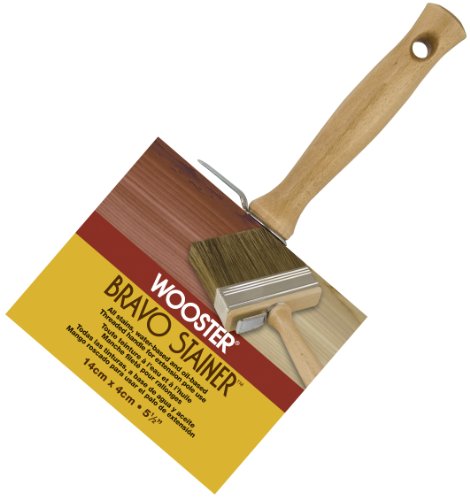 The Wooster Deck Stain Brush certainly is an impressive staining brush in its own right. The brush with it five and a ½ inch head was designed to cover spaces large and wide. This brush is completely versatile and can tackle most wood stains and sealers, including the water-based and oil-based stain.
The bristles are excellently crafted of soft, white bristle and a touch of polyester. One of the most impressive things about this innovative little brush is that it comes with a removable threaded handle with bucket clip. This pretty means that the brush can be used for two unique different applications.
First, it can be attached to an extension pole, which makes it suitable for those wider and longer decks. However, the extension pole can be removed from the threaded hardwood handle. Once removed the handle will provide the perfect amount of leverage for accessing those tighter and harder to reach spaces. With the Wooster brush, you can literally tackle the top, sides, and bottom of your decks or patios with ease.
Pros
Works with a number of stains and sealers
White China bristles with a touch of polyester
Can be used with or without an extension pole
Includes a removable bucket clip
Cons
Not recommended for use with paints
Doesn't include an extension pole, but the brush will fit on the standard ACME threaded pole (5 thread per inch)
Conclusion
The Perdura, and Wooster deck stain brush are definitely worth the money. These brush wide enough to cover a deck board and get the edges at the same time.