12 Cheap White Dressers Under $200
Should you go for a 6-drawer dresser or one with 4? Well, finding the dresser that perfectly meets your needs can spiral into an endless hunt.
That's why to streamline the whole decision-making process, we looked through a whole lot of white options. And it was only after an extended spree and plenty of groundwork that we handpicked the 12 best models.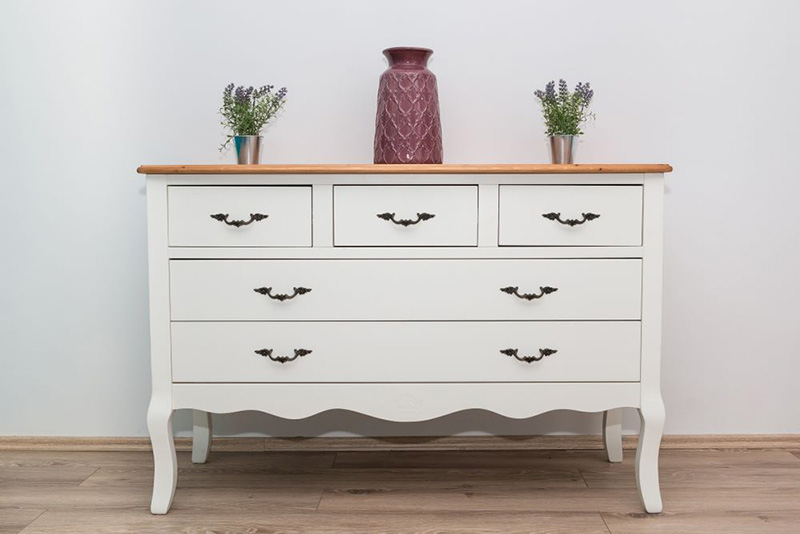 But we also made it a point to keep things budget-friendly, without compromising on quality. So, all these white dressers are under $200 and can simplify your storage needs in a snap.
Without further ado, let's get down to business.
Cheap White Dressers Under $200
1. Delta Children Sutton White 3-Drawer Dresser
Buy on Amazon
This pristine white dresser from Delta Children features 3 drawers with ample storage for clothes, accessories, and toys. We especially like the neat and no-frills appearance of this piece that can perfectly complement any bedroom decor.
Also, we're delighted about the removable changing top, designed as per industry standards to make it baby-safe. Furthermore, we like that users can utilize the dresser top to keep car-keys, wallet, etc., close within reach.
All in all, we are very impressed with the versatility and sturdy construction of this item. Therefore, if you need a dresser with a readily accessible and replaceable changing station, we recommend this option.
Pros
Offers ample storage space with 3 drawers
Comes with a removable changing top
Neat and minimalistic design goes well with all decor
Features a sturdy construction
Cons
Unclear instructions for assembly
2. Delta Children White 3-Drawer Dresser
Buy on Amazon
Delta Children has bagged two consecutive slots, and this time with another dresser that'll surely impress busy homeowners. To begin with, this 3-drawer dresser will work perfectly in a nursery or a child's bedroom. Meaning it provides enough storage space for keeping clothes, toys, and essentials separate.
Furthermore, the robust wooden construction of the dresser allows you to keep things stowed away in high-activity areas. We really like the round handles on the individual drawers that further enhance its sleek, low-profile appearance.
However, what steals the show is the smooth metal gliding system, letting you open and shut drawers quickly. Besides, if you're worried about over pulling the drawer, you can rely on this mechanism to prevent mishaps.
Pros
Ideal for use in a child's bedroom or nursery
3 drawers provide ample storage space
Drawers come equipped with a smooth gliding mechanism
Safe to use for children
Cons
Minor quality control issues
3. Storkcraft Crescent White 3-Drawer Dresser
Buy on Amazon
This beautiful dresser from Storkcraft is a perfect combination of elegant design and functionality. Therefore, if you're looking for a corner piece that will attract the right kind of attention, choose this. Featuring superior craftsmanship and aesthetic elements, it poses charmingly, without sticking out awkwardly.
Also, we like the framed drawer detailing and the high-quality laminate finish that seamlessly sync with existing furniture. But we're not only about looks as we find this piece exceptionally useful for keeping things tidy.
Apart from that, you'll appreciate the euro-glide metal tracks and safety stops that help you securely store belongings. But most importantly, the dresser is easy to maintain, as its exterior is resistant to dirt and spills.
Pros
Elegant, unobtrusive design; works perfectly as a corner piece
Dirt and spill-resistant laminate finish
Perfectly blends in with the existing decor
Features euro-glide metal tracks and safety stops
Cons
Not the sturdiest piece of furniture
4. Sauder Shoal White 4-Drawer Dresser
Buy on Amazon
Let's just say, even a layman can assemble this 4-drawer dresser as the instructions are simple to follow. Meaning you'll have a dependable unit, ready to use, in no time.
That said, we're impressed with its sturdy wooden construction, allowing users to place this in high-traffic areas.
Also, we like that the drawers come equipped with metal runners and safety stops, featuring patented t-lock systems. Therefore, with this high-performing item, you'll never have to worry about the drawer getting stuck in the back. Besides, the weight on this one contributes to the durability of the dresser and prevents tipping over.
Also, if you want a piece that will last quite long, we recommend investing in this Sauder product.
Pros
Features 4 spacious drawers
Can be placed in high traffic areas at home
Highly durable and easy-to-assemble unit
Drawers come equipped with metal runners and safety stops
Cons
Quite heavy and difficult to move
5. Sauder Pogo White 4-Drawer Dresser
Buy on Amazon
If you're not a fan of "princessy" dressers, this model is a better fit for you than others. On that note, we love this spick and span, squarish-looking dresser that can seamlessly coordinate with existing furniture.
Also, we like the wave design at the bottom that adds a stylish touch, yet keeps things unostentatious.
Moreover, we believe that when it comes to dressers, there's no such thing as too much space. Since users generally prefer ample storage for on-demand access, you'll love this item even more. To explain further, it has room for multiple things like accessories, books, files etc., besides clothes and essentials.
So if you need sufficient space for keeping stuff within close reach, this Pogo model will work best.
Pros
Neat and unostentatious design
Comes with 4 large spacious drawers
Enough space to store multiple items simultaneously
Wave design in the bottom creates a stylish look
Cons
A tad bit difficult to assemble
6. Waterjoy White 4-Drawer Dresser
Buy on Amazon
This 4-drawer chest dresser from Waterjoy is remarkably well-made, simplifying storage needs from the get-go. For starters, its premium particle board construction renders a sophisticated look with perfectly cornered edges.
We dig the antique metal handles on the drawers, which accentuate the overall look and facilitate seamless functions. Therefore, the elegant assembly of the unit is a real eye-catcher, complete with professional MDF paint coating. Furthermore, the pure white finish adds a glowy look and can zing up the decor of your interiors.
What's more, the individual drawers run smoothly on metal glides, so you never have to worry about getting stuck.
Pros
Made with premium quality particle board
Features beautiful antique metal handles
Professional MDF white paint coating for added appeal
Spacious 4-drawer unit with metal gliding system
Cons
Model is a little too heavy
7. Homfa White 4-Drawer Dresser
Buy on Amazon
We're halfway through our recommendations, and now is a good time to introduce the Homfa 4-Drawer Dresser. To begin with, it features 4 removable drawers that help you keep your bedroom clutter-free and organized.
Despite the compact dimensions, we love the ample storage space, ideal for keeping clothes, accessories, linens, and more. Alternatively, you can use this piece in an office to sort out files, documents, and inventory storage.
Besides, the wooden top provides a stable surface to keep lamps, books, decor pieces, and more. While the plastic feet add to the sturdiness of the unit without the risk of scratching floor surfaces. So if you need a dresser for small spaces like apartments, condos, and dorm-rooms, we recommend this option.
Pros
Affordable
Can be used at home and office set-up
Comes with scratch-resistant plastic feet
Wooden top allows users to keep books, decor items, etc
Ideal for small spaces like condos, dorm-room, etc
Cons
The white paint chips away easily
8. Kari Slim White 5-Drawer Dresser
Buy on Amazon
The Kari Slim Dresser is an excellent acquisition that can be used both in the bathroom and bedroom. Furthermore, the slender structure allows you to fit this piece into tight spaces while keeping your interiors organized.
Meanwhile, the five compact drawers provide more than enough room to keep accessories and knick-knacks tucked away. Apart from that, we like the premium solid wood construction of this item that enhances durability and appearance.
However, what impressed us the most is how low maintenance this product is – it only needs to be wiped. Also, it requires minimal assembly, and the process is pretty simple to follow, unlike other multi-drawer units.
Pros
Multipurpose model; can be used in bathroom and bedroom
Slim design is ideal for fitting into tight spaces
Low maintenance item; requires basic cleaning
Minimal assembly required
Cons
The drawers are a little loose
9. Storkcraft Crescent White 6-Drawer Dresser
Buy on Amazon
We've yet another recommendation from the house of Storkcraft, but this time featuring six neatly arranged drawers. So if you're tired of using dressers that lack in quality and capacity, you'll love this elegant piece.
A growing child needs several essentials like clothes, socks, rags, diapers, and even toys within close reach. Obviously, it makes sense to stack everything in one dedicated unit for instant access, as and when required. That's why to simplify storage, accessibility, and organization at once, we suggest investing in this elegant model.
What impressed us the most are the metal knobs on the drawers ensuring quick opening and accentuating overall aesthetics.
Pros
Well built dresser with 6 wide drawers
Ideal for storing all baby essentials in one
Metal knobs on the drawers add to the aesthetic appeal
Provides neat and easily accessible storage space
Cons
Surface can get scratched up easily
10. Angel Line White 6-Drawer Dresser
Buy on Amazon
This white 6-Drawer Dresser works like a charm if you need modern storage space in your child's bedroom. We especially like the minimalist design of this unit that contributes significantly to the overall capacity it provides.
Despite being made out of wooden composites, the dresser is quite sturdy and can withstand regular wear and tear. Moreover, we're impressed with the uninterrupted gliding mechanism of the drawers that further adds to the whole appeal. But what we like best are the curved corners on the drawers, enhancing looks and operability.
So if your current dresser is inadequate, we suggest this option with a usable top for added convenience.
Pros
Sturdy and reliable construction; meant for regular use
Drawers feature curved corners for ease of opening
High capacity model, comes with 6 spacious drawers
Usable top for keeping decorative items or essentials
Cons
Takes up a lot of floor space
11. Prepac White Monterey Tall 6-Drawer Dresser
Buy on Amazon
If floor space is a luxury, you'll find the Monterey Tall 6-Drawer Dresser genuinely worth the money. This slender number can snazz up your bedroom decor while also letting you access 6 separate drawers on-demand. We especially dig the subtle, classy look complete with the scalloped base panel and solid dark pewter knobs.
Also, the curved-top edges and the side moldings add a sophisticated touch to this highly resilient furniture piece. Furthermore, we like that the pinewood drawer sides come attached with metal glides featuring built-in safety stops.
But that's not all! This ready to assemble white piece also includes a tipping restraint to prevent the unit from falling over. Therefore, if you want a low maintenance dresser, we suggest investing in this spacious model from Prepac.
Pros
Tall and slender design; ideal for saving space
Scalloped base panel and dark pewter knobs create a classy look
Includes a tipping restraint
Drawers functions on smooth metal glides with safety stops
Cons
12. Devaise White 7-Drawer Dresser
Buy on Amazon
This white 7-Drawer Dresser can accommodate all storage needs in the bedroom or living room with sufficient space availability. It also works in an office or study, where you need separate compartments to keep books, files, etc. So, if you need a versatile piece that doubles as a filing cabinet, we recommend this Devaise product.
We especially liked the premium slides that allow comfortable open and shut operability. Also, the unit comes equipped with four casters, enabling users to move it around conveniently. However, if you don't want the wheels and prefer a fixed place, you can even remove them.
Lastly, we're impressed with the durable particle board construction, designed to sustain long-term and heavy use. So if you're desperately in need of more space, you'll love this 212-lb storage capacity product.
Pros
Provide ample storage space featuring 7 drawers
Unit comes fitted with 4 casters for easy movement
Storage capacity of up to 212 lbs
Premium slides for quick and safe operability
Cons
Assembly takes a lot of time
Conclusion
Dressers with multiple drawers can greatly resolve storage needs. However, it's important not to skimp on quality even if you're on a tight budget. That being said, we hope you could find the most suitable one from our all-star collection.
We've tried to include something for everyone. After all, a pristine white dresser, regardless of shape and size, can fix more than just storage needs. Nevertheless, to keep the appearance intact, we advise cleaning and dusting from time to time.