10 Best Slipcovers For Wingback Chairs
Whether you want to protect furniture from wear, hide imperfections, or brighten up the room, a slipcover is all you need.
Keeping your furniture new and safe from dust, dirt, spills, and wear can be challenging at times. This is especially true if there are pets in the house who are bound to mess up spaces. So, how do you protect your precious chairs? It's simple, add another layer on top in the form of a slipcover.
And good news; there are various colors, patterns, and fabric types available these days. So, go ahead and browse through this article to find our carefully shortlisted slipcovers.
10 Best Wingback Chair Slipcovers
1. Surefit T-Cushion Wingback Chair Slipcover
Buy on Amazon
One of the slipcovers we decided to present to you is the T-cushion slipcover by Surefit Home Decor. This product has dainty ruffles at the bottom that are eye-catching and give a classic appeal. The pure white color only adds to its simple yet elegant look, allowing it to fit in most home decor styles.
We liked that this 100% cotton product has a patented design with cording details. Also, the slipcover features a cinched elastic seat, an adjustable skirt with corner pleats, and adjustable bands.
What's more, you can machine wash it separately in cool water and tumble dry without a second thought. It's possible to treat with Scotchgard, which gives it the edge for high-traffic rooms that expose it to wear and stains.
Pros
100% cotton fabric
Attractive ruffle design
Stain and wear-resistant
Compatible with washing machine
Cons
A bit larger than average
2. Subrtex Shabby Chic Wingback Chair Slipcover
Buy on Amazon
If you're looking for a break from plain and simple designs, we've added just the kind of contrast you need. Unlike the standard colors of white, ivory, cream, and beige, this product is available in gorgeous celadon green, grey, and wine colors.
A unique seersucker fabric is the major component of this product. It's pretty stretchable since it consists of 80% polyester and 20% spandex. And, it has excellent elasticity and durability to protect your chair from daily wear and spillage, giving it a neat and new look that lasts.
Moreover, the entire slipcover construction is in one piece, and the bottom of the seat cover has a high-quality elastic band. This prevents the cover from sliding or changing positions while sitting.
Pros
Stylish skirt design
One-piece slipcover
Beautiful earthy color
Elastic and durable
Skirt length is adjustable
Cons
It loses its look when stretched too much
3. H. Versailtex 2 Pieces Wingback Chair Slipcover
Buy on Amazon
This option is for those folks who prefer a well-fitted look for their wingback chair slipcovers. The two-piece design by H. Versailtex has an ultra stretchable jacquard material that stretches and recovers quickly. It is best suited to T-cushion and Box cushion styles, fitting a 30 to 33-inch wide seat.
The best part is that this product is super soft and comfortable to touch while serving as an eco-friendly option. Adding to its beauty is its textured pattern, which consists of vibrant small checks. We think this product is enough to make any old chair or sofa appear brand new.
What more does one need apart from easy installation? This slipcover slides on effortlessly and includes thick elastic bands to cover the bottom portion for complete protection. The fabric is wrinkle-free and stays firmly in place on leather and cloth furniture.
Pros
Well-fitted design
Aesthetic pattern
Non-slip feature
Easy care and maintenance
Cons
It does not stretch very much
4. Easy-Going 2 Pieces Wingback Chair Slipcover
Buy on Amazon
Next, we selected a product that comes in almost all colors under the sun. These options give you the freedom to decorate your room with the colors that suit the home decor. Apart from that, the 85% polyester and 15% spandex blend is high-quality, soft, comfortable, and protects the chair from daily wear and stains.
Another feature that impressed us was the soft jacquard fabric in a two-piece design, one being the base cover, the other being a cushion cover. Since the cushion is separate, it fits better compared to one-piece slipcovers.
As a bonus, you get foam sticks for keeping everything firmly in place so that there is no need to adjust after sitting. Nevertheless, you can keep your mind at ease because the brand offers a 30-day warranty – no questions asked.
Pros
Superior fabric
Two-piece design
30-day warranty
Easy to wash
Cons
Needs measurement before purchase
5. Ebeta 2 Pieces Wingback Chair Slipcover
Buy on Amazon
We've discussed various types of slipcovers, and here's another one we think you should consider. The two-piece slipcover by Ebeta consists of 85% polyester and 15% spandex, making them durable while striking a balance between comfort and functionality.
Furthermore, it provides complete protection against stains, wine spills, wear and tear, pet scratches, and pet hair. Many users like to cover up the damaged area with a fresh and neat slipcover, and this product is perfect for that job.
Fitting shouldn't be an issue because this slipcover fits most standard armchairs and loungers. The product comes in two pieces, namely the base cover and seat cover, which can fit a width of 27.5 to 31.5 inches.
Pros
Durable fabric
Easy to install and remove
Covers damages on chairs
Easy to wash and dry
Long lifespan
Cons
6. Anchengcraft 2 Pieces Printed Wingback Slipcover
Buy on Amazon
If you are on the lookout for unique patterns and a splash of colors, do not miss the two-piece slipcover by Anchengcraft. This breathable and comfortable product uses a blend of polyester and spandex, which keeps it wear-resistant and durable.
While looking for the best slipcovers for a wingback chair, we were keen on getting a hassle-free product that lasted long. This option covers all those aspects since you can machine wash it and also install and remove it easily for cleaning.
Basically, you can install this two-piece slipcover by locating the red tag labeled "Back" and place it over the chair or lounger. To finish, tuck the sides neatly into place and smoothen them, and it's done.
Pros
Soft and comfortable
360-degree protection
Breathable fabric
Machine wash
Many pattern and color options
Cons
Material is on the thinner side
It might be too tight for some chairs
7. Nibesser 2 Pieces Printed Wingback Slipcover
Buy on Amazon
After years of using plain fabric, many users like to switch it up by adding a few design features to the slipcovers. This two-piece fabric by Nibesser comes in various patterns, including Flower Teal, Geometry A2, Flower Brown, Diamond Grey, and more.
Although only 5% of spandex blends with polyester, you can easily maneuver it into standard-sized chairs. Overall, it is soft to touch and works well in preventing stains and dust from settling on your furniture.
When it comes to slipcovers, the two-piece ones fit better and snugly. Moreover, after installing, if there is any extra fabric, you can easily tuck it into the side of the cushion for a neat look.
Pros
Fits snugly
Unique geometric patterns
Machine washable
Non-slip elastic
Cons
It might be too tight for larger chairs
8. Ybenwl 2 Pieces Printed Wingback Slipcover
Buy on Amazon
Another product we decided to include in our list is the two-piece printed wingback slipcover by the brand Ybenwl. This option is pretty stretchable, so installing it doesn't take much time. Along with that, it is also soft to touch, resistant to wrinkles, and elegant in appearance.
Speaking of which, the two pieces come in a distinctive orange, brown, black, and white pattern that will add interest in an otherwise plain room. So, not only does this product work as a protective cover, but it also serves as an elegant decoration that alters the home decor.
Moreover, the stretchable wingback chair slipcover wraps the entire surface of the chair, covering all sides. This provides all-around protection from wear and tear, as well as scratches from pets and kids.
Pros
Stretchable fabric
Suitable for most chair sizes
Protects furniture from scratches
Easy installation
Cons
Material is slightly thin
9. Feian 2 Pieces Printed Wingback Slipcover
Buy on Amazon
Now we'd like to introduce you to a brand that specializes in creating chair covers. The product we decided to review is the two-piece printed option by Feian. Despite having seen so many products, we couldn't resist including this option due to its fantastic prints.
The leaf pattern in green and navy on a backdrop of teal is soothing, to say the least. You also get the option to select the same pattern in light yellow. Now, coming to the fit of this option, we'd say it wraps nicely without wrinkles and creases, and it stretches adequately.
Also, the fabric stretches two ways, covering every corner of the chair, including the arms. The strapless and bottom elasticized design prevent the cover from moving while sitting.
Pros
Harmonious decorative pattern
Two-stretch fabric
Machine wash
It fits most chair types
Cons
Material is thin when stretched too much
10. Turquoize Velvet Slipcovers For Wingback Chairs
Buy on Amazon
The Velvet slipcover by the brand Turquoize caught our eye as we were compiling this list. This product makes use of the best velvety plush material – a blend of polyester and velvet spandex. So, along with providing elasticity and functionality, it is also ultra-soft and comfortable to touch.
Essentially, the slipcover comes in one piece that fits a standard-sized wingback armchair. It includes four magic loops that cover the legs perfectly. Also, it has enough foam sticks to place between the chair body and the cushions.
Moreover, it comes with a solid and long-lasting elastic for wrapping up the entire chair, cinching it at the bottom. If it soils upon regular use, you may machine wash it in cold water, and it'll be as good as new again.
Pros
Ultra-soft velvet fabric
It fits most chair sizes
Strong elastic to wrap chair
It stays firmly in place while sitting
Cons
Material prone to thinning over time
Buying Guide
Now that you have had the chance to go through some of the best slipcovers, it's time to find out which option you need. There isn't any one-size-fits-all slipcover because your wingback chair may differ from others in size.
Besides size, you need to consider numerous aspects, such as color, pattern, fabric type, and maintenance. So, take a look at some of the things to keep in mind when buying slipcovers.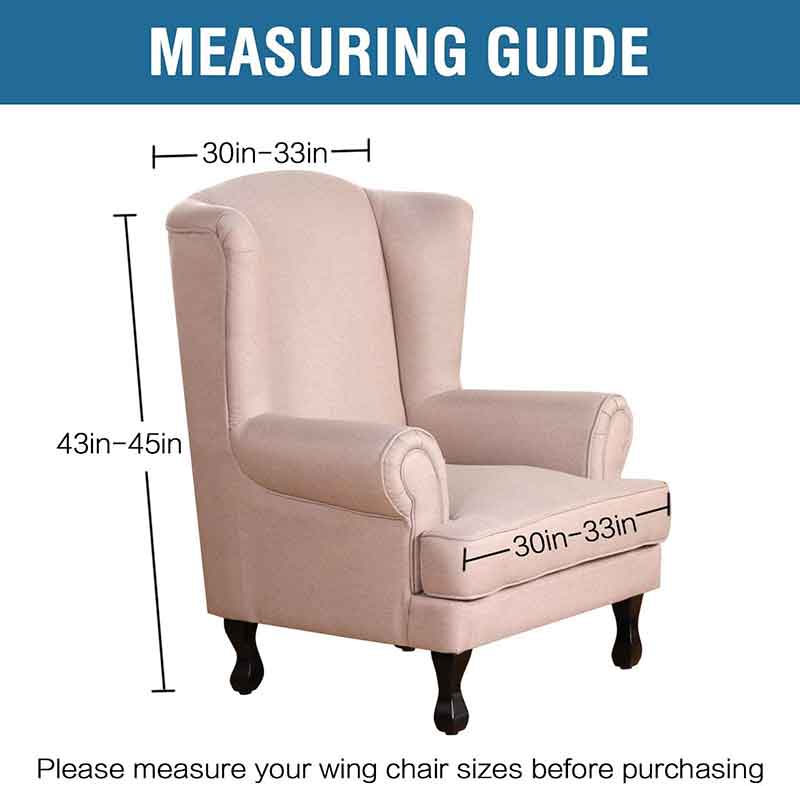 1. Measure Your Wingback Chair
Compared to sofas or couches, measuring a wingback chair is much easier. There are only two measurements you need to note if you want an accurate fit for slipcovers. First, measure the height of the chair from the back. Ensure that you take the entire length of the chair without the chair legs at the bottom.
Next, you'll need to measure the cushion, starting from the outside from one side to the other. Make a note of these two measurements to compare against the measurements of slipcovers listed online. Despite the curvature at the top of the wingback chair, it's a breeze to install if you have the measurements right.
2. Slipcover Dimensions
Now that you have written the wingback chair measurements, you'll need to check the slipcover dimensions. Although there is a one-size-fits-all concept when it comes to slipcovers for wingback chairs, it does not guarantee a perfect fit.
However, what does ensure a perfect fit is measuring manually beforehand. The thing is, various companies make tweaks and modifications, so the standard size has many variations. Some of the standard dimensions available these days are as follows:
29-inch T-cushion (width) and 42-inch back height
33-inch wide and 45-inch tall
27 to 31-inch wide and 37 to 43-inch tall
Taking the slight effort to measure and compare the chair and the slipcover in question might seem like an additional task. But it certainly goes a long way when it comes to finding a well-fitting slipcover.
3. Stretchy Fabric
It goes without saying that fabric quality is not something you can overlook during the selection process. Ideally, the best slipcover would be one that stretches enough to cover the entire chair without looking strange or overstretched.
The second issue most users face is ending up with a product that doesn't provide a snug fit after installation (the first being incorrect sizing issues). To prevent this, look for an option that has a good blend of polyester and spandex. If the spandex in the mix is 10% or above, you can know that there will be enough elasticity to fit the chair neatly.
It might seem difficult to distinguish better quality products from the not-so-good ones. But give it a shot and spend a few extra minutes reading online reviews. This is one way to find out more about the product without actually purchasing it.
4. Slipcover Colors
Not everyone focuses on the functionality of protecting the chair from dust, stains, pets, and wear. And there is no doubt that these functions are essential. Yet, a large part of the slipcover involves its look, feel, and impact on the other furniture in the room.
Fortunately, there is no end to the colors you can select to match the mood and tones in your room carefully. Neutral colors like snow white, off-white, ivory, cream, beige, sand, tan, taupe, silver-grey, and dark grey are all-time favorites. But if you prefer to direct attention towards the chair instead of allowing it to blend in the background, consider other alternatives.
That said, earthy colors like celadon, sage, olive green, coffee, and browns go well with wooden flooring and add warmth to the room. On the other hand, geometric designs, leaves, flowers, lines, and several other patterns add interest to a plain room or become the focal point in decor.
5. Machine Washable
After checking the size and selecting the perfect color and pattern for the wingback chair, next comes this critical aspect. While we can admire the beauty of the slipcover all we like, it will be in vain if it does not survive a machine wash.
We know some cases when people machine-washed slipcovers that required handwashing. Needless to say, the product lost its color, and the threads began coming out loose. So, just to be safe, go for one that specifically states that it is safe for washing and tumble drying.
While some people might not mind a slipcover that isn't machine washable, we wouldn't recommend it. Since they are huge and heavy when moistened, it won't be possible to hand wash them often.
6. Easy To Install
No one has all day to install a slipcover. Selecting a good quality slipcover and applying the proper method shouldn't take much time anyway. But remember that the type of slipcover you choose will depend on your wingback chair.
Let's say the cushions stick to the chair. In that case, it is impossible to install a two-piece set. Also, some fabrics are easier to install than others. For example, microsuede and elastic materials are easier to work with as compared to cotton and twill.
If installing a slipcover is taking you forever, that's a sign that something is wrong. Either the slipcover isn't easy to install, or you're probably struggling with the method. If the latter is the case, we've got you covered in a short guide about installing slipcovers on wingback chairs.
Installation Guide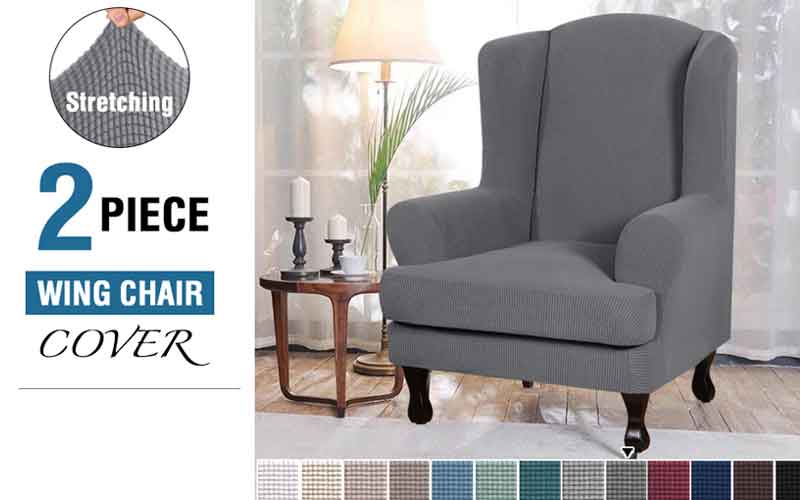 1. One-Piece
To begin with, remove surface wrinkles by tumble drying the slipcover on a low setting for a few minutes. Next, remove the slipcover and instruction manual from the packaging. Check the inside portion of the slipcover to identify the center, front, and back by the labels.
After that, place the slipcover over the chair, starting from the top and covering the arms and seat. You need to tuck the bottom elastic beneath the chair so that it is out of view. Keep in mind that some products have velcro straps, while others have elastic.
Make sure that the top seam aligns above the back of the chair for a perfect fit. Now it's time to tuck everything into place. Center the front of the cover in place and tuck the extra fabric around the cushion and armrests. All this while, the seams of the material should align with the contours of the chair.
2. Two-Piece
Firstly, check if your cushion is a box cushion or a T-shaped style. Generally, standard-sized slipcovers can fit both, but it's better to check if there is a specification. Now, the only difference in installing a two-piece is the extra step you need to take for the cushion.
So, follow the instructions as stated above to install the larger piece over the body of the chair. After that, remove the cushion from its place and add the cushion piece. And, that's it. Place the cushion back on the chair, and it is ready for use.
Conclusion
Here, we'd like to conclude with a few words. Ultimately, you know your purpose for getting a slipcover best, so keep the objective in mind while looking for a new product. And remember: expensive doesn't always mean better, so do your due diligence before buying.
If you want a purely decorative piece, there are various brands that can take care of that. However, for those of you who prefer comfort over style, we've mentioned plenty of options that provide ultra-soft and comfortable experiences.
Finally, we'd like to remind you to measure the wingback chair and compare the results with the product in question. Only careful measurement can ensure a perfect fit, otherwise you might just be rushing to tuck sagging ends so that they don't get noticed by guests. And do let us know if you think we missed some products worth mentioning. On that note, see you next time!