5 Best Heavy Duty Curtain Rods for Large Windows
Heavy drapes and blackout curtains are the talks of the season. They are beautiful, but the problem lies in their installation.
It won't be surprising if you tell us that you can't stop thinking about those magnificent satin drapes since seeing them at a friends' party. These curtains are a favorite of many. However, you need to get your hands on the best heavy-duty curtain rod before putting on the curtains.
These rods can handle the weight irrespective of the kind of drapes that you want to put on them. But when you go to the market to buy one, the hundreds of options up for grabs will surely confuse you.
So, to make your job easy, we have designed this guide with the top 5 options that you can try.
Without any more delay, let's dive right in!
5 Top Heavy Duty Curtain Rods For Large Windows
1. Ivilon Drapery 240″ Window Curtain Rod
Buy on Amazon
One of the first recommendations that we have for you is the Ivilon Drapery 240″ Window Curtain Rod. This curtain rod will add a dash of elegance to your home decor. However, it did not make it to our list just because of the beautiful looks but also for the utility that it puts on the table.
Even if you are new to using curtain rods, you won't have a problem installing this one. The design is such that adjusting it becomes quite simple. Plus, you can always refer to the instructions manual provided in the package if you face any issues. It is simple to follow and will help you get the item installed in no time.
The only complaint that we have with the product is that the packaging was not up to the mark. From a brand as good as this one, we honestly expected better. But upon delivery, we noticed that the box was a little tapered around the corners.
Pros
Elegant look
Sturdy build
Long-lasting design
Easy to install
Cons
2. Rod Desyne 170″ Window Curtain Rod
Buy on Amazon
Next up, we have the Rod Desyne 170″ Window Curtain Rod, which is one of the best options that you can get your hands on. These vintage curtain rods will definitely take the decor in your room a notch higher. They are available in a wide range of colors to match the overall look of your room.
Additionally, the manufacturer understands that the needs are different in different homes. Not all houses have windows of the same sizes, and therefore, the curtain rods need to be available in multiple sizes in order to fit them. Hence, this rod is available in a range of sizes and colors to cater to different user requirements.
Despite scoring high on looks versatility, we did face some trouble while installing this item. It was a little troublesome to put the brackets in place, as they are pretty tight. In case you face the same problem, get in touch with their customer support team. They are very helpful in this regard.
Pros
Durable
Beautiful design
Multiple size and color options
Excellent customer service
Cons
3. Umbra Marbello 170″ Window Curtain Rod
Buy on Amazon
This brand is globally renowned, and after testing their window curtain rod, we know exactly why it's so popular. It will suit the needs of customers who are on the lookout for a product that is functional and chic at the same time. And don't worry; it won't burn a hole in your pocket.
On top of that, installing this item is pretty easy, and you don't need to buy any separate accessory or hardware for the purpose, as everything that you need is present in the package. Simply follow the instructions to install the rod in practically no time and with minimum effort, even if you don't have additional help.
If we have to pick on a problem, we'd say that the brackets need to be more sturdy. In case you plan on hanging heavy curtains, then chances are that the brackets will move a little. And if that bothers you too much, we'd suggest replacing them with a more durable option. This will provide a better hold to your curtains and keep them in place.
Pros
Highly functional
Simple installation process
All hardware included
Excellent longevity
Cons
Brackets are not very sturdy
4. Kamanina 144″ Telescoping Curtain Rod
Buy on Amazon
When it comes to heavy-duty window curtain rods, Kamanina is a brand that you can trust. They manufacture rods in multiple sizes, and therefore, you can use them practically for any window in the house. Be it your kitchen or bedroom; installing them won't strain your nerves. The heads are round in shape and safe for installation in the nursery too.
Apart from that, their customer support team is highly responsive. When we called them regarding some installation queries, they were very quick to respond. And not just the customer service, they even provide good warranty on their products. In case you do not like them, you can get it replaced without any question asked.
The only issue that we faced with this curtain rod was that it did not come with all the necessary installation hardware. Hence, you might have to visit the local hardware store and make a few extra purchases. As a result, you will ultimately end up spending a few extra bucks.
Since this will drive up your overall purchase cost, we would suggest that you take the budget into account.
Pros
Multipurpose use
Long-lasting construction
Good product design
Responsive customer service team
Cons
Does not come with hardware
5. Amazon Basics 144″ Double Curtain Rods
Buy on Amazon
Before we wrap up the list, we have the Amazon Basics 144″ Double Curtain Rods, which should suit most budgets.The best thing about this curtain rod is that it is adjustable, making it suitable for windows of different sizes. Its base size is 72 inches and it is extendable up to 144 inches. This is something we didn't expect, given its relatively affordable price tag.
Moreover, you do not have to worry about the kind of curtain that you are going to hang on it. Even if they are heavy, the rods will be able to handle them. But remember that they can handle a maximum of 21 pounds and not more than that. This versatility makes them a favorite of many people.
However, we were not very impressed with the kind of additional hardware that came in the package. They were smaller in size and could have been better built. In case you are not happy with them, you can always buy spares from the hardware store.
Pros
Affordable price
Flexible
Can handle heavyweight curtains
Durable construction
Cons
Accessories can be better
Buying Guide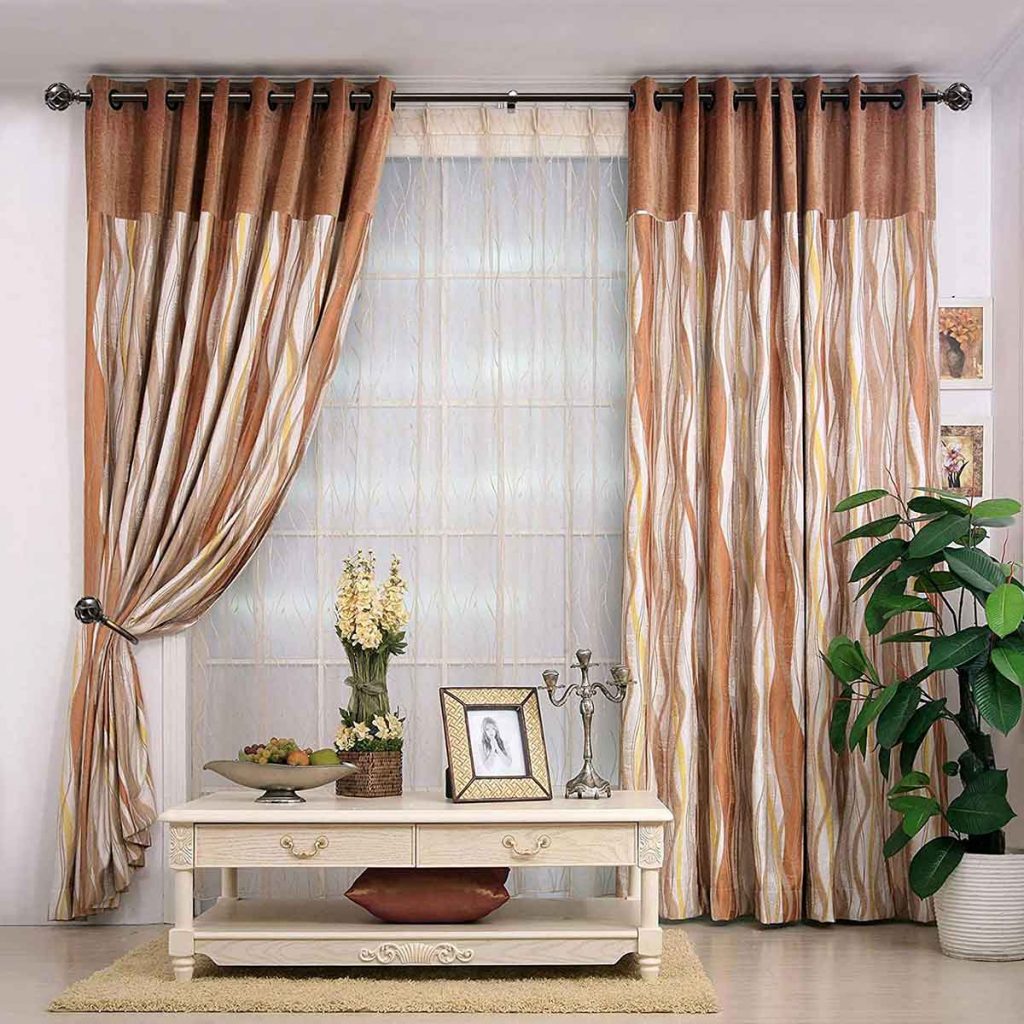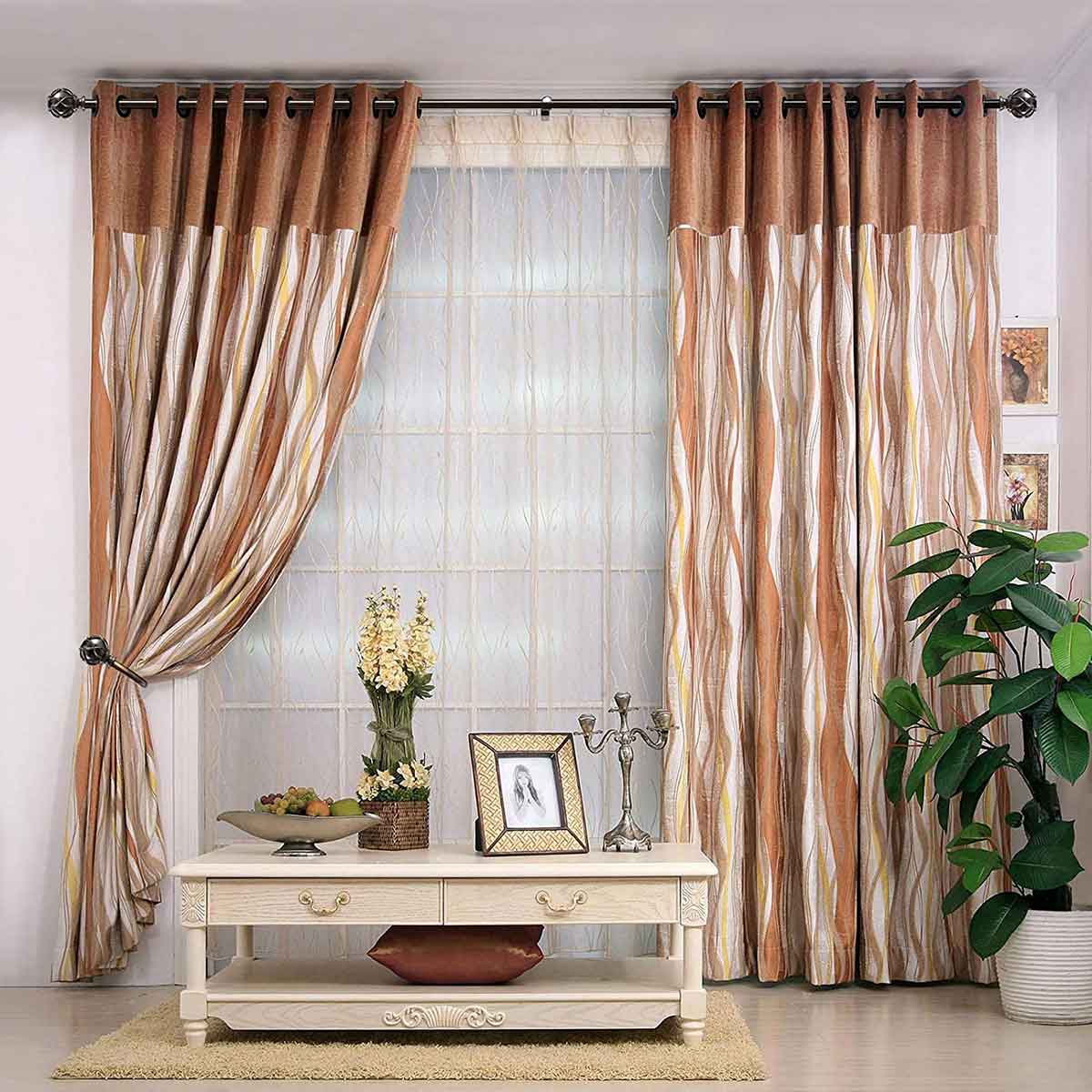 1. Your Window Sizes
Honestly, it does not make sense to spend a lot on buying heavy-duty curtain rods unless you put them to the right use. Before determining whether a curtain rod is suitable for your needs, you need to measure the size of the window with a simple measuring tape.
When you are buying a curtain rod, always ensure that it is a little longer than your windowpane. This way, you can keep the curtain pulled all the way without the walls becoming visible.
Heavy-duty rods are best for windows that are larger in size. If you go by our suggestion, you should opt for a heavy-duty curtain rod only when the windows are bigger than 80 inches.
2. Curtain Rod Size
When you are planning to use thick curtains for large bay windows, there's no doubt that you will need to use a heavy-duty curtain rod. But the question is, how long should the rod be? If you are not familiar with curtain rods, then you should start by measuring the length of the rods.
Most of the regular rods vary in size between 28 and 48 inches, which are suitable for large windows. However, if you want to put curtains on a large balcony door, you will need longer curtain rods. In this regard, the maximum length is about 120 inches.
But keep in mind that it gets difficult to buy one as they are not always readily available.
3. Curtain Rod Weight Capacity
Before setting your eyes on a particular curtain rod, it is essential that you check how much weight it can handle. This is especially true when you are going to use it for a large window or planning to hang curtains made of heavy fabric.
In general, the standard curtain rods are suitable to hold around 15 pounds weight. However, when you go for high-end heavy-duty curtain rods, you will find some variants that have a durable design to hold up to 30 to 35 pounds.
Apart from the sturdiness of the rods that help in weight management, some options even come with a non-fall tension mechanism, which reinforces their load capacity.
4. Curtain Rod Material
Mostly the curtain rods that you come across on the market are either made of wood or metal. The ones made of wood are elegant and add a beautiful aura to your room. They are better at handling heavier curtains as they are not hollow.
But the problem is they are not extendable, and in case there's a need for any size adjustment, you will have to cut it according to your requirements.
Metal curtains, on the other hand, are more suitable for modern minimalist decor. They even come with funky accessories that can complement the rest of the decor in your room. And unlike their wooden contemporaries, they are most flexible, and you can easily adjust them.
5. Curtain Rod Design
In most homes, curtain rods are completely visible. If that is the case with you, it is essential that you take special care to ensure that they look good. What would look great depends on a range of factors, the most important being your home decoration.
It is best that you coordinate the rod with the rest of the decor so that it does not stand out like a sore thumb. If you have a proclivity for vintage decor, you will even find some curtain rods on the market that come with antique curtain heads. There's something to suit everyone's tastes!
6. Curtain Rod Color
One should choose the color of the curtain rod on the basis of two things: the wall paint and the color of the drapes. If you want the drape to be present inconspicuously without drawing much attention, it is best that the color of the rod does not stand out much.
But if you want to draw attention to the beautiful drapes, you can put the curtain rods in contrasting colors. In order to play safely, it is best that you put a rod that is a different color from the wall. We would recommend that you do not opt for dark-colored rods with dark walls as that might look a bit too serious and aggressive.
7. Curtain Rod Finish
As we have said earlier, the curtain rods should match with the rest of the decor in the room. In case your room has a chic, minimalist decor, it is best to go with acrylic or chrome finish rods. However, you also need to take into consideration the kind of curtains that you are planning to put up.
If you plan on putting magnificent satin or silk drapes, wood or wrought iron rods will go extremely well with them. On the other hand, if you prefer cotton or rough linen curtains, it is best to go for wood or bamboo rods.
Furthermore, you should take note of the other furniture that is present in your room. There should be nice synchrony, and nothing should look out of place.
How to Hang Heavy Curtains
Putting heavy curtains for beginners might be quite challenging because of the excess weight. However, it is not impossible if you take note of a few things. Most importantly, you should check how well the anchors work as they are crucial in holding the curtains in place.
The other thing to look out for is the brackets. Unless you put sturdy brackets, the chances are that it will be quite difficult to move the curtains. In the worst-case scenario, the curtain rods might also come off.
For inexperienced users, we always recommend taking the help of online tutorial videos that are available on the internet. If you do not mind spending a few extra bucks, you can even call a technician who can help with the process.
FAQs
1. What Are Heavy Curtains Made From?
It is not too tough to understand that heavy curtains get their name because of the bulky fabric. Fabrics such as silk, velvet, and chenilles tend to be heavier than other materials when it comes to drapes. And they get heavier when you use them for tall or large windows.
The more the material that goes into the making of the drapes, the heavier it gets. And remember that the other thing that makes curtains heavier is the lining and interlining. However, you can skip out on lining if the material is already too thick.
But if you want the curtains to have good firmness, it is best that you put a lining. This would also prevent the curtain colors from fading.
2. What Is The Largest Size Curtain Rod?
It is a common question that we keep getting from our readers. The answer will vary according to the country that you are staying in. So, it is best to find out from your local dealers. However, we have seen that mostly, the maximum size that is available ranges between 160-180 inches.
Besides, your windows may well be bigger and require larger curtain rods. Don't worry, as there is a way out for that too! All you have to do is implement some of your DIY skills. With that, you can make rods as long as 250 inches.
3. Can Tension Rods Hold Heavy Curtains?
It is true that tension rods are more affordable options when it comes to hanging your drapes. But keep in mind that they are not very suitable when it comes to heavy curtains. The tension rods in themselves are quite heavy, and that can be a disadvantage.
So, if you are planning to put heavy curtains or blackout drapes, it is best that you go for curtain rods instead. Tension rods tend to become loose eventually and can even slip.
4. How Much Weight Can A Heavy-Duty Curtain Rod Hold?
Heavy curtain rods help in handling heavyweight drapes. But you have to be careful about a few things to ensure that the curtains don't fall off eventually.
In general, the rods can handle 15-20 lbs weight. But depending on the length of your windows, you should select one with caution. If it is very heavy drapes that you are planning to put, choose the material of the rod well. We would recommend that you go for wood rods that are not hollow and can manage the weight.
The other thing to take note of is the brackets that you use to install the rods. Make sure that they are of good quality and you install them properly. Without proper installation, the rods can become loose, and the curtains might eventually slip out of them.
So, it is best that you conduct your research well before investing in one. Learn about the quality and the weight of the drapes that you are planning to put and also the strength of the rods. This will prevent you from mishaps.
If the rods cannot handle the weight of the curtains, in the worst-case scenario, they might even break, leading to minor accidents. And in case you have guests at home, you won't want them to experience inconveniences like this.
5. How Much Bigger Should The Curtain Rods Be Than The Window?
If you are a beginner in this, you are likely to commit the two most common mistakes. First, you will end up having a curtain rod that is exactly the size of the window, and the second is that you will hang it too low.
The rule of thumb to follow in this regard is to install curtain rods that are a few inches longer than your windowpane. This will enable you to pull the curtain all the way and will make your room look even bigger.
And always remember to install the rods in a way that the curtain is at least 5 inches higher from the window frame. This will make the window look even taller than it actually is. When decorating your room, you should always try to make the space look as big as possible, and this will definitely help in this regard.
Conclusion
With that, it's a wrap!
We hope that you have found some value in the information that we have and that you will be able to make a wiser decision now. Choosing the perfect heavy-duty curtain rod for the room is not very challenging once you know the kind of drapes that you plan on putting.
Do some digging, get to know about the rods and drapes, and everything will fall in place. Before we sign off today, we would like to take you through our favorites. After much testing, we have come to the conclusion that the Ivilon Drapery 240″ Window Curtain Rod is our favorite because it is an all-rounder.
And if you are looking for a product that is both durable and versatile, you should give the Rod Desyne 170″ Window Curtain Rod a try.
Until next time !