5 Best Cushions With Ties For Kitchen Chairs
Deciding the right decor for the kitchen and dining rooms is just as important as for the rest of the home.
You'll always want the ideal comfort while cooking or enjoying your meals. Plus, the visual appeal of the rooms should remain intact.
That's why getting the right cushions for your kitchen chairs is important. But not all the products out there will look good on your chairs and be comfortable at the same time.
So, after researching the market extensively, we've reviewed the five top-notch kitchen chair cushions with ties for you. Let's get started!
5 Best Cushions With Ties For Kitchen Chairs
1. Recyco Square Non-Slip Chair Cushion with Ties
Buy on Amazon
To upgrade the chairs in your kitchen or dining rooms, these ultra-comfortable cushions are among the best options you'll find on the market. So, munch on your favorite snack or slice the vegetables for lunch with absolute comfort anytime you like.
While the surface material of this cushion comprises high-quality cotton that's softer than most other materials, the filling is of premium polyester fiber. The latter contours to the body to decrease pressure on the tailbone, lower back, and hips compared to other cheaper cushions.
Furthermore, the 16-hole design of the cushions maintains body support and prevents the filling from damage and deformation. Not to forget the long ties sewed on them, which can reach around most kitchen and dining chairs to secure each cushion in place. You even get the cushions in eight elegant colors to integrate them perfectly into the room decor.
Speaking of the dimensions, each cushion measures 15.7×15.7 inches and is perfect for most chairs out there. Lastly, the brand offers a 100% satisfaction guarantee, whereby you can get a replacement within 12 months in case of any dissatisfaction.
Pros
High-quality, soft cotton surface
Filling contours to the body
Maintains body support
100% satisfaction guarantee
Cons
Not suitable for a tight budget
2. Shinnwa U-Shaped Non-Slip Chair Cushion with Ties
Buy on Amazon
If you're particularly looking for cushions that can provide better body support, these U-shaped Shinnwa cushions are the ones to go for. In addition, they can add a luxurious appeal to your kitchen or dining chairs that you can't help but fall in love with!
Chairs coming with metal or hardwood surfaces generally feel less comfortable. But by adding one of these cushions, you can very well forget about any discomfort as it has a soft and relaxing surface. Hence, these are the perfect match for any such chairs at your home.
What does the trick is the soft polyester fabric making up the cover combined with the extremely comfortable foam filling that relaxes the body. Plus, the cover is removable so that you clean it effortlessly in your washing machine when it turns dirty. It comes in a zippered form, so you can unzip it within seconds and dunk it into the machine.
And that's not all; you get these beautiful cushions in nine classic colors to provide an elegant makeover to your kitchen or dining space.
Pros
Adds a luxurious appeal
Soft and relaxing surface
Easy to clean
Available in nine colors
Cons
3. Pillow Perfect Multicolored Chair Pads with Ties
Buy on Amazon
Sporting an entirely different design, these cushions will be spot on if you're looking to add a unique touch to your kitchen or dining room. These are indigenously made and provide you with the ideal convenience and comfort as long as you're in the kitchen.
So, just draw the chair before you start with meal prep and get done with the cooking process with ease.
The highlight of these cushions is their artsy Mid-Western design featuring rows of arrows colored in teal, brick red, coffee brown, and green. Plus, the 100% cotton fabric looks similar to linen and is just as comfortable to sit on.
Another interesting point to note here is that the brand's designers handcraft each of these cushions with care and measure them precisely. As such, you can trust the quality and usability to be just as desired.
Adding to this is the extremely durable polyester filling, which keeps you comfortable and provides the perfect support for years to come. Even the attached ties are strong enough to keep the cushion fastened securely to the chair.
Pros
Uses 100% cotton fabric
Artsy mid-western design
Provides ideal comfort
Extremely durable polyester filling
Cons
4. Maison d' Hermine 100% Cotton Chair Pads with Ties
Buy on Amazon
Want a not-too-bright yet artistic look for your kitchen chairs while keeping the comfort level constant? Look no further than these lovely cushions from Maison d' Hermine. Each pack comes with two chair pads measuring 16 by 16 inches, with the brand designing them with greater attention to detail.

The best thing about these cushions is that their cover design draws inspiration from the small yet beautiful town of Colmar located in Northeastern France.
Interestingly, the flower-decked town center and ancient houses give it a dreamy look that's beautifully recreated on the cushions with the help of watercolor. And you can get them in many different designs, with each capturing different motifs through an artist's eye.
Furthermore, the brand uses 100% pure cotton to make its cover, so you need not worry about comfort and durability. The cushions even come with a tufted design to rule out the chances of lumping, and maintain the uniformity of the seat pads despite regular use.
Also, maintaining these cushions is pretty easy as they're machine-washable with warm water and any mild detergent.
Pros
Artistic motifs inspired by Colmar
Offers the right comfort
Durable cotton cover
Tufted design prevents lumping
Cons
5. Arlee Harris Plaid Chair Pad Cushion with Ties
Buy on Amazon
We also found these indigenously-made Arlee cushions with a bright ironwork design to be worthy of inclusion in our list. These can also be an excellent choice for homeowners looking to add a luxurious touch to their kitchen or dining room.
Apart from the eye-catching design, these cushions offer the right combination of comfort and body support.
What makes this possible is their thick polyester fiber filling that's lightweight and feels fluffy and soft, thereby ensuring perfect relaxation. In addition, the cover comprises durable polyester fabric, coming with lock-stitch seams to facilitate a longer service life. The full-length ties of fabric are also long enough to tie securely around the majority of chairs.
Moreover, to ensure the cushions are even throughout, the brand designs them with tufts all over, preventing any lumping as in ordinary cushions. And here's the icing on the cake: you get four cushions, each set at a much more budget-friendly rate than many other products.
Pros
Lightweight, fluffy, and soft
Durable polyester fabric cover
Adds a luxurious touch
Budget-friendly pricing
Cons

Buying Guide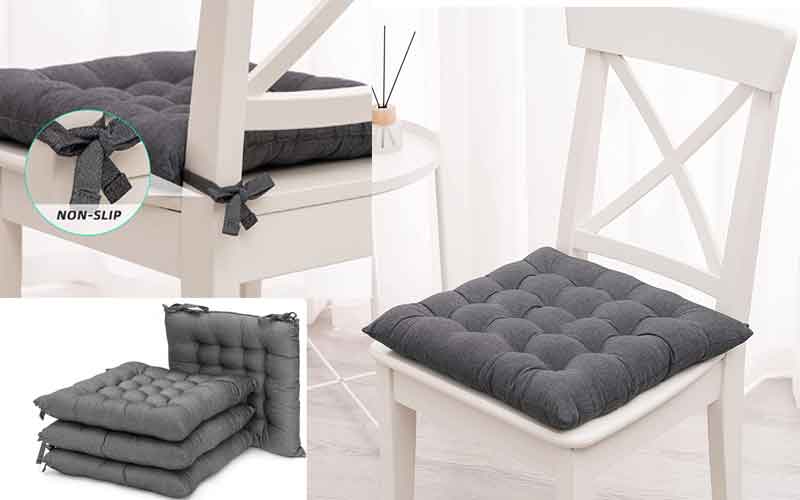 Looking at the best cushions on the market is, of course, important, but that's still not sufficient for making the right choice. There are quite a few factors you need to consider, as those would determine whether the product is really suitable for your needs. So, let's have a look at each of them briefly.
1. Shape
Figuring out the shape that's suitable for you is a major factor in this regard. You'll always want the shape of the chair pad to be the same as that of the seat.
So, make sure you check the shape of the seats of your kitchen chairs carefully and choose a product with the same shape. Note that most of them have square or U-shaped seats; hence we've included cushions of both these shapes in our list.
2. Size
The next most important factor to take into account is the size, as a cushion with a size different from your seat will never be comfortable enough. While the bigger ones will often fall off, the smaller cushions might stain your body more. That said, in case you prefer a slightly smaller or larger seat, make sure the difference isn't more than one to two inches.
Thus, it would be best to measure the dimensions of the seats using a measuring tape. Those dimensions will then be useful in choosing the right-sized cushion. Notably, if the chair is round-shaped, which is rarer in case of kitchen chairs, you must use the diameter to figure out the ideal size.
3. Fabric Type
The fabric of a cushion forms its cover, so this factor will largely determine how comfortable it feels during use. Plus, it should stay equally comfortable in the long term, which is why the durability of the fabric plays an important role too.
While most varieties of polyester fabric are more durable, a cushion with a pure cotton cover feels slightly more comfortable. But there are some cushions that balance durability and comfort quite well to provide you with the desired satisfaction, such as those we've discussed in our guide.
4. Fill Material
The choice of the filling material is another significant factor to watch out for, as the nature of the filling also affects the comfort level of the cushion.
In case you prefer cushions with a foam filling, we'd suggest going for foam with medium to high thickness. This would make the cushion softer and fluffier than other products, so they'll naturally be more relaxing. On the other hand, a polyester fiber filling might not always be of the desired quality, so you need to be careful while choosing any such cushion.
Going through the customer reviews is an easy way to ensure that the quality will be just as you desire. Check what people are saying about the comfort and durability that the filling offers, and make a choice accordingly.
5. Long Ties
The ties will secure the cushion firmly to the seat of the chair, so it's equally important to check their length while choosing an ideal product. Remember that the ties should be long enough to reach around the kitchen chairs.
If you're buying the cushion online, most brands mention the size of the chairs for which it would be suitable. So, just check whether the size of your chairs matches the mentioned size, and you can easily determine whether it's the right one to go for.
6. Cushion Colors
You would never want to bring home a cushion that doesn't go well with your room decor. That's why considering the cushion color is also important for making the right choice.
An intelligent way of choosing the colors would be to go for those cushions that complement the finish on the chairs in a better way. For instance, if the walls have a neutral color, you can select some bold colors to add depth to the space.
7. Easy to Clean
Dealing with soups, sauces, meat, and many other types of food is a daily affair in the kitchen or dining room. As such, cushions for the chairs in these rooms can turn dirty much faster.
That's why the product you go for should be easy enough to clean every time you feel it has turned too dirty. And it's always easier to wash the covers in the washing machine instead of having to spot-clean it each time.
Conclusion
That's about it for today.
So, which set of cushions did you choose for your kitchen chairs? Let us know your pick and how you liked it in the comments section below.
While making a choice, keep in mind that you should never compromise on the comfort factor for anything else. And try opting for products that come with a satisfaction guarantee, as we've seen in the options reviewed above. Hence, you'll have no problems getting a replacement or refund if you aren't satisfied.
We'll be back with more interesting guides, so stay tuned! Till then, happy shopping!