5 Best Clawfoot Tub Shower Rods
Clawfoot tubs are undoubtedly one of the most elegant items you can get for your bathroom! But let's be honest here, who doesn't like the occasional, refreshing shower?
And if you're planning to outfit your bathtub with a shower rod to get the best of both worlds, let us remind you that choosing the right one is not easy.
Installing the right shower rod, however, will make all the difference in your bathroom remodeling and make your life a whole lot easier.
And that's why today we have picked out 5 best clawfoot tub shower curtain rods that you can buy right now. Check them out!
The 5 Best Clawfoot Tub Shower Rods
1. Signature Hardware Rectangular Shower Curtain Rod
Buy on Amazon
If you're worried about which oval shower curtain rod will be best for your freestanding tub, then do consider this set by Signature Hardware. The quality is on point. It's constructed with high-quality brass that promises you with good durability.
On top of that, the material is resistant to corrosion, and it gives a modern touch to the bathroom. It's available in three styles or colors that includes-brushed nickel, chrome, and oil-rubbed bronze. So, you have the option to select a shade that will blend in with the other bathroom fixtures.
This set includes two ceiling supports that helps prevent the 60-inch x 28-inch structure from wobbling. So you can use heavy curtains, without having to worry about any damage.
Moreover, the size of the ceiling support is about ⅝-inches OD x 30-inch, while the wall support comes in at ⅝-inches OD x 10-inches. This provides ample space in your shower area.
Plus, the bar diameter is approximately ¾-inches. It might feel a little lighter initially, but once it's installed, you won't feel the difference. And when it comes to maintenance, you just need to clean with a damp cloth for removing the dust deposits.
Setting up this unit is also simple. Since you'll be receiving the wall and ceiling mount hardware, the installation process won't take long to complete.
Pros
Easy to install and maintain
Rust and corrosion resistance
Durable and can hold the heavier shower curtains
Available in Brushed Nickel, Chrome, Oil-Rubbed Bronze and Oil-Rubbed Bronze
Cons
The tubing could have been a little more sturdy
2. Signature Hardware Oval Shower Curtain Rod
Buy on Amazon
If you want a functional and stylish shower curtain rod, this unit by Signature Hardware will most likely suit your needs. You don't need to worry about busting your budget because it comes with an affordable price tag.
And you also get to get to choose from many different designs such as- brushed nickel, chrome, oil-rubbed bronze and polished brass. So finding a unit that will complement your bathroom decor is not going to be very challenging. Furthermore, it has a curved design that gives it an elegant touch.
The rods are made of high-quality brass, which is both rust and corrosion-resistant. Plus, the oval structure comes in at about 60-inches long and 30-inches wide. This will be suitable for most clawfoot tub shower areas.
It also includes three ceiling supports with each piece measuring about ⅝-inches OD x 36-inches. You will be able to install this unit pretty quickly because the instruction manual is easy to follow.
But since it doesn't come with any adjustable features, you might need to cut the rod to the desired length. In such cases, it's best to seek professional help to complete the installation correctly. Overall, the design of this shower curtain rod is up to the mark, considering the durability that allows it to withstand the onslaughts of regular usage.
Pros
Elegant and functional design
Made of corrosion-resistant brass
You get to choose from three different colors
Covered with a lifetime warranty
Cons
Requires professional help for installation
3. Naiture L Shaped Shower Curtain Rod
Buy on Amazon
If you're looking for a curtain rod that will be ideal for your corner shower, then you should check out this L-shaped model by Naiture.com. It's generally considered to be a bit pricer than the other models, but they come with a set of advantages, which mainly boasts of quality.
This shower corner rod also includes ceiling support that is 36-inches tall, and you can size it according to your requirements. The ceiling anchor is placed at the turn to make sure that the bar is held securely, and it doesn't sag with heavy curtains.
You can also select the size of the structure because it's available in four different variations. And the brand also gives you the freedom to modify the length to suit smaller size tubs. The curtain also tends to move nicely on this rod without having to use any hooks or rings.
Besides all these advantages, this L-shaped curtain rod is durable enough to last for many years. Even more so, because it has an aluminum construction that won't rust over time.
The build is also sturdy enough as it comes with a thickness of 1.2 mm. Moreover, you'll have the option to select from four different color variants that allow you to pick a unit that complements the overall bathroom decor.
Pros
Durable material
Can be easily modified to suit your preferences
The bar has a diameter of 1-inch that will fit all curtain types
36-inch ceiling support is suitable for most bathrooms
Cons
4. Barclay L Shaped Shower Curtain Rod
Buy on Amazon
This Barclay shower curtain rod not only has an affordable price, but it's also simple to set up. You will need no separate tools for installing this curtain rod, other than the mounting hardwares.
You'll be receiving two wall flange mounts with this set, which are the only essentials that will be required for installing this unit. It is designed in a way that will suit any standard bathroom enclosure, so you don't have to go out of your way when you're putting it together.
Besides the functionality of this product, the design is an essential factor that you need to consider. It's made with solid brass that promises you with durable quality and resistance from corrosion.
The diameter of the metal rod is about 1-inch. And that makes it suitable for holding heavy curtains. If your clawfoot tub is smaller than 60-inches x 26-inches, you can cut the rod to get the right dimensions. However, it also includes 36-inches adjustable ceiling support that holds the curtain rod in place and provides the right amount of balance.
The color and finish are up to the mark with a classy chrome finish that blends well with all types of bathroom fixtures. Finally, this curtain is sturdy enough to hold the right amount of weight. In our opinion, it can withstand the onslaughts of regular usage, which makes it worth the investment.
Pros
Good price and quality
Build to match standard bathtubs
The color that it comes in matches all types of bathroom decor
The curtain rod and supporting anchor can be trimmed
Cons
Doesn't come with an instruction manual
5. Zenna Home Hoop Shower Curtain Rod
Buy on Amazon
This curtain rod by Zenna Home is thoughtfully designed to meet the needs of many clawfoot tub owners. It has an aluminum construction with a rectangular design. And it also features a NeverRust function that makes it stand out from a host of other products.
If you have a tub placed away from the walls or even in the middle of your bathroom, then this hoop curtain rod makes for an ideal choice.
Since the hoop itself measures about 47.75-inches x 24-inches and it's not adjustable, you need to ensure that it's accurate for your tub. As far as the finish is concerned, you can select from a variety of styles, such as white, satin finish, and chrome.
For better stability, the frame is also supported with a rod that has a 1-inch diameter. It also comes with mounting brackets and hardware that help to simplify the installation process. However, if you seek professional help or take it as a DIY project, it won't take more than 10-15 minutes to have it set up.
In the end, all you need to do is measure the distance between the wall and your tub. After which, you should lock the ends in place with the mounting hardware that is included in the box. All in all, it's a pretty affordable shower rod and does the work well.
Pros
Innovative design
Features resistant material that will last for years
Easy to install without having to purchase separate tools
Available in three color variants
Cons
Some users complained about the structure not being durable enough to hold heavy curtains
How to Choose a Shower Rod for Clawfoot Tub?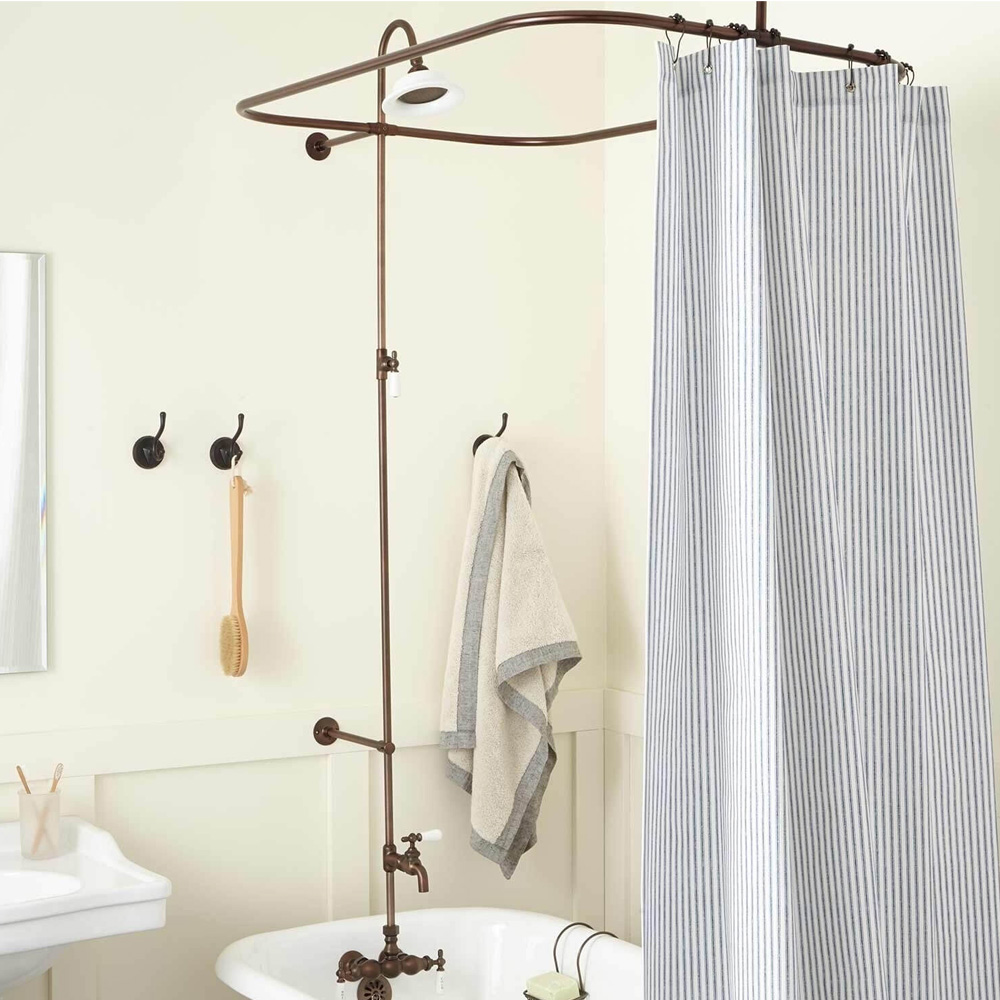 In most cases, the shower curtain is 72 inches in length, so the curtain rod should be placed at a distance of 75 to 78-inches from the floor. We recommend you to check the size of the ceiling support because if the curtain rod is too long, then it can be an issue.
But you'll find that few of the units are equipped with ceiling rods that can be adjusted by trimming the ends. However, you should measure the bathroom ceiling height because it makes it easier to select the right unit.
Clawfoot tubs are available in varying sizes. Where the compact tubs measure about 54-inches in length, and it goes up to a maximum of 72-inches. So, you need to ensure that the width and height of the curtain rod are longer than the dimensions of the tub.
The dimensions refer to the diameter and length of the shower curtain rods, which also determines its strength. When you opt for a unit that has a width of around 1-inch or more, it gets easier to hang the curtains.
When you opt for the straight shower curtain rod, it will add a nice, simple touch to the bathroom. They are also cheaper and relatively easier to install. When it comes to curved rods, they tend to provide additional room in the shower.
But again, it takes more space in the bathroom. Therefore you need to be cautious of the design that you're selecting. You can also check out one of the rare designs, which is the rotator bar design. It gives the best of both worlds without taking up too much space in the bathroom.
Another essential factor that you need to consider is the material of the shower curtain rod. The products that are made with heavy-duty materials tend to be durable in most cases. For instance, stainless steel, aluminum, and brass are some of the commonly used materials.
If you opt for a poor quality shower curtain rod, there are chances of it bending with too much load. Moreover, the rod should have the right amount of rust and corrosion prevention. We advise you to go through the reviews to understand what the other customers have to say about the product quality.
It's best to ensure that you're picking a product that can be put together without facing any hassle. Generally, the shower curtain rods that require drilling or the installation of additional hardware are not DIY friendly.
But if you want to get the work done quickly, then it's best to seek professional help. Because if there is any damage, you'll have to extend the budget by having to re-order the same unit.
Conclusion
Now that you have a clearer picture of the features that you need to look at, it will help make the decision process simpler for you. However, you should also consider the design of the shower curtain rod because it makes a significant difference to the overall bathroom layout.
After all, a quality shower curtain rod should score equally in terms of utility and style. This makes it suitable for any curtain that you have in mind, and it's a good long-term investment.
So, what are you waiting for? Go ahead and pick the unit that serves your needs ideally.